Instagram:
@minttinadventures
1. What's your story? Where are you from?
My name is Ashley Polski. I'm originally from the Midwest, but I moved to Los Angeles, CA, about two years ago. I have a degree in biology and am currently in my third year of medical school at the University of Southern California. When I started medical school two years ago, so much of my time was spent studying and working that I felt like an element of creativity was missing from my life. In April 2017, I decided to start painting and have fallen in love with plein air ever since!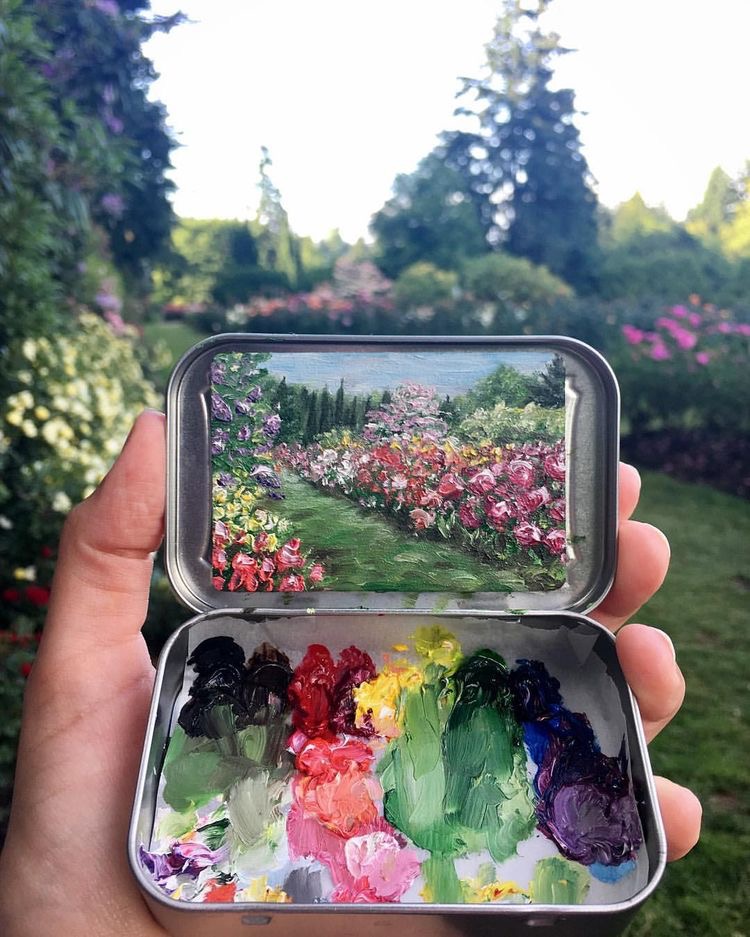 2. Tell us about your aesthetic.
I'm an avid hiker and love seeing beautiful mountain or ocean views from the trails; those are the sorts of views I try to capture in my paintings. The miniature scale of my paintings is honestly out of convenience more than anything, as I usually have only a few hours of free time to spare for a painting session. Given that I started a little over a year ago, I still feel like I am in a phase of growing and discovering my style as an artist, so I'm excited to continue developing my aesthetic in the coming years.
3. What is your favourite medium and why?
I LOVE oil painting. I love the freedom it gives me to experiment with color and texture. I did a lot of sketching with pencils and charcoal when I was younger, and I had always felt intimidated by using colors in my art. But now there's something really exhilarating for me to mix and use colors in order to capture my perspective of a landscape.
4. What is your artistic process like?
My art is almost entirely centered around nature. In order to maximize my spare time doing the things that I love (hiking and painting!), essentially every painting I create is part of some outdoor experience. My typical process is to set out on a hike for a few hours until I reach a view or location that I'd like to paint. I use an Altoids mint tin as a little "easel" and "palette" of sorts and paint on small wooden panels, and then I pack out the painting safe inside the mint tin when I'm done. Brushes and paints are definitely must-haves in my hiking pack these days!
5. Who and/or what inspires your work?
The beauty of the outdoors is the foremost inspiration for my paintings. Some of my happiest, most peaceful moments have been spent in the mountains, and those are the moments that I feel most inspired to create. I also grew up admiring Claude Monet's paintings. I was always in awe of how impressionistic paintings like his could capture universal feelings that anyone can appreciate, even though the paintings don't necessarily capture every detail that we see in real life.
6. What role does art play in your life? How does it change the way you view the world?
Art has honestly changed my life. I love and am so passionate about the medical field and about making lives better through medicine and research. But after a year of medical school, I realized that in order to be the best medical student, the best future physician, the best version of MYSELF--I needed to pursue my creative passions as well. I jokingly refer to my painting sessions as my "therapy", because appreciating the outdoors through art has in turn allowed me to more fully appreciate the beauty in the world and cultivate my personal wellness and happiness.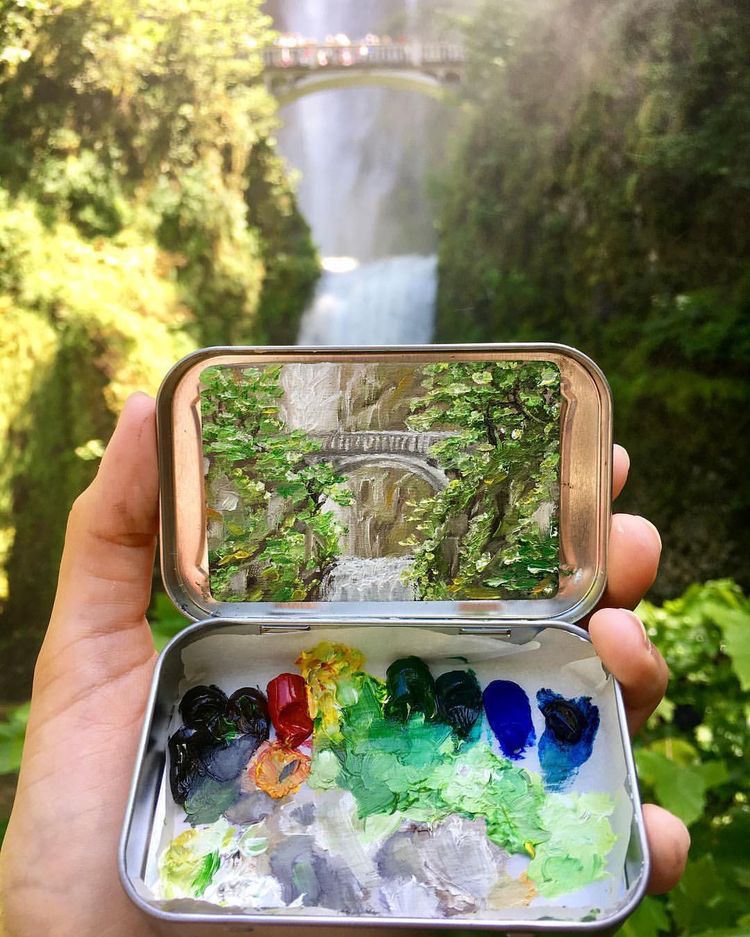 7. Where did you study?
I'm currently attending the Keck School of Medicine of the University of Southern California. I don't have any formal art training, but I would love to take lessons someday!
8. Where do you see yourself in five years?
In five years, I'll be in a medical residency, hopefully have a dog, and yes--still painting!
9. What about in ten?
It's hard to even envision life that far down the road, but hopefully it involves me being a good physician, artist, and maybe even mom. I have a little dream of someday displaying my mini paintings in a gallery!
10. What do you hope to achieve with your art?
A big part of my art is personal--it's a method of infusing my busy life with creativity and happiness and an appreciation for nature. I also use my art to help support a non-profit organization, CoachArt, by donating 100% of the profits from my print sales. CoachArt beautifully incorporates my passions of art and medicine by providing free art and athletics lessons to children and their siblings suffering from chronic illnesses. I hope, in some small way, my art and donations can help others realize the importance and benefit of incorporating art in their lives.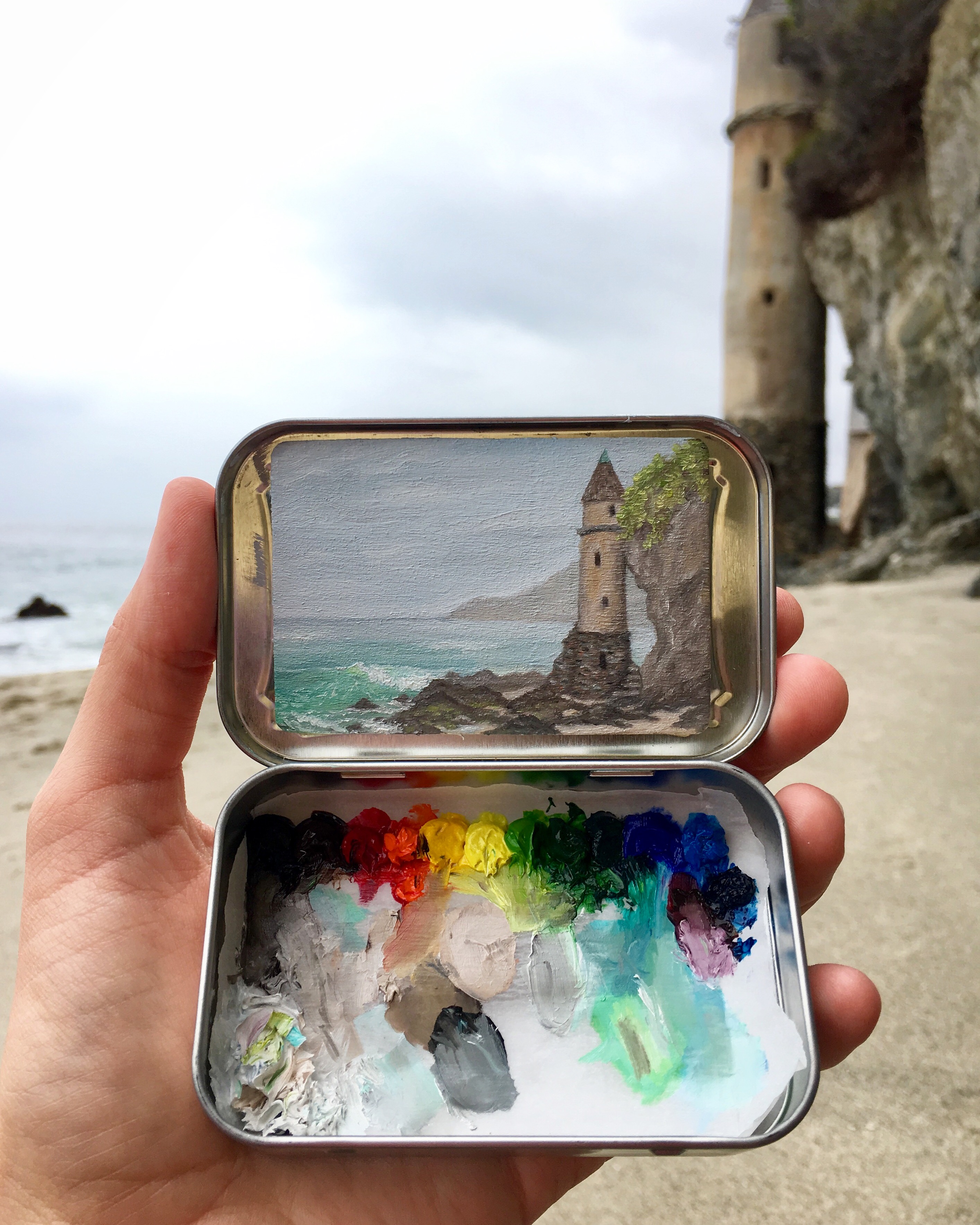 11. Now, tell us a little more about you as a person: what is your favourite food?
This is the hardest question! It's a toss-up between Thai yellow curry, pad see ew, and pineapple pizza from Domino's.
12. Favourite book?
An American Childhood by Annie Dillard. It is pure art in word form.
13. Favourite genre of music?
I like a lot of different types of music, but every song by Ben Rector or John Mayer makes me smile.
14. What are your hobbies?
Hiking, painting (obviously), kayaking. Does eating count as a hobby?
15. If you weren't an artist, what would you be?
In a perfect world I would be a full-time physician AND full time artist with my own studio. To be honest, though, I truly feel like I am in the process of building the life and career that I want most. I'm so glad that painting (even if only for a few hours now and then) will be coming along on the journey with me.