Instagram:
@minusigue
Tumblr:
minusigue.tumblr.com
Facebook:
www.facebook.com/minusigue
Website:
www.minusigue.com
1. What's your story? Where are you from?
Hello, I'm Minsik(Minusigue). I majored in cartoon, animation, communication design, and now I'm a freelance illustrator / Graphic designer from the South Korea. 안녕하세요, 저는 황민식(Minusigue)입니다. 만화, 애니메이션, 시각디자인을 전공했고, 현재 한국에서 프리랜스 일러스트레이터, 디자이너로 활동하고 있습니다.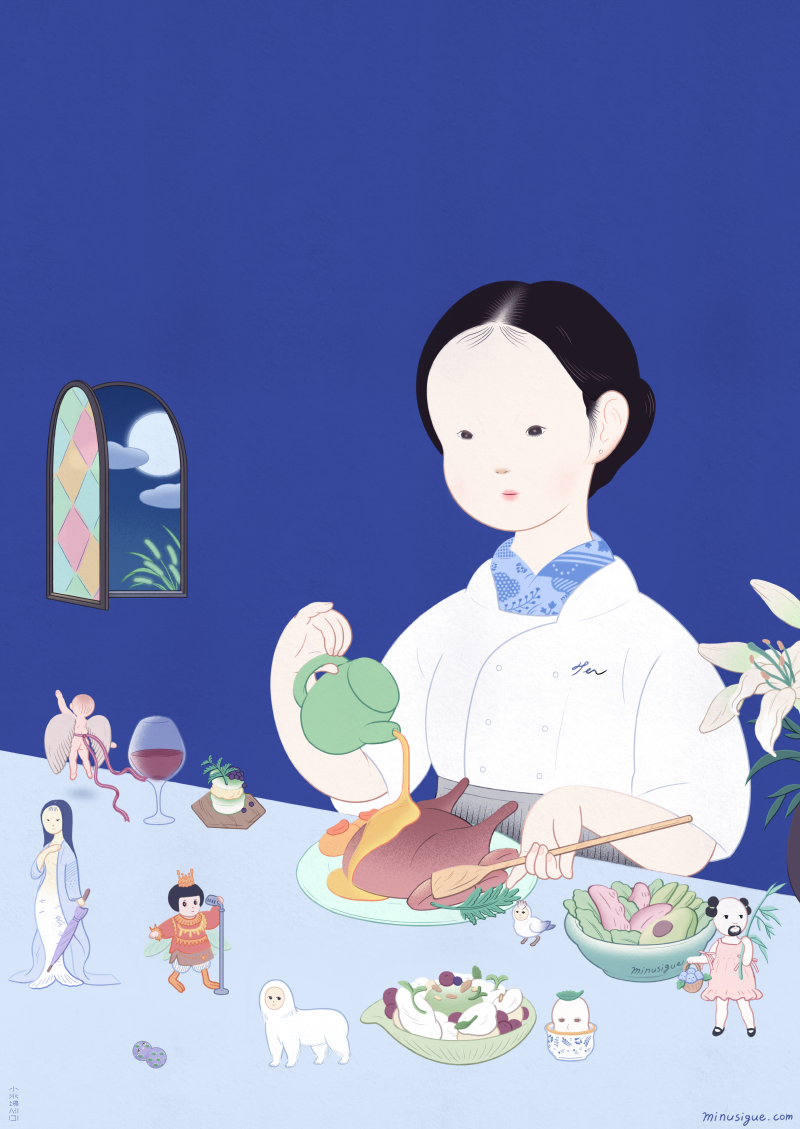 2. Tell us about your aesthetic.
I like to express beautiful scenes, unusual characters, daily life, or surreal moments of dreaming are part of my work. And also drawing small creatures that make me feel weak is the other favorite subject. I'm concentrating on making people feel a sense of comfort, beauty, strange mood kind of thing which makes the audiences can forget about the reality. 아름다운 장면, 독특한 캐릭터, 일상 혹은 꿈 속의 초현실을 표현하는 것을 좋아하며, 마음을 약하게 만드는 작은 것들(creatures)을 그리는 것을 좋아합니다. 최근에는 그림을 보는 사람에게 현실을 잊게 만드는 편안함이나 아름다움, 묘한 기분 등 어떠한 감정을 느끼게 하는 데에 집중하고 있어요.
3. What is your favourite medium and why?
I prefer watercolor, also the photoshop program for the digital artwork. Watercolor is attractive because of the whole process of preparing work like, touching brushes and paper, painting with those tools on the paper. For the more, watercolor can make textures that can't be predicted. Photoshop is a great feature for the detailed description. And it's easier to make changes to the artwork. 수작업은 수채화, 디지털 작업은 포토샵을 선호합니다. 수채화는 작업을 준비하는 과정, 붓과 종이를 만지고 물감으로 종이를 물들이는 것, 스스로 예측할 수 없는 질감 표현이 가능하다는 점이 매력적이고 포토샵은 디테일한 묘사와 디지털 특유의 질감, 수월한 변형과 유동성에 큰 장점이 있습니다.
4. What is your artistic process like?
I do take notes when ideas come out in my mind, and then express them on the paper or for digital work. I really put efforts into expressing the fluidity of line or the harmony of the color between object kind of things for the viewers. 표현하고 싶은 이미지나 사물, 떠오르는 아이디어가 있다면 틈틈이 메모를 해두고 그것들 중 하나 둘씩을 꺼내어 지면 혹은 모니터를 통해 표현합니다. 선의 유려함이나 사물, 색감 간의 조화, 보는 사람이 느꼈으면 하는 느낌을 표현하는 것에 무척 공을 들입니다.
5. Who and/or what inspires your work?
I inspired by the direct or indirect scenery, objects, imaginations, dreams, and realities. Recently, documentaries about nature and animals inspired me, and studio 'Ghibli ' is always great stimulation and inspiration. 직접적 혹은 간접적으로 접하는 아름다운 풍경과 사물, 상상과 꿈, 그리고 현실에서 마주하는 것들에 영감을 얻습니다. 최근은 자연, 동물과 관련된 다큐멘터리에서도 영감을 얻고 있고, 스튜디오 '지브리(Ghibli)'는 늘 좋은 영감과 자극이 되고 있습니다.
6. What role does art play in your life? How does it change the way you view the world?
It is one of the ways to communicate with myself or even others that usual language can't do. And it's a good way to make it work for what I want to express in the way I want. 스스로 혹은 타인에게 언어로는 불가능한 대화를 건넬 수 있는 수단이자, 제가 표현하고 싶은 것을 제가 원하는 모양으로 구현할 수 있게 하는 좋은 매개입니다.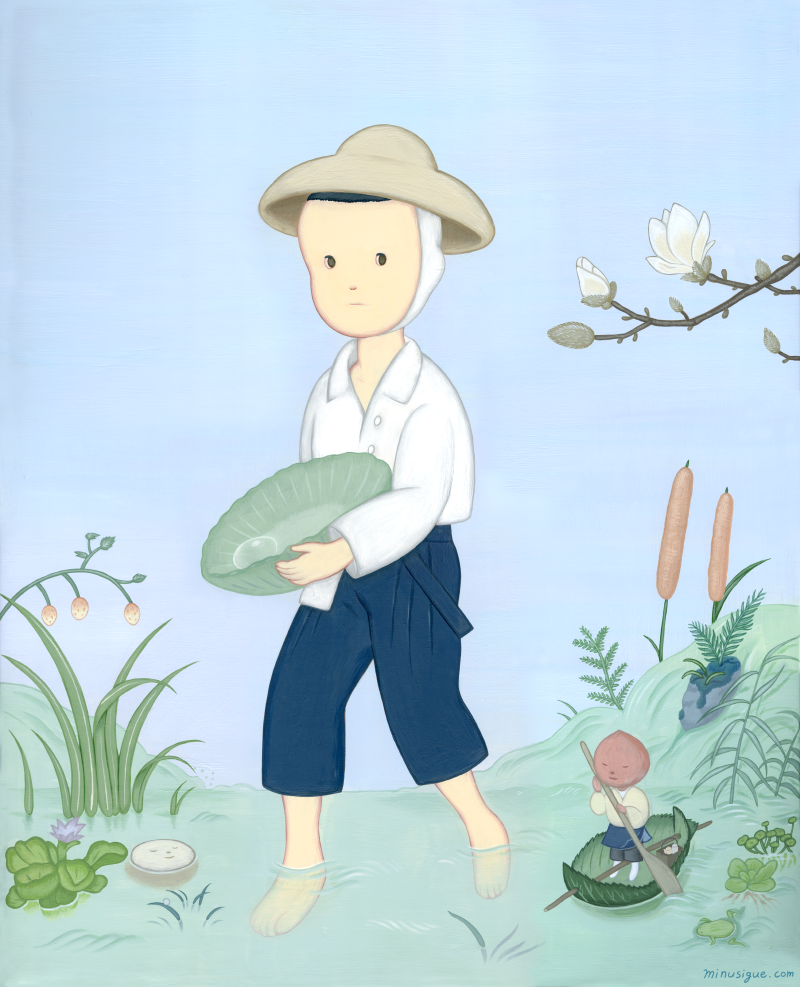 7. Where did you study?
I majored in cartoon, animation, and visual design at Sangmyung University. Actually, things that I learned and experienced outside of the school became much more valuable for me. 한국의 상명대학교에서 만화, 애니메이션, 시각 디자인을 전공했습니다. 졸업 후 학교 밖에서 배우고 경험한 것들이 더 많은 자산이 되었습니다.
8. Where do you see yourself in five years?
For now, I think I'm on the process of working with a sense of stability. Five years later, I might be on a period of accomplishing one or two specific things that I planned or dreamed so far. And now I am interested in making merchandise such as clothing, cups and stationery, so I plan to make a few more categories of merchandise. 현재는 과도기에서 안정감을 가지고 작업하는 시기로 넘어가고 있다고 한다면, 5년 후는 제가 어릴 적부터 지금까지 계획하거나 꿈꿨던 구체적인 일들을 하나 둘씩 성취해나가는 시기를 보내고 있으리라 생각합니다. 그리고 지금 흥미를 느끼고 있는 의류, 잔, 문구류, 피규어 등의 굿즈 제작과 관련해 조금 더 많은 카테고리의 굿즈를 만들 계획입니다.
9. What about in ten?
I'll be a Illustrator basically. And I think I'll be working in a larger field that meets the values of the work I pursue as the main theme. Also, art directing is always on my to do list for specific events or festivals and even brands with my characters and values. 기본적으로는 지금과 같이 꾸준히 그림을 그리는 일을 본업으로 하되, 제가 추구하는 작업의 가치관에 부합하는 조금 더 넓은 분야의 일을 하고 있을 것이라고 생각합니다. 특정 행사와 축제, 브랜드, 단체 등의 로고부터 캐릭터, 패턴, 전체적인 분위기에 이르기까지 제가 추구하는 분위기를 담아 전체의 시각적 이미지를 꾸리는 아트 디렉팅은 항상 계획하고 있는 것이기도 합니다.
10. What do you hope to achieve with your art?
I'd love to spread my art work as much as possible. Picture books, animations, stationeries, the large image of electric signboards, exhibitions of a gallery, mural arts at small school, posters for the festival, fashion items, home appliances, displays of the pop-up store, any forms of my art work and design can be used in a good way even for totally unexpected places and business filed. 최대한 다양한 곳에 저의 많은 것들이 퍼져나가길 바랍니다. 제가 쓰고 그린 그림책, 문구류 혹은 애니메이션의 캐릭터, 책의 작은 삽화, 갤러리의 전시 작품, 대형 전광판의 이미지, 작은 학교 뒤편의 벽화, 축제의 포스터, 가전제품, 패션, 팝업스토어 디스플레이 등 전혀 다른 분야, 혹은 전혀 어울릴 것 같지 않은 곳에도 보기 좋은 형태로서 제 그림과 디자인이 널리 스며들어있기를 바랍니다.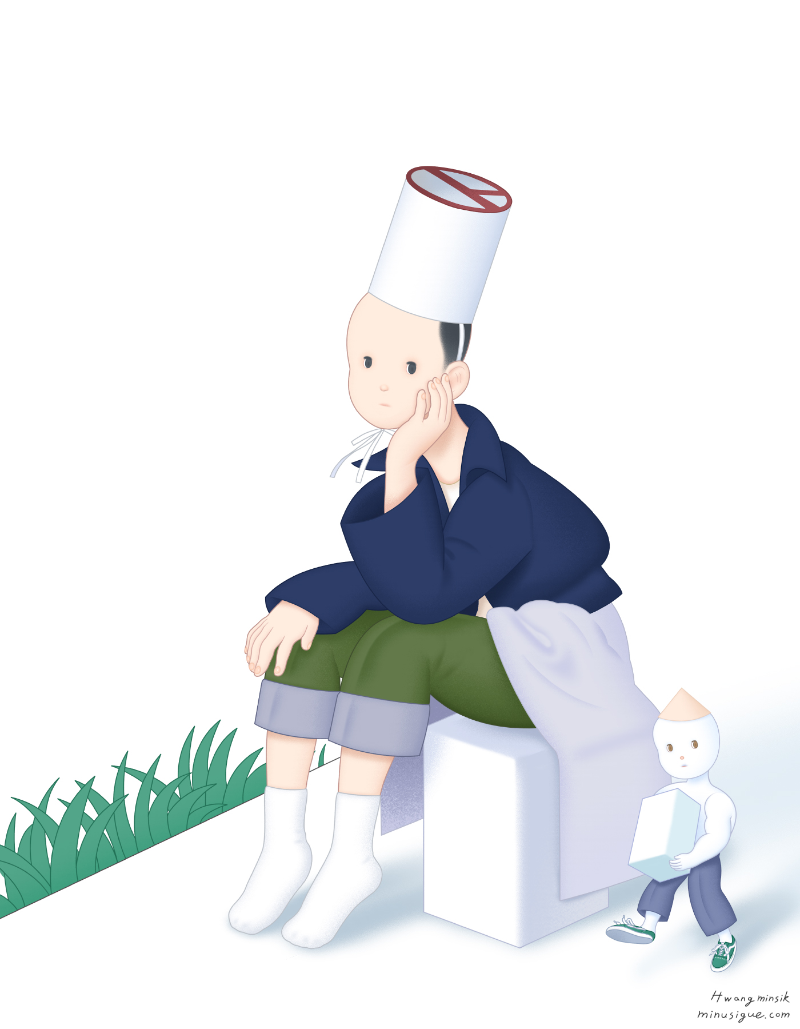 11. Now, tell us a little more about you as a person: what is your favourite food?
Pork cutlet, sweets. 돈가스와 디저트.
12. Favorite book?
The Novels of Soseki Natsume and the book of poetry by Hwang In-chan. 나쓰메 소세키의 소설, 황인찬 시인의 시집.
13. Favourite genre of music?
New Age, Electronic, Jazz, etc. I listen to different kinds of music for each situation like working, resting, or going out for a walk. The music from the 80-90s is one of my favorite. 뉴에이지, 일렉트로닉, 재즈 등 작업할 때, 쉴 때, 걸을 때 등 듣는 음악이 각기 다른데, 주로 8-90년대의 음악을 좋아합니다.
14. What are your hobbies?
Strolling with my dog named San. 반려견 '산'과의 산책.
15. If you weren't an artist, what would you be?
I think I might run a job or a small brand business that related to dealing with the visual image and mood even though I'm not an artist. 예술가가 되지 않았어도, 시각적 이미지와 분위기를 다루는 일과 관련된 직업 혹은 작은 브랜드를 운영하고 있지 않을까 생각합니다.