Instagram:
@miranda_illustration
Etsy:
www.etsy.com/uk/shop/MirandaSofroniou
Website:
www.mirandasofroniou.com
1. What's your story? Where are you from?
Hello! I'm Miranda, a freelance Illustrator from London currently living and working in Melbourne, Australia.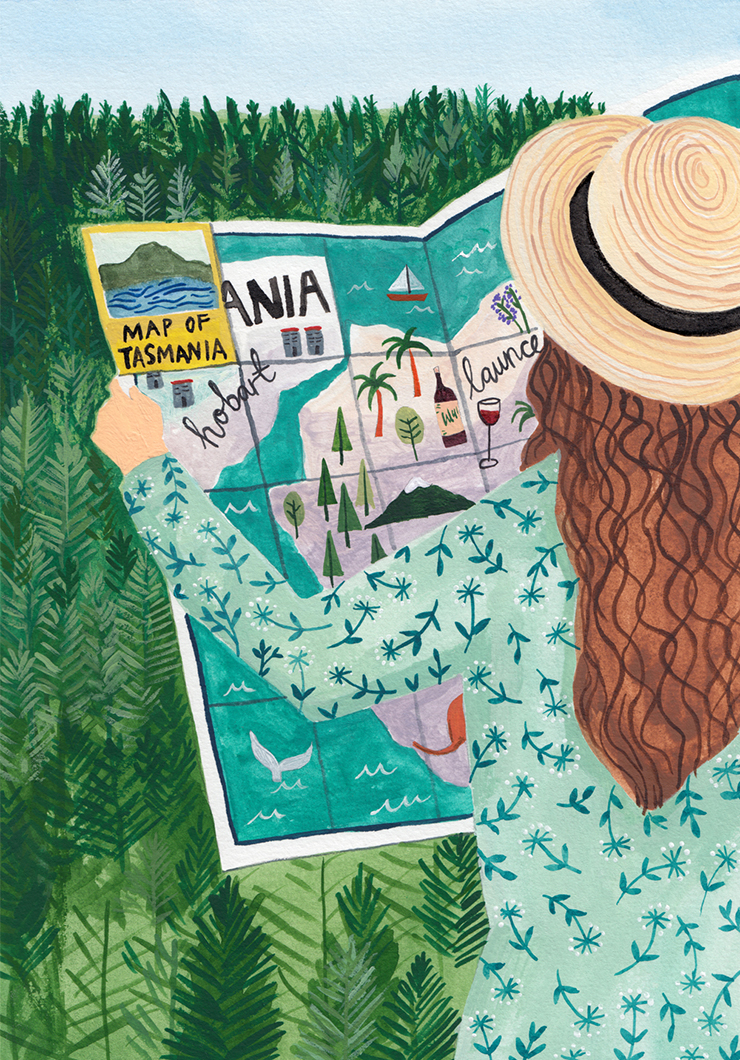 2. Tell us about your aesthetic.
My illustrations are all hand painted. Mixing painterly strokes with fine detail to create playful images celebrating colour and pattern. I aim to evoke a sense of exploration and wonder through my illustrations, creating a whimsical, narrative world that invites the viewer inside.
3. What is your favourite medium and why?
I love using gouache and water-colour paints layered with coloured pencils and ink to add detail.
4. What is your artistic process like?
My approach to design is quite organic; I start with quick sketches to experiment with ideas and composition and then develop my drawings using watercolours, gouache and coloured pencils. Painting in layers, I often work on several pictures simultaneously, building up colour and then adding detail, pattern and texture. I enjoy the freedom of not knowing exactly where the finished piece will end up.
5. Who and/or what inspires your work?
Nature and travel are significant influences on my work, and experiencing new cultures and places is very important for my creative practice. I keep day-to-day and travel sketchbooks to capture and document the beauty in the everyday.
6. What role does art play in your life? How does it change the way you view the world?
Art plays a central role in my life, I am pretty much thinking about it all the time! When you look at the world with a creative eye you notice the small details, and can find inspiration everywhere, from the way the light hits the trees, to some flowers in the street.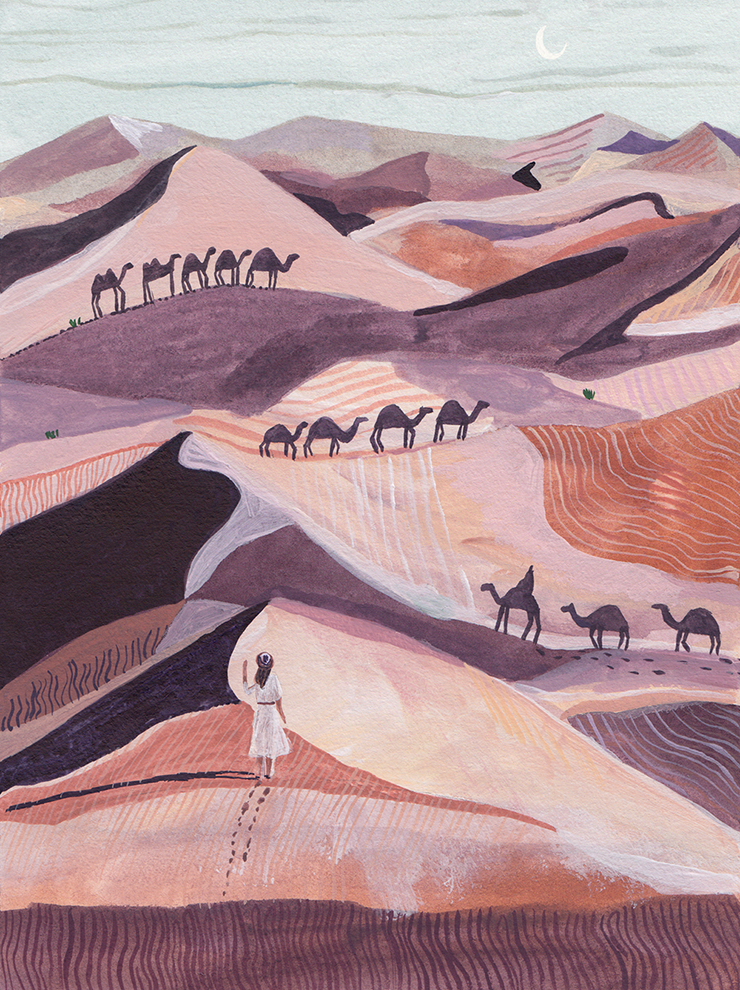 7. Where did you study?
I studied Illustration at Camberwell College of Arts, London
8. Where do you see yourself in five years?
I don't tend to plan things to far in advance and try to live in the present. Things are going really great at the moment so I hopefully I will still be painting and drawing everyday! I would absolutely love to create a children's picture book, and have the chance to work on some of my dream projects!
9. What about in ten?
Wow that seems a long way a way! But hopefully doing the same… from a beautiful studio somewhere.
10. What do you hope to achieve with your art?
My motto is stop and smell the roses, and I hope my illustrations will help you do that too!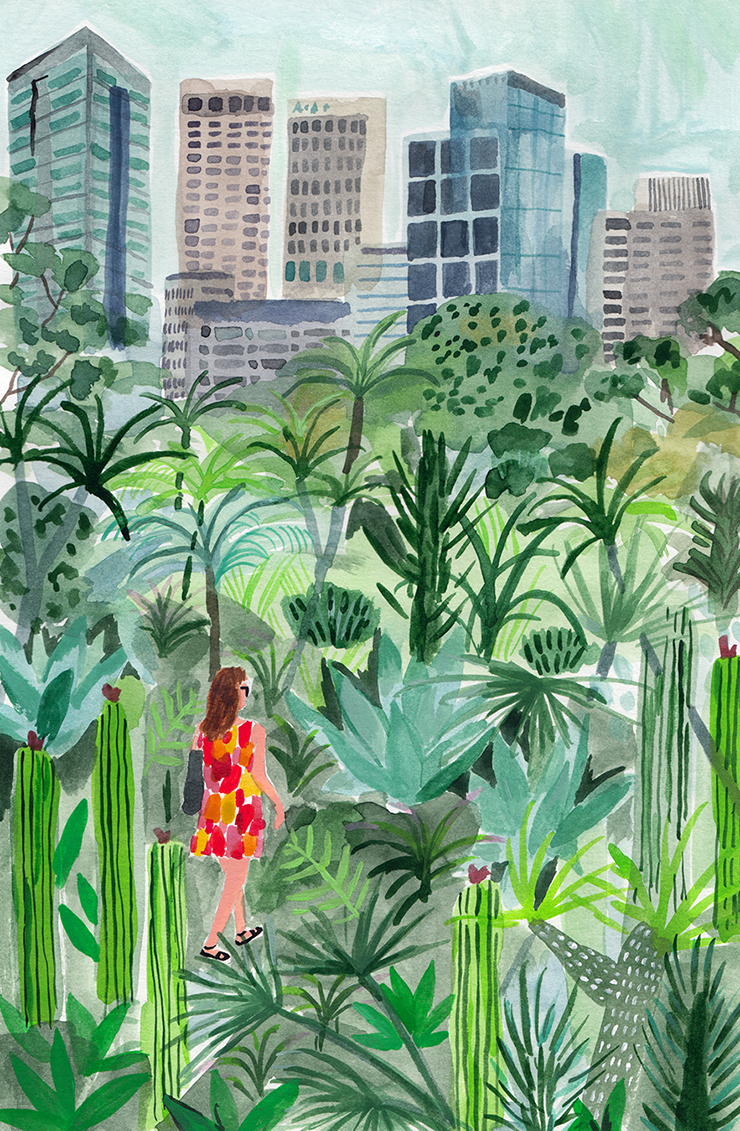 11. Now, tell us a little more about you as a person: what is your favourite food?
This is a hard question! I love food; beetroot, mangos, tomatoes, corn on the cob, yum!
12. Favourite book?
Again a hard one! I love reading, and getting lost in a book, a few of my favourites include; Rebecca, The GoldFinch, Norwegian Wood, A Town Like Alice….
13. Favourite genre of music?
I love all kinds of music, depending on my mood, I like to listen to world music, soul, jazz, 70s, reggae, a bit of everything!
14. What are your hobbies?
I like being active; running, pilates, getting outdoors, going for a hike, climbing a mountain, I recently tried surfing which was a lot of fun!
15. If you weren't an artist, what would you be?
It would definitely have to be something with travel, it would be cool to be a location scout, or maybe a travel writer, or working on those amazing BBC documentaries as a researcher.