Instagram:
@mirubrugmann
1. What's your story? Where are you from?
I was born in Cordoba, Argentina, where I studied fine arts. In 2011, when I finished my degree, I moved to Bahia, Brazil for 6 months to see how is it to live in another country not so far from home. I fell in love with the Brazilian culture the people too. So I went back to Argentina, saved some money for a year and then move to Rio de Janeiro, where I have been living since 6 years ago. Nací en Cordoba, Argentina, estudie bellas artes ahi mismo, y cuando me recibí en 2011 viaje a Bahia, Brasil, a donde me quede por 6 meses. Me enamore del lugar, de la cultura y de las personas asi que volví a cordoba, trabaje y guarde dinero por 1 año y luego me mude a Rio de janeiro, ciudad a donde vivo hace casi ya 6 años.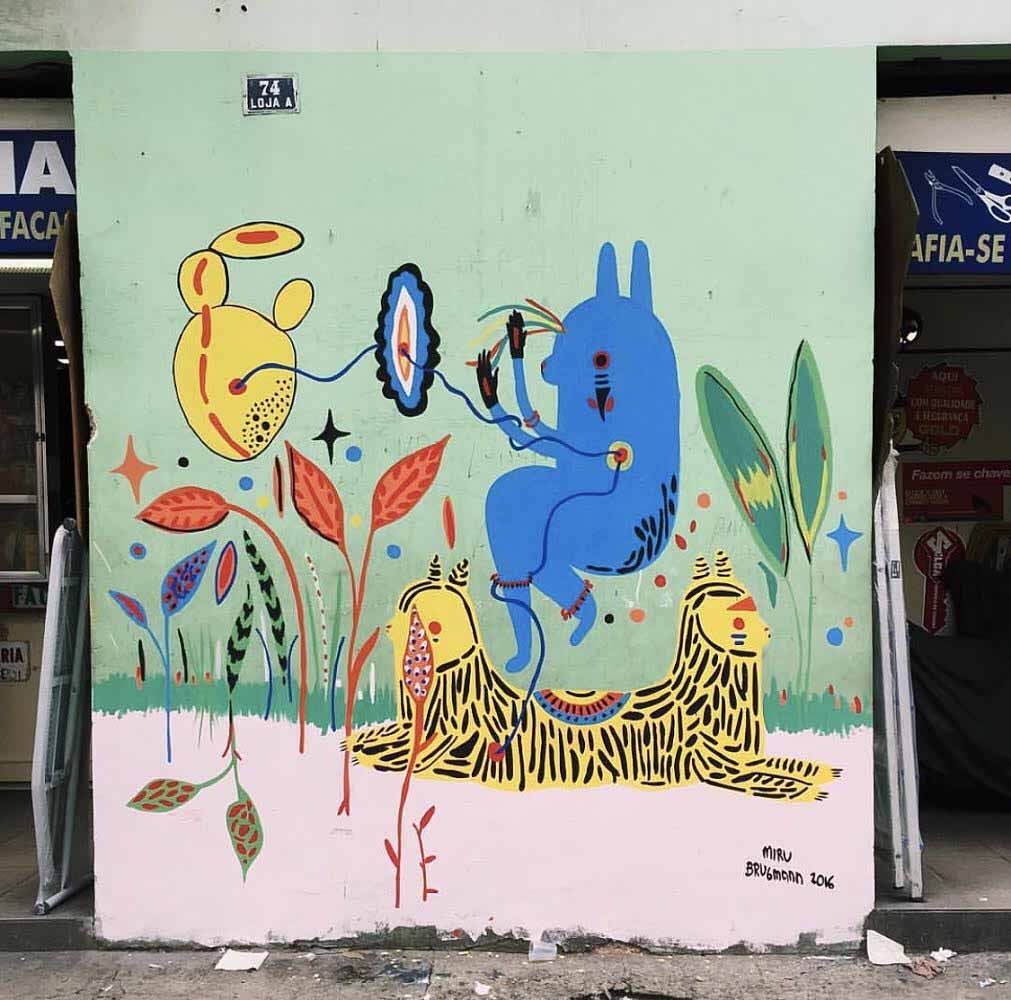 2. Tell us about your aesthetic.
Well now I'm going through a new phase of my work. I'm trying to incorporate political issues in my pieces, to communicate stuff that's going on that really matters to me. When I first started to work as an artist, 6 years ago, I had an idea to create something beautiful and from its beauty change at least the day of someone for the better. Today I think in a more complex way, without leaving the beauty as an ideal -I try also to give a political message. Another fundamental piece of my work is magic, most of this universe comes from Latin-American natives but also from the European magical world, alchemy and witchcraft. So there's always these in my work: magic, political message, and my idea of beauty and balance. Bueno, ahora estoy en una nueva etapa de mi trabajo, intentando incorporar la política dentro de mi obra. La idea es poder comunicar cosas que están pasando que me parecen importantes y no quiero dejar de lado. cuando comencé a trabajar como artista, hace 6 años, mi idea era sobre todo, crear algo bello y a partir de la belleza poder modificar, para bien, aunque sea un momento del día de una persona, llevando un poco de felicidad. Hoy creo en un cambio mas complejo, sin dejar de lado mi concepto de belleza, armonía y equilibrio, intento dar un mensaje politico. otro elemento fundamental en mi obra y que nunca abandono es la magia, muchas veces viene de la magia de los pueblos nativos de Latinoamérica, y otras viene de Europa, con su universo de la alquimia y la brujería. Creo que esos son los elementos básicos de mi obra, la magia, el mensaje politico y la belleza y equilibrio.
3. What is your favourite medium and why?
Ceramics, some nice wall on the street and gouache on paper. Well everyone gives me something that I like, ceramic its amazing to create 3d objects and paper -it's always the first step for me to create. I usually draw first and then color with gouache. The last step on the process is to take it to some wall on the street and its also something that I love because on the street you can talk to everyone and people whom you might never met if your work wasn't on the street. mis medios preferidos son la cerámica, el gouache sobre papel, y alguna linda pared en la calle. todos los materiales me dan algo que me gusta y me sirve para comunicar. La cerámica me permite trasladar a la tercera dimension lo que previamente dibujo o pinto. y la calle que en general es como el ultimo paso del proceso, me permite conversar con las personas, lo cual me encanta, porque muchas veces son personas que si no fuese porque estaba pintando en la calle, nunca llegaban a conocer mi trabajo.
4. What is your artistic process like?
First I draw and then I paint that drawing with gouache. I draw a lot and the drawing that I like the most is the one that's going to be painted. With ceramics, the process is different as I do not always know what I'm going to do. So I start just by playing and at some point, I arrive to some shape that I like. And to paint in the street, I have the draw what I'm going to paint before but sometimes I just go with some idea and I start painting without a previous structure. Primero dibujo mucho, y después pinto con Gouache el dibujo que mas me guste entre todos. con la cerámica el proceso es diferente, no siempre se que voy a hacer, psique comienzo a manipular la masa y las cosas van saliendo, casi siempre en relación con los dibujos. En la calle el proceso es muchas veces como el de la cerámica, como dibujo mucho, a veces voy a la pared en blanco y sale algo, sin tener planeado exacto que voy a hacer, otras veces si tengo un boceto y hago exacto lo que esta en el papel.
5. Who and/or what inspires your work?
Well I always try to read a lot and also like to go to new places, not neccessarily new cities or countries but also my own city. When I'm interested in something, I look for it online, if there is a book I buy it but sometimes, things appear to me without planning. Like if I go to some book fair and find an amazing book, I buy it and maybe that book ends up being the topic of my work for a while. So I think the best for me, what inspires me, is to move, to watch what's going on outside, to see the colours of the houses, to be in the nature, to be in touch with my environment and the reality. And also, as I said before, all the native culture from Latin America inspires me a lot, the ancestral knowledge, the connection with nature that they used to have, their ceramics, paintings, and loom. Siempre trato de leer mucho, y conocer nuevos lugares, no me refiero a otros países, sino mismo mi ciudad, salir de lo conocido para tomar nuevos caminos. Cuando me interesa un tema busco sobre eso en internet y si hay algún libro lo compro. Algunas veces los temas que me inspiran aparecen sin planearlo, por ejemplo me paso de ir a una feria, ver un libro que me pareció interesante y que eso se convierta en el tema de mi obra por un tiempo. Asique creo que lo que mas me inspira es estar en constante movimiento, mirar que pasa a mi alrededor, salir a caminar, ver los colores de mi barrio, de las casas, ver nuevos paisajes, estar en la naturaleza, estar en contacto con mi contexto y con la realidad. También como dije anteriormente me inspira la cultura de los pueblos originarios de Latinoamérica, su cosmovision, sus cerámicas, sus pinturas y sus telares.
6. What role does art play in your life? How does it change the way you view the world?
I think at this point, art is my way to see the world. I don't know if everyone sees their surroundings as shapes and colours hahaha, so maybe for someone who works with words there's another way to see life. Arts helps me in some point to see the world in a magical way, knowing that there's some things that we cannot understand or explain rationally. At the same time, I'm not naive and I don't try to avoid the reality. Creo que a esta altura el arte plástico o visual es mi forma de ver el mundo, no se si todas las personas están tan atentas a los colores y las formas, y creando imágenes con eso todo el tiempo jaja. Quizás alguien que trabaja con la palabra piensa el mundo desde ahi. El arte me ayuda a poder ver el mundo de una forma mágica, a ser consciente de que hay cosas que no podemos explicar solo de forma racional, al mismo tiempo no soy ingenua, ni desconozco el contexto en el que vivo.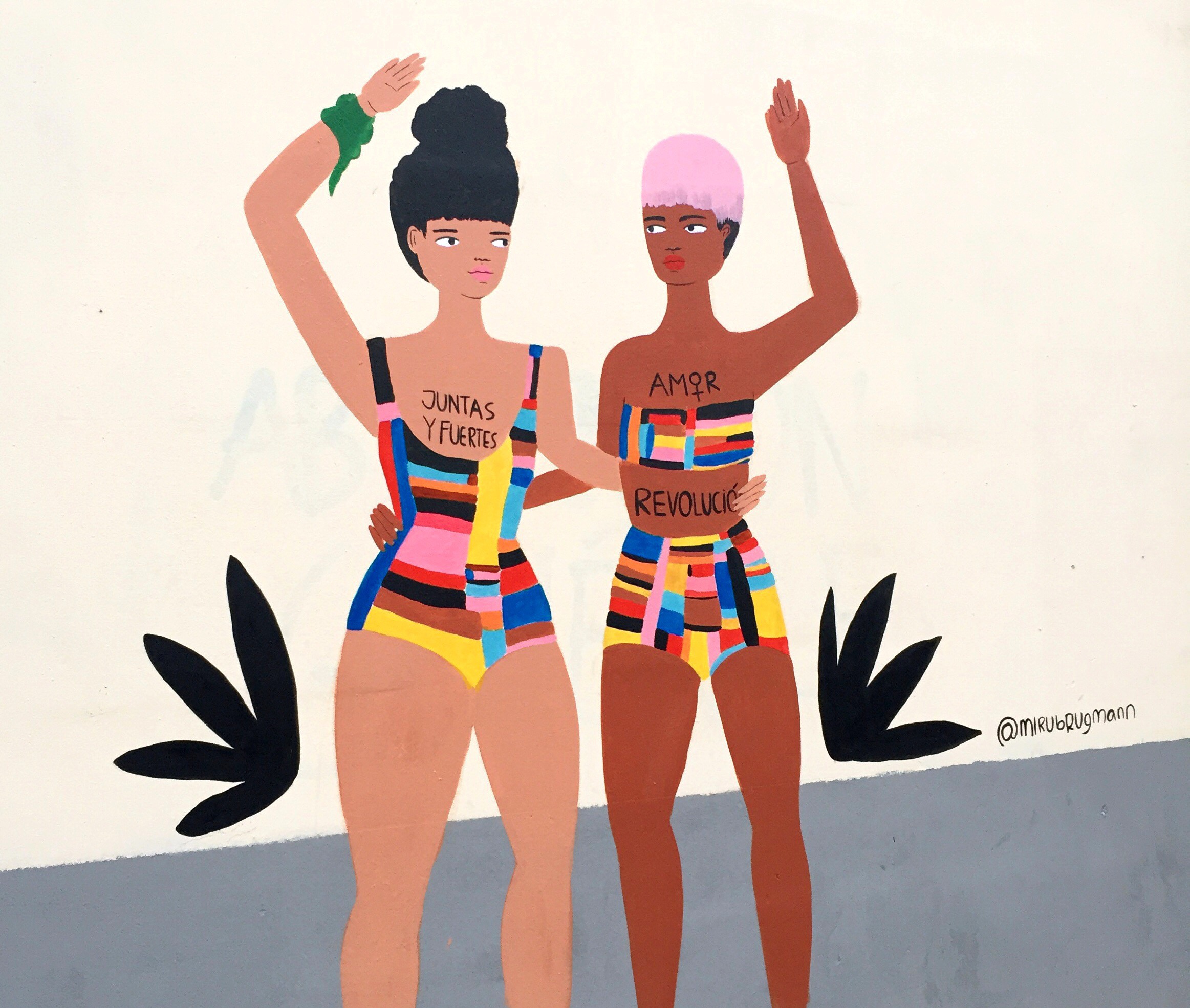 7. Where did you study?
I studied in Cordoba, Argentina, in a public university thats call "Ciudad de las arts" "City of Arts" Estudie en Cordoba, Argentina, en una universidad publica que se llama "Ciudad de las Artes".
8. Where do you see yourself in five years?
Mmm, I think I will be travelling a lot, creating new stuff, hanging out with friends, meeting new people, pretty much like now. mmmm, creo que voy a estar viajando mucho, creando cosas nuevas, pasando tiempo con amigos, conociendo nuevas personas, bastante parecido a como estoy ahora.
9. What about in ten?
Well, maybe in about ten years I will be tired of travelling haha. So I think I will have a place to call home and as always -never stop creating, always surrounded by people I love, riding my bike, maybe with my own small farm so I do not have to eat 'poisoned' food any more. Bueno quizás en 10 años este cansada de viajar tanto jajaj, psique creo que voy a tener un lugar que llame de hogar, como siempre me imagino creando, rodeada de las personas que amo, andando en bici, haciendo acrobacia, y quizás con una huertita propia, para no tener que comer veneno.
10. What do you hope to achieve with your art?
My main goal is to create content that helps in some way, never be blind to what the world is needing, never be part of the dark side haha and always be part of the group of people who are fighting for our rights, for women rights, for the rights of the people who are still being oppressed. I hope to be able to always keep learning and to learn how to communicate, maybe with colours, maybe with my words. I think my goal is to be part of those who fights for others. I hope I can stay always awake, not to become part of sleepy, hopeless humanity. Mi objetivo principal es crear contenido que ayude de alguna forma, nunca ser ciega sobre lo que esta pasando en el mundo y nunca ser parte del lado oscuro, jajaj, siempre ser parte de ese grupo de personas que luchan por nuestros derechos, por los derechos de las mujeres, por los derechos de las personas que son oprimidas. Espero siempre ser capaz de continuar aprendiendo, y de comunicar, quizás con colores, quizás con palabras. Creo que mi objetivo es ese, ser parte de esas personas que son recordadas como personas que lucharon por un cambio social, psique espero mantenerme siempre despierta, para no convertirme en parte de esa humanidad dormida y desesperanzada.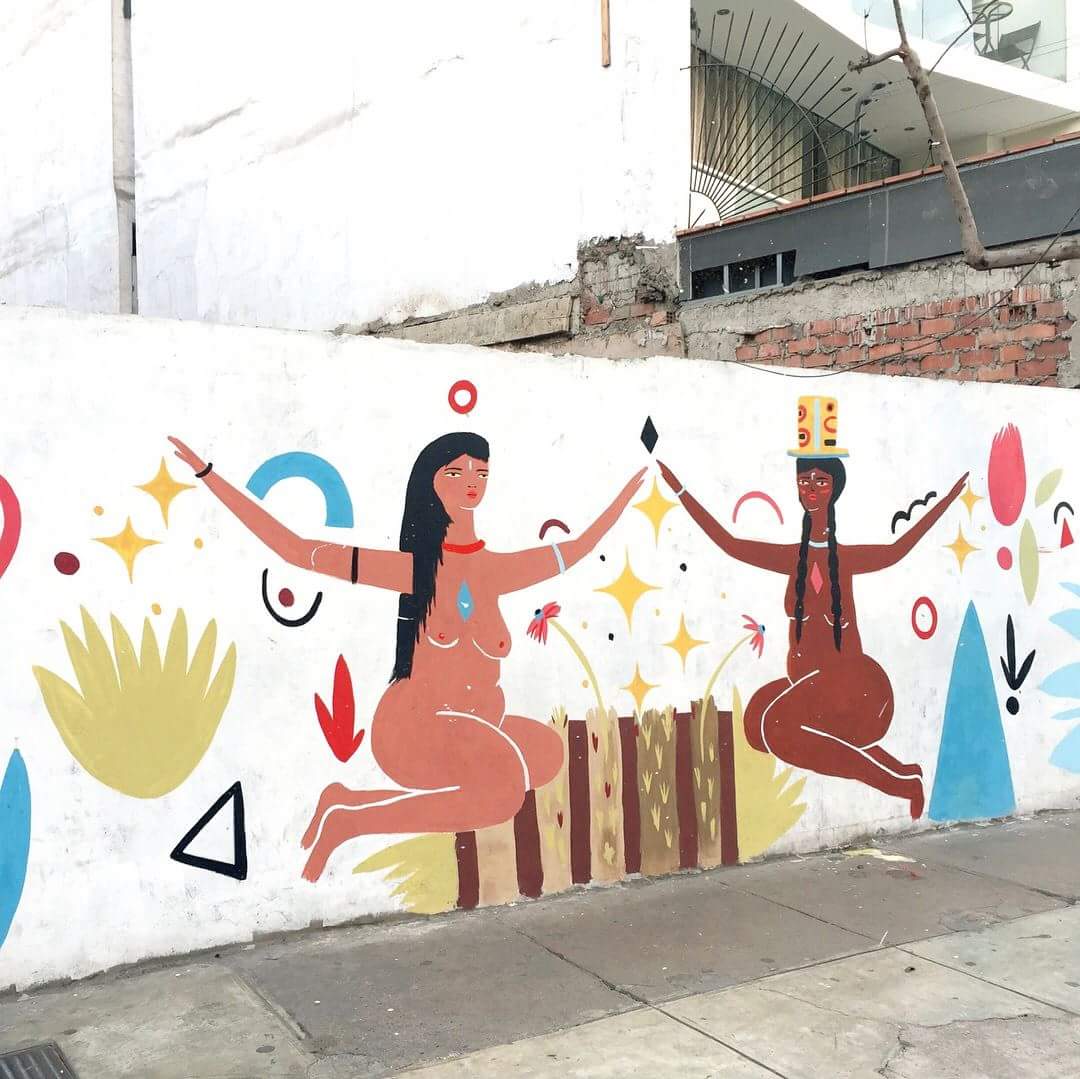 11. Now, tell us a little more about you as a person: what is your favourite food?
I love Vietnamese food, I love Egyptian food, basically Mediterranean Middle East food, I love Japanese food, and I love Argentinean food. Basically I love eating but I think my favourite, number ones that I can't live without are coffee, eggs and bread. Hahaha. Amo la comida Vietnamita, la comida Egipcia, basicamente la comida mediterranea medioriental, amo la comida japonesa y la comida Argentina. Basicamente amo comer, pero creo que mi numero uno, eso sin lo cual no puedo vivir es, cafe, pan y huevos, jajaja.
12. Favourite book?
Now I'm reading this book called "Caliban and the Witch: Women, the Body and Primitive Accumulation" and I'm in love! I love so many books that is hard to name just one! Let's just say that my second favourite is "Tent of Miracles" written by Jorge Amado in 1967. Ahora estoy leyendo un libro que se llama "Calibán y la bruja. Mujeres, cuerpo y acumulación originaria" y estoy enamorada. Es difícil nombrar un solo libro asi que nombro un segundo, que se llama "tienda de los milagros" una novela de Jorge Acabo escrita en 1967.
13. Favourite genre of music?
Funk carioca.
14. What are your hobbies?
I love riding my bike, going to the beach, watching series, hanging out with friends and doing aerial acrobatics. Amo andar en bici, ir a la playa, ver series, salir con mis amigos y hacer acrobacia aérea.
15. If you weren't an artist, what would you be?
I would be an actress but famous, if not I don't want to, haha. seria actriz, pero famosa, sino no.