Instagram: @monamai_
Website: www.monamaidesign.com
1. What's your story? Where are you from?
I'm a digital illustrator with an architectural design background. We've been living in the San Francisco Bay Area, California for the last 6 years but I'm originally from Turkey. After we moved to California, I had an opportunity to focus on drawing, illustrations, and painting which I had a passion before but not enough time. Now I'm spending my days between my work, my 2-year-old, and our energetic labrador pup.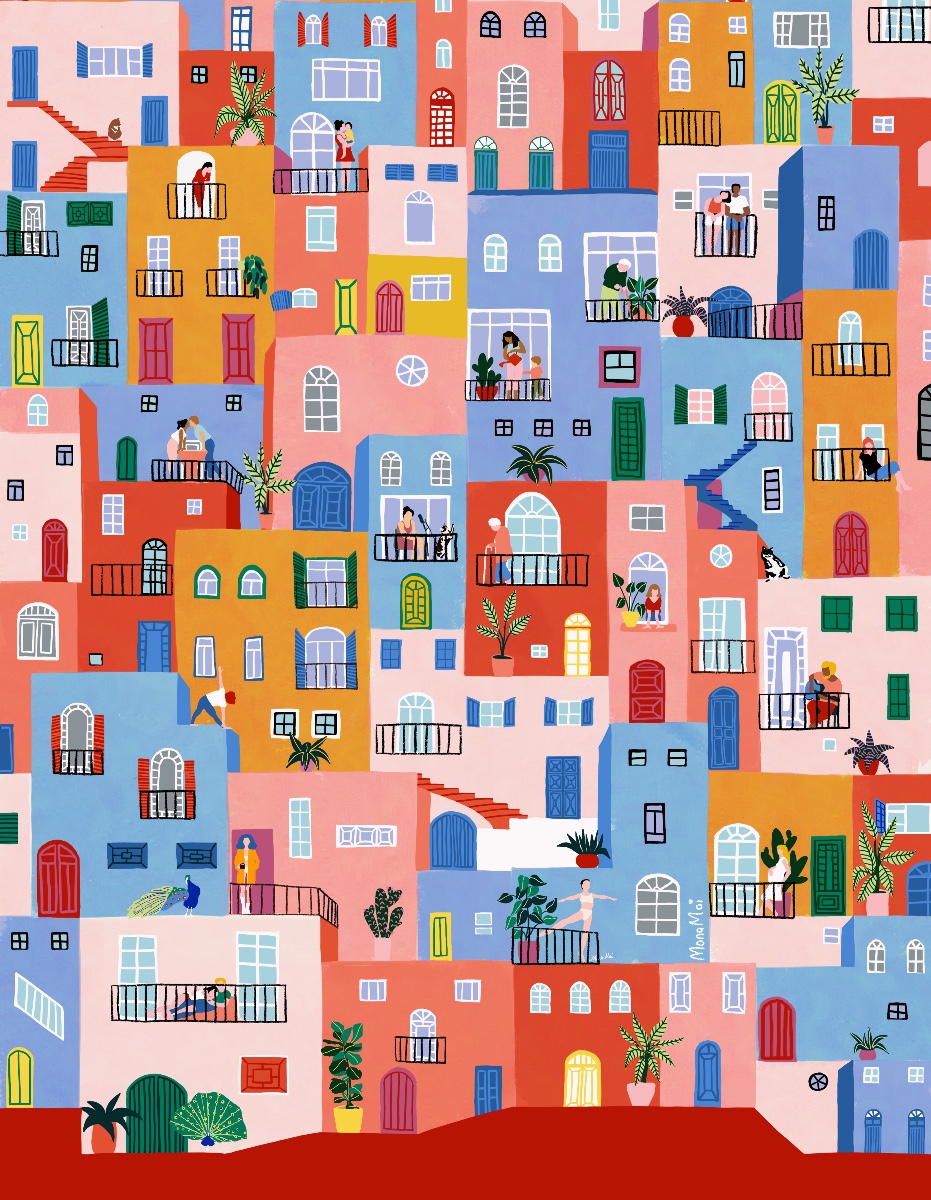 2. Tell us about your aesthetic.
I love drawing colorful, joyful and comforting illustrations with lots of vibrant colors and mixed patterns.
3. What is your favourite medium and why?
I mostly draw digital illustrations rather than traditional drawings/paintings since I'm much more productive working digitally. I use my iPad Pro all the time, it's very convenient, and as a drawing app, I love Procreate which is very user friendly. Also, I'm addicted to painting old objects at home with acrylic and gouache. I think seeing them come back to life is much more satisfying than buying something new.
4. What is your artistic process like?
I usually have a story or a message behind my illustrations so first I come up with the story then I do a quick sketch and my sketches are always different than I imagined in the first place. Then I finalize my illustrations with colors and loooots of patterns:)
5. Who and/or what inspires your work?
I like drawing women, plants, and house interiors. Besides, my son's curiosity and ambition inspires me endlessly. I love drawing our daily activities, these drawings are kind of a diary for me. Music is another inspiration, sometimes I can't focus on my work just because I can't find good music to listen to.
6. What role does art play in your life? How does it change the way you view the world?
I find drawing very meditative. They help me center my head, sustain my focus and creativity.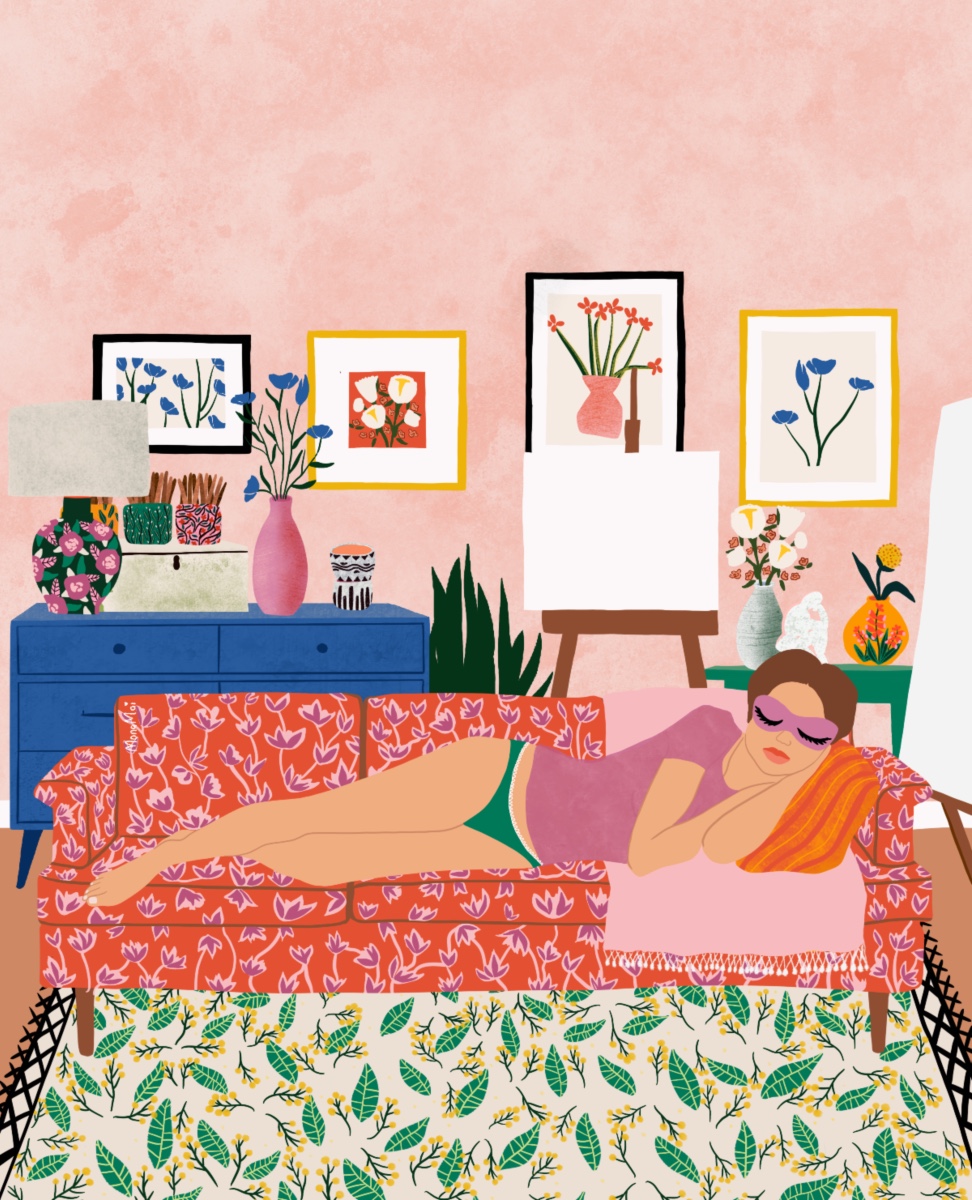 7. Where did you study?
I studied architecture and then had a masters degree in urban design in Istanbul/Eindhoven. I also took UX design classes at UCSC after I moved to California.
8. Where do you see yourself in five years?
We might be living in Europe (probably Amsterdam or London), living in a small apartment so less housework, more creative time for myself. I expect to be living in a city where I won't need a car to go to my favorite coffee shop or a park or pub.
9. What about in ten?
I might adopt 2 more pups.
10. What do you hope to achieve with your art?
My audience is mainly on social media and I'm trying to maybe brighten people's days a bit by posting some eye-pleasing and positive illustrations. I also use it implicitly to share my internal design and decoration ideas. I usually illustrate female figures in their own spaces during their daily lives to emphasize that everyone deserves some me time and a happy place of their own.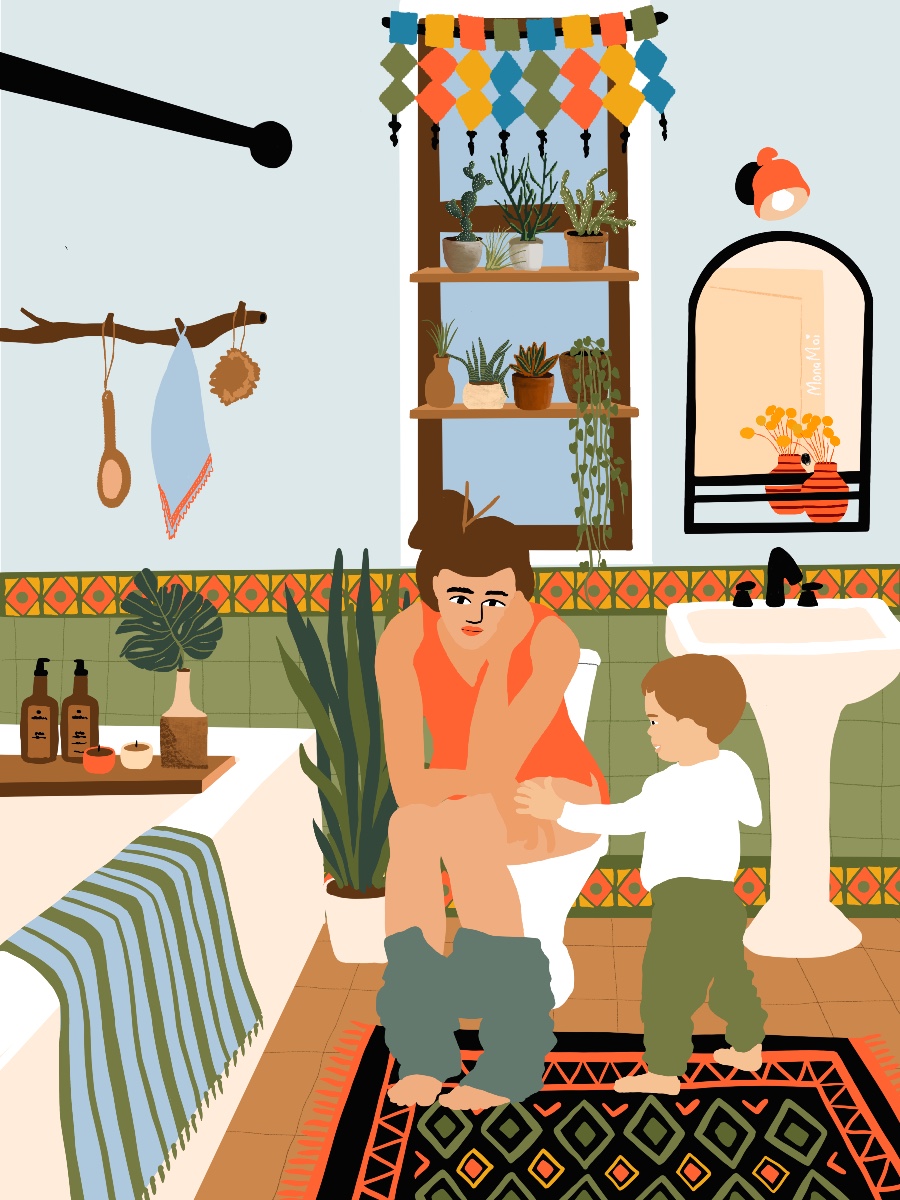 11. Now, tell us a little more about you as a person: what is your favourite food?
Stuffed grape leaves, caesar salad, dumpling, and chips:)
12. Favourite book?
My favorite authors are Charles Bukowski, Philip K. Dick, Ursula K. Le Guin, George Orwell, Isaac Asimov, Aldous Huxley, Chuck Palahniuk, Franz Kafka and Ihsan Oktay Anar. Lord of Flies (William Golding), The Hitchhiker's Guide to the Galaxy (Douglas Adams), Nineteen Eighty-Four (George Orwell), Brave New World (Aldous Huxley), I Robot (Isaac Asimov), Alice's Adventures in Wonderland (Lewis Carroll) and The Atlas of Misty Continents (İhsan Oktay Anar).
13. Favourite genre of music?
Rock, Psychedelic & Folk rock, Trip Hop, Blues. These days while I'm working I mostly listen to Turkish psych-rock, it's kind of groovy funk with some psychedelic rock.
14. What are your hobbies?
Designing interiors and landscape, DIY woodworking projects. Also, I like gardening and making herb-infused oils for culinary and body care using herbs from my small garden.
15. If you weren't an artist, what would you be?
Screenwriter!