Instagram:
@monicajanesfineart
1. What's your story? Where are you from?
My name is Monica Janes. I am an abstract expressionistic painter originally from Walnut Creek, CA. My story begins as a very inquisitive child with an interest in the "hows and whys" of just about everything and a love for creative expression. I moved around quite a bit as a child and lived in North Carolina, Kentucky, Pennsylvania, New York (NYC) and now live in New Jersey. I think moving around so much as a child instilled within me an observer's perspective. After I graduated from college with a degree in Graphic Design, I moved to New York City. I lived and worked in the city as an advertising Art Director/Creative Director for about 20 years. I ultimately left the corporate world a number of years ago and moved to New Jersey with my family. I have been so happy to have the ability to focus my time and energy on my love of painting.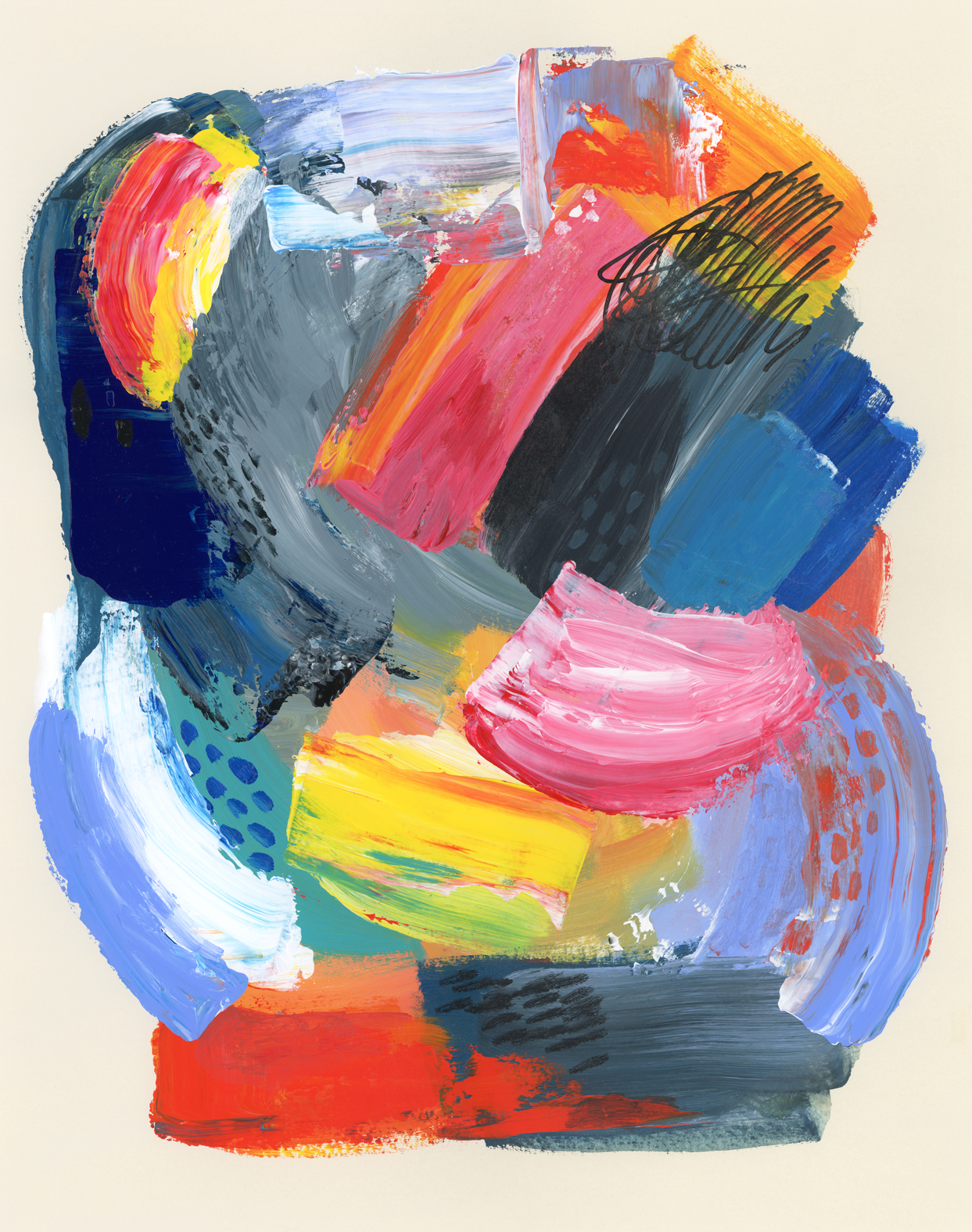 2. Tell us about your aesthetic.
My work is filled with bold, rich colors and energetic, gestural brush strokes. I love bright, vivid colors and at times I like to emphasize the contrast between light and dark or work with a combination of organic colors combined with fluorescent tones. The application of paint to paper or canvas is made obvious by highlighting the thickness and texture of the paint applied and I use a combination of brushes, palette knives and other materials to apply paint. I like to add and subtract many layers of paint until the balance seems just right. In some of my most recent paintings the active imagery is contained within the space of the canvas emphasizing the separateness of the "canvas world" from the real world. This structure gives me the opportunity to explore the negative space around the active brushstrokes. I like to emphasize certain areas of the painting with various types of marks that I find meaningful. My work is fundamentally a joyful celebration of color and movement.
3. What is your favourite medium and why?
I absolutely adore acrylics although I have worked with watercolors and gouache in the past. I love the immediacy and quick drying aspect of acrylic paint. I love the incredible array of formulations including gels, additives, glazes and mediums just to mention a few. With so many options, there are endless opportunities for exploration and discovery. I like using "found" materials for mark making such as cardboard, wax paper, or other household items. I also enjoy experimenting with the vast assortment of markers, crayons, and pencils that are available.
4. What is your artistic process like?
I am a very intuitive and spontaneous painter and vary my approach between planned and unplanned. I joined one of the "100 day projects" last year on Instagram, mostly to make a more formal commitment to painting every day. I chose to paint something small, which was 4" x 6" postcard sized acrylic paintings on watercolor paper. I started out paying very little attention to the project and began by just dabbing paint on those tiny pieces of paper while focusing on the larger paintings I was working on. But after I had created quite a few of them and was well into the project, I saw that there was an essence within these little paintings that I hadn't really expected. I realized that because I wasn't putting any pressure on myself for them to meet a certain standard, they actually embodied a very authentic "painting spirit". With that realization, and a more intentional observation of how I was creating them, I learned so much about myself, experimentation, and the joy of being truly spontaneous. I have used many of the learnings and insights from that first "100 day project" for quite a few of my current paintings.
5. Who and/or what inspires your work?
I think living in New York City for most of my adult life and having had access to some of the greatest museums in the world in combination with collaborating with many others in a creative field has had a profound effect on my ideas about creating art. That opportunity to experience first hand so many forms of art from so many different artists definitely influenced my thought process. Inspiration could come from anywhere but is frequently either a visual cue or something from my imagination or thoughts. Inspiration could come from a juxtaposition of colorful towels in a store, from an old dilapidated building at dusk or the pattern of light reflecting from a puddle of water in the street. Or it could come from a fascinating article about space exploration. My interests in the vastness of the universe and the way the human brain functions to create every person's unique reality also fuels my imagination. The two art movements that I find the most inspiring are the The New York School of Abstract Expressionism and The American Studio Glass Movement.
6. What role does art play in your life? How does it change the way you view the world?
Art has always played an extremely important role in my life. I believe that my interest in creating art as a young child fueled my interest in what others were creating. Growing up, as well as throughout my adult life, I have pursued art either as an observer or as a participant. Art provides me with so much and its impact is so profound that it's difficult to put into words. It is an area of infinite interest, relaxation, fascination, curiosity, joy, discovery and the list goes on and on. Being involved with art has given me a much greater understanding of myself and the human spirit.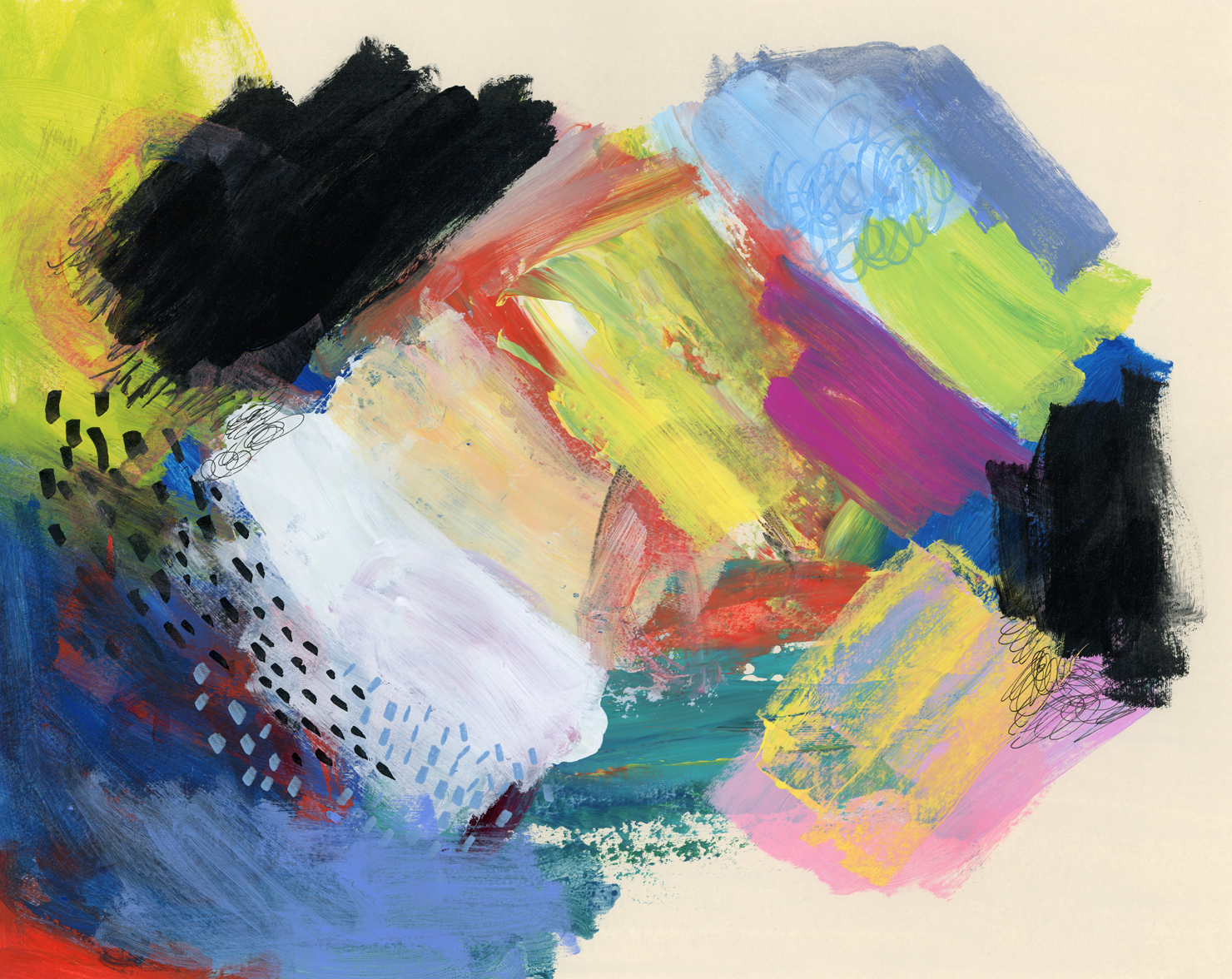 7. Where did you study?
I graduated from Penn State with a B.A. in Graphic Design and a minor in Biology. Biology was my original focus, but after two years it became apparent that the arts were much more than a hobby and that I should focus on a future in a creative field. I applied and was accepted into the College of Arts and Architecture and although at the time I loved both painting and photography, I chose to focus my degree and career on Graphic Design. Having had a career where an understanding of the relationships between color, shape and form were of significance has helped provide a foundation for my current work as a painter. Although I have been painting on and off since I was a child, and on a daily basis in recent years, I don't have formal training in the true sense of the word. I am self-educated through many years of interest, through my own research of artists and art history, and experimentation and exploration with many different mediums, materials and techniques.
8. Where do you see yourself in five years?
I see myself still painting and hopefully my painting practice is continuing to evolve and I am still growing and discovering new things. I hope to be able to collaborate with others in the fashion and home decor industries at some point in the future. I would also to add teaching into the mix.
9. What about in ten?
I would say the same for the ten-year mark as the five-year vision!
10. What do you hope to achieve with your art?
I hope to create a visual and emotional experience for the viewer that elicits a positive and joyful connection. I am fascinated by the ways in which abstraction allows a person to interpret a painting from their own point of view and seeing that connection happen is one of the highlights of being an abstract artist. When a work of art is able to elicit past memories and trigger aspects of a viewer's imagination, it then has the ability to become a universal form of communication.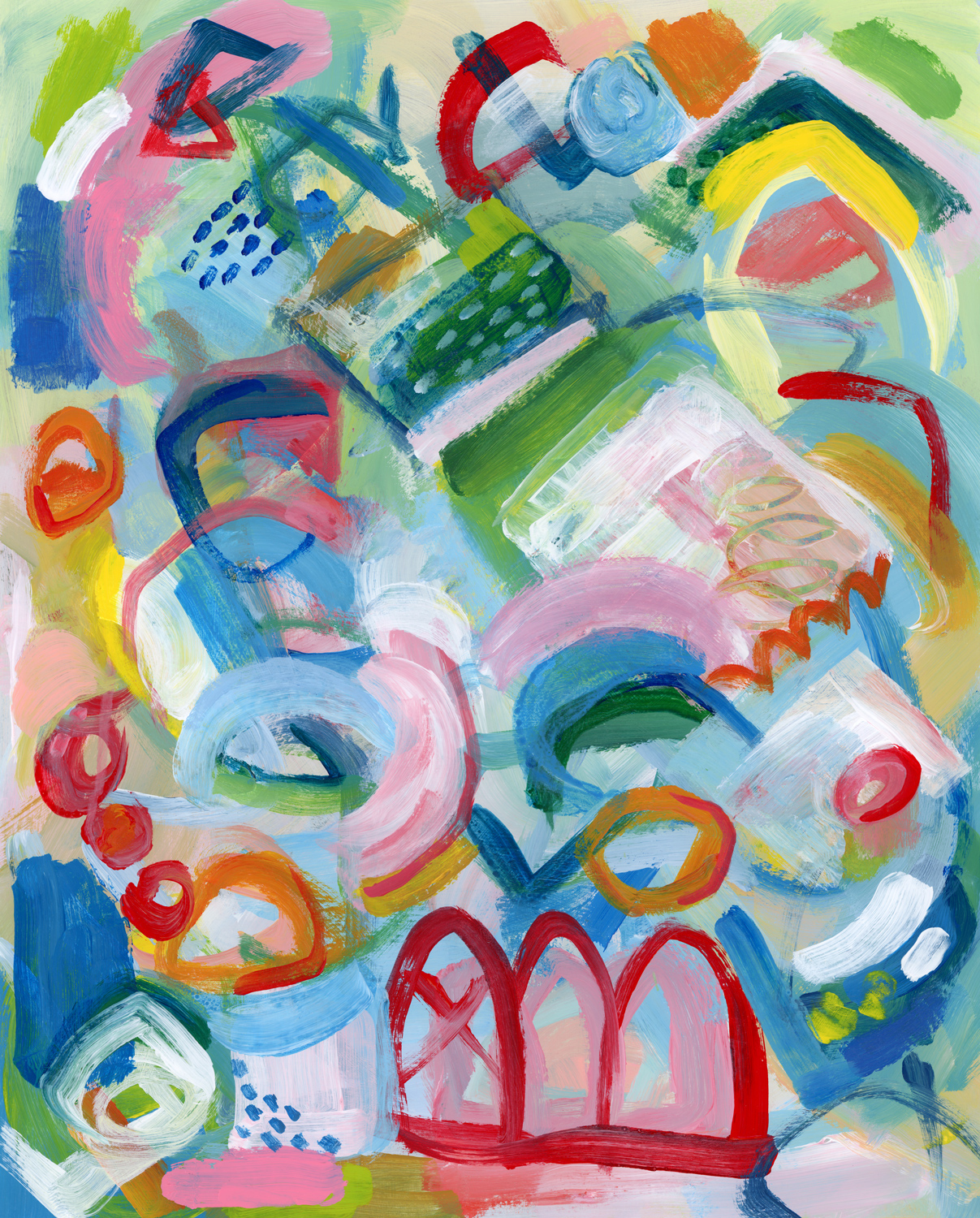 11. Now, tell us a little more about you as a person: what is your favourite food?
This is a tough one as there are so many types of foods that I enjoy. I grew up in a very food focused family. I love Italian and Greek food in particular but I definitely have a sweet tooth. Despite all the exposure I had growing up to so many varied recipes and foods, one of my all time favorites is (still, since childhood) a traditional, moist, vanilla "birthday style" cake with chocolate frosting (4 layers, please).
12. Favourite book?
I do have some favorite authors but not a favorite book. I am particularly drawn to a number of the authors of children's books, with one of my all time favorites being Dr. Seuss.
13. Favourite genre of music?
I played the violin from the time I was four until my sophomore year of college so I grew up playing (and still enjoy) classical music. But my current favorites would be R&B first and Pop second.
14. What are your hobbies?
Photography, cooking, baking, and visiting galleries and museums.
15. If you weren't an artist, what would you be?
I would most likely be an astronomer (if I could only master calculus!). I am fascinated by all those things that we don't fully understand about the universe.