Instagram: @morphic.room
Website: www.morgane-philbert.com
1. What's your story? Where are you from?
I'm French, born in the South East and I grew up in the South West, a 100% southern product. During my childhood, I lived by the sea, under overwhelming heat and the cicada song. As a teenager, I grew up in the countryside. The great outdoors, nature and rivers surrounded me. Then, I went to Toulouse to study graphic design, in streets colored with pink, I explored my passion for art.
But I was dreaming to expatriate myself and travel, that's why at the end of my studies I left. My big gaps in English prompted me to move to London, where I found my place among pubs and Brick Lane's street art for 3 years.
Je suis française, née dans le Sud Est et j'ai grandi dans le Sud Ouest, un produit 100% Sud. Durant mon enfance, j'ai vécu au bord de la mer à la Ciotat, sous une chaleur écrasante et le chant des cigales. Durant mon adolescence, j'ai grandi dans la campagne à côté de Carcassonne. Le grand air, la nature et les rivières m'ont entourés. C'est ensuite à Toulouse que je suis partie faire mes études en design graphique, dans des rues colorées de rose, j'ai exploré ma passion pour l'art.
Mais c'est depuis toujours que je souhaitais m'expatrier et voyager, c'est pour cela qu'à la fin de mes études je suis partie. Mes grandes lacunes en anglais m'ont poussées à partir à Londres, où j'ai trouvé ma place parmi les pubs et les graff de Brick Lane pendant 3 ans.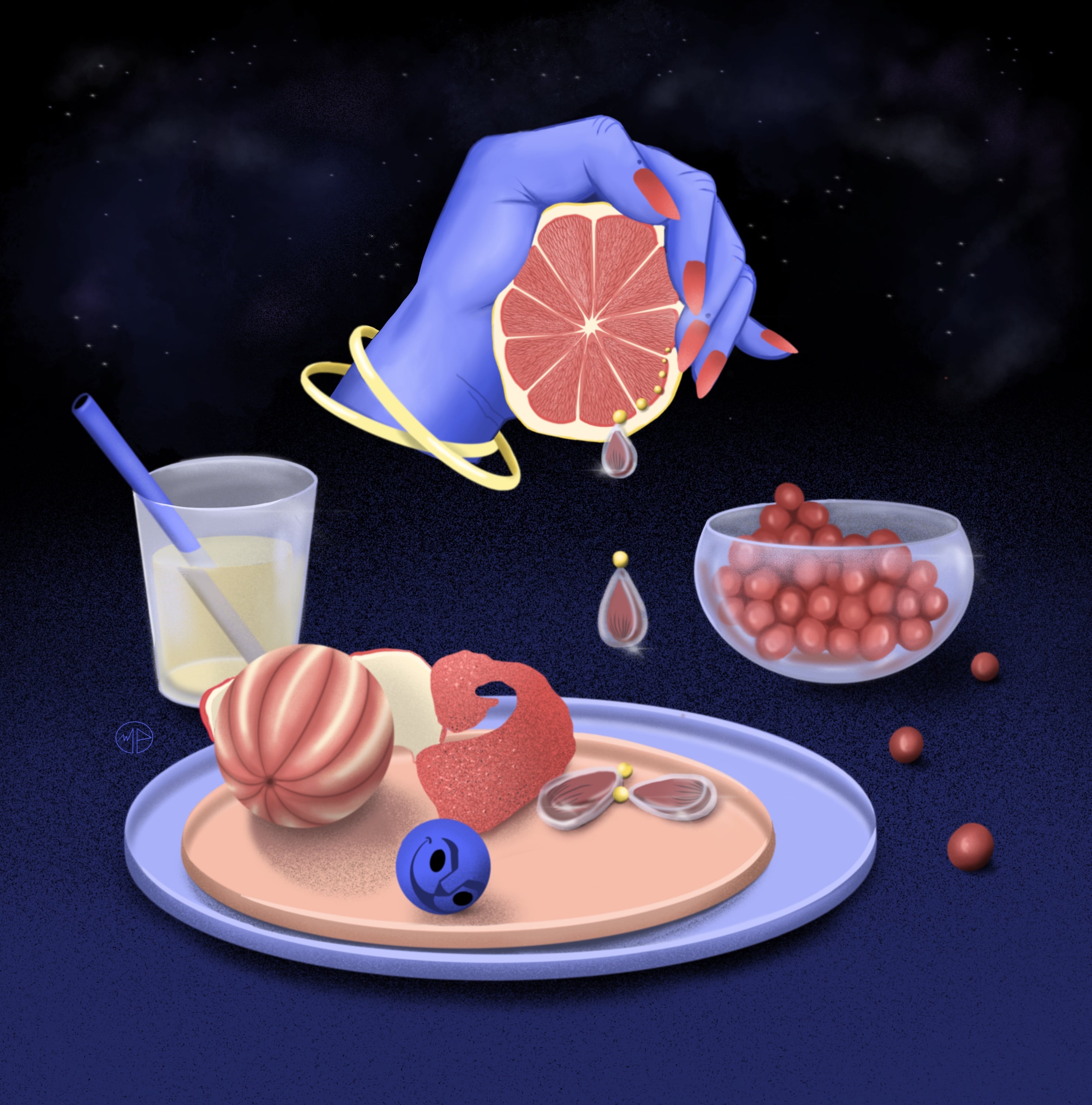 2. Tell us about your aesthetic.
I love the reliefs, strong shading and patterns! I try to give a special vibe, a slightly strange atmosphere, which we find in each of my illustrations.
I like to use blue as skin color, I find it easier to use and it also doesn't refer to something human. The colors and I had been angry for a long time… I preferred to use a little bit at first and then others finally came to me.
I often represent women, whom I find mysterious. I express it with the features of a mischievous child, a round head and curly eyebrows. Their bodies are those of women with generous curves that I pronounce with strong shadows. I also like to divert scenes of objects or animals in my universe.
I've had fun applying patterns that I create by deforming checkerboards, it relaxes me and begins to give my illustrations a signature. But honestly, I'm still in constant search to develop my style...
J'adore les reliefs, ombrages forts et les motifs! J'essaye de donner une ambiance particulière, une atmosphère un peu étrange, que l'on retrouve dans chacune de mes illustrations.

J'aime utiliser le bleu comme couleur de peau, je la trouve plus facile à utiliser et il ne fait référence à rien d'humain. Les couleurs et moi avons été fâchés pendant longtemps… J'ai préféré en utiliser peu au début et puis d'autres sont finalement venues à moi.
Je représente souvent la femme, que je trouve mystérieuse. Je l'exprime avec des traits d'enfant espiègle, une tête bien ronde et des sourcils bouclés.
Leur corps sont ceux de femme avec des courbes généreuses que je prononce par des ombrages forts. J'aime aussi détourner les scènes d'objets ou les animaux dans mon univers.
Je m'amuse à appliquer des motifs que je crée en déformant des damiers, cela me détend et commence à donner une signature à mes illustrations. Mais honnêtement, je suis encore en perpétuel recherche pour développer mon style…
3. What is your favourite medium and why?
At the moment, I'll say a square format with a clean and precise inking that I create on iPad, more exactly Procreate. I do a lot of digital work. But soon, I hope to do larger formats like a wall or get back to sculpture!
En ce moment, je dirais un format carré avec un encrage propre et précis que je crée sur iPad, plus exactement Procreate. Je fais beaucoup de travail digital. Mais bientôt, je l'espère, des formats plus grands à la main ou de la sculpture, cela me manque un peu !
4. What is your artistic process like?
An idea that crosses my mind, which I'll find brilliant at the time, which I'll hate during and finally deemed correct at the end… I start with a quick sketch, then apply color swatches where I rectify some lines. I mark the shadows and lights on two levels, sometimes three. Then I add my patterns and voila! Ah and sometimes an outline. I like to build on my old designs and always more or less the same color palette to create a creative line with my characters, even though they never really look alike.
Une idée qui me traverse l'esprit, que je vais trouver géniale sur le moment, que je vais détester pendant et finalement jugée correcte à la fin… Je commence avec un croquis rapide, j'applique ensuite les aplats où je rectifie certaines lignes. Je marque les ombres et les lumières sur deux niveaux, des fois trois. Ensuite j'ajoute mes patterns et voilà ! Ah et des fois un contour. J'aime ensuite m'appuyer sur mes anciennes créations et toujours plus ou moins la même palette de couleur pour créer une ligne créative avec mes personnages, même s'ils ne se ressemblent jamais vraiment.
5. Who and/or what inspires your work?
I would say everything I see on a daily basis, whether it is a film, a series, a landscape, a person I meet or even artists that I discover on Instagram, or during exhibitions. I've always liked weird stuff as a teenager, and it stuck with me. I think that even if I want to break away from it, my love for universes like Tim Burton or Wes Anderson will take over.

Je dirais tout ce que je vois au quotidien, que ce soit un film, une série, un paysage, une personne rencontrée ou encore des artistes que je découvre sur Instagram, où lors d'expos. J'ai toujours aimé les choses étranges et bizarres quand j'étais ado, et cela m'a collé à la peau. Je pense que même si je veux m'en détacher, mon amour pour les univers comme celui de Tim Burton ou Wes Anderson prendront le dessus.
6. What role does art play in your life? How does it change the way you view the world?
A huge place, not that I create for myself regularly, but my job is to create for others. I'm a freelance graphic designer. I'm fortunate to be able to organise my work time to find free time to create just for myself. On a daily basis, it makes things more beautiful and more fun. I've had fun taking pictures of things that I think are beautiful and artistic. I contemplate the small details and think about how I can reproduce them in my own way. I'll say it teaches me to see the world differently.
Une grande place, non pas que je crée pour moi régulièrement, mais mon travail est de créer pour les autres. Je suis graphiste free-lance. J'ai la chance de pouvoir organiser mon temps de travail pour trouver du temps libre pour créer uniquement pour moi. Au quotidien, il rend les choses plus belles et plus fun. Je m'amuse à prendre des photos de choses que je juge belles et artistiques. Je contemple les petits détails et pense à comment je pourrai le reproduire à ma manière. Je dirai qu'il m'apprend à voir le monde autrement.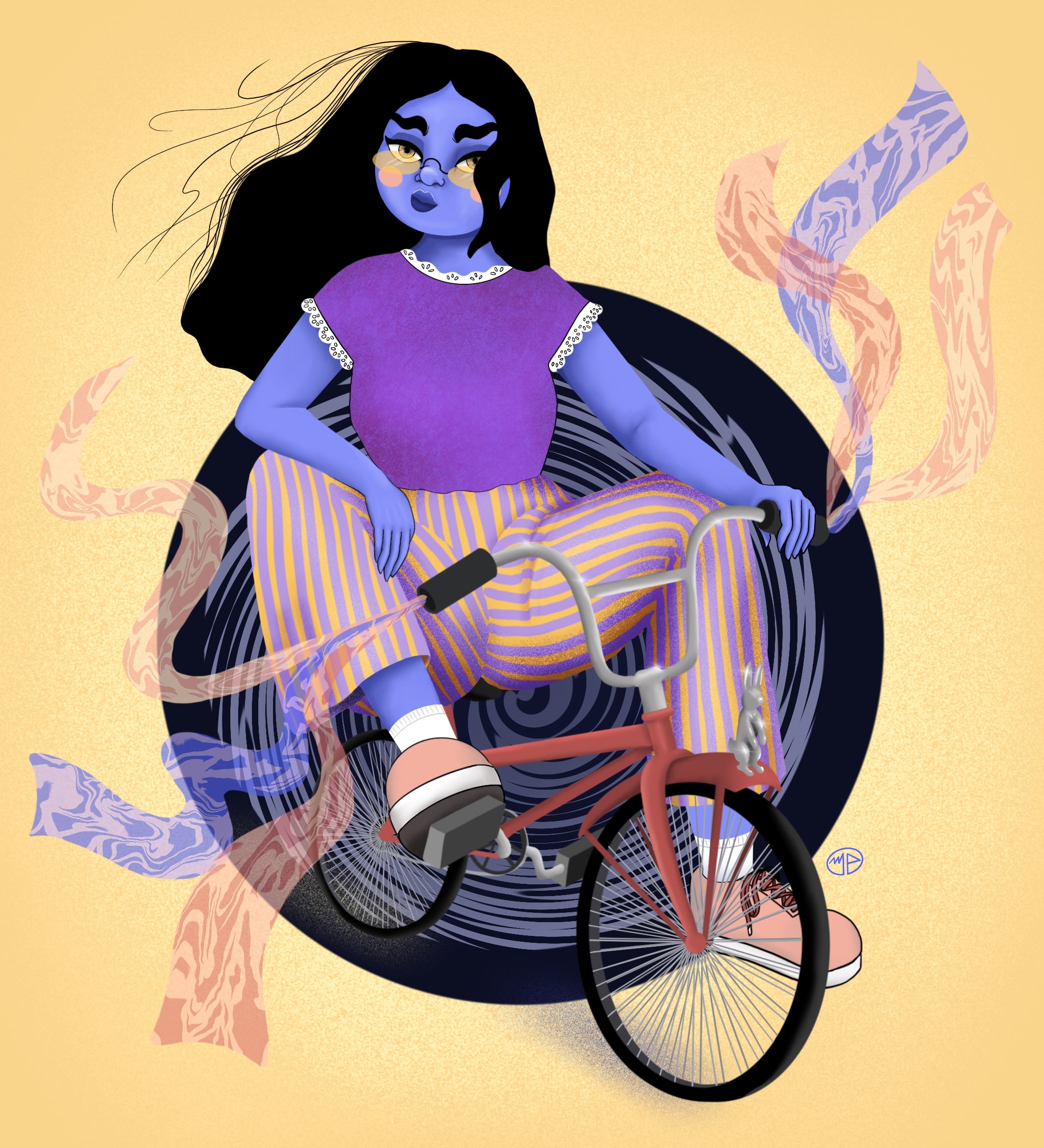 7. Where did you study?
Thanks to my sister Fleur D (owl's edition), I was able to practice art in all these forms during my childhood and adolescence. I've discovered painting, sculpture and photography. Thereafter, I studied in Toulouse (France), at the Axe Sud school where I obtained a master's degree in web and print graphics.
Grâce à ma sœur Fleur D (owl's edition), j'ai pu m'exercer à l'art sous toutes ses formes lors de mon enfance et adolescence, c'est auprès d'elle que j'ai découvert la peinture, sculpture et photographie. Par la suite, j'ai étudié à Toulouse, à l'école Axe Sud où j'ai obtenu un master 2 en graphisme web et print.
8. Where do you see yourself in five years?
I don't know anything about it, I hope I can travel. I put my road trip plans on break, to focus a little more on work. I want to move to Paris soon, see if this French capital inspires me.
Je n'en sais absolument rien, j'espère que je pourrai voyager. J'ai mis mes projets de road trip en pause, pour me concentrer un peu plus sur le travail. Je souhaite m'installer à Paris prochainement, voir si cette capitale française m'inspire.
9. What about in ten?
Wow, it's too long! It scares me. I prefer not to think about it too much. I find it hard to project myself into the future, life is unpredictable and I don't want to curse myself. Yes, I'm a little superstitious...
Oula c'est dans trop longtemps! Ça me fait peur je préfère pas trop y penser. J'ai du mal à me projeter dans le futur, la vie est imprévisible et je ne veux pas me porter la poisse. Oui je suis un peu superstitieuse…
10. What do you hope to achieve with your art?
I really started creating for myself recently, I think he still needs to mature and grow. I wanted to explore my universe to invite people to dive into it! I would like to test larger supports soon and start sculpture again if I can.
Je me suis réellement mise à créer pour moi récemment, je pense qu'il a encore besoin de mûrir et grandir. Je souhaite explorer mon univers pour inviter les gens à plonger dedans! J'aimerai tester des supports plus grands prochainement et reprendre la sculpture si je le peux.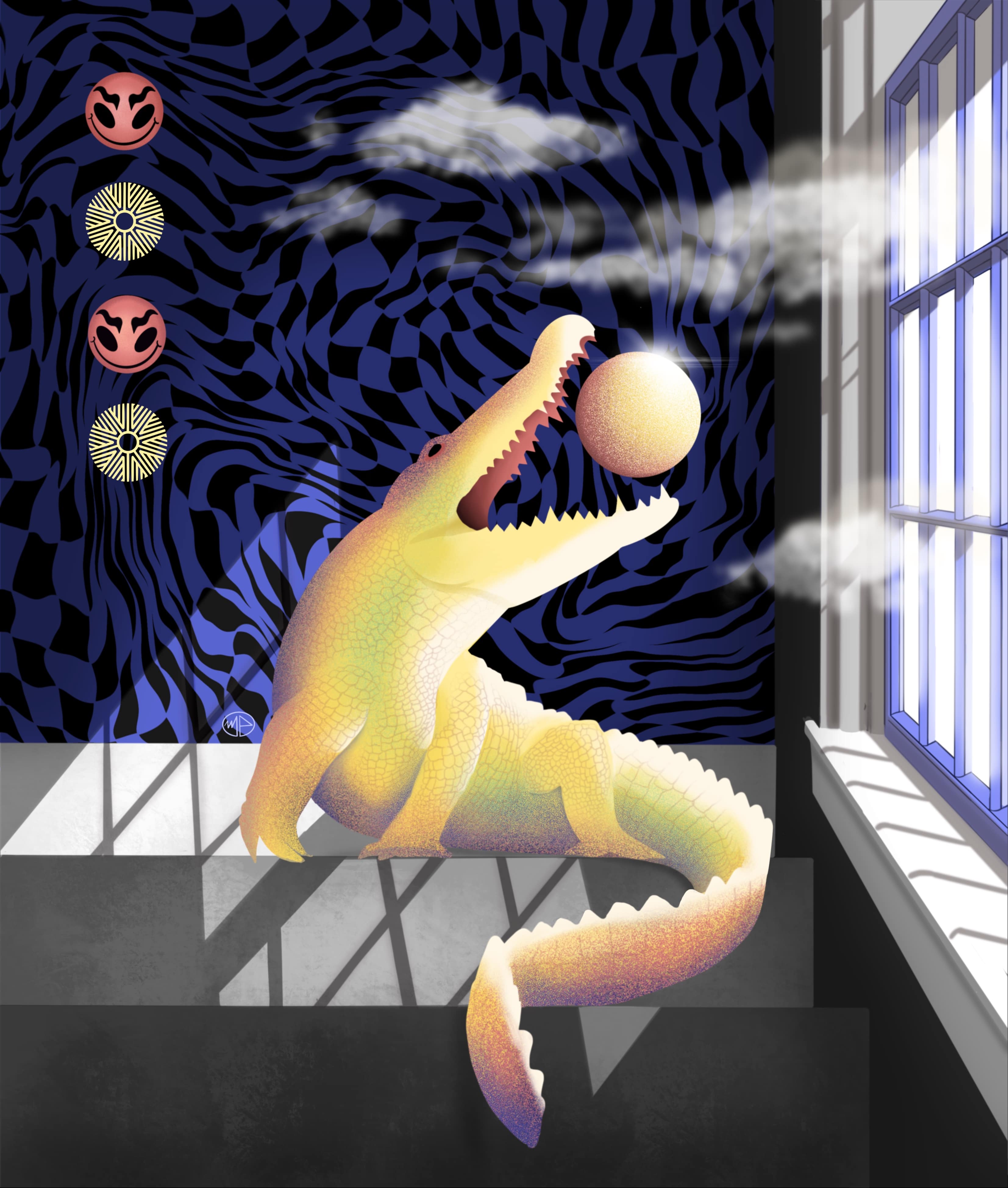 11. Now, tell us a little more about you as a person: what is your favourite food?
I love my mom's Moussaka, but especially having aperitifs with friends and family. Yes I know it's not really a dish but you didn't specify. Let's say I like a good meal with the right people.
J'adore la Moussaka de ma maman mais surtout prendre des apéros entre amis et en famille. Oui je sais ce n'est pas réellement un plat mais vous n'avez pas précisé. Disons que j'aime un bon repas entouré des bonnes personnes.
12. Favourite book?
Can it be a movie? I'm not a big reader to my displeasure... But I recently finished "Nothing is Black" by Claire Berest, a book about Frida Kahlo's life, it was awesome. As for movies, I'll say "Rubber" by Quentin Dupieux or "The Space Odyssey" by Kubrick.
Est-ce que cela peut être un film? Je ne suis pas une grande lectrice à mon déplaisir… Mais j'ai beaucoup aimé « Rien n'est noir » de Claire Berest, un livre sur la vie de Frida Kahlo. Pour ce qui est du film, je dirais « Rubber » de Dupieux ou « L'odyssée de l'espace » de Kubrick.
13. Favourite genre of music?
Rock, electro and disco!!
Le rock, l'électro et le disco!!
14. What are your hobbies?
Watching movies I think you got it! Travel and music festivals also have a big place in my daily life. Recently, I have taken to roller skating but it's not yet a great success.
Regarder des films, je crois que vous avez compris! Les voyages et les festivals de musique ont aussi une grande place dans mon quotidien. Récemment, je me suis mise au rollers mais ce n'est pas encore un grand succès.
15. If you weren't an artist, what would you be?
I would have liked a profession of action. In the field, as an investigator or an anthropologist. Quite the opposite of me, behind my screen!

J'aurai aimé un métier d'action. Sur le terrain, comme un enquêteur ou un anthropologue. Tout l'inverse de moi, derrière mon écran!