Instagram:
@mr_uve
Facebook:
www.facebook.com/antonio.uve.illustration
Website:
www.antoniouve.com
1. What's your story? Where are you from?
Hola! I'm Antonio Uve, an illustrator currently based in Madrid. Originally, I'm from Jaén, a small, quiet city in the south of Spain. It's surrounded by olives tree and big castle up on a hill.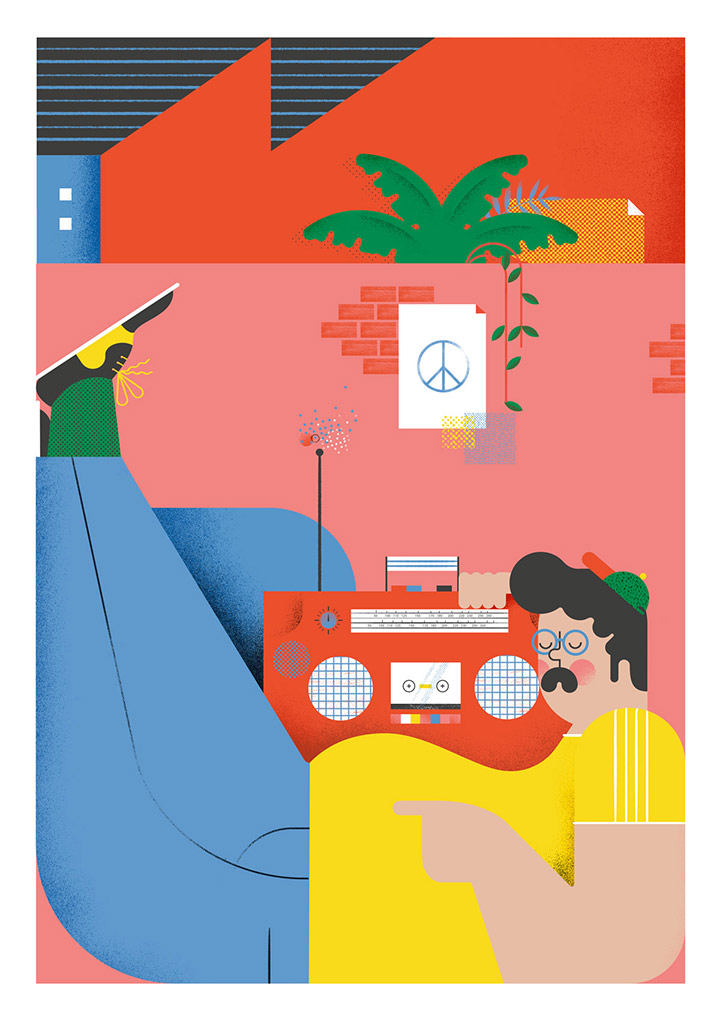 2. Tell us about your aesthetic.
My aesthetic is a mix of shapes, bright colors and textures. In my art, it's very common to find plump guys with big moustaches, women with big glasses and red cheeks for all of them!
3. What is your favourite medium and why?
My medium is mainly digital since I feel more confident there but when I have time I try to leave the computer and sit down for drawing in the analog way, colored pencils, watercolors and paper.
4. What is your artistic process like?
Generally, my process starts with various ideas and I start sketching. I used to sketch quickly and go directly to the computer but I realized it was slowing me down and I need more time to work through all the ideas. Now I make sure I have a much firmer grasp before I scan and start working on the computer. Once I've scanned the sketches, I begin working digitally, first forming and refining the basic shapes and then playing with colors and finally adding textures and details.
5. Who and/or what inspires your work?
Mainly things from daily life like the music that I'm listening to, a palette of colours I find, the city around me and... Instagram! It is a big source of inspiration since I can see what other illustrators are doing, also it challenges me to constantly push myself and improve.
6. What role does art play in your life? How does it change the way you view the world?
For me, art is a different way of looking at the world and it is a tool to create my own world surrounded by the things I like.
7. Where did you study?
I studied Advertising and Public Relations at the Universidad de Málaga. While in that program, I took a course in Graphic Design which taught me all the basic programs I use now in my illustrations. I greatly regret not taking more art and illustration courses but I never imagined being able to make a living this way.
8. Where do you see yourself in five years? Working in an agency?
I would like to continue illustrating freelance with enough assignments to pay my bills. Working in a studio with other illustrators would be nice. I would like to move again to a new city and I'm open to almost anywhere in the world...
9. What about in ten?
The same, busy with assignments and working in a different city that the previous five years.
10. What do you hope to achieve with your art?
When I am illustrating I´m looking to have fun, spend a good time doing what I like most. I think if you are having fun it translates to final result.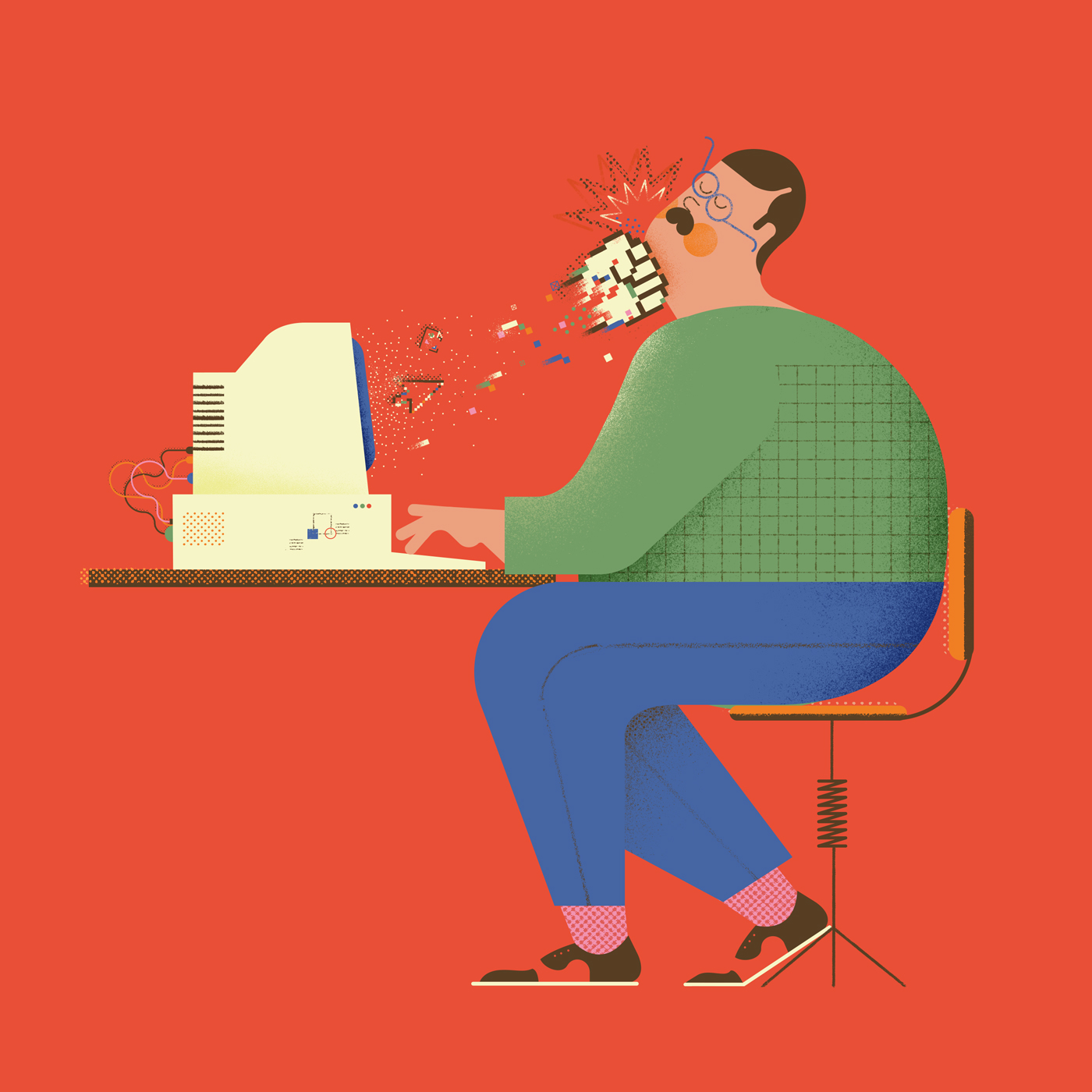 11. Now, tell us a little more about you as a person: what is your favourite food?
Oops! Too many! I'm quite easy-going with food and it's difficult to choose... Maybe the paella that my father prepares for me when I go back home. It sounds like a typically Spanish response but his paella is the best to me. 
12. Favourite book?
I can read any book that is dropped in my hands, I don't have a favourite one. If we are talking about books with images, I choose The Soft Atlas of Amsterdam by Jan Rothuizen, it is a hand-drawn map of the city with funny notes about the city and Dutch culture that transports me back to my days in the city.
13. Favourite genre of music?
I like many genres of music. I need to work with music so I'm always looking for new bands and songs. Lately, I have listening to Sampha, Helado Negro, Explosions in the Sky, A Tribe Called Quest, and The Horrors.
14. What are your hobbies?
I like cooking, reading, watching TV series, going to the cinema, concerts and, when it is possible, travel!
15. If you weren't an artist, what would you be?
I think I would like to be a chef. I really enjoy cooking since it relaxes me and disconnects me from the computer. I'm always looking for new recipes to try new things.