Instagram:
@m.saneyuki
1. What's your story? Where are you from?
I'm from Japan. I was drawing Manga before. Currently, I'm working as an illustrator. I also do some additional work, like drawing live paint and murals. 日本出身。以前は漫画を描いていました。現在はイラストレーターをやっています。その他にも、壁画やライブペイントなど多岐にわたり活動を行なっています。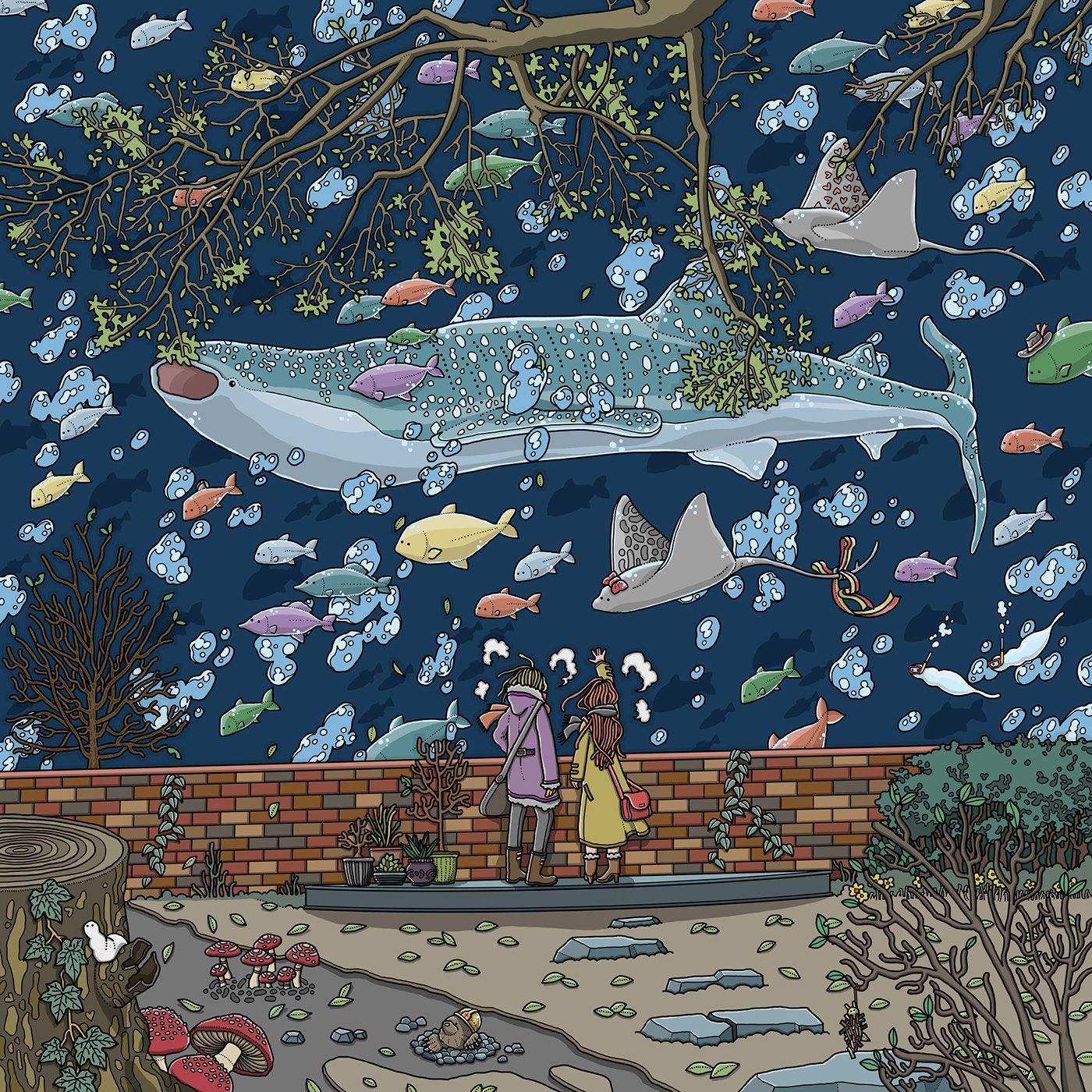 2. Tell us about your aesthetic.
I am particular about line drawing. Predetermining the type and thickness of lines used in a piece, they are drawn according to specific rules. 線画へのこだわりがあります。1つの作品の中で描く線の太さを数パターン決めて、一定の法則に従って描いています。
3. What is your favourite medium and why?
Digital art, pen art. Drawing pen art derived from drawing Manga. I moved to digital art to draw uniform lines. It is produced so that the charm of analog illustration remains. デジタルアート、ペンアート。元々は漫画から派生したペンアートをやっていました。デジタルに移行したのは、手描きには実現出来ない均一な線画が表現できるからです。デジタルに特化した表現というよりも手描きの再現をしています。
4. What is your artistic process like?
Reproducing analog illustrations. Draw a rough drawing on paper. Then, draw a digital line drawing with a tablet pen based on the rough drawing. I am not particular about coloring and shading. I take care of the balance. 前述の通り手描きの再現をしています。紙にラフ画を描きそれを元にペンタブレットで線画を起こしていきます。線画表現が自分の中の最大の課題なので、着彩にはこだわりません。陰影も大まかにしかつけません。バランスと雰囲気を見ながら色や陰影をつけます。
5. Who and/or what inspires your work?
Such as Hergé, Eizin Suzuki, Seizo Watase, I was influenced by the technique of expressing gradation with solid lines. My initial work expressed gradation with solid lines. The gradation is now represented by a broken line. I was also influenced by lithography and silkscreens. Lithography and silkscreen line drawings that express lines as surfaces are my ideals. エルジェや鈴木英人、わたせせいぞうのようなグラデーションを実線で表現する手法に影響を受けました。 漫画作品を描いていた頃や、デジタルに移行した初期はグラデーションを実線で表現していたのですが、次第に陰影は点線を用いるようになりました。またリトグラフやシルクスクリーンにも影響を受けました。細かい「線」を筆運びのない「面」で表現できるリトグラフやシルクスクリーンは私の求める線の理想でもあります。
6. What role does art play in your life? How does it change the way you view the world?
Art exists to express the world I see. My work is a reproduction of the world. Therefore, I learned the habit of observing the modeling. I especially like flowers and natural scenery. 私の作品は世界の「再現」です。そのため、造形について常に考える習慣が身につきました。特に自然物の造形に興味があり、草花や森の風景などを自分の表現に反映させるにはどうすればいいかというのを常に考えています。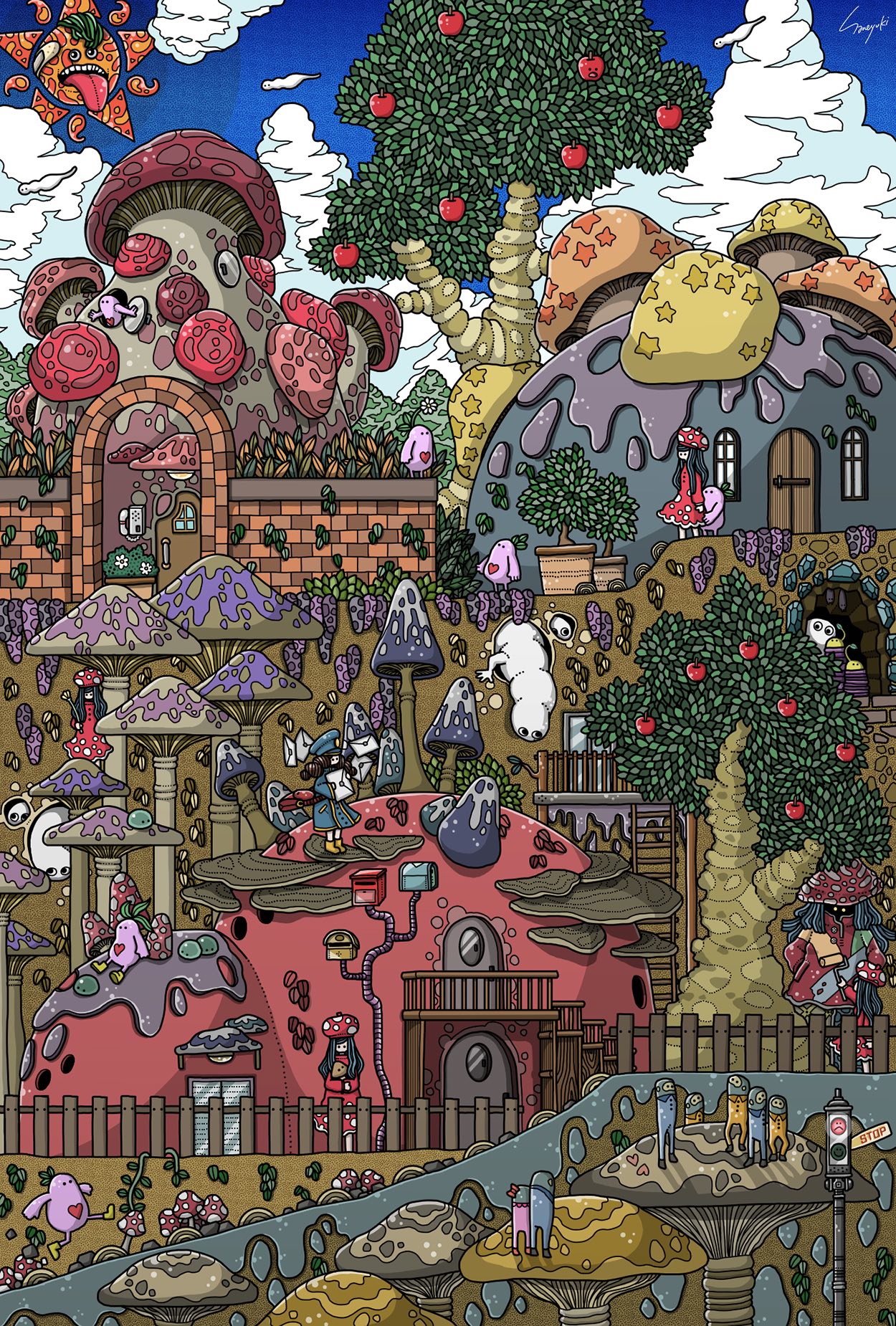 7. Where did you study?
I graduated from a design school. デザイン系の専門学校を卒業しました。
8. Where do you see yourself in five years?
I want to draw pictures that will make more people happy. To be honest, I want to be famous. より多くの誰かに喜んでもらえる絵を描けるようになりたいです。正直に言うと、有名になりたいかな。
9. What about in ten?
The goal will not change, so I will be doing the same thing. Somewhere, somehow I will continue to draw. 目標は常に変わらないので、同じことを続けていると思います。形は変わるかもしれませんが、なんらかの形、どこかしらの場所で絵を描いていると思います。
10. What do you hope to achieve with your art?
My goal is to make my work part of someone's daily life. Magazines, posters, CD jackets, book-cover design, food packages, etc. 自分の絵が誰かの日常の一部になることが目標です。それが多ければ多いほど望ましいです。雑誌やポスター、CDジャケット、お菓子のパッケージ。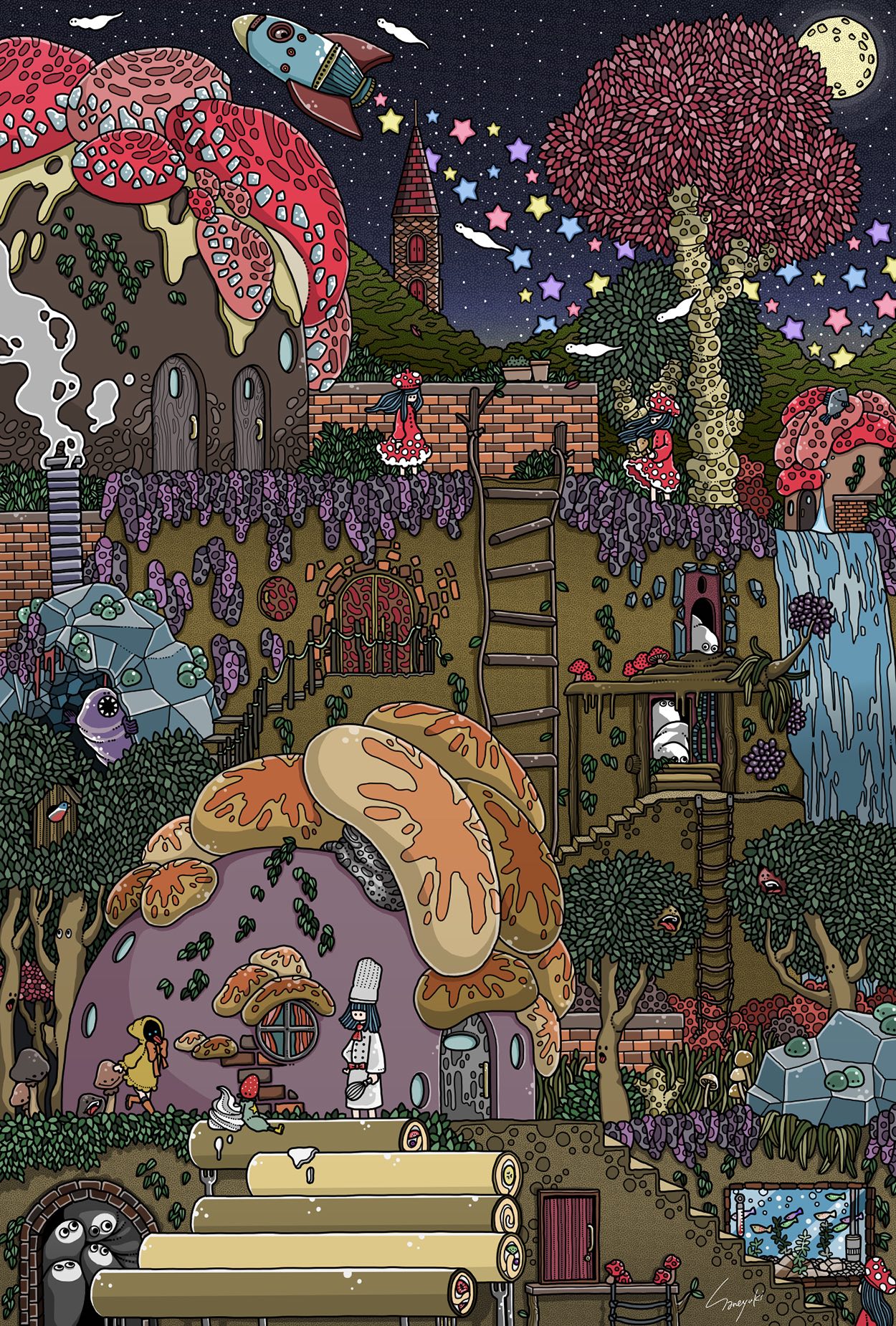 11. Now, tell us a little more about you as a person: what is your favourite food?
Grilled eel. うなぎの蒲焼です。
12. Favourite book?
I really like the "Moomin" series by Tove Jansson. I like illustrations, world views and characters. トーベ・ヤンソンの「ムーミン」シリーズです。挿絵も世界観もキャラクターも全てが好きです。
13. Favourite genre of music?
Indie rock. I am a fan of Vampire Weekend. 主にインディー・ロックが好きです。Vampire Weekendのファンです。
14. What are your hobbies?
My hobby is listening to music. I listen to music on the move or at work. 音楽鑑賞です。移動中や仕事中にはいつも音楽を聴いています。
15. If you weren't an artist, what would you be?
Well... I can't imagine. うーん…想像だにしません