Instagram:
@nandovtwork
Website:
www.fernandovt.com
1. What's your story? Where are you from?
I was born in Roca Sales, a small town in a green and sunny valley in the Southern most state of Brazil. During my teenage years I moved to the big city Porto Alegre to study and live. It always felt natural for me to seek a bigger and noisier city. I graduated in Publicity and Advertising and was then working as an art director and graphic designer in lots of different advertising agencies.
I left Brazil in 2008 after deciding to have a small break - I guess we always feel when it's time to shake things up. I went to Spain for a few months and got a summer job as a waiter. My main goal was to leave my comfort zone, meet interesting people and learn Spanish and it didn't take long for me to fall in love with the country. Next I moved to Italy and did the same thing for a couple of months. Although I had a job, my creative side wasn't being exercised. I guess working with design for many years made me really interested also in illustration and geometrical shapes, so on my spare time I started to illustrate on my computer as a hobby. This eventually led to me creating a website to collect my experiments. Suddenly I started to get more and more commissions through magazines and that was very exciting.
When it was time to get back to Brazil and back to advertising, I knew something had changed. Working long hours (and many times at night) in the agency wasn't interesting anymore. I worked for a few months longer but decided to quit and try and work only as an illustrator and graphic designer on my own. It was the beginning of the freelancers era and it was scary. I then got all the paperwork for my Italian citizenship together and decided to move to an even bigger city: London. And then I found home, work, friends and love. And it's been 5 years.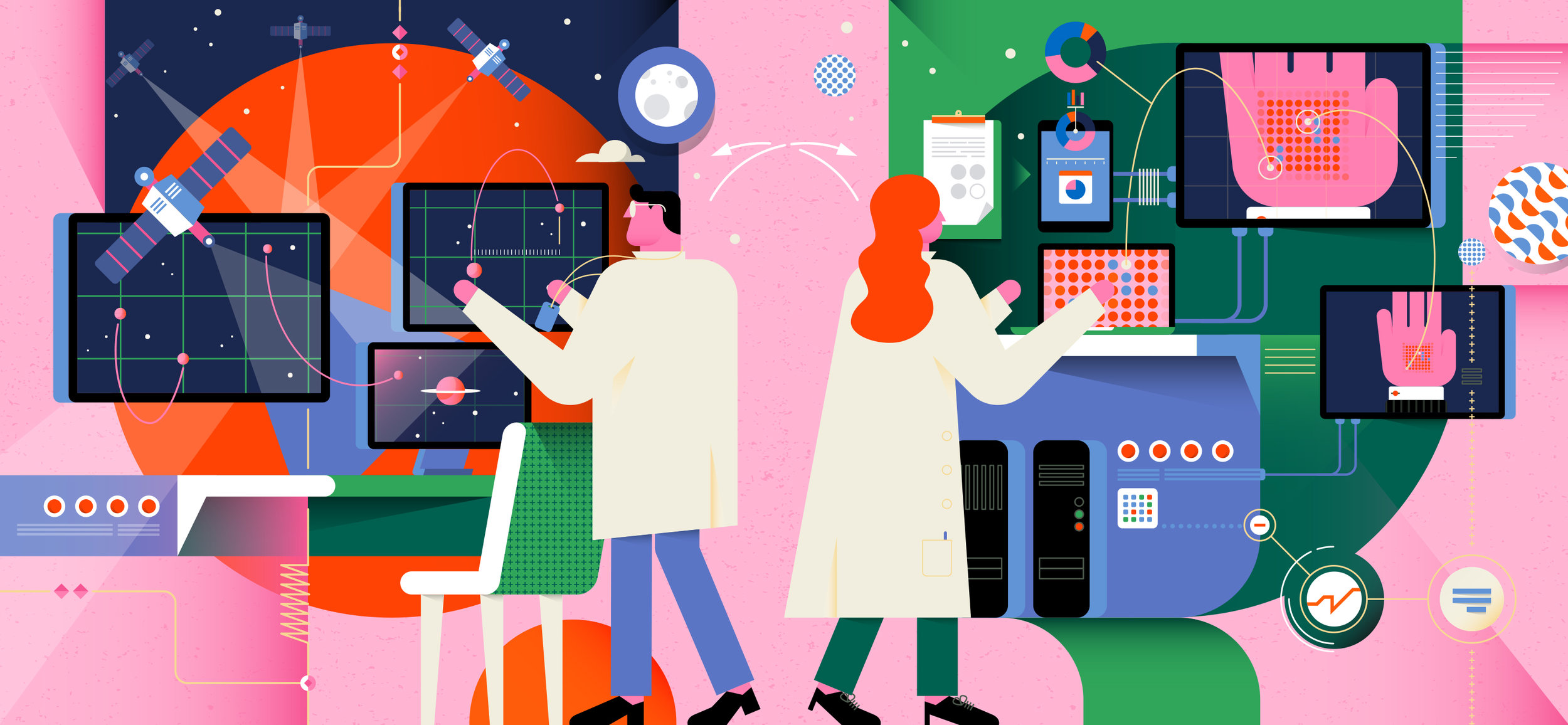 2. Tell us about your aesthetic.
I'd say my style is predominantly geometrical, contrasting and vibrant. My compositions are slightly intricate, formed of small and clear-cut shaped elements. I always try to create an 'organised chaos' in a canvas. Though I guess with time my style has changed a bit and I am more focused on the message to be passed and on adding more narrative rather than having an impacting beautiful piece. I also love using minimalism in my work. Lately I am allowing myself to have new personal rules when I draw, going more organic, less stern, playing more with texture, gradients and volume too. The way I use colours also changes from time to time. If it's not specified by the client, it goes a lot according to my mood.
3. What is your favourite medium and why?
I choose digital as this is where I feel the most comfortable. I use Illustrator and Photoshop and I like the infinity possibilities both softwares offer. I also like hand drawing, but it's like my brain was split in two different compartments – it's a whole different aesthetic. And those drawings I usually don't show around.
4. What is your artistic process like?
First, I need music. Spotify sorted, I get my notepad. Using paper I sketch a very basic skeleton of my composition. Sometimes I don't even sketch and instead go straight to the computer, open Illustrator and pick a colour palette. I create and focus on one main element and from that one all the others magically emerge. I stack, flip, cut, amend shapes until I have some sense of comfort and that I am on the right track. It's interesting that I need to have that feeling. If I feel I am not liking it 100% - which is very recurrent - I leave it and go for a walk. When I am back, I see it differently. It always works. Sometimes I change the whole colour palette and the orientation of the illustration in the very end.
5. Who and/or what inspires your work?
Everything can inspire me. I remember a professor at uni telling me how important it was I kept reading from comics to Shakespeare. Also living in London has already been an interesting adventure. The city is pure daily inspiration and I am very keen on change, so it has lots to offer. Everyday here there's something new to be discovered. I love that. There are lots of other artists that I admire and keep an eye on and I try to always keep an eye on the past to see how I can make things different in the future.
6. What role does art play in your life? How does it change the way you view the world?
It's very present. As I am a very inquisitive person I am usually very interested in other people's perspectives. Art makes us to try and see world through someone else's eyes, so I am really drawn to it. I love an art exhibition, it's like having a really nice meal, with lots of intangible servings.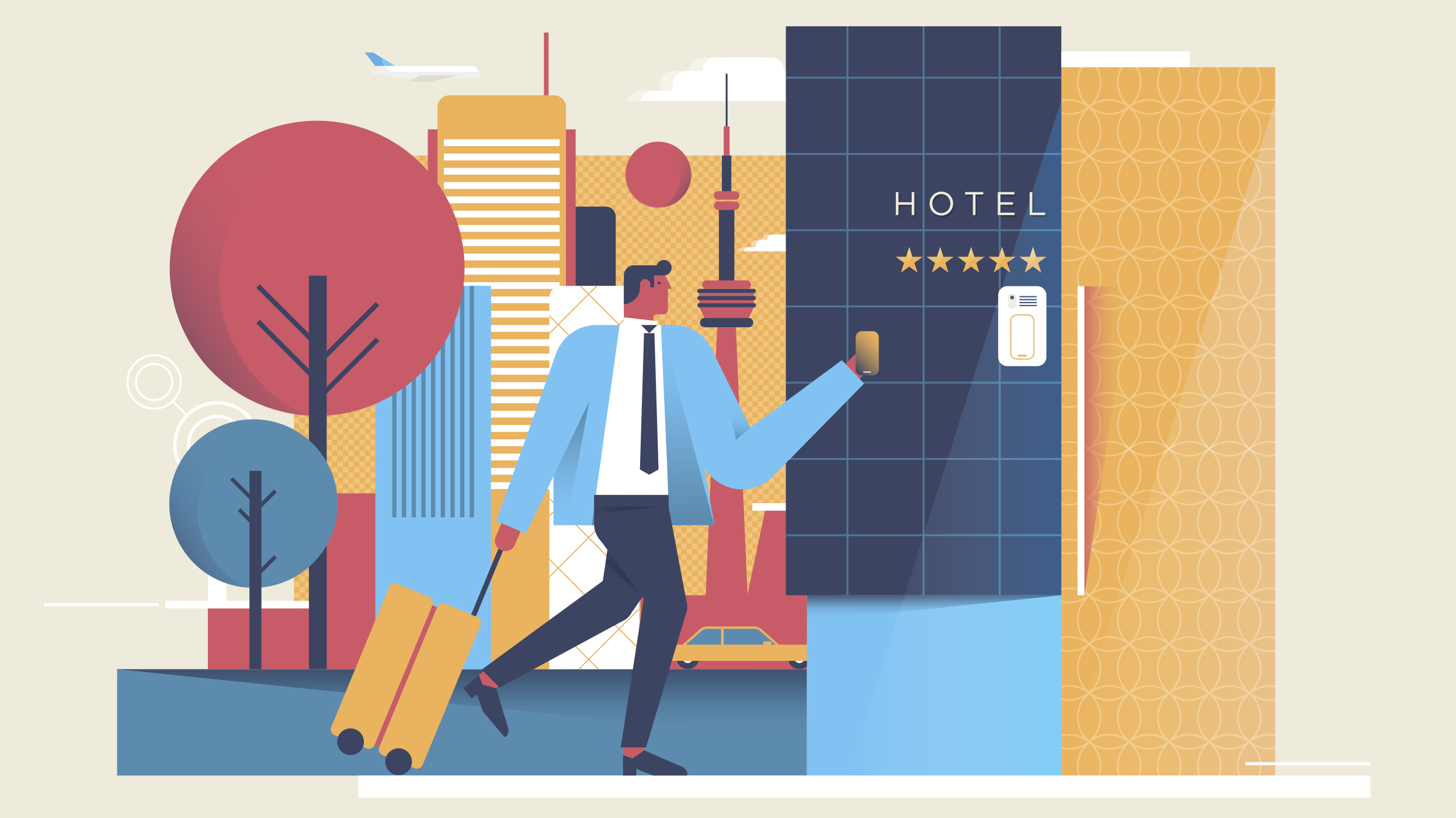 7. Where did you study?
I studied at UNISINOS (Universidade do Vale do Rio dos Sinos) in a city called São Leopoldo, in Southern Brazil.
8. Where do you see yourself in five years?
I try not to think too much on the future, as it can make one anxious. Though I'd like to see myself working to make people's lives better. Charitable and purposeful work. On the creative side, would love to be working more with video, music industry and fashion. Maybe some really nice collaborations or maybe having my own shop.
9. What about in ten?
Hopefully, having a family and maybe living in a smaller city in Europe, preferably by the sea. Still working and being able to travel the world, which is what I like the most. But who knows…
10. What do you hope to achieve with your art?
I try to get people's attention for one second, so they can read my message. I like to illustrate daily life and enable someone to see it with my eyes for a moment. Every single element I add to a composition means something. I like to bring admiration and questioning.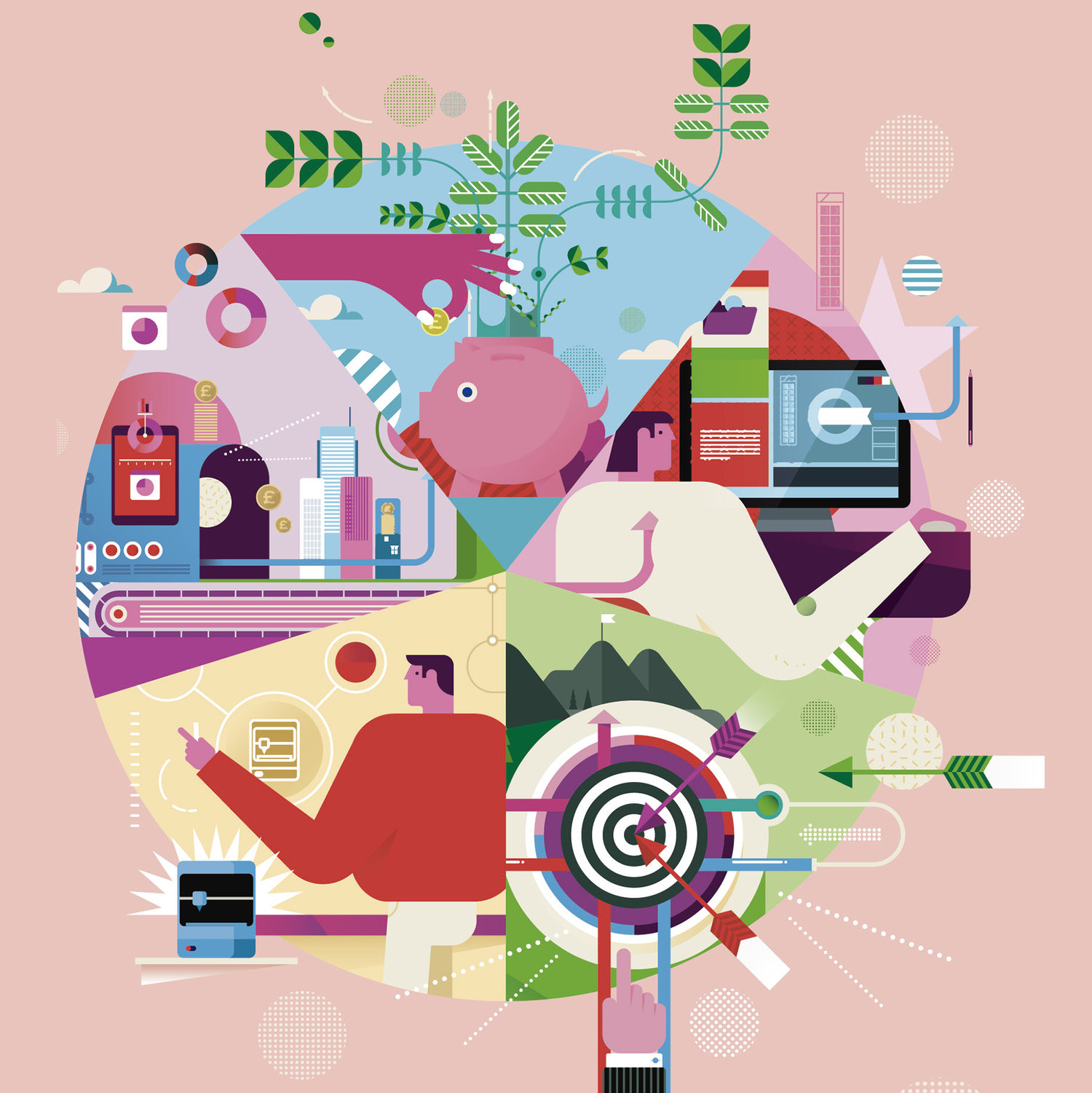 11. Now, tell us a little more about you as a person: what is your favourite food?
Since I was a kid I love food in general. I used to be chubby as a kid and my aunt used to grab my cheeks and call me 'my fluffy cake'. Now I try to live a healthy life and I love Japanese and Thai food. They're definitely my favourite.
12. Favourite book?
The Solitaire Mistery, by Norwegian writer Jostein Gaarder. It's a beautiful novel about family and destiny that marked me.
13. Favourite genre of music?
House and Techno, always.
14. What are your hobbies?
I like cinema a lot and exercising. At the moment I'm getting really into callisthenics as a friend is teaching me. I also love trying new restaurants. Got influenced by another friend into dropping stars on Google Maps, now it's a constant hunt for interesting food places.
15. If you weren't an artist, what would you be?
Tough question. There are lots of options. Maybe a psychologist, as I am intrigued by the mistery of potential of our mind. Maybe a steward, have that sense of freedom and being able to see the whole world (almost became one years ago). Maybe a nutritionist. I am really interested in food and what part it plays in our lives. Or even maybe an investigative journalist, as I am super curious person and would love to work seeking the truth.