Instagram:
@nastiacistakova
Tumblr:
deschonenasty.tumblr.com
Cargocollective:
www.cargocollective.com/nastiacistakova
Website:
www.nastiacistakova.com
1. What's your story? Where are you from?
I was born in St. Petersburg, Russia. When I was about 4-5 years old, me and my mom moved to the Netherlands and settled down in The Hague, a beautiful shore city with intense people. I never knew if i what I was going to study cause not much interested me and I'm also a person that is not interested in just one subject, all the time. So when I was in my final year of high school I decided to look at some art school programmes. I read about the illustration course, which at that time felt like that fitted the best with what I wanted to do and in that same year I did some extra courses, worked on my portfolio, applied, got accepted and moved to Utrecht.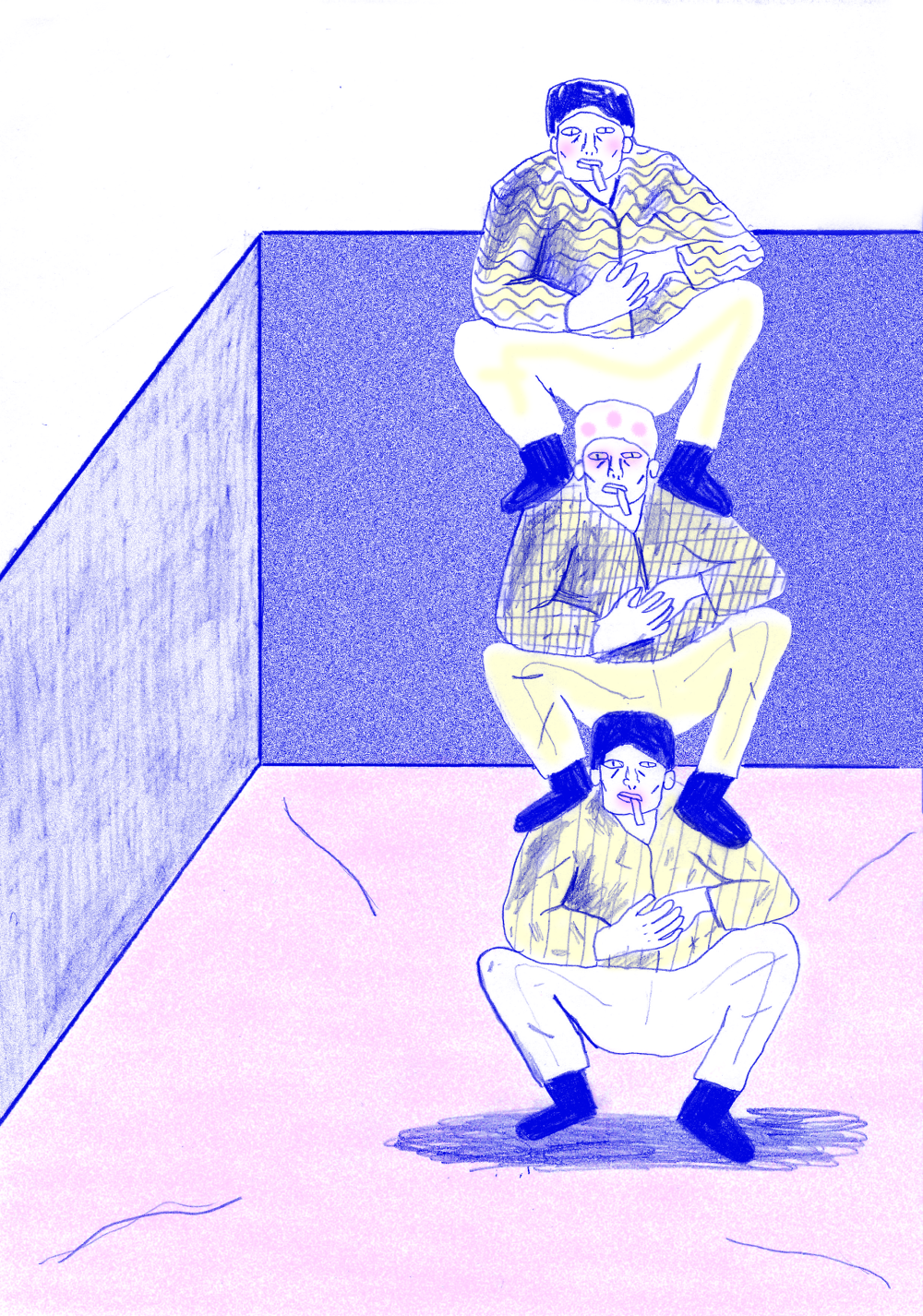 2. Tell us about your aesthetic.
My three favourite colours are cobalt blue, pink and yellow. These are (mostly) the only three colours I use. In my art I work 60% analogue and 40% digital. Thanks to a lot of digital features you can create certain elements to the art, you (or at least I) can't achieve. I like to experiment with both and trying to achieve a style where abstract, analogue and digital are becoming one.
3. What is your favourite medium and why?
I use photoshop and pencils. Sometimes there are some watercolours involved for shading of an effect I make with a pen. I find pencil nice and steady and if i want to make a character for example, stuff like ecocline or watercolour for precise things are my worst nightmare. I make everything messy and not the fun kind of messy which people call charming, this is just a MESS. With pencils you can also add a lot of photoshop effects over it like it was painted, so it is also a lazy tool for me haha.
4. What is your artistic process like?
With small projects it is mostly doing nothing until the very end where my focus-spirit is awakened and I just start making art to finish to the very last moment of the deadline. With bigger projects I just think about how I want to do it and what I want to achieve with it. So I write a concrete plan and start drawing shit loads of sketches. I than make a selection of the funniest ones. Fine-tune those with some nice photoshop layers AND DONE!
5. Who and/or what inspires your work?
I'm inspired by reality-tv, conversations I pick up while spying on people (mostly public transportation conversations). Daily life and small life irritations, social behaviour, social media behaviour (comment sections) are some more examples. I feel like people have a lot of forced and empty conversations with each other and with my art I try to analyse the situation. What is happening or what is about to be happen? I like to change the context and examine the meaning of what people try to say in order to confuse the viewer. My biggest fascination it the philosophy behind absurdism, the absurd and absurd humor. The idea behind absurdism is that everything we do and know in life doesn't have any meaning because we will die anyway. It sounds depressive but you are in charge of your life and you can decide to make the best out of it. With that in mind, I try to portrait the fear and confusion of life itself with humor. But I'm not a too happy-happy person. Cynicism, sarcasm and rage are also a part of the way to express this big fascination. Also I get extremely excited about absurd humor. The whole thing about it is that the joke or the situation doesn't have to make any sense. And the exciting part about it is, that we are all looking for meaning and sense, but the situation will not be giving to you. It will leave you hanging with anticipation.
6. What role does art play in your life? How does it change the way you view the world?
The art in my life helped me to express and allow myself to be more of the person I am. I grew up in an environment where I had a lot of critic on my personality and wasn't free to be who I was. Because of art, I am now able to visualize the thoughts I have directly into something specific to share it with people beyond words. If that part of expressing would not exist, it would feel to me similar to not having internet or a telephone anymore for the rest of your life. That's how much this 'second-nature communication system' is involved in my life.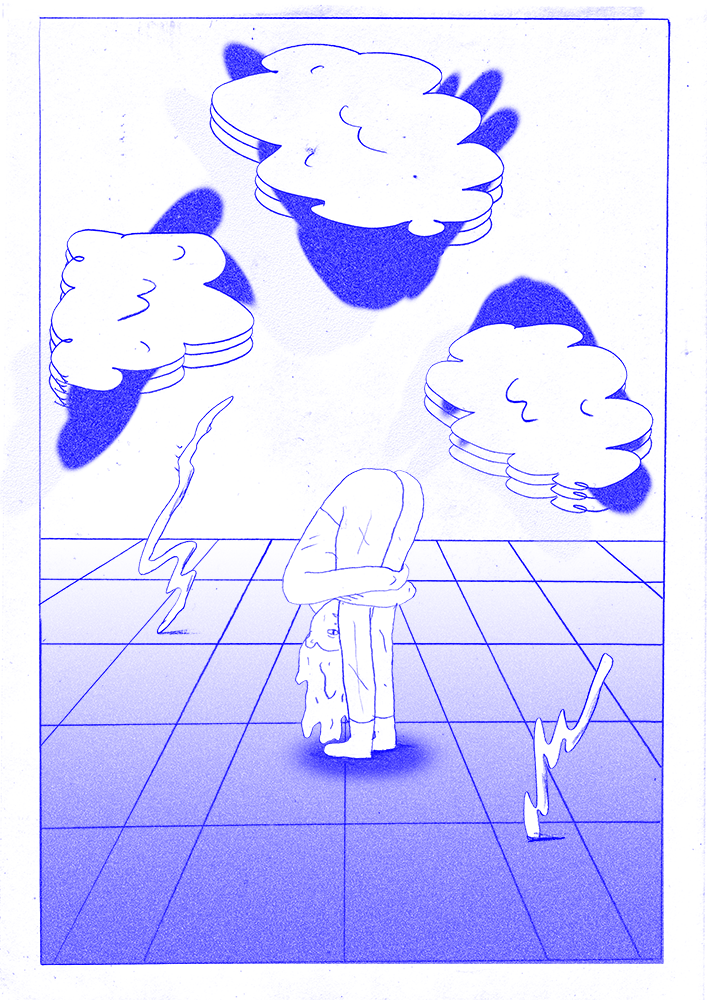 7. Where did you study?
I studied illustration at the School of Arts in Utrecht (HKU)
8. Where do you see yourself in five years? Working in an agency?
Hopefully the agency will be working for me!!! But I hope to be able to organise a lot of projects with cool artists. Organising exhibitions, making zines, making movies and other fun events, stuff like that. I also hope I will be able to quit my day job, or doing a side job that is nicer than folding clothes and crying in the fitting room.
9. What about in ten?
Plan nr 1: Having an empire called Corporate Nasty. A PA that is also my BFF. Travel that world. Plan nr 2: having a cat farm for lonely cats with a big house and becoming an extra special cat lady.
10. What do you hope to achieve with your art?
The thing I hope for the most, is that the art will make people laugh. Entertaining people is my thing. But I also would like to achieve that people's attention will be grabbed and they will focus longer on various subjects. Just to think about it, or break out of their own bubble and see other peoples perspectives.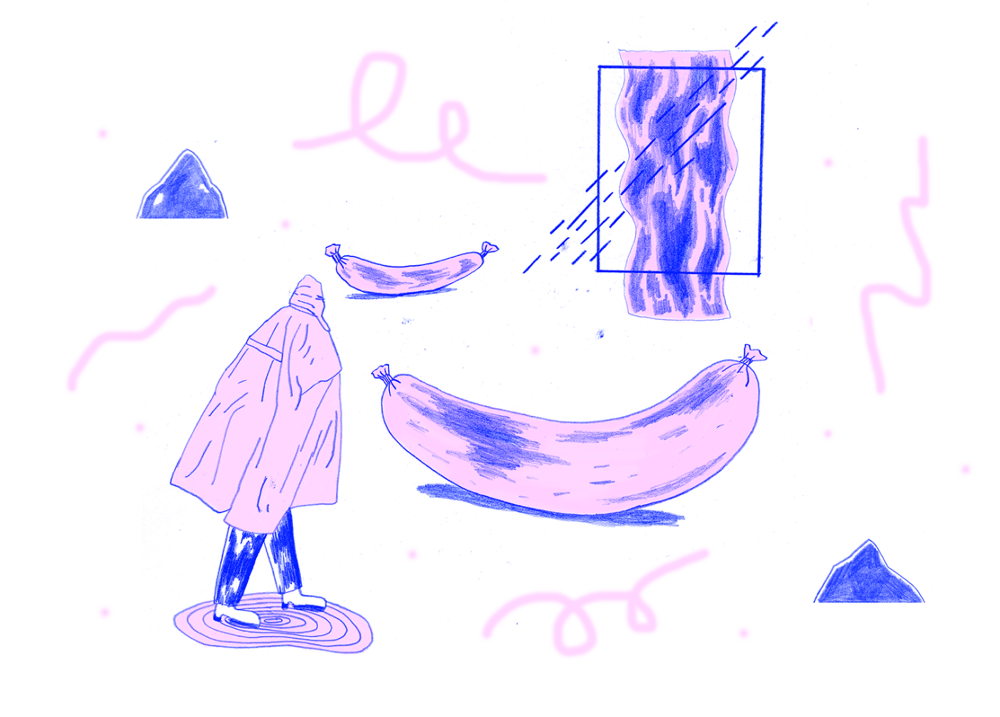 11. Now, tell us a little more about you as a person: what is your favourite food?
I would physically attack a person for some good Indonesian food. Besides that, I'm a well-known potato enthusiast. Baked, fries(!!!!), sweet potato's, red potato's, vodka, "krieltjes", smileys, potato croquettes, potato wedges. I love love love potato's. I like the shape, the color, the way they are just laying around there. It's just great. I call my loved once potato's. I once had this great idea of putting a potato tattoo somewhere on my body, but I saw on the interwebs other people with potato tattoo's and it looks like yellow psoriasis stain or some ugly mole. It's good that the tattoo didn't happen. Never stopped eating potatoes though!
12. Favourite book?
Murakami - Kafka on the Beach
13. Favourite genre of music?
Aphex Twin, Aux Raus, The Knife, Die Antwoord, Blood Orange are some of my favorite artists. If someone knows how to call the genre comment below.
14. What are your hobbies?
Playing with bouncing balls, going to the beach, eating, hanging out with friends. I'm also into sports, running working out, walking. I'm just your ordinary girl living her regular life.
15. If you weren't an artist, what would you be?
couch potato.