Instagram:
@natalia_bzdak
Website:
www.natalia-bzdak.de
1. What's your story? Where are you from?
My name is Natalia Bzdak. My parents emigrated from Poland to Germany and took root in a little city in South Bavaria called Augsburg. I was born there. Since I was a little child books and creativity were very important at our home. I have always thought about the beautiful illustrated books which my parents read aloud. That´s why I have chosen a job which could make me happy. Something with design or arts. So, I visited a high school with a specific field of art. After my graduation, I started my BA in Design and after that I decided to focus on illustration. That´s why I started to study my master´s degree in illustration. After several stops in big cities like Nuremberg, Berlin or Hamburg I returned to my birth town. Now, I am an happy illustrator, living in a sweet small city.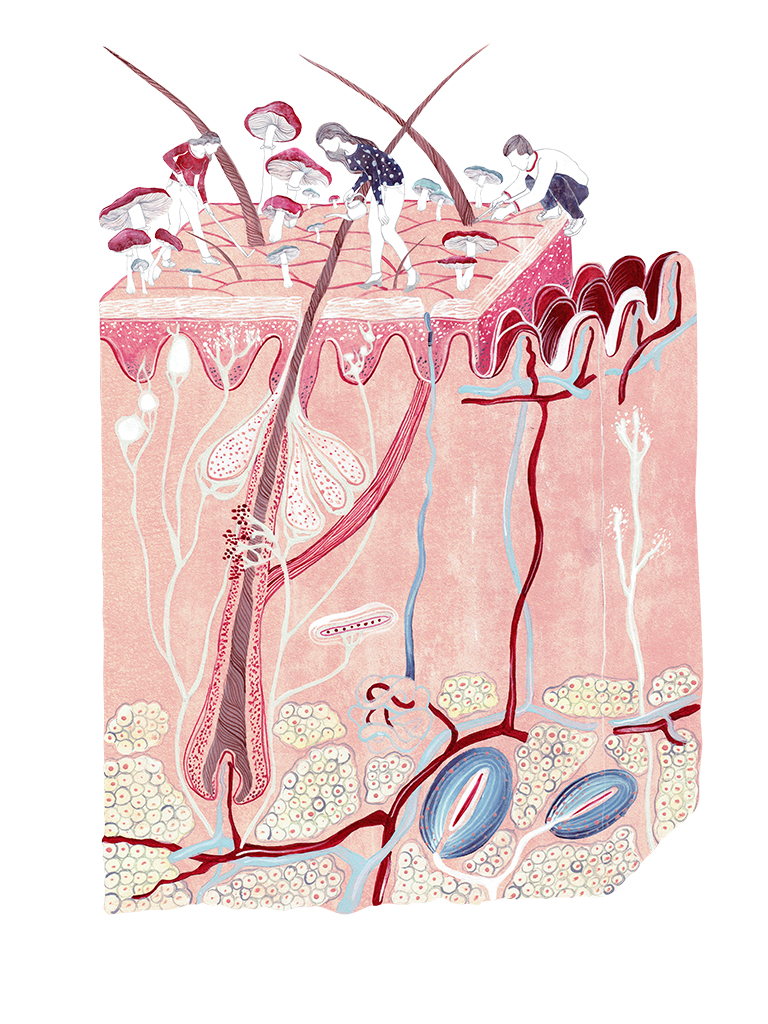 2. Tell us about your aesthetic.
I would describe my aesthetic as emotional, lush, figurative, vivid and ambiguous. I love narrative illustration with little hidden details which could be discovered. I love to play with boldly and graphical shades. My illustrations are made often old school analog on paper with a painterly aesthetic.
3. What is your favourite medium and why?
I love acrylics and I mostly work analog. It´s always a challenge to work on time but the conceptual process like to pick the right color and composition make thrill. Sometimes I love the combination of handmade painting and the possibilities of digital editing. Even more during a bad hand-day.
4. What is your artistic process like?
I think about the idea for a while. Afterwards I do my first scribble and through this process I always get new things in my mind. Thinking and drawing are in my work very close to each other. As soon as I have a good idea, I start to think about the colors which in my opinion can match with the message that I would like to transmit.
5. Who and/or what inspires your work?
It´s a combination of everything that touches me. It´s difficult to explain. I am openminded for everything. It can be a good book, a song or a conversation between two unknown. But mostly I imagine to explain things in a different kind of way. This process always inspires me. Sometimes a glass good whiskey :)
6. What role does art play in your life? How does it change the way you view the world?
Art plays a big role in my life. It gives me the opportunity to see the world in a different way and to escape.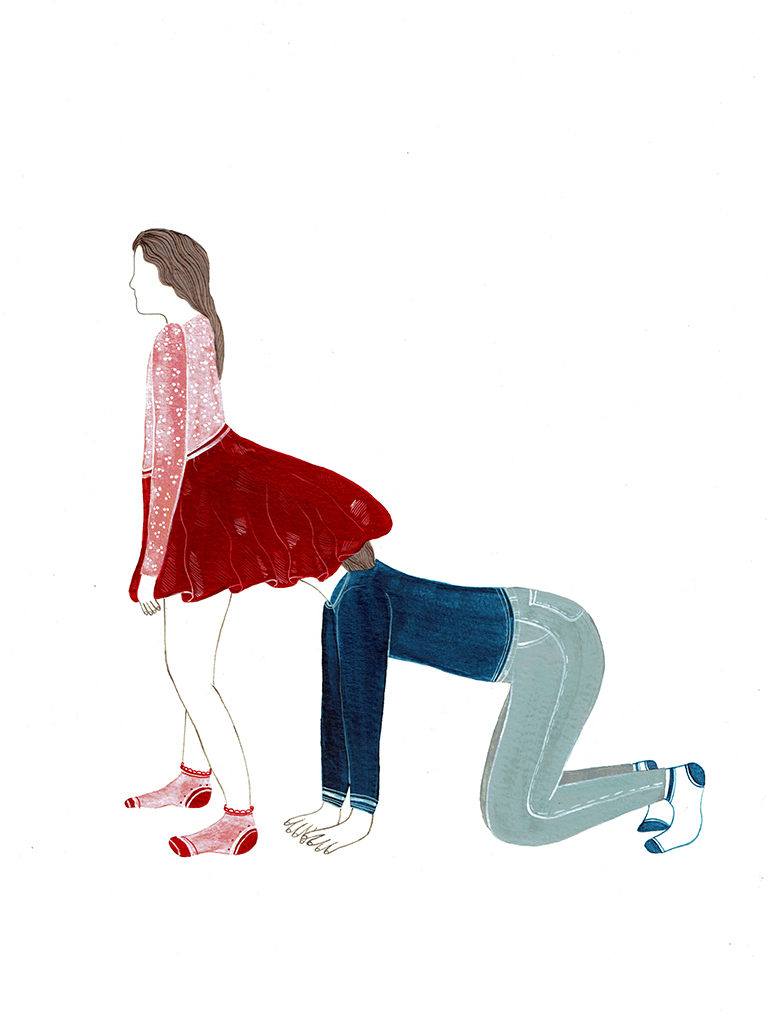 7. Where did you study?
I studied design with a concentration in illustration, typography and photography in Nuremberg. After graduating, I moved to Hamburg, where I studied my master´s degree in illustration.
8. Where do you see yourself in five years? Working in an agency?
I hope to work as a full-time freelance illustrator. But I´m open minded for several opportunities.
9. What about in ten?
To be a professor and work as a freelance illustrator.
10. What do you hope to achieve with your art?
I want to be a good storyteller who opens up new dimensions, different interpretations of the subject matter. Sometimes to put a smile on your face.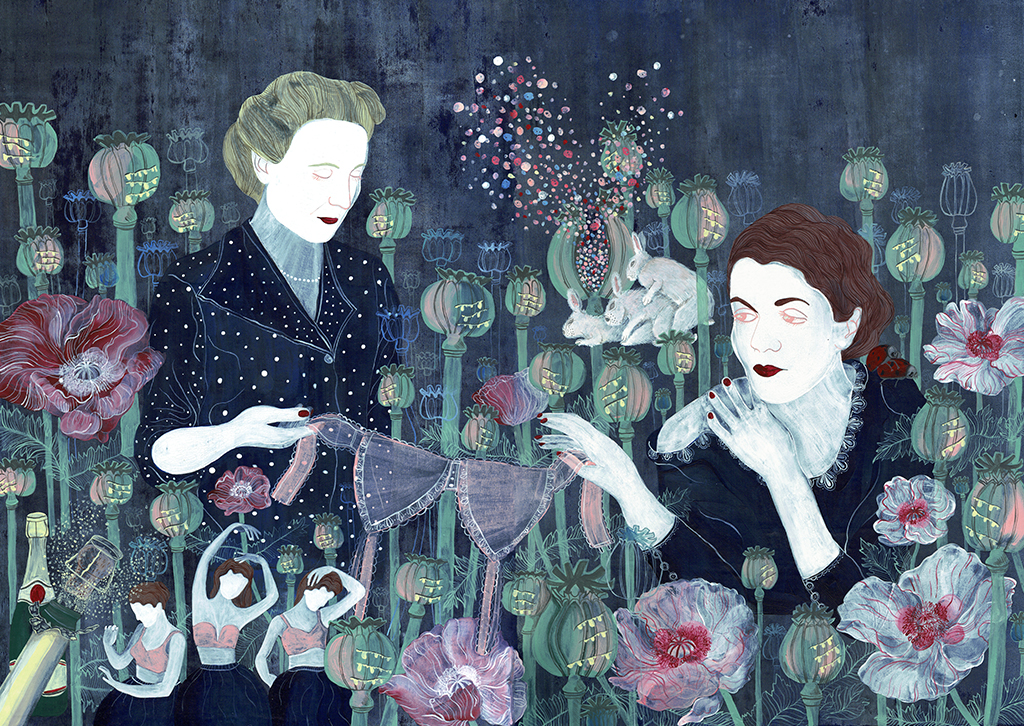 11. Now, tell us a little more about you as a person: what is your favourite food?
It sounds kitschy, but If you don´t feel good, the world goes apart, a meal cooked by your mum can make everything good again. Especially pierogi and chicken soup.
12. Favourite book?
That´s a hard decision. La Fontaine´s Fables. But I love poems, too. Especially Howl and other poems by Allen Ginsberg.
13. Favourite genre of music?
It´s a hard to choose. I am addicted to music. I was raised on a lot of classic rock like The Doors or Pink Floyd. Until now, I love to hear this kind of music. But then I´m in love with indie, swing and 80ies and sometimes with beastie boys.
14. What are your hobbies?
Besides drawing, I like sailing, meeting friends and laughing about sarcasm.
15. If you weren't an artist, what would you be?
Unhappy.