Instagram:
@natalieadkins92
Twitter:
@nat_adkins
Facebook:
www.facebook.com/natalieadkinsillustration
Blog:
natalieadkinsdraws.tumblr.com
Website:
www.natalieadkins.co.uk
1. What's your story? Where are you from?
I am from the not so leafy suburbs of South-East London. It's the No-Mans Land between London and Kent with the identity of neither. It recently featured in a Vice article about how it's the least likely London borough to be gentrified anytime soon - so perhaps that'll give you an image of what it's like (Although a few trendy coffee shops selling crushed avocado have popped up recently). So I come from a quite boring dreary suburban town and alleviate my boredom through drawing and making animations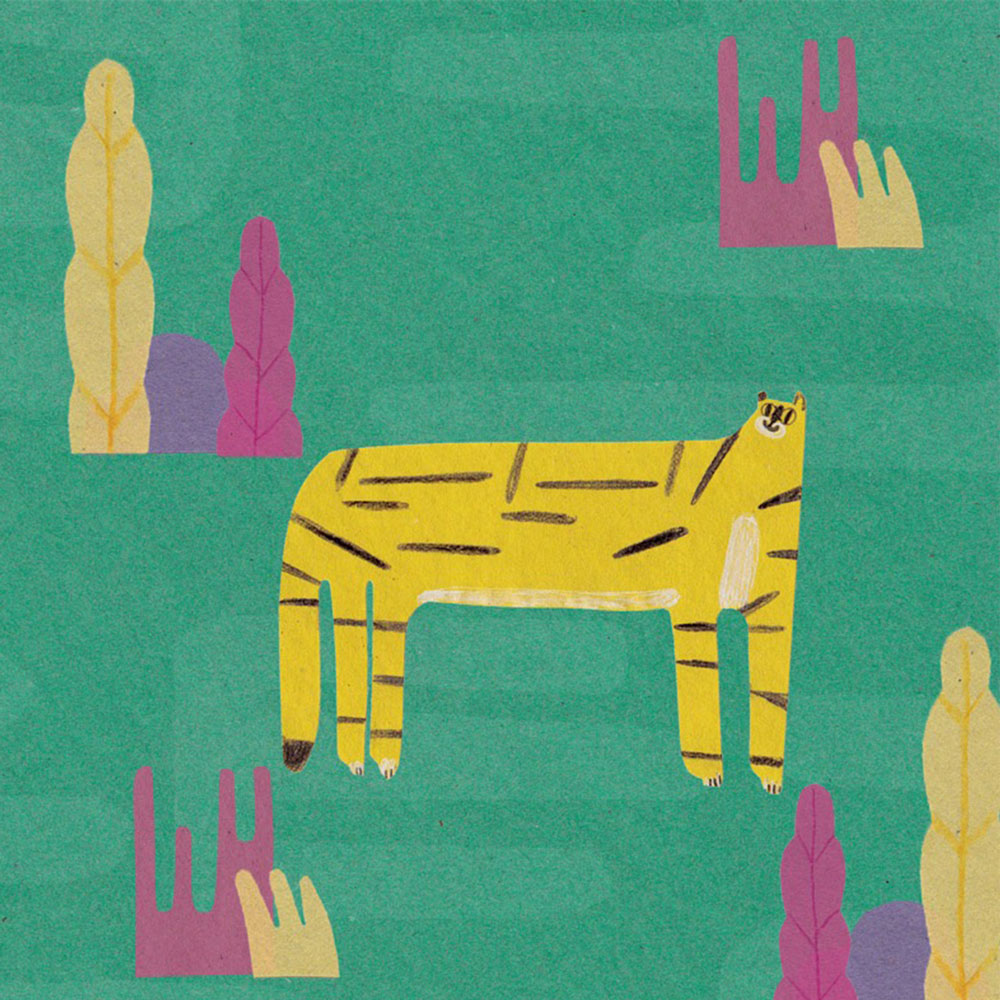 2. Tell us about your aesthetic.
Naked ladies. Butts.
3. What is your favourite medium and why?
It's a combination of Tombow brush pens, watercolour and working digitally on Photoshop and Illustrator. I love the roughness and textural quality to working in a sketchbook – there's a kind of freedom to be allowed to scrawl and smudge all over the page. With my digital work I'm trying to recreate the tactile quality of my hand drawn illustrations but I enjoy being able to easily translate them into animations and give them new life.
4. What is your artistic process like?
I often have little thumbnail doodles in a sketchbook or a list of ideas scrawled down - whether it's cute things I want to draw, a news article, something I've seen in a film or in my day. The inspiration comes from anywhere. Recently I've been working of a .Gif per Day project, my work can be found here: http://cargocollective.com/natalieadkins/GIF-per-day this idea came from wanting to brush up on my animation and digital skills. Through setting myself drawing challenges I then am required to work to a brief and have a bit of structure to the work i'm making.
5. Who and/or what inspires your work?
I think fellow female illustrators are a huge inspiration to my work.
6. What role does art play in your life? How does it change the way you view the world?
I played the recorder in Year 2 and realised I was not a musical genius so I stuck to drawing instead as my creative outlet. I'm a bit of a quiet bespeckled art nerd I think this allows you to silently observe things without anyone paying too much attention to you.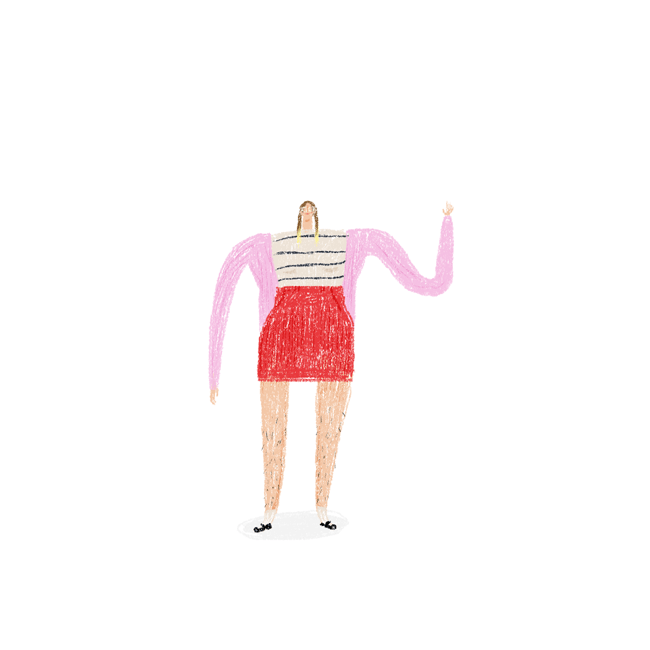 7. Where did you study?
I did my foundation diploma at Chelsea College of Art and Design. I then studied my B.A. in Illustration & Animation at Kingston University.
8. Where do you see yourself in five years? Working in an agency?
Ideally as a freelance artist, I want to work on a wide range of projects.
9. What about in ten?
Thinking about my life in 10 years time is enough to throw me into the dark depths of existential despair.
10. What do you hope to achieve with your art?
Once at uni we were given a project with the deadline hand in that afternoon. I suppose it was to help us practice with editorial briefs. Most drew, including myself, atypical motifs of white businessmen commuters. Then my tutor Jake Abrams (
jakeabrams.co.uk
) said, "if you look around the studio 80% of the class is female and how many of your parents are commuters or work in the city?" and he said it was our responsibility as Illustrators to change these trends. I hope that in my own small way I'm achieving that.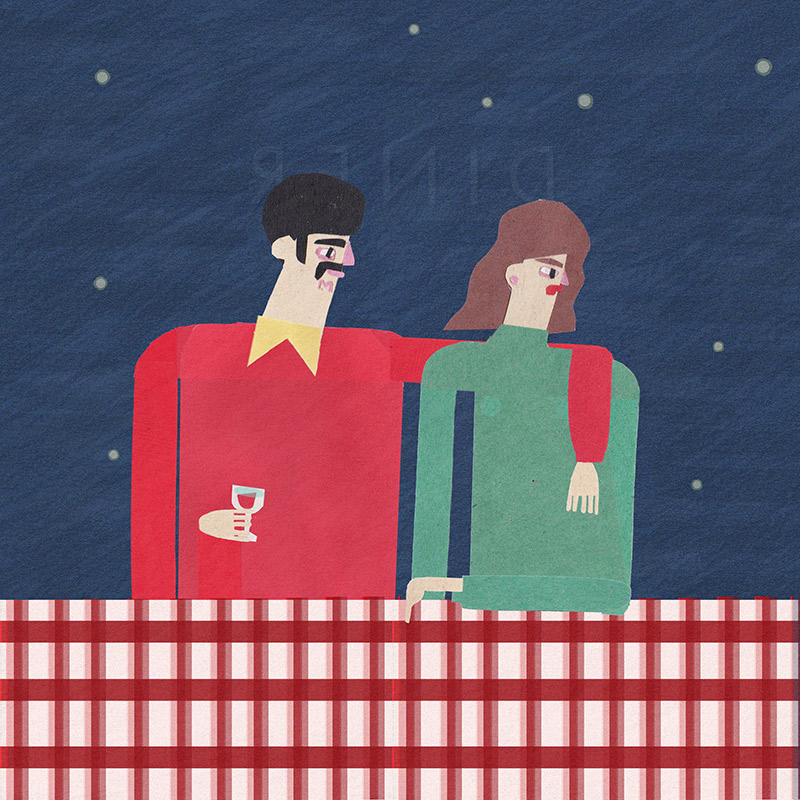 11. Now, tell us a little more about you as a person: what is your favourite food?
Thai food. I've been going around the South-East of England forever on the pilgrimage for the greatest Thai Green curry.
12. Favourite book?
Currently Rupi Kaur Milk and Honey. It's the only thing to soothe my tiny fragile broken heart.
13. Favourite genre of music?
I feel my music taste is stuck in a time warp of 2008 and I've been recently been making work to an Emo Playlist 2008- 2010 on YouTube.
14. What are your hobbies?
I do a pottery evening class so I enjoy sticking my head down and molding shapes and squishing clay together and watching videos of pugs
15. If you weren't an artist, what would you be?
I have an overfilled bookshelf in my room of graphic novels, comics, zines and artists books so I'd love to have a little arty café with an illustration library.