Instagram:
@natashadurley
Twitter:
@natashadurley
Website:
www.natashadurley.com
1. What's your story? Where are you from?
I was born in Blackburn but moved to Milton Keynes when I was 6. After doing a foundation art course I spent quite a few years figuring out what I was going to do with my life. I spent an amazing gap year in Richmond Virginia as an au pair and on my return to the UK, I worked for a couple more years in various different jobs. I wanted to be super independent, I was worried about student fees and whether uni was right for me but luckily I took the plunge and enrolled in AUB's Illustration degree. I worked at a picture framers after I graduated and then landed a dream job as a freelance designer at Peagreen, a surface pattern design studio based in Winchester. After three years at Peagreen, I started to pick up a few big jobs of my own and was struggling to balance the two. So about 7 months ago, I decided to take the next step and go full-time freelance focusing on my own stuff. It's been a big change and is still early days but so far it's going really well and I'm excited about the future.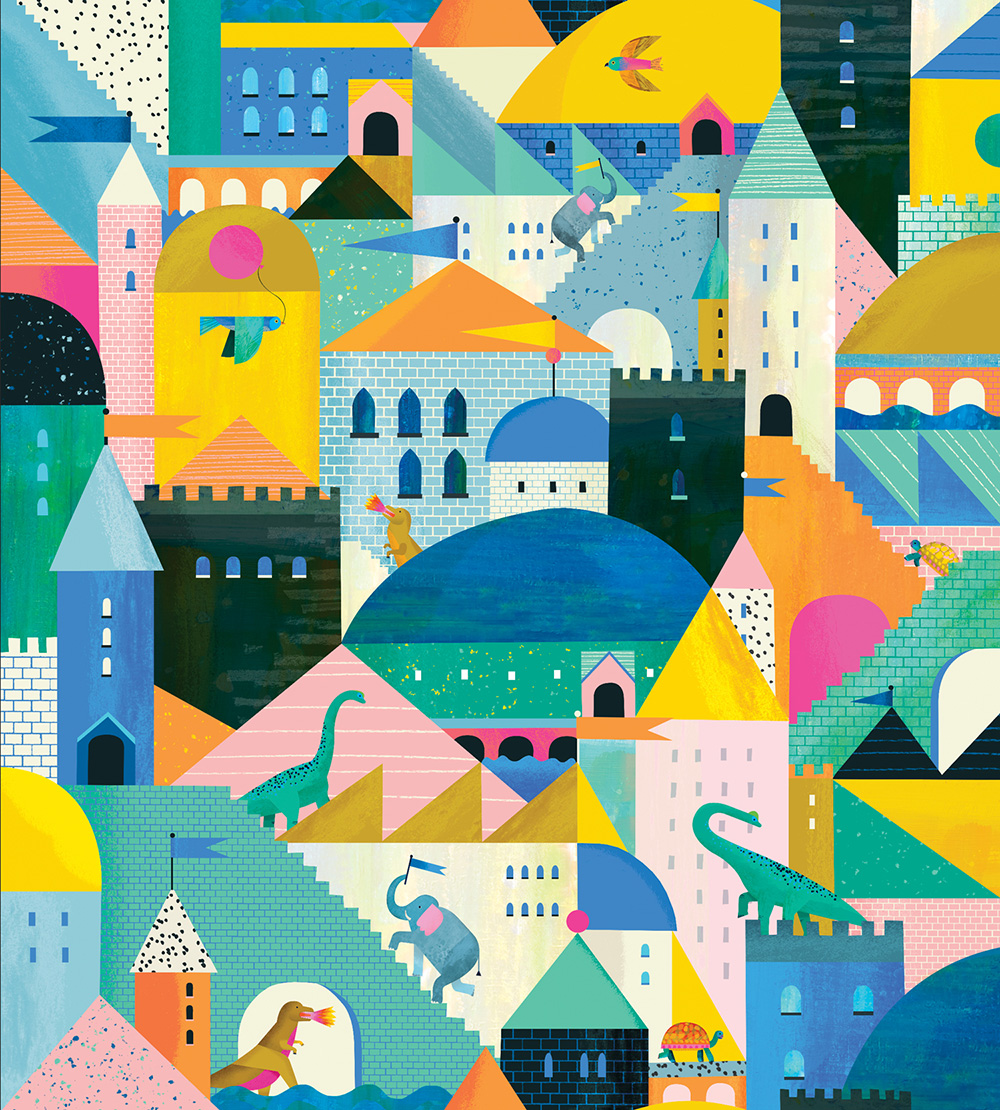 2. Tell us about your aesthetic.
I'd say it's bold, colourful and full of texture.
3. What is your favourite medium and why?
I hate choosing favourites but maybe charcoal. I work mainly digitally but scan in all my textures. Charcoal is great for crushing up and making all sorts of messy textures.
4. What is your artistic process like?
It actually changes slightly depending on the deadline. I like paper cutting all my shapes but if I'm pushed for time I'll draw out the shapes digitally. I then use bold base colours and layer scanned in textures and marks for the finishing touch.
5. Who and/or what inspires your work?
Soooo many people inspire me! I love Brian Wildsmith and Eric Carle for their textures and energy. Jonas Wood creates beautiful enormous paintings and I can't get enough of his plants. Morag Myerscough is creating some crazy cool stuff and transforming outdoor and indoor spaces into fun and lively creations. I'm also big fans of Mari Kanstad Johnsen and Micah Lidberg. Animals and nature influence my work a lot and is my favourite subject matter.
6. What role does art play in your life? How does it change the way you view the world?
It plays a big part. It's my hobby and my career. I'm not sure how it changes my view of the world. I suppose you look at things slightly differently as I'm always taking photo's of things with nice colour palettes or interesting textures. I'm the one who has to double back whilst on a walk so I can take a photo of a rocks marble effect.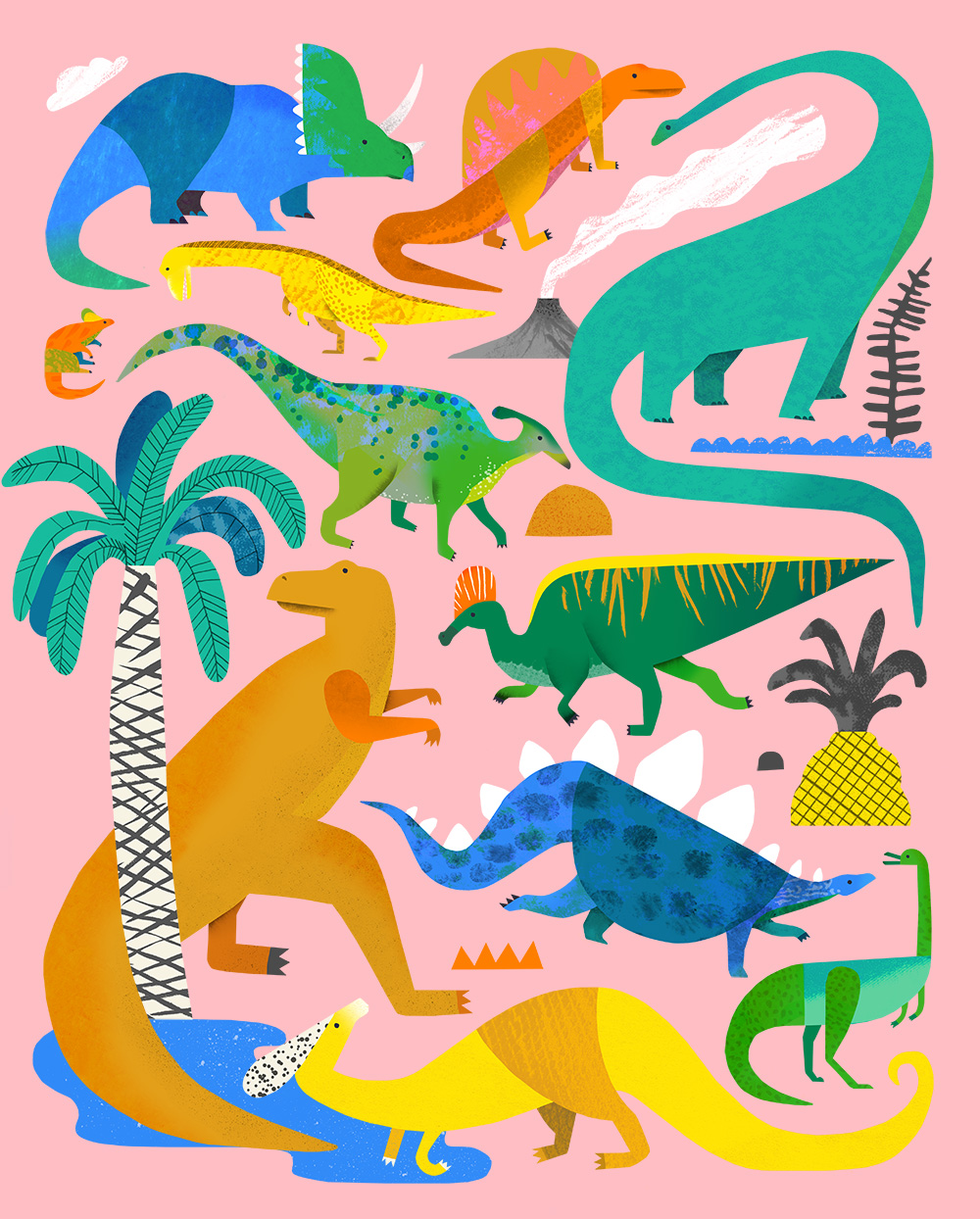 7. Where did you study?
Arts University Bournemouth.
8. Where do you see yourself in five years? Working in an agency?
My plan at the moment is to work one more year here in Bournemouth, building up my client list and getting things in order. Then, I'm going to sell all my stuff and invest in a laptop and a one-way plane ticket to some far off tropical land. Maybe Thailand, maybe Costa Rica. I really want to travel a bit and see if I can do my work whilst working remotely. It would be such an adventure and I'm itching to give it a go.
9. What about in ten?
Eek, hard to say. I'd like to see how the working abroad thing goes but if all goes well, then maybe I'd be living somewhere warm, spending my mornings swimming in the sea and chilling at the local beach cafe. Then, before it gets too hot, it's back to my shared studio, dog on my lap and working on amazing illustration projects.
10. What do you hope to achieve with your art?
Not sure what I want to achieve but there are two areas I'd love to explore more. I'd like to work on some animal conservation stuff or use my illustrations to help animals in some way. Even if it's to inspire future scientists. It would be nice to know my work is helping animals and their habitats. I'd also really like to do some murals and large-scale pieces. Not sure how that would work but I'd love to give it a go.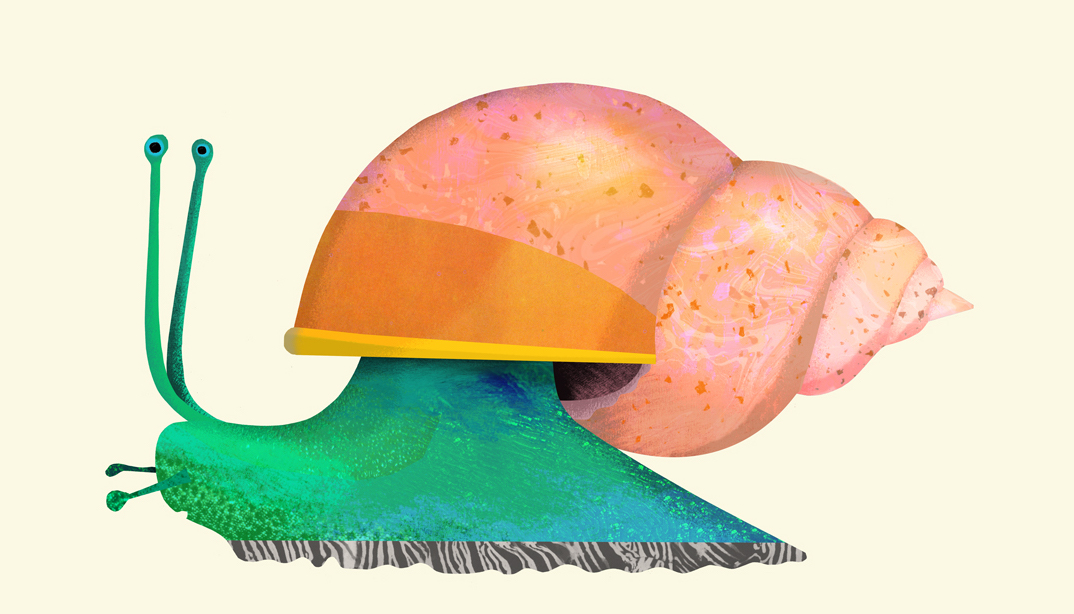 11. Now, tell us a little more about you as a person: what is your favourite food?
It's a bit of an odd one but I love mushrooms. I'm always choosing meals that have them in.
12. Favourite book?
Alice in Wonderland had a massive impact on me as a kid. I read the book but also watched Jan Svankmajer's Alice, a stop-frame animation which is a brilliant but quite creepy take on the story. I remember being both a little scared and a curious all at the same time. I also had the audiobook narrated by Alan Bennett so it's weirdness definitely wormed its way into my head.
13. Favourite genre of music?
Too hard to say as I like loads of genres. Maybe electronic. I'm quite liking a lot of music coming from African at the moment.
14. What are your hobbies?
I used to have a lot in my uni days but I've stopped doing them so much now. I'd say art is still my hobby, even though it's also my career. I also like to do active outdoor things like cycling, kayaking, camping etc. Just need to get back out there and do it more!
15. If you weren't an artist, what would you be?
An animal behaviourist or working in animal conservation. I wanted to study dog or chimpanzee behaviour at one point. I could spend hours watching animal documentaries on TV so I think, a life of sitting in a jungle hut, whilst documenting monkey behaviour would be a great life, ha!