Instagram: @nayoillustration
1. What's your story? Where are you from?
Hello, my name is Nayo and I am a freelance illustrator from South Korea.
I liked painting since I was young, but after a short career in the company after graduating from university, I decided, "Let's draw my own paintings.". Since then, I have been drawing illustrations for about seven years. Time flies!
Recently, I changed my environment because I wanted to live in a place where I could see more nature, and I think it was a good choice.
안녕하세요. 저는 한국에서 프리랜스 일러스트레이터로 활동하고 있는 나요라고 합니다.
그림은 어렸을 때부터 좋아했지만, 대학교 졸업하고 잠깐의 회사 생활을 하고 나서야 "이제 그만 저의 그림을 그려보자"라고 결정했습니다.
그 후로 그림을 그려온 지 7년 정도가 흘렀습니다. 시간 참 빨라요!
최근에는 좀 더 자연이 많이 보이는 곳에서 살고 싶어서 환경을 바꾸었고, 나름 잘한 선택이었다고 생각해요.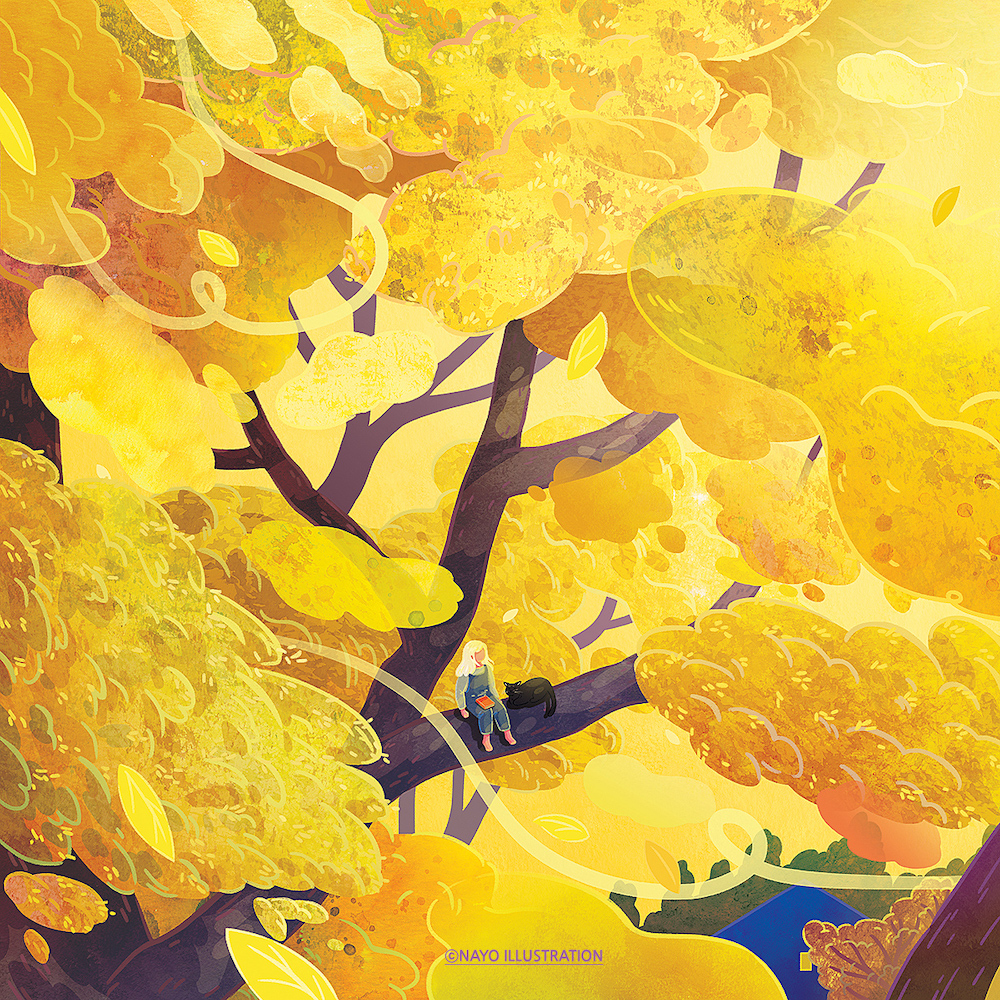 2. Tell us about your aesthetic.
I am fascinated by the beauty of natural flow, light, and color. I like something organic, something that's sometimes intense, but soft and warm. And they make me want to talk about them in my artworks.
저는 자연스러운 흐름과 빛, 컬러의 아름다움에 마음을 빼앗깁니다. 유기적인 무언가를, 가끔은 강렬해도 부드럽고 따듯함이 느껴지는 모든 것들을 좋아하고, 또한 그것들을 전 그림으로 말하고 싶어집니다.
3. What is your favourite medium and why?
The illustrations are all based on digital work. I prefer digital work because it's easy to try and modify quickly to catch the direction that I want. However, textures are made directly from acrylic or watercolors on paper. They are used in various ways for digital work. It can be textured digitally, but I don't think it's possible to follow the natural brush textures.
그림은 모두 디지털 작업을 기반으로 합니다. 제가 원하는 방향을 빠르게 시도하고 수정하기 쉬워서 디지털 작업을 더 선호합니다. 하지만 텍스쳐는 종이 위에 아크릴이나 수채화로 직접 제작해서 디지털 작업을 할 때 이들을 다양하게 이용하는 편입니다. 디지털로도 텍스쳐감을 낼 수도 있겠지만, 붓의 자연스러운 텍스쳐는 못따라오는 것 같아요.
4. What is your artistic process like?
First, I draw thumbnails on the paper for the content or images that I would like to draw. Then, I develop my ideas by sketching them roughly on the monitor. It's fun to change colors while thinking about the story of how the image came to mind. Finding the best direction in this process is really exciting.
그리고 싶은 내용이나 떠오른 이미지들은 일단 종이 위에 썸네일로 그려놓습니다. 그런 다음 모니터 위에서 러프하게 스케치를 하면서 아이디어를 발전시켜 나가기도 해요. 어떤 느낌으로 이미지가 떠올랐었는지 스토리를 생각하면서 색감 등을 이리저리 바꿔나가는 작업 과정이 재미있고, 이 과정에서 가장 마음에 드는 방향을 찾으면 너무 신이 납니다.
5. Who and/or what inspires your work?
I usually get inspiration from nature, seasons, new places, song lyrics, movie scenes, photos, daily life and so on. Especially, I am interested in nature and travel, so I usually find stories of my illustration while searching for photos of beautiful scenery.
자연, 계절, 새로운 장소, 노래 가사, 영화 장면, 사진, 일상 등에서 영감을 얻을 때가 많아요. 특히 자연과 여행에 관심이 많아서 아름다운 풍경을 담은 사진을 찾다가 일러스트 스토리를 찾게 됩니다.
6. What role does art play in your life? How does it change the way you view the world?
I think art is a kind of way to get to know myself. There must be also the way by communicating with people , but while painting my own, I feel like I'm looking at myself deeply. I think it ends up helping me have a stronger power to see the world.
예술은 제 자신을 알아가는 하나의 방법인 것 같습니다. 사람들과 소통하면서 알아가는 내 모습도 있겠지만, 나만의 그림을 그리면서 내 자신을 깊이 바라보는 것 같아요. 그것은 결국 제가 세상을 보는 힘을 좀 더 강하게 가질 수 있게 도움을 주는 것 같습니다.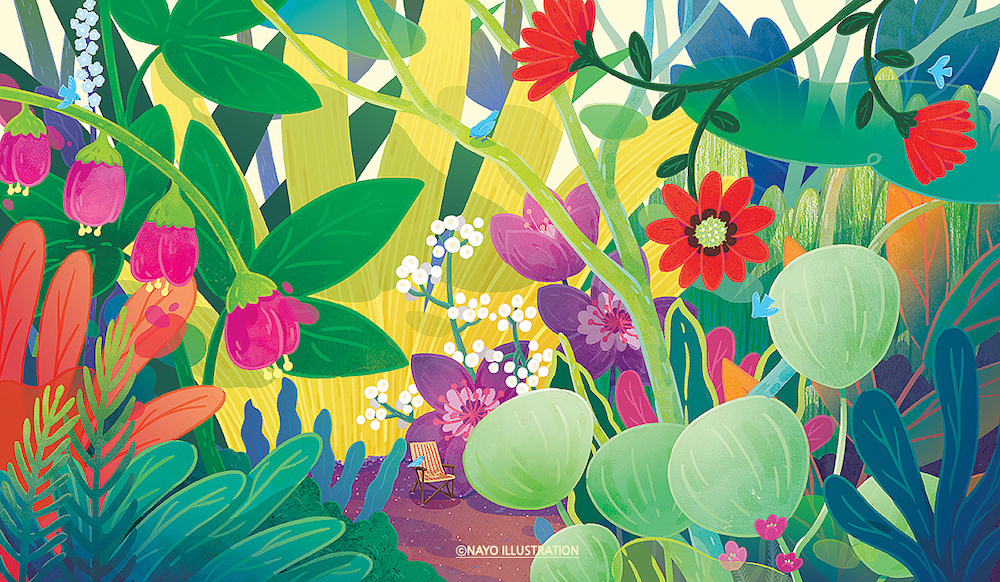 7. Where did you study?
I majored in visual design at Seoul National University of Science and Technology in South Korea. The design I studied as a student is still very helpful in many ways.
한국의 서울과학기술대학교(Seoul National University of Science and Technology)에서 시각디자인을 전공했어요. 학생 때 공부한 디자인은 지금도 여러모로 도움이 많이 되고 있습니다.
8. Where do you see yourself in five years?
Maybe I am going to draw more illustrations with more diverse themes than now. These days I have been thinking a lot that I would like to connect more widely with people through artworks.
지금보다 좀 더 다양한 주제로 많은 그림을 그리면서 지내지 않을까 싶어요. 그림으로 사람들과 더 넓게 이어지고 싶다는 생각을 요즘 많이 하거든요.
9. What about in ten?
In 10 years, there will be more good people around me than now, and I might have my own little studio. When that time comes, I would like to make my studio as a place with warm tea and stories, not just as my workroom.
10년 후에는 지금보다 제 주위에 좋은 사람들이 많아지고, 저만의 작은 스튜디오를 갖고 운영하고 있을지도 몰라요. 그 때가 오면 저의 스튜디오가 작업실 뿐만이 아닌 사람들과 따듯한 차와 이야기가 있는 공간으로 만들어가고 싶네요.
10. What do you hope to achieve with your art?
For now if my artworks and stories are empathised and sometimes comfort and encourage people, I think that's the biggest achievement.
지금은 저의 그림과 이야기가 공감이 되어 사람들에게 때로는 위로와 힘이 되어준다면 그게 가장 큰 성취라고 할 수 있을 것 같아요.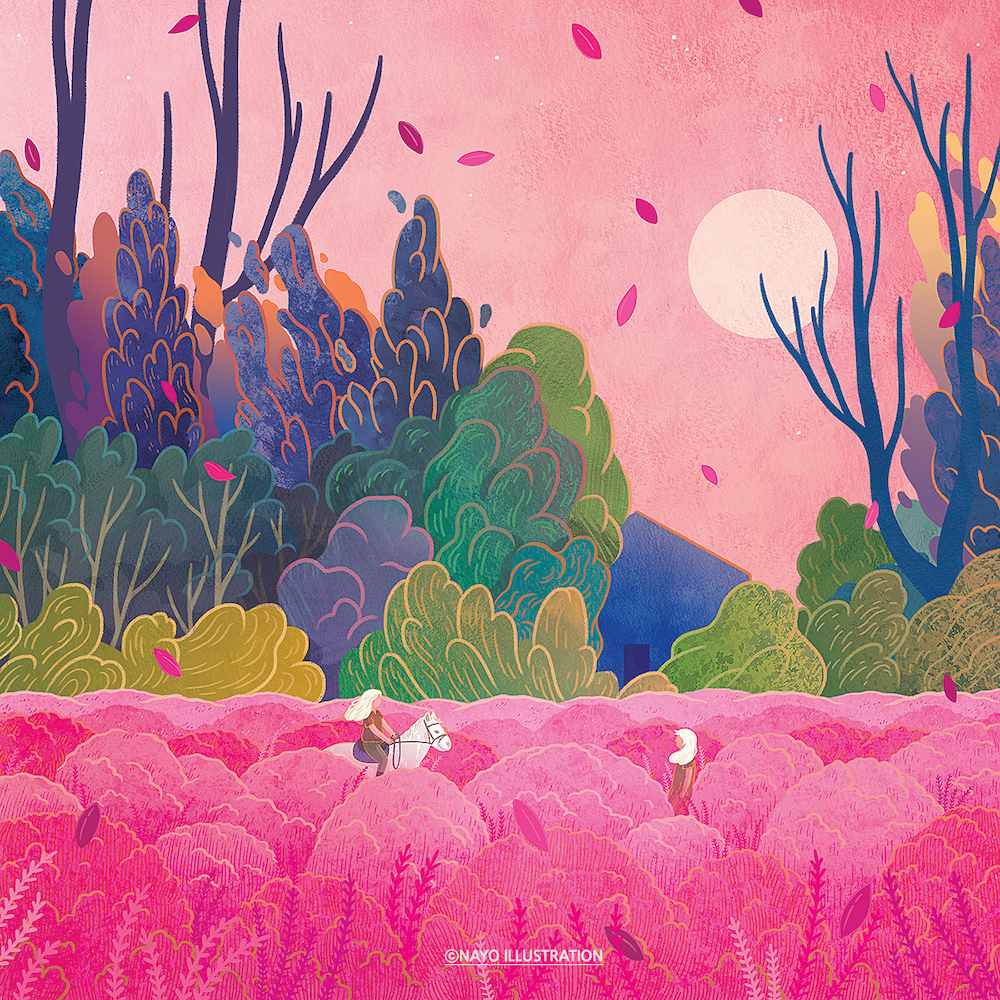 11. Now, tell us a little more about you as a person: what is your favourite food?
Tomato spaghetti. I like food with tomatoes.
전 토마토 스파게티를 좋아합니다. 토마토가 들어간 음식을 좋아해요.
12. Favourite book?
Collection of photographs. And autobiography of Ando Tadao, "I'm an architect".
사진집들. 그리고 건축가 안도 다다오(Ando Tadao)의 자서전, "나는 건축가다".
13. Favourite genre of music?
I listen to various genres of music such as New Age, Lo-fi, classical music, and pop. When I draw, I like to listen to Hisaishi Joe's music in Studio Ghibli's work the most.
뉴에이지, Lo-fi, 클래식, 팝 등 다양한 장르의 음악을 듣는 편인데, 그림 그릴 때는 스튜디오 지브리(Ghibli) 작품 속 히사이시 조의 곡들을 가장 좋아해요.
14. What are your hobbies?
My hobby is growing indoor plants and playing the piano. And collecting pictures of cute cats.
실내식물을 키우고, 피아노를 칩니다. 그리고 귀여운 고양이들의 사진을 모아요.
15. If you weren't an artist, what would you be?
Probably I would be a florist or a vet. :)
아마도 플로리스트나 수의사가 됐을 거예요. :)