Instagram: @nena.kleinberga
1. What's your story? Where are you from?
Čau! I'm Nena -a 3D illustrator from Riga, Latvia. I was born in the beautiful city Kuldiga where I gained my early creativity in my grandmother's sandbox. I remember how inspired and excited I got when I made houses, furniture, animals, and sand cakes! I loved to explore them from all sides and gained huge satisfaction that I could make something tangible. That could be torn apart and become re-made again. Of course (just as any girl) I loved to dress up - I even went to art school where I painted on scarfs and created various other accessories. After high school, I decided to pursue architecture but eventually ended up in interior design. When I finished university, I eventually started working in the field with great happiness. But, somehow I felt that it was not my path. I wanted more. I wanted art. But what exactly, I could not tell. After a while, I started my studies at Latvian Art Directors Club and got familiar with the advertising industry. After that, I started my career in graphic design but I felt that there's still something missing. A huge turning point for me was the OFFF Barcelona Festival - I fell in love. Finally, I understood. I needed more freedom. The freedom to express myself. And, 3D was the thing that made me feel the way I had always wanted. For the last 2 years, I have been learning constantly, growing my skills and expertise. I have had a few fantastic 3D projects with brands, as well as my very own. 3D is definitely not easy but - If you love something, there are no obstacles. At the moment I work as an Art Director in an advertising agency and create 3D projects in the meantime. I feel fantastic. Do you know the feeling when you fall in love? I have these butterflies dancing in my stomach when I play with the possibilities of 3D.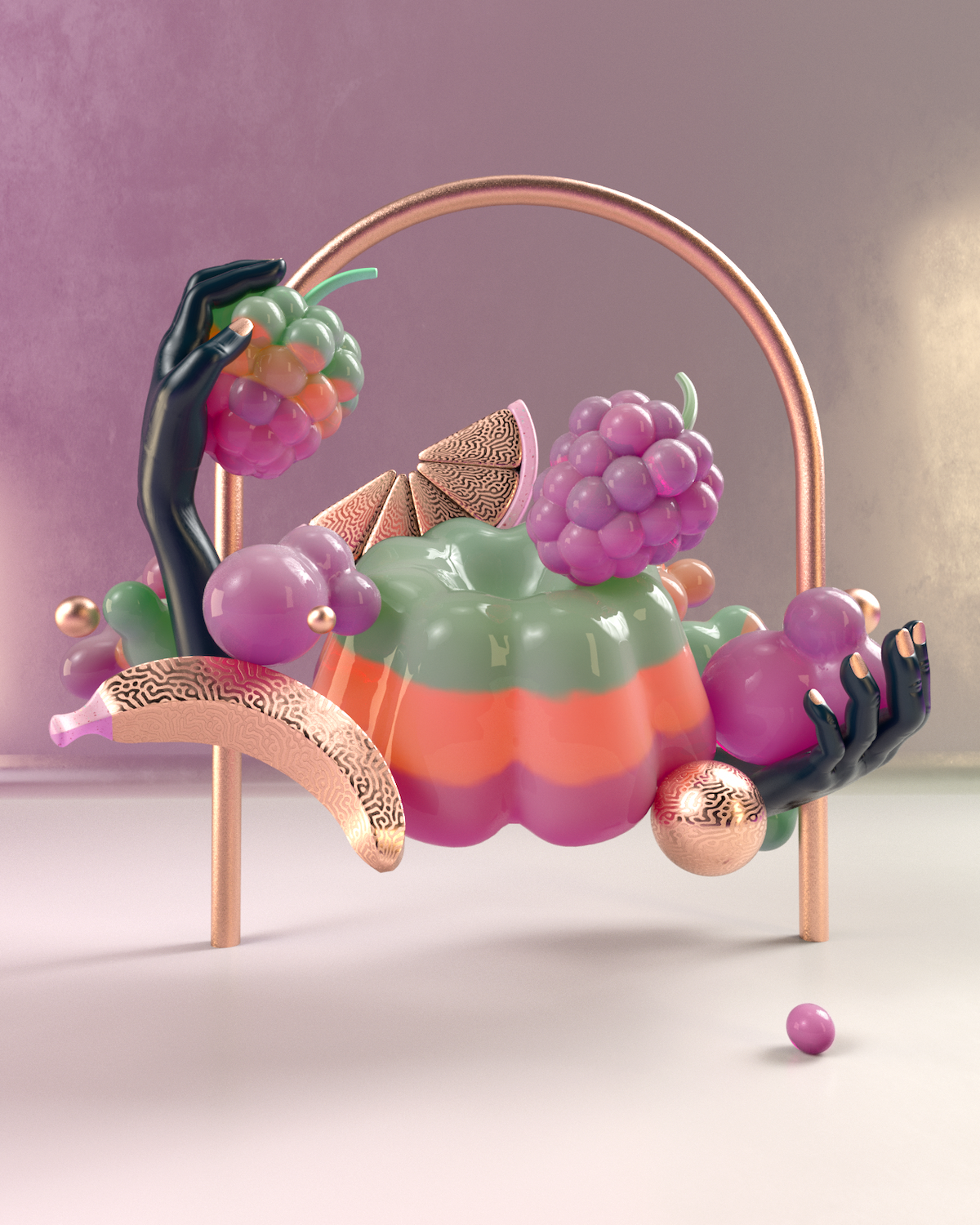 2. Tell us about your aesthetic.
Color, fun, and dynamics -these three words describe my works. The mindset of positivity and creativity goes through every project I lay my hands on (yes, even in the sophisticated and serious ones).
3. What is your favourite medium and why?
Definitely digital! I like to use the Wacom tablet, create in Photoshop, Illustrator, and of course in 3D software.
4. What is your artistic process like?
When I do my personal projects, I start with a concept, researching references, sometimes make a mood board, and then start to sketch in Photoshop. And, after that -I juuuuuump into the 3D world. I start modeling, adding details, making a composition. The fun part of the whole 3D process for me is adding the materials, lights, and rendering. Usually, I finish renders with a little retouch in Photoshop. When I work for a client, I take my time to read briefs, start thinking ideas, and making sketches.
5. Who and/or what inspires your work?
I think the biggest inspiration for me is life. My mindset, my mood. I can get inspired by my cat, food or other artists.
6. What role does art play in your life? How does it change the way you view the world?
Art definitely is a huge part of my life, I really love to create. For me, it is like meditation. A lot of times when I create my personal projects I really do create art. But, when I work with brands - it needs to be more consistent so I pay attention to deliver the appropriate story for the product or service.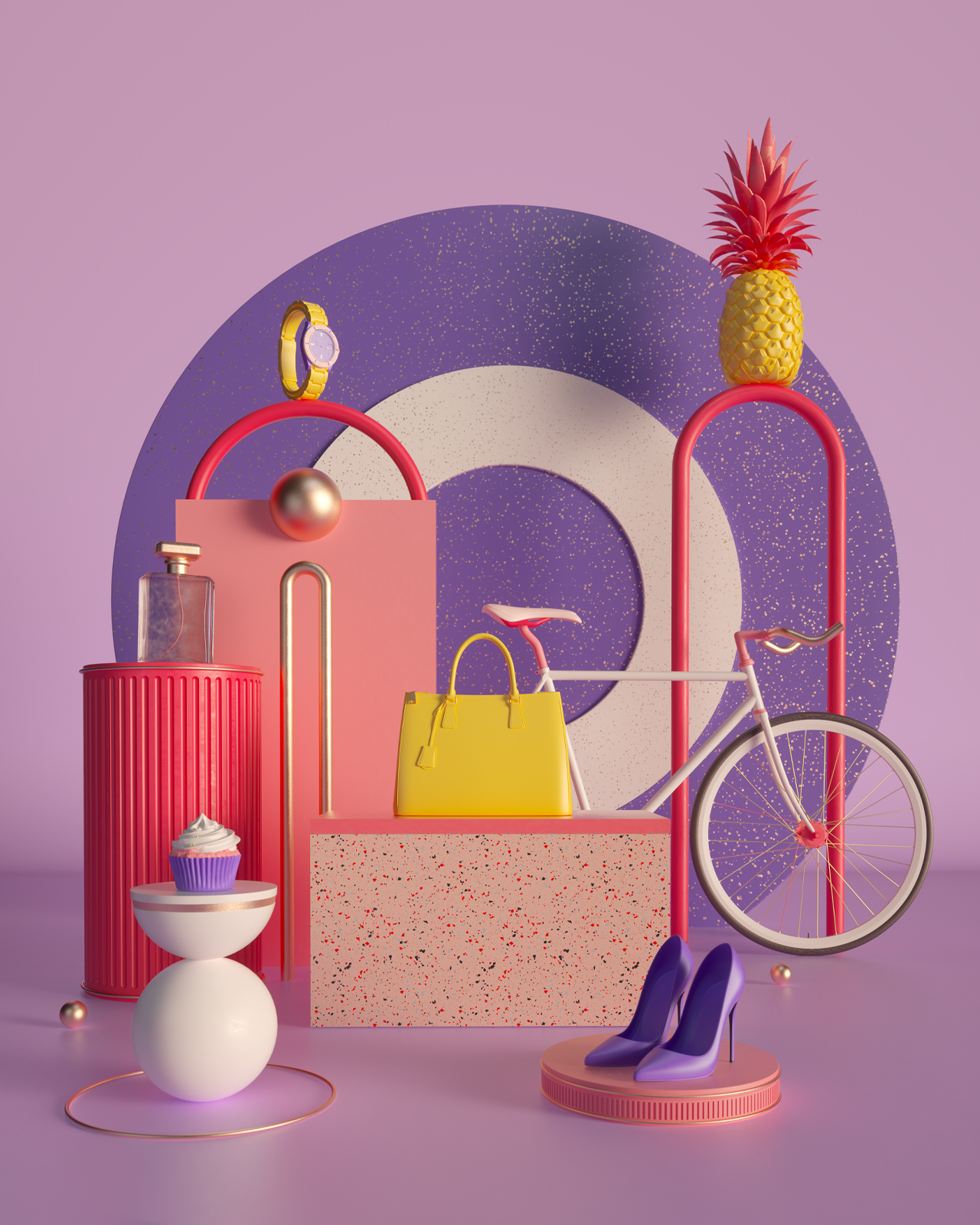 7. Where did you study?
I studied Interior design at EKA University, a couple of years later I studied Advertising at Latvian Art Directors Club.
8. Where do you see yourself in five years?
I really hope I have created my very own 3D studio. Fingers crossed!
9. What about in ten?
I still have my own studio, and I have my own shop. In the future, I definitely want to publish a children's book with my 3D illustrations.
10. What do you hope to achieve with your art?
Just want to make people smile, inspire, do collaborations, and just produce good quality art.
11. Now, tell us a little more about you as a person: what is your favourite food?
Mmm, sushi, sushi, and sushi!
12. Favourite book?
My favorite book and inspiration are the books by Lürzer's Archive.
13. Favourite genre of music?
I love listening to music that inspires happy emotions in me. Sometimes I listen to meditation music, classic music, or dance music. Right now, I'm listening to Love On Top by Beyoncé.
14. What are your hobbies?
Making art, meditating, going for walks, and riding my bike.
15. If you weren't an artist, what would you be?
An artist.