Instagram:
@nickkuchar
1. What's your story? Where are you from?
I am an O'ahu based artist that loves drawing our favorite locations of this 'aina (land) we call home through my vintage-inspired surf and travel art. My creative process takes me throughout the islands where I look for inspiration at surf spots, hikes and lookouts. Surfing has always been a part of who I am, from my early days growing up in Florida to now paddling out with my twin toddlers at surf breaks around Oahu. Back in 2010, My wife was looking for some wall decor for our apartment. She couldn't find the art she envisioned in her head. She asked me to illustrate a few prints, which led to me exploring how to visually capture some of our favorite spots in Hawai'i. Several boutiques and galleries started to take note of my retro styled Hawaiian travel prints and slowly but surely my work started to become available in shops throughout the islands and beyond.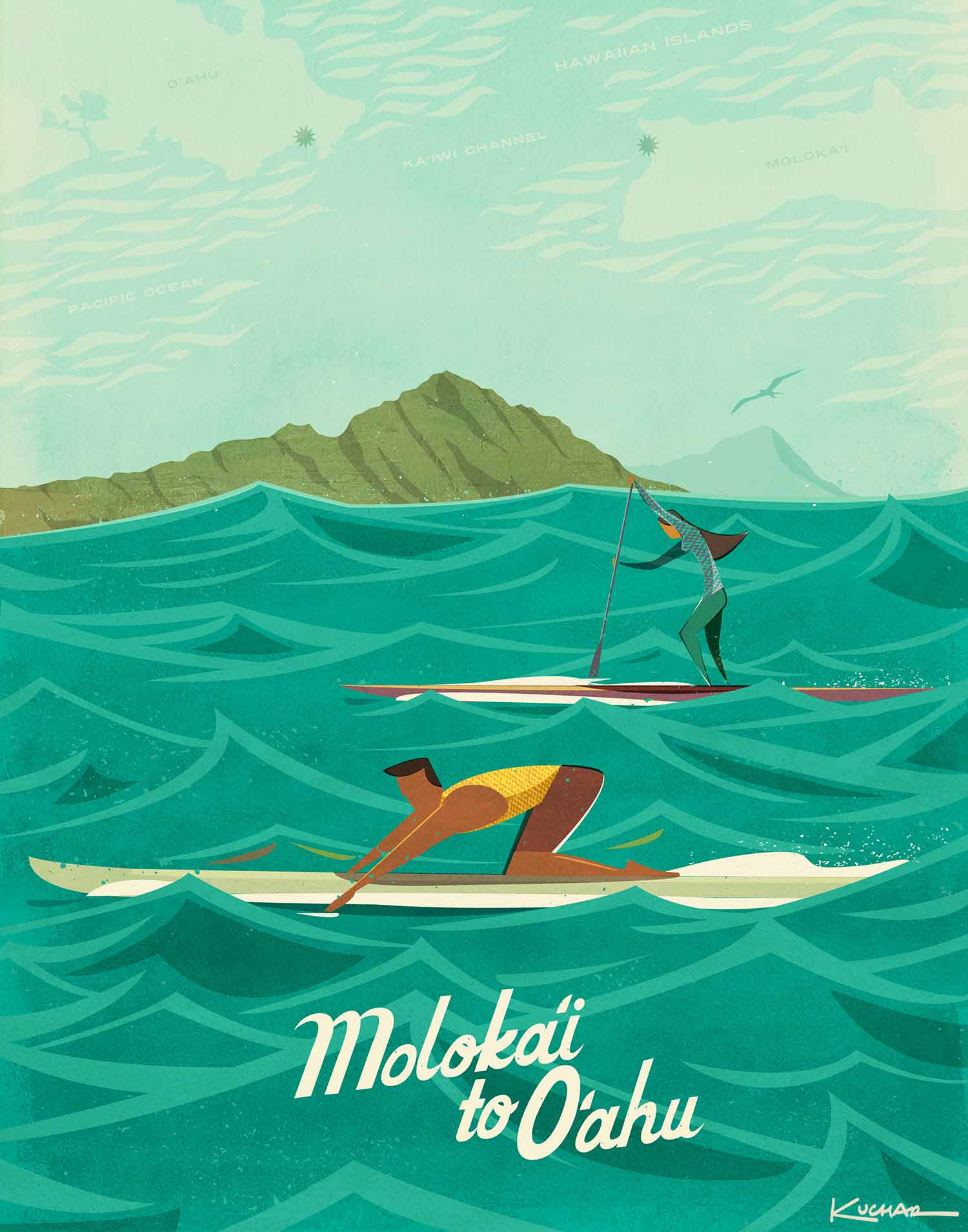 2. Tell us about your aesthetic.
You may see hints of modern design, art deco, and other mid 20th century styles creep into my work. Ultimately, I love to keep my art simple yet well thought out. Every element should have a purpose.
3. What is your favourite medium and why?
I am most comfortable personally working digital but my favorite medium is the one that's available to me at the moment inspiration strikes. Also, I recently got an iPad with Apple Pencil and have had fun exploring some new ways to create my art and add details.
4. What is your artistic process like?
On-site sketching and photographs are taken into my studio where I use a mix of acrylic washes and digital illustration to bring my vision of these locales to life.
5. Who and/or what inspires your work?
My industrial design studies are where I became infatuated with modern design along with signage and typography from the '50s & '60s. Most of my art is drawn digitally along with incorporating acrylic washes and details that utilize my fine art background too.
6. What role does art play in your life? How does it change the way you view the world?
As an artist, you have a different perspective on life. I love studying colors and shapes around me as well as the details of how light hits a subject matter.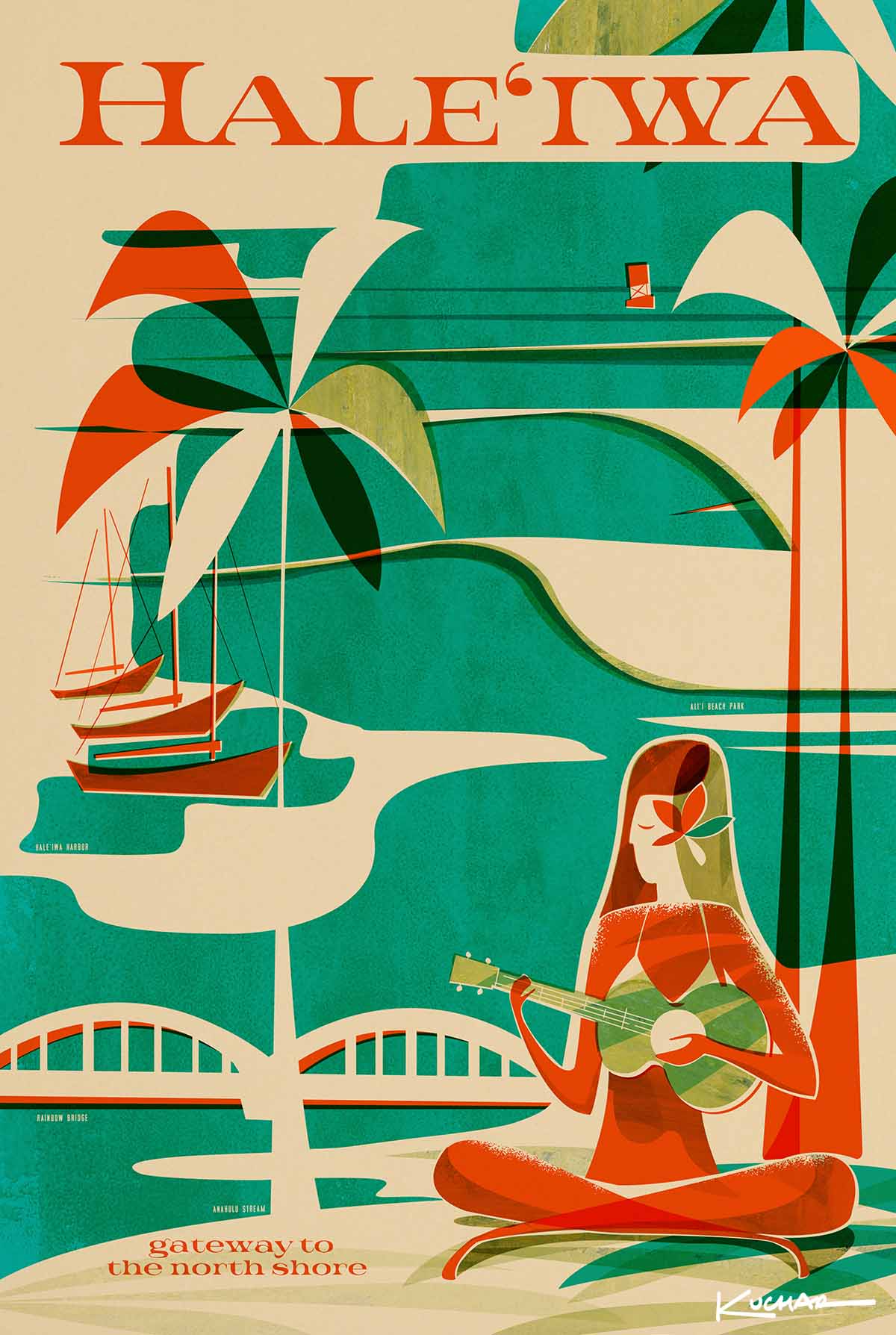 7. Where did you study?
I studied industrial design at Auburn University in Alabama. I focused on product and packaging design but developed my skills in digital software that I use today to create my illustrations.
8. Where do you see yourself in five years?
In five years I plan to still be in Hawaii creating art from the locations that inspire me. We love the culture and community we've found in Hawaii and cannot think of a better place to raise our kids… oh, and in five years they'll already be 6 years old? wow...
9. What about in ten?
In ten years I plan on wearing matching silver space suits with all my neighbors and driving hover cars.
10. What do you hope to achieve with your art?
I love making emotional connections with my customers through our favorite locations in Hawai'i. I get stoked when someone has a story of how my art captured a special location or experience for them. It's been such a blessing to be able to do what I love and I am beyond stoked when someone enjoys my work as much as I enjoyed creating it.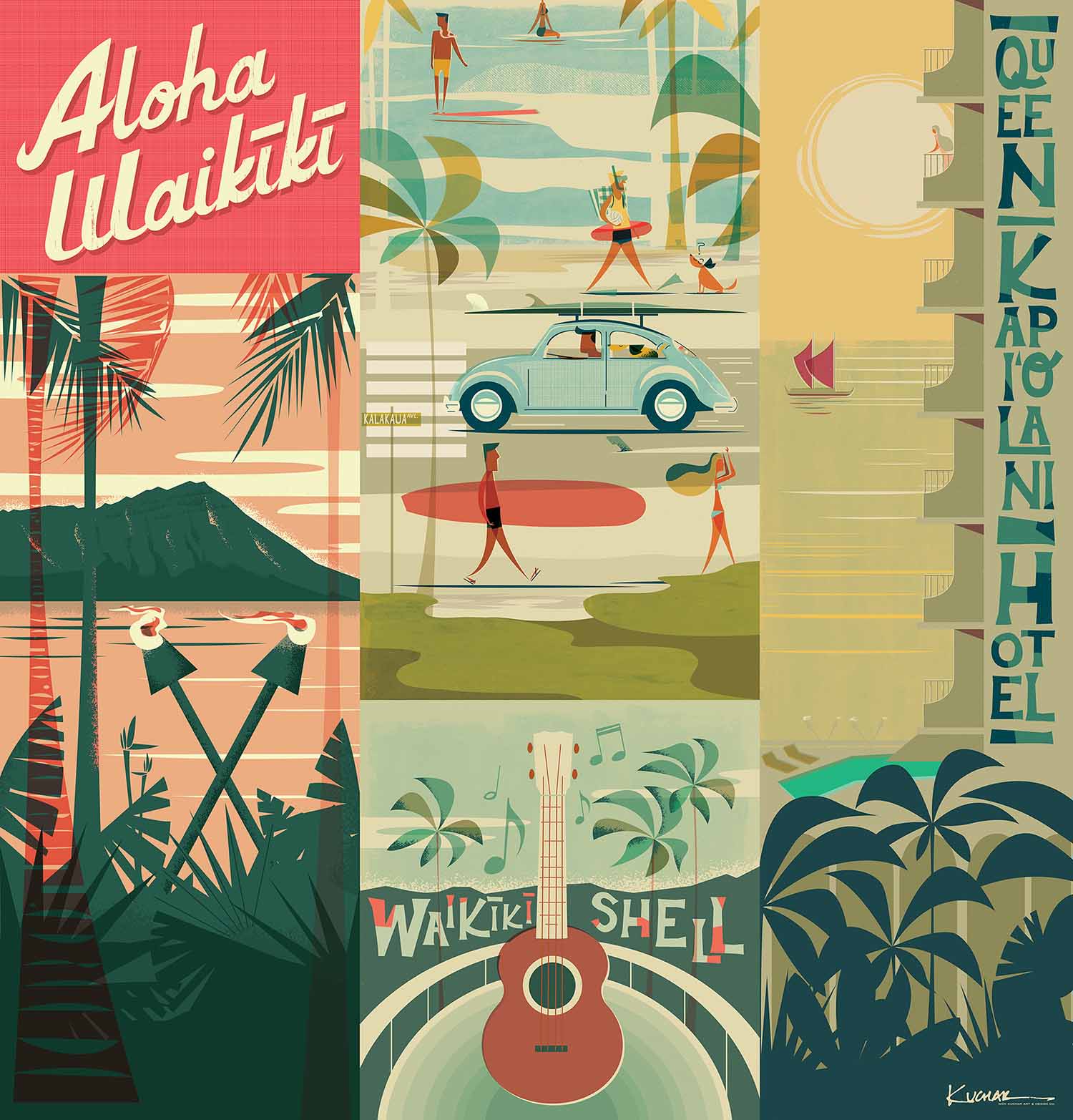 11. Now, tell us a little more about you as a person: what is your favourite food?
Tacos. Street tacos with cilantro and cotija cheese. All-day, every day.
12. Favourite book?
I love anything Malcolm Gladwell. The way he studies little intricacies of life and writes anecdotes about them is amazing.
13. Favourite genre of music?
Anything sung with passion and soul from Bob Dylan & Muddy Waters to the Avett Brothers to Leon Bridges.
14. What are your hobbies?
If I'm not in my studio you can usually find me at our local surf spot or up in the Ko'olau Mountains.
15. If you weren't an artist, what would you be?
I am fascinated by gardening and farming and also love volunteering for humanitarian organizations that my family is passionate about in my spare time.