Instagram:
@nikiusagi
Website:
www.nikiusagi.com
1. What's your story? Where are you from?
Hi, my name is Niki and I was born and raised in Budapest, Hungary. After travelling a lot I ended up in the UK and married an Englishman with whom I share a tiny flat within London. Despite all my complaints I never felt more at home anywhere before.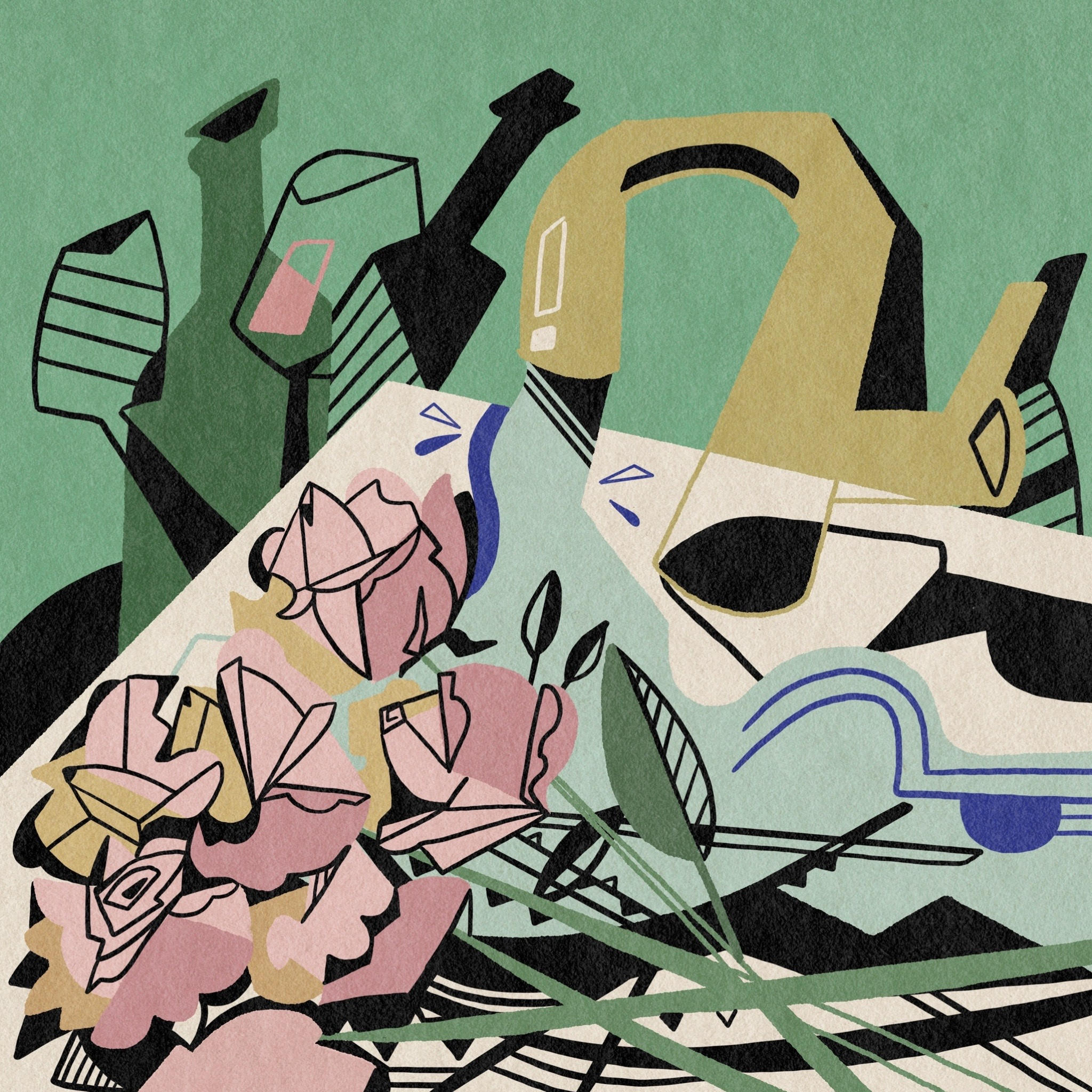 2. Tell us about your aesthetic.
I love contrasts. The contrast of black and white, the colours, the sharp versus soft shapes. I like bold colours and unusual combinations also. I'm very inspired by photographers like André Kertész, Man Ray and Robert Mapplethorpe. Playing with shadows was something I definitely learned from them and it very much defines my most recent works.
3. What is your favourite medium and why?
It depends on what I'm doing but I always choose a medium which results in block, opaque colours since it's important for my aesthetics. On canvas I use acrylic, on paper I love gouache and I often use my iPad for creating images too. Recently I learned how to appreciate digital techniques which save a lot of time, however, nothing gives me more satisfaction than the painting itself.
4. What is your artistic process like?
I always start with research, usually looking at photographs which are relevant to my topic. Sometimes even watch movies and put on some music to get into the mood. Then there's a lot of 'staring into nothingness' which might look weird for someone who doesn't know me. Behind my glassy eyes, I compose the picture I want to create. Then I just go for it. I very rarely do sketches, it's almost like I'm afraid that the process would bore me. I tried to work differently before because I know planning really works out for a lot of people, but for me, it's the opposite. I guess I do most of the sketching part in my mind.
5. Who and/or what inspires your work?
Literally everything. People, life, feelings, smells, colours, food... I love to go on long walks with my husband who is also my best friend. We share so much in common, so long conversations with him are very therapeutic. I need this calmness and happiness in my life to stay productive. This is everything.
6. What role does art play in your life? How does it change the way you view the world?
Art is the second most important thing in my life. After love, of course. A breath of fresh air, a lifetime mission, a religion and all the clichés that I can come up with.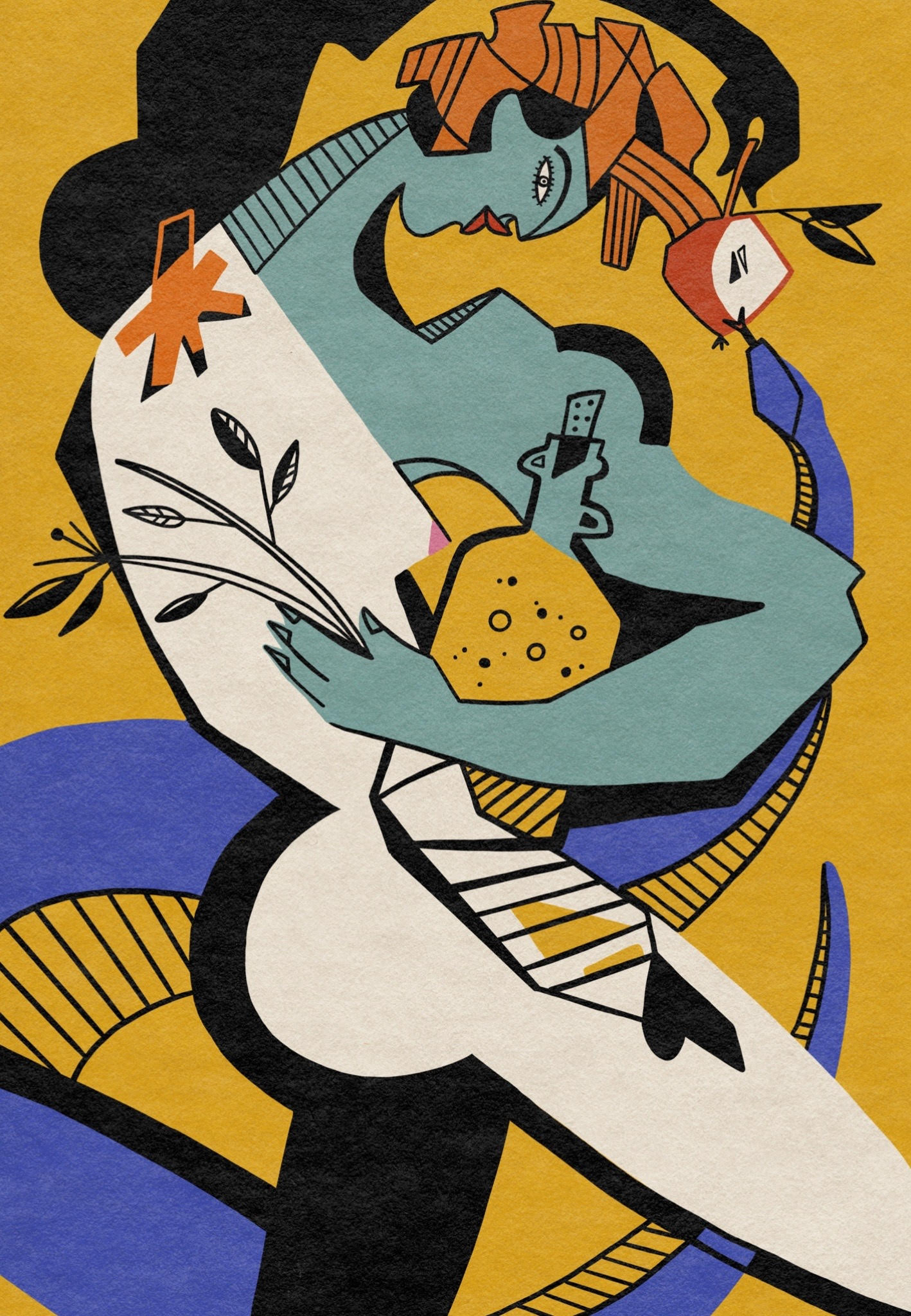 7. Where did you study?
I studied cinematography at Eötvös Loránd University in Budapest. Never went to art school, they would probably never have met.
8. Where do you see yourself in five years?
Working hard in my home studio surrounded by pets. The only thing I truly miss from my life is having animals around me. I even have two imaginary cat friends: Spock and Data (yes, I love Star Trek). Hopefully one day this dream will come true.
9. What about in ten?
Same thing but with even more pets.
10. What do you hope to achieve with your art?
If one day someone somewhere would look at a picture and say: 'Hmmm, yes. It's very Niki Usagi.' Haha! I'd absolutely love that!
11. Now, tell us a little more about you as a person: what is your favourite food?
My perfect feast is a table full of delicious tapas, cheese and vegetables with fresh baguette and wine. There's a particular recipe for a fish rillettes with black truffles which sends me to heaven straight away.
12. Favourite book?
I read a lot of fiction from different genres. Recently discovered Carl Hiaasen and his hilariously funny crime fiction which are perfect summer reads. But my ultimate favourite is a Hungarian- Transylvanian writer Ádám Bodor. If I have to choose only one book of his, that would be The Sinistra Zone.
13. Favourite genre of music?
Jazz.
14. What are your hobbies?
Books, cinema, music...and dancing. Oh I love to dance.
15. If you weren't an artist, what would you be?
A chef for sure.