Instagram:
@nmatej
Website:
www.ahoymatej.com
1. What's your story? Where are you from?
I live west of Cleveland, Ohio in a city called Lakewood. Currently, I'm freelancing full time as an illustrator. I originally studied graphic design and fine art but in the past year or two I've shifted focused to illustration.
2. Tell us about your aesthetic.
I tend to bounce around stylistically, but I'd say there's a certain mood to all of my work. There's always some type of juxtaposition of color, shape, and/or size. I like a bit of texture to create a sense of atmosphere or an imperfect quality.
3. What is your favourite medium and why?
All of my work ends up digital and is mostly built in Adobe Illustrator. I used to only use Photoshop for texture work but I've been trying to branch out into raster-based drawing. Sometimes I'll go back to pencils, charcoal, etc. to make textures that I can scan and use on the computer but that's it. Working digitally provides so much flexibility and I'm so used to it that it would be hard to work any other way.
4. What is your artistic process like?
If I think of an idea it's usually when I'm not working, so I'll make sure to note it or make a little sketch. I spend a good amount of time researching and finding reference material. If I'm working on an editorial piece, I'll highlight and take note of words or passages in the article that I think could provide a good visual context for getting the idea across in my illustration. From here I'll do some really loose sketches to get an idea of composition. I'll pick a few to refine then send to the client. Once direction is agreed up with the client, I'll revisit the sketch to make any last minute changes before I use it as the foundation for building shapes in Illustrator. There's always a bit of experimenting that goes on with color, texture, and transparency. Playing with multiplied elements and overlays can bring some unexpected results that you might not have considered otherwise. Tinkering around gets me to make sure I don't play it safe and just hide in my comfort zone. I've made a point of trying to streamline my process in the last year or so. I used to just dive into Illustrator without any kind of preplanning which would usually involve a ton of frustration. Getting more client work forced me to change that because clients like sketches!
5. Who and/or what inspires your work?
Architecture, old ephemera, printing techniques, a walk through the woods, the time of day, the weather outside, music, food. I'll browse through design magazines and websites or Pinterest if I feel like I'm hitting a wall. There are a lot of wonderful illustrators out there that I admire. Malika Favre, Karolis Strautniekas, Brian Steely, Jay Fletcher, Doublenaut, Pavlov Visuals, and Marly Gallardo are standouts. Edward Hopper, Richard Diebenkorn, Mark Rothko, and Franz Kline have all influenced my work at some point.
6. What role does art play in your life? How does it change the way you view the world?
It's what I do for a living, so for me it's a huge part of every day. I think it makes you look at things and situations with a different sensibility. You're more aware of your environment, the interaction of light and shadow, maybe the shape of a piece of furniture or a decorative doorway on a building or something like that. I'm always putting together little compositions of what I see around me. I love making art and I love looking at what other people make.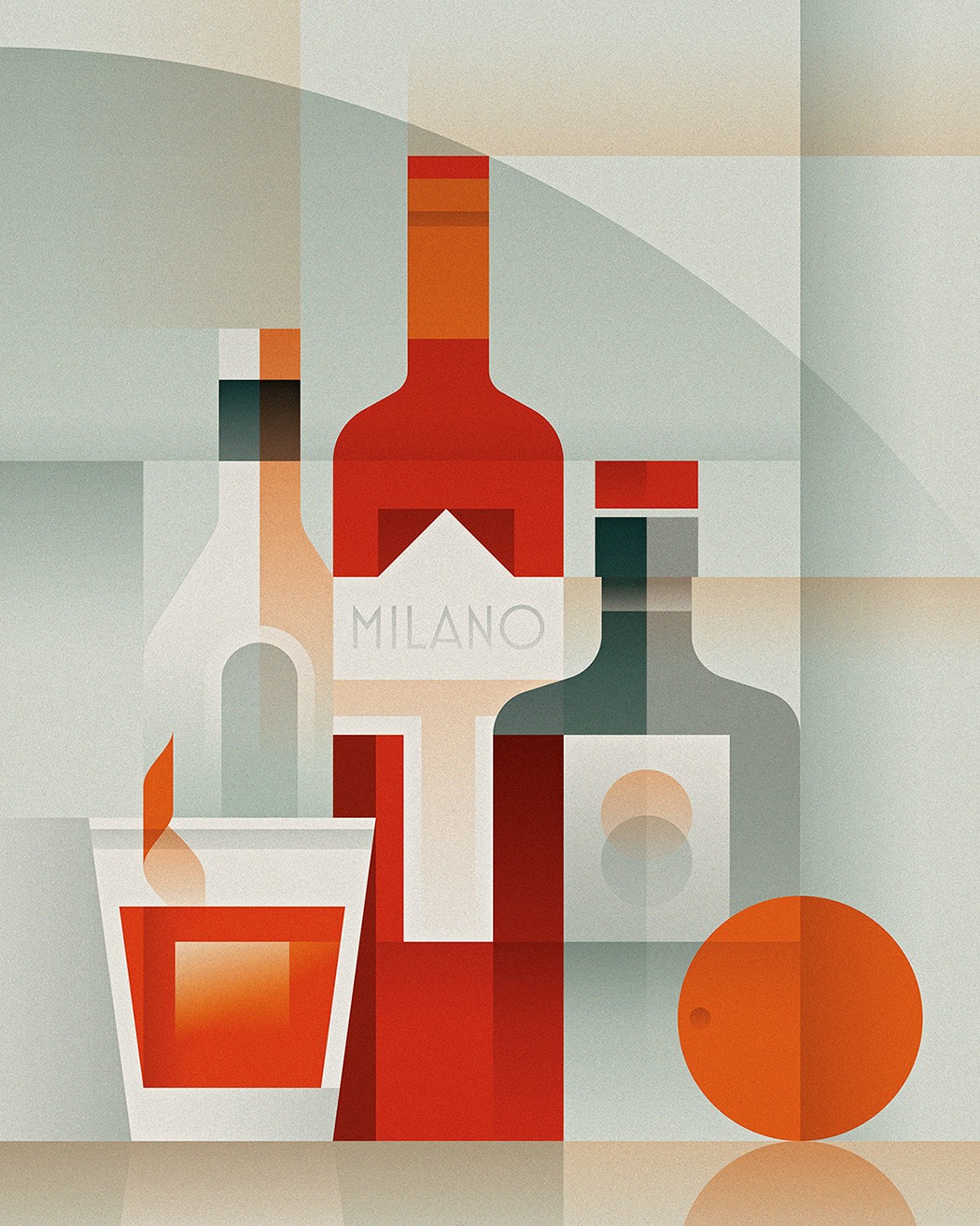 7. Where did you study?
I studied Fine Art and Visual Communication Design at Kent State University and Cleveland State University.
8. Where do you see yourself in five years?
I'd like to be illustrating for some big publications.
9. What about in ten?
It would be great to have my own studio.
10. What do you hope to achieve with your art?
I hope it successfully communicates ideas and invokes emotions. If people respond to my work and understand what I'm trying to say then I know I'm doing something right.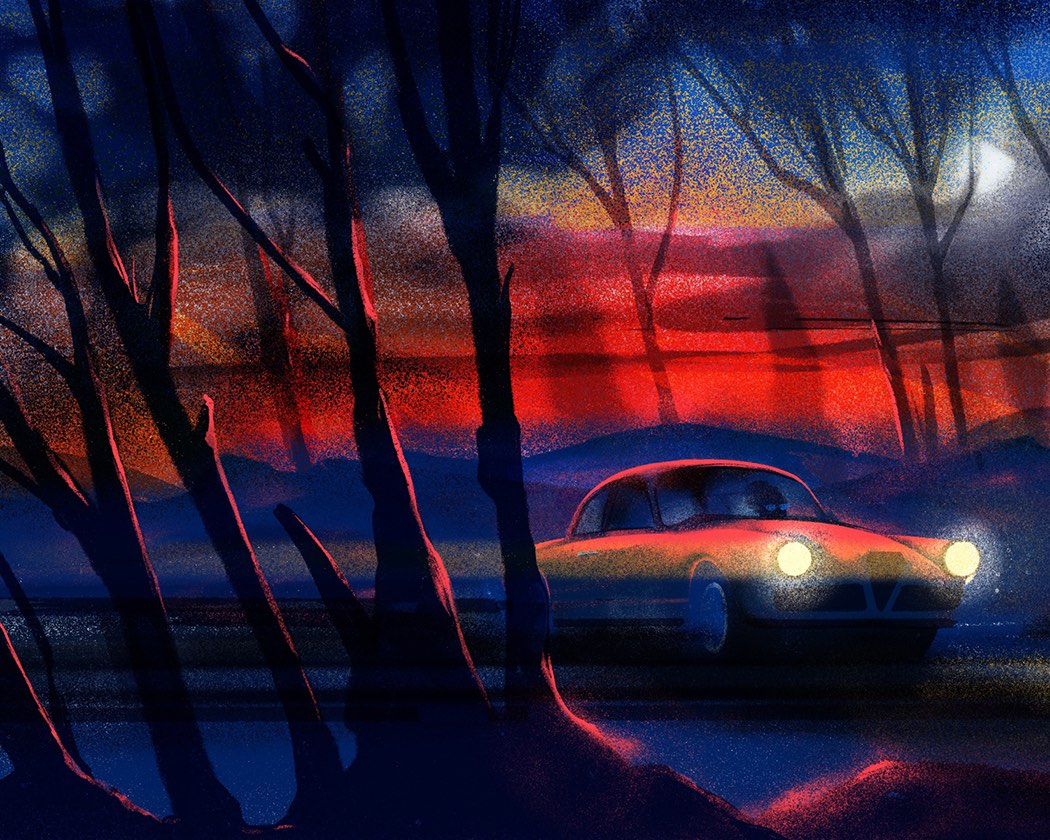 11. Now, tell us a little more about you as a person: what is your favourite food?
I always appreciate a damn fine cup of coffee. It's hard to pick just one thing. I really like Italian and Thai food.
12. Favourite book?
The Count of Monte Cristo
13. Favourite genre of music?
I like a lot of stuff and it tends to change with the seasons. A lot of sad bastard music, jazz, ambient, minimal, contemporary classical.
14. What are your hobbies?
I like cooking a lot, playing guitar, spending time outdoors when weather permits. We have a lot of nice parks around that I like to visit. There's also a great art museum in Cleveland that I try to go to often.
15. If you weren't an artist, what would you be?
A chef.