Instagram: @noceae
1. What's your story? Where are you from?
Hi! My name is Océane, I'm 23 and I was born and raised in France. I have two big sisters and a lovely cat: Piwi. I'm a graphic designer and started drawing in January 2020 because I really wanted to do motion design. It was like a dream, so I decided to create my own illustrations to animate them.
Globally, I am a beginner full of dreams who blossom in this new illustrated adventure and sometimes animated.
Je m'appelle Océane, j'ai 23 ans. Je suis née et j'ai grandi en France. J'ai deux grandes soeurs et un adorable chat qui s'appelle Piwi. Je suis graphiste, et j'ai officiellement commencé à dessiner en Janvier 2020 car j'avais très envie de faire du motion design 2D. J'ai donc décidé de créer mes propres illustrations pour en animer quelques-unes..
En gros, je suis une débutante pleine de rêves qui s'épanouit fort dans cette nouvelle aventure illustrée et de temps en temps animée.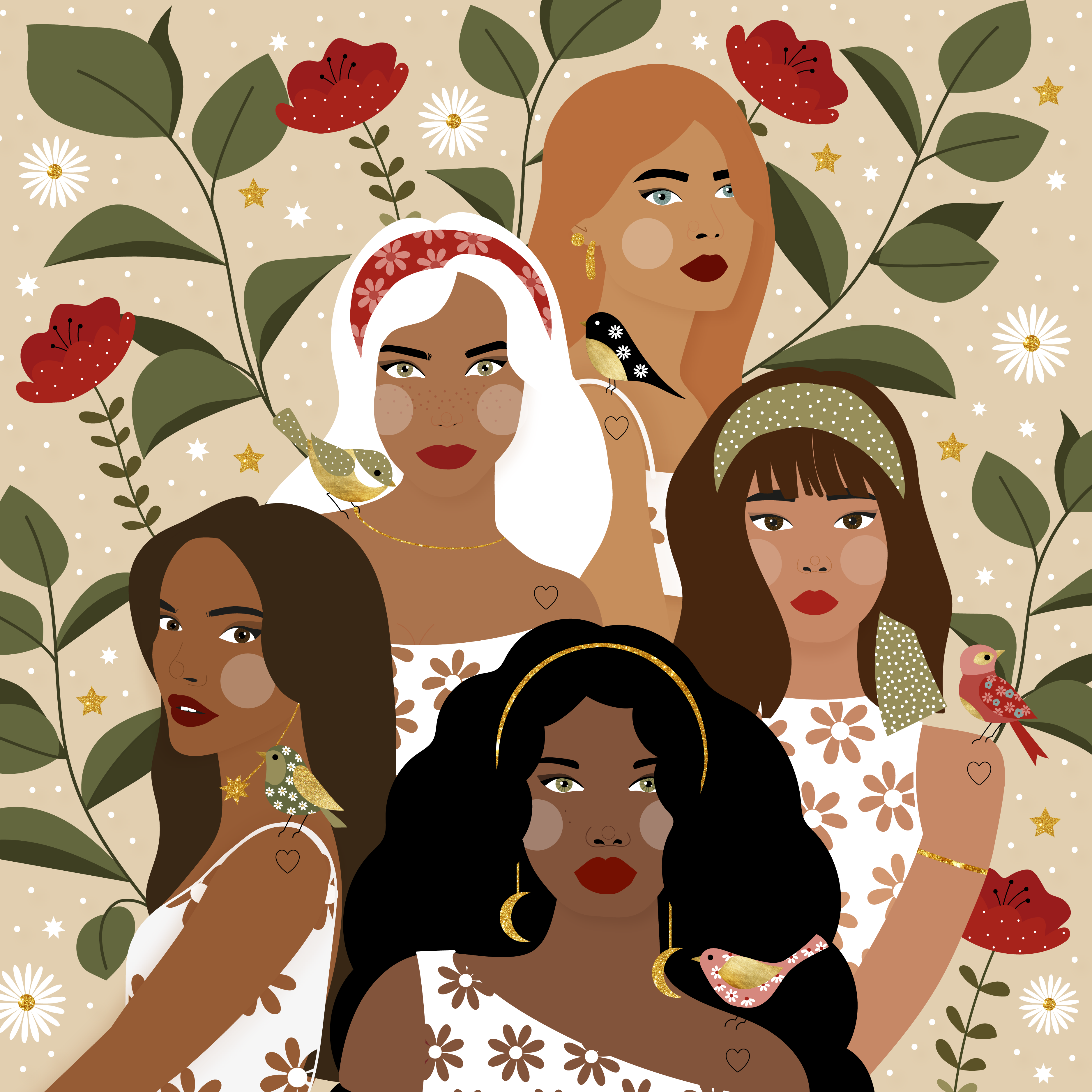 2. Tell us about your aesthetic.
My style is above all centered around women, plants, my cat Piwi, and decoration. I also really like astronomy and I have been fascinated by the moon since I was little, so in almost all my illustrations we find stars, Saturn, or the moon. I try to create sweet and peaceful scenes.
Je dirais que mes illustrations sont avant tout centrées autour des femmes, des plantes, de mon chat Piwi, et un peu de décoration. J'aime aussi énormément l'astronomie et je suis fascinée par la lune depuis toute petite, donc on retrouve dans presque toutes mes illustrations des étoiles, Saturne, ou la lune.. J'essaie avant tout de créer des scènes douces et paisibles..
3. What is your favourite medium and why?
Digital, for sure! I draw almost exclusively in digital, I'm not very comfortable with drawing on paper, especially since I have a lot of difficulty choosing my colors so digital is much better for me. I haven't been drawing for a long time so I still need a lot of practice to feel ready to draw on paper, but in a few years I will love to be able to do little gouache paintings.
Je dessine quasiment exclusivement en digital, je ne suis pas très à l'aise avec le dessin manuel, d'autant plus que j'ai beaucoup de difficultés à choisir mes couleurs donc le digital me convient beaucoup mieux. Je ne dessine pas depuis longtemps donc j'ai besoin d'encore beaucoup d'entraînement pour me sentir prête à dessiner sur papier, mais j'adorerai dans quelques années être capable de faire des petites peintures à la gouache.
4. What is your artistic process like?
I read a lot of poetry and love to write. I have a little secret notebook in which I write my thoughts, the lyrics of the songs I like, my moods and I try to associate a picture in my head with it. Sometimes the idea comes immediately, sometimes it takes several months for the idea to florish (I always have dozens of illustrations that I can't finish, pending). And when I run out of inspiration, I reread parts of this notebook, and a few writings give me new ideas.
I would say most of my illustrations are born from writing.
Je lis beaucoup de poésie, j'écoute beaucoup de musique, et j'adore écrire, j'ai un petit carnet secret dans lequel j'écris mes pensées, les paroles de chanson que j'aime, mes états d'âme et j'essaie d'y associer une image dans ma tête. Des fois l'idée aboutit directement, des fois elle met plusieurs mois à mûrir (j'ai toujours des dizaines d'illustrations que je n'arrive pas à terminer en attente). Et quand je manque d'inspiration, je relis certains passages de ce carnet, et certains écrits font germer de nouvelles idées.
Je dirais que la plupart de mes illustrations naissent de l'écriture.
5. Who and/or what inspires your work?
Poetry and music as I mentioned in the previous question. Otherwise, it will probably seem obvious and very common, but the nature, the sky, the night, my cat Piwi, my close circle; and obviously my secret dreams, my ideals, my desires, my emotions, my claims.
La poésie et la musique comme je l'ai évoqué à la question précédente. Sinon, ça va probablement paraître très commun, mais la nature, le ciel, la nuit, ma Piwi, mon entourage proche; et évidemment mes rêveries secrètes, mes idéaux, mes envies, mes émotions, mes revendications..
6. What role does art play in your life? How does it change the way you view the world?
Art allows me to escape, to create my little parallel world, where I feel good, at peace. In the illustration, anything is possible, there is no limit to the imagination, and it's super important to be able to think and create without any restrictions, and I really believe that it frees me to feel 100% me while I draw.
L'art me permet de m'évader, de créer mon petit monde parallèle, où je me sens bien, en paix. Dans l'illustration, tout est possible, il n'y a aucune limite à l'imagination, et c'est super important de pouvoir penser et créer sans aucune restriction, et je pense très sincèrement que ça me libère de me sentir 100% moi pendant que je dessine.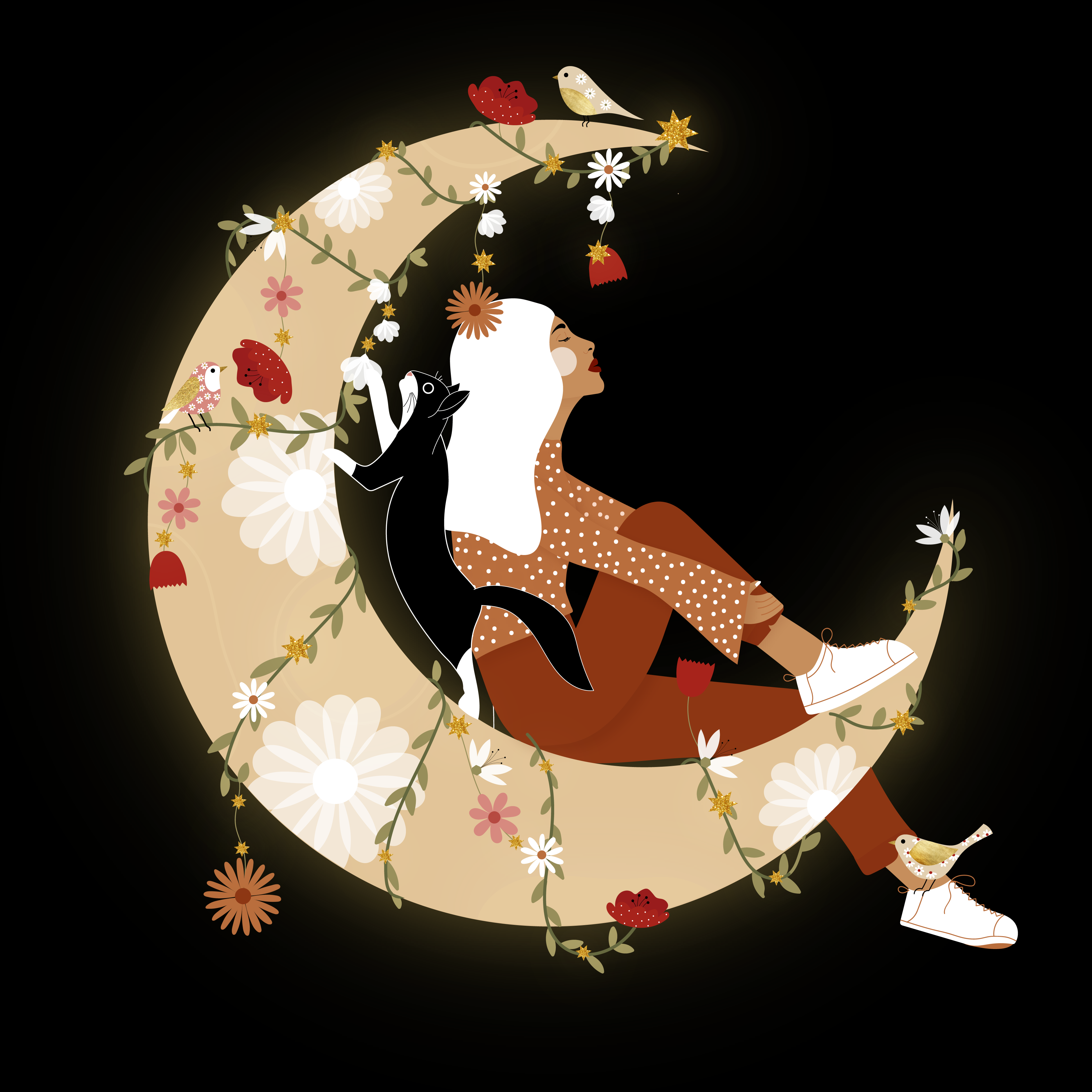 7. Where did you study?
I studied applied arts and graphic design at the École de Condé in Bordeaux.
J'ai étudié les arts appliqués et le design graphique à l'École de Condé à Bordeaux.
8. Where do you see yourself in five years?
In 5 years, I will see myself in La Spezia in Italy, or in Grenada in Spain working in editing and illustration on some super cool projects. Happy and ABOVE ALL SUPER EXCITING TO WAKE UP.
Dans 5 ans je me vois à La Spezia en Italie, ou à Grenada en Espagne travaillant dans l'édition et l'illustration sur des projets super chouettes. Heureuse et SURTOUT SUPER EXCITÉE DE ME LEVER LE MATIN.
9. What about in ten?
10 years is far away !!!!!!! Happy and still so excited to wake up, it seems like a good program!
10 ans c'est loin !!!!!!! Heureuse et toujours autant excitée de me lever le matin, ça me parait être un bon programme !
10. What do you hope to achieve with your art?
To be honest, I have no pretensions with my art especially because I'm a beginner... I try to draw and create positive and peaceful scenes. I try to transcribe a simple and possible happiness, to distribute a little bit of hope on my small scale. So just the fact that some people feel a little happy when they're looking my illustrations is already a great accomplishment for me.
À vrai dire, j'ai aucune prétention à ce niveau là, notamment parce que je suis débutante… J'essaie de dessiner et de créer des scènes positive et poétiques. J'essaie de retranscrire un bonheur possible, de diffuser un petit peu d'espoir à ma petite échelle. Donc le simple fait que certaines personnes ressentent un peu de bonheur ou esquisse un sourire en parcourant mes illustrations est déjà un bel accomplissement à mon sens.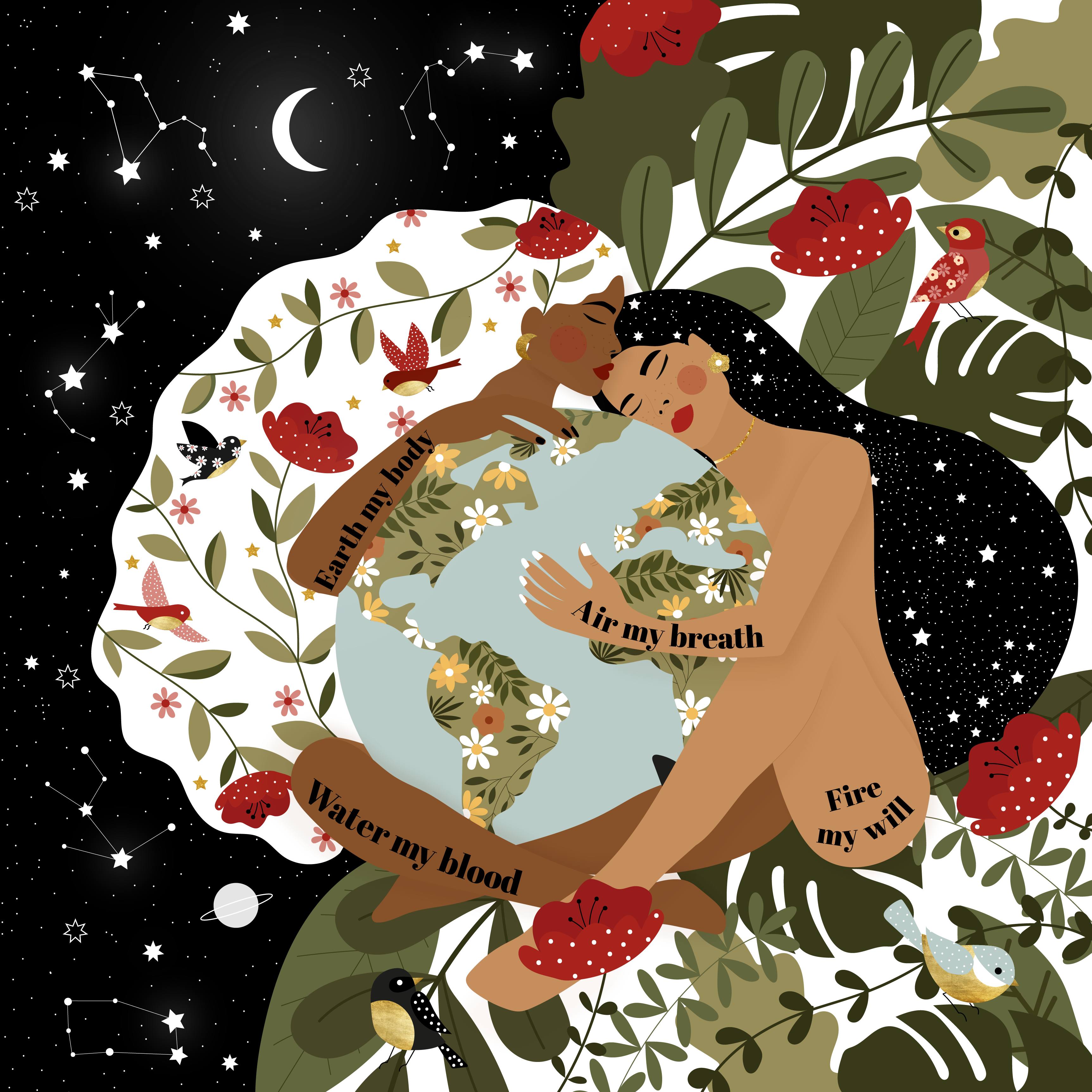 11. Now, tell us a little more about you as a person: what is your favourite food?
Without any hesitation, Italian food, I could eat mozzarella, pasta with pesto or strawberries with burrata at any time of the day (and maybe even the night aha). I looove pizza with tomato, burrata, pesto and arugula, and have a secret love for Lambrusco.
Sans aucune hésitation, la nourriture italienne, je pourrais manger de la mozzarella, des pâtes au pesto ou des fraises à la burrata à toutes heure de la journée (et peut-être même de la nuit aha). Je voue un véritable culte à la pizza tomates,burrata, pesto et roquette, et ai un amour secret pour le Lambrusco.
12. Favourite book?
Probably "Milk and Honey" from Rupi Kaur. Even if I like Albert Camus and Virginie Despentes a lot too.
Je dirais peut-être « Milk and Honey » de Rupi Kaur. Même si j'aime beaucoup Albert Camus et Virginie Despentes aussi.
13. Favourite genre of music?
I listen to a lot of very different music, it depends on my mood. I like urban music, but also rock and French variety. "I'm So Excited" - Pointer Sister's is my good mood music, I also listen to "Do I want to know" - Arctic Monkeys on repeat, and when I need to rest "To Zanarkand" - Final Fantasy X is just perfect…
More recently my big sister introduced me to the cover "Boule de Flipper" by Juliette Armanet and Christophe and I fell in love with it, a little wonder.
Alors là, j'écoute plein de musiques très différentes, ça dépend de mon mood, j'ai des phases. J'aime bien la musique urbaine, mais aussi le rock et la variété française. « I'm so excited » des Pointer Sister est ma musique de la bonne humeur, j'écoute en boucle « Do I wanna Know » d'Arctic Monkeys, et quand j'ai besoin de me reposer « To Zanarkand » - Final Fantasy X est juste parfaite… Sinon, dernièrement ma grande soeur m'a fait découvrir la reprise « Boule de Flipper de Juliette Armanet et Christophe » et j'ai eu un coup de foudre pour cette version, une petite merveille.
14. What are your hobbies?
I love to cook, dance barefoot at home despite a total lack of talent and grace, watch the stars with hot chocolate in my hands, spend time with my family, walk around town, visit museums, cuddle my cat, travel, eat strawberries coated in chocolate ...
J'adore cuisiner, danser pieds nus chez moi malgré une absence totale de talent et de grâce, regarder les étoiles avec un chocolat chaud entre les mains, passer du temps avec ma famille, me balader en ville, visiter des musées, câliner mon chat, voyager, manger des fraises enrobées de chocolat…
15. If you weren't an artist, what would you be?
I always dreamed to become an astronaut, and this fascination with astronomy has never left me, I still look with so much wonder at the moon when I close my shutters. Besides, a flight in zero gravity is one of my biggest dreams.
Quand j'étais petite, je voulais devenir astronaute, et cette fascination pour l'astronomie ne m'a jamais quittée, je regarde toujours avec autant d'émerveillement la lune en fermant mes volets.. D'ailleurs, un vol en gravité zéro fait parti de mes plus grands rêves.