Instagram:
@olfdebruin
Website:
www.olfdebruin.com
1. What's your story? Where are you from?
My name is Olf de Bruin and I'm an illustrator currently living and working in Amsterdam. My work varies from editorials to artworks and videos for rappers.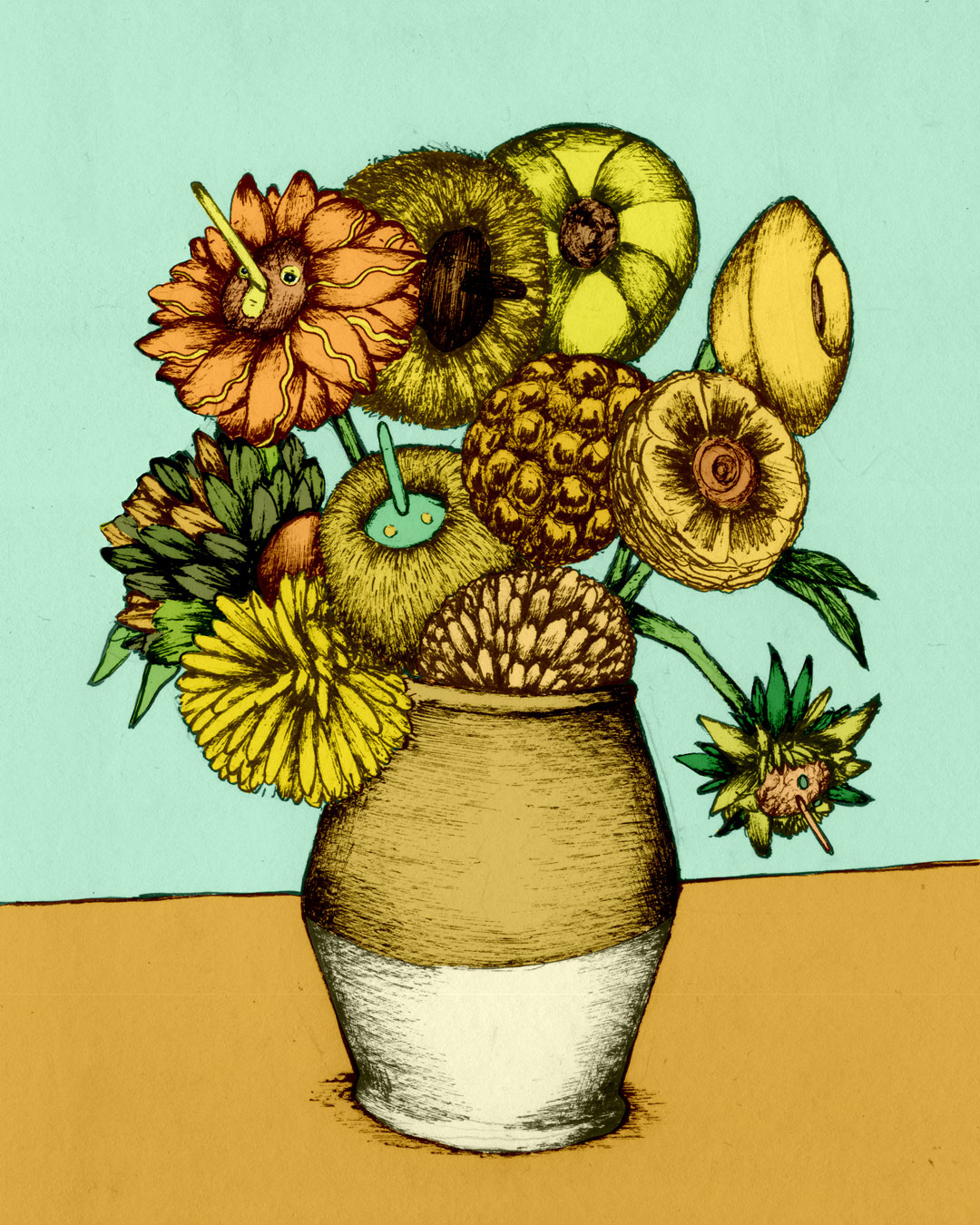 2. Tell us about your aesthetic.
The Olf de Bruin aesthetics are all about pastel colors mixed with bright colors, weird and awkward characters (but somehow still cool), plants, long noses, little bit of humor, rising suns, waters, leafs, silence and loud at the same time.
3. What is your favourite medium and why?
Fineliners! Almost all of my drawings are made with fineliners on A5 or A4 paper. The thing about fineliners on paper is the fact that I can take it anywhere with me and so I can draw anywhere I like. And they're at their best when they're almost dried out, then it kinda feels like I'm molding instead of drawing.
4. What is your artistic process like?
Sketching, sketching and then again; sketching. After that, some more sketching. And finally, when I got an idea I like, I'll take a nice 200gr acid-free A5, and draw the final illustration. The coloring is done on the computer.
5. Who and/or what inspires your work?
A lot of things, and on a lot of different levels. For instance, I admire people like Tyler the Creator for his creativity and seeing things in his own way. Visually I'm inspired by old biology books like 'Kunstformen der Natur' by Ernst Haeckel or one of my favorite movies 'Fantastic Planet'.
6. What role does art play in your life? How does it change the way you view the world?
One of the most important things I've learned is to see the beauty in ugly things. Almost everything has an own kind of beauty in it but it's almost a matter of choice if you want to see it or not.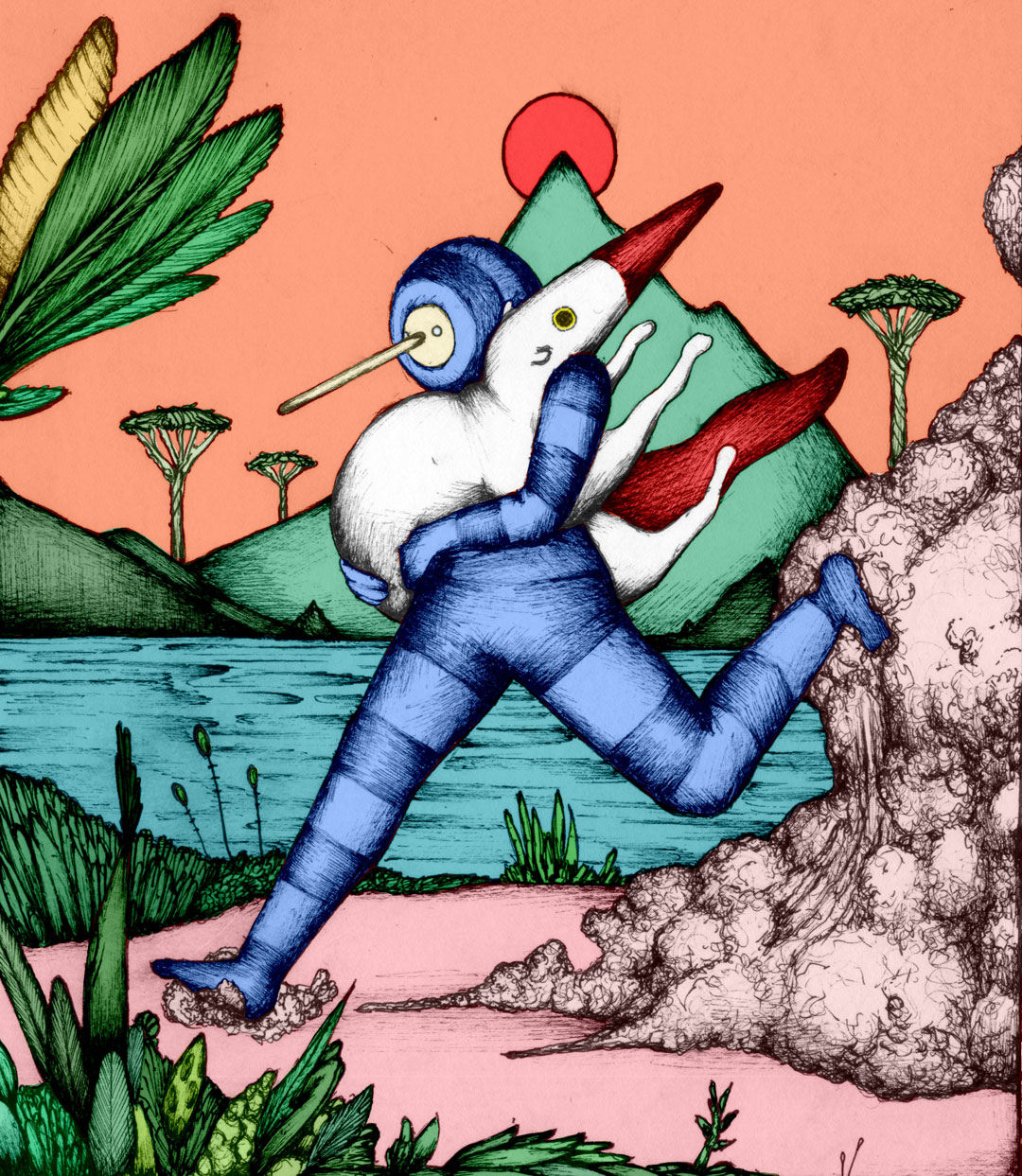 7. Where did you study?
After half a year of studying Fine Arts at the HKU University of the Arts Utrecht, I decided that I wanted something more applied. So I switched to Illustration and that's what I completed in 2015.
8. Where do you see yourself in five years?
The mission is to eventually create Kanye West's next album artwork and to get my illustrations printed on an aeroplane. Further, I'd like to grow as an editorial illustrator and to work for the highest level of clients possible. For me there's a challenge in connecting with different types of clients and their audiences, but without losing my own visual language.
9. What about in ten?
Everything from the previous question but then bigger.
10. What do you hope to achieve with your art?
One of the most important things for me is that I want my illustrations to make a cultural impact. The other day I saw a kid walking in a T-shirt I designed. I was so flattered by the fact this guy chose to pick my design to dress himself that day. And that's also what happens every time I see an editorial that actually got printed. One day a lady mailed me to let me know how much she liked a cover I designed with a picture of that cover on the wall in her living room. That's basically what I'm trying to achieve.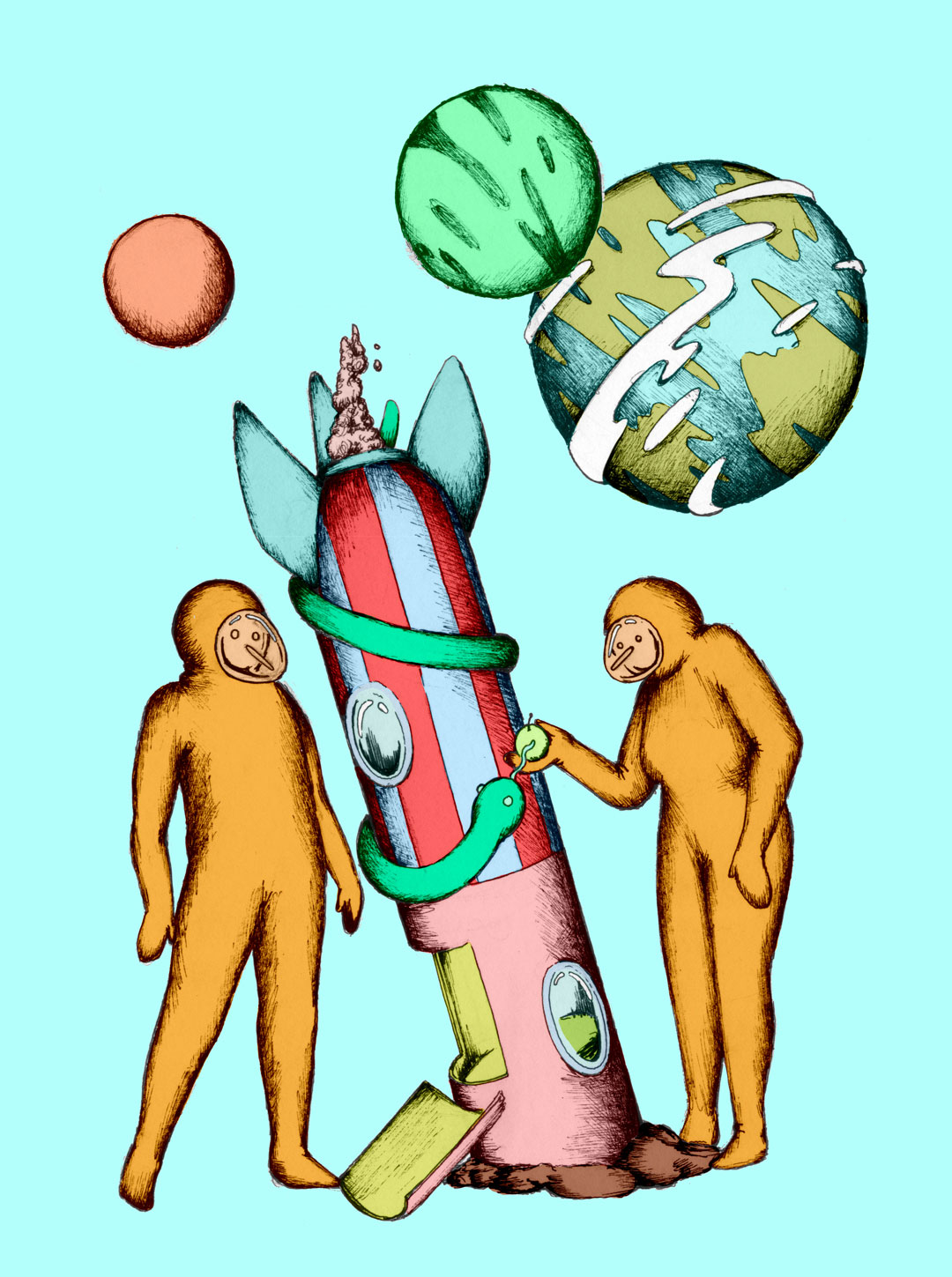 11. Now, tell us a little more about you as a person: what is your favourite food?
Poached eggs. There's a restaurant around the corner from where I live that serves the best poached eggs on a brioche with salmon and hollandaise I've ever tasted. I eat there almost every weekend.
12. Favourite book?
That's probably 'After Man: A Zoology of the Future' by Dougal Dixon. In this book the author tries to speculate how and which animals will evolve in the future. It was a big inspiration for my own book 'Van Bollebast tot Voortprinter'. Which is a book about transhumanism and the future for mankind.
13. Favourite genre of music?
Definitely hip-hop.
14. What are your hobbies?
Lately we've installed a dartboard at the studio, so I guess darts is a hobby of mine now.
15. If you weren't an artist, what would you be?
Homeless?