Instagram:
@olivia.holden
1. What's your story? Where are you from?
Hello! I'm from a tiny village on the coast of Lancashire, United Kingdom. I spent a lot of my childhood outdoors helping out on my neighbours' stable yard riding horses, walking dogs and exploring the fields near my childhood home. When I wasn't outside, I'd either have my head in a book or a pencil in my hand drawing in one. I've lived in a few different parts of the UK since then and love to visit new towns and meet new people. After finishing University I moved to Cornwall and lived by the sea for a while, then I moved to the Yorkshire dales and lived on the edge of Ilkley Moor surrounded by trees and rolling hills.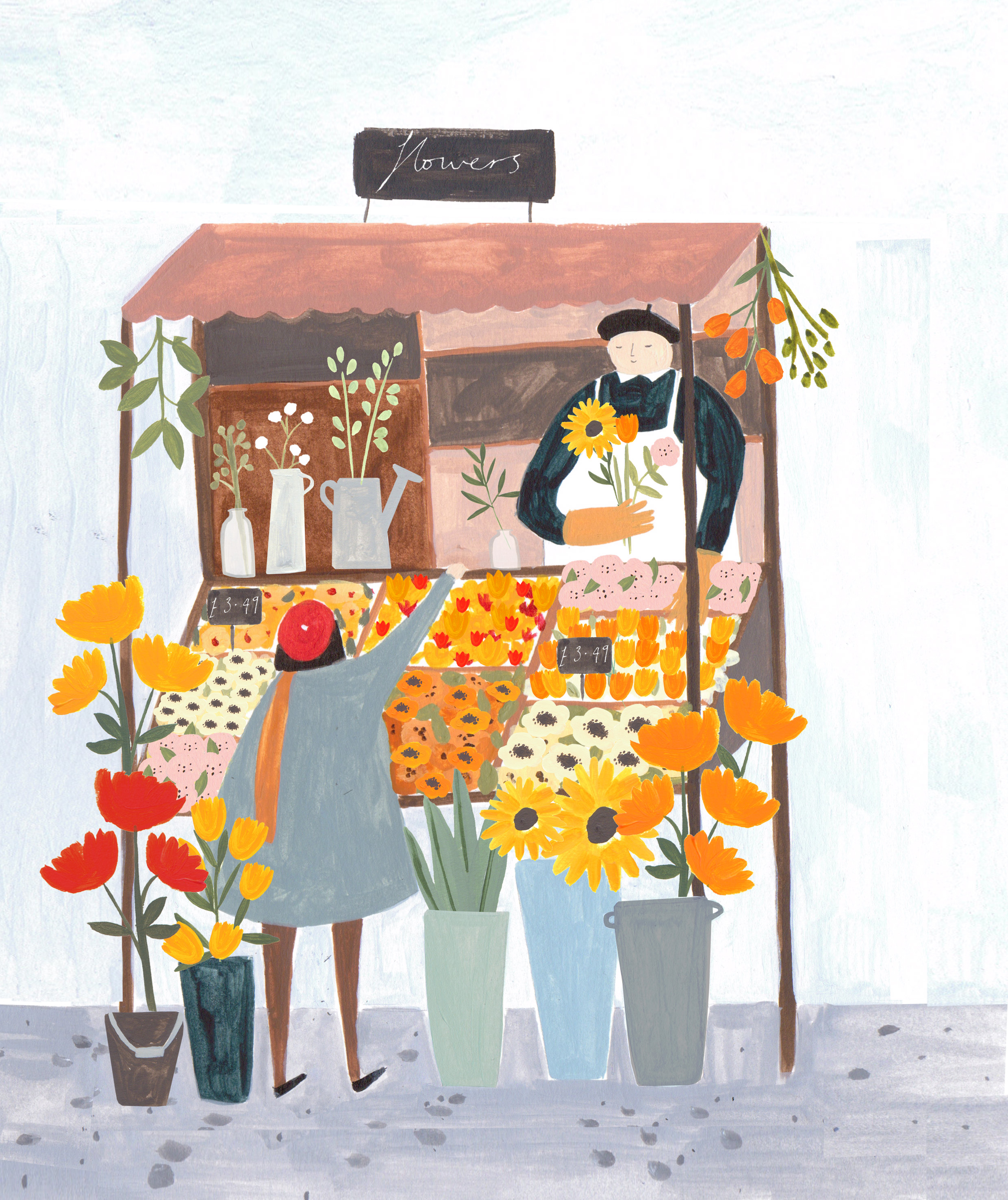 2. Tell us about your aesthetic.
I love to create painterly textures in my work, and try and keep things bright and colourful. My style is always evolving and changing as my work develops but recently I've enjoyed adding little details and patterns within the scenes I create.
3. What is your favourite medium and why?
I enjoy working with gouache paint the most and the variations of textures you can create when you play around with it. Adding water can give a more watercoloured bleed effect whereas using a dry brush can give a rough grainy look. I also like to show my brushstrokes within my work so this medium works well for me.
4. What is your artistic process like?
I usually start off with a pencil sketch in my sketchbook as this gets the creativity flowing. Then I work up my sketch using acrylic paint. I scan in my painted work and play around on photoshop to get things looking how I want them too.
5. Who and/or what inspires your work?
I've recently become really inspired by old objects from the past. I visited Castle Howard over Christmas and the hand-painted wallpapers and ornate tiles were exquisitely inspiring. I also cleared out my parents' garage and salvaged some old tea bag tins, one with beautifully illustrated Christmas scenes and the other decorated with William Morris-esk birds. Nature is also a big inspiration and people too, I could sit in a busy place and just people watch for a couple of hours.
6. What role does art play in your life? How does it change the way you view the world?
It makes me look at the world more carefully. I feel like I am constantly viewing things for sources of inspiration, on the lookout for scenes and situations I could illustrate. I observe things and people a lot more than I used to.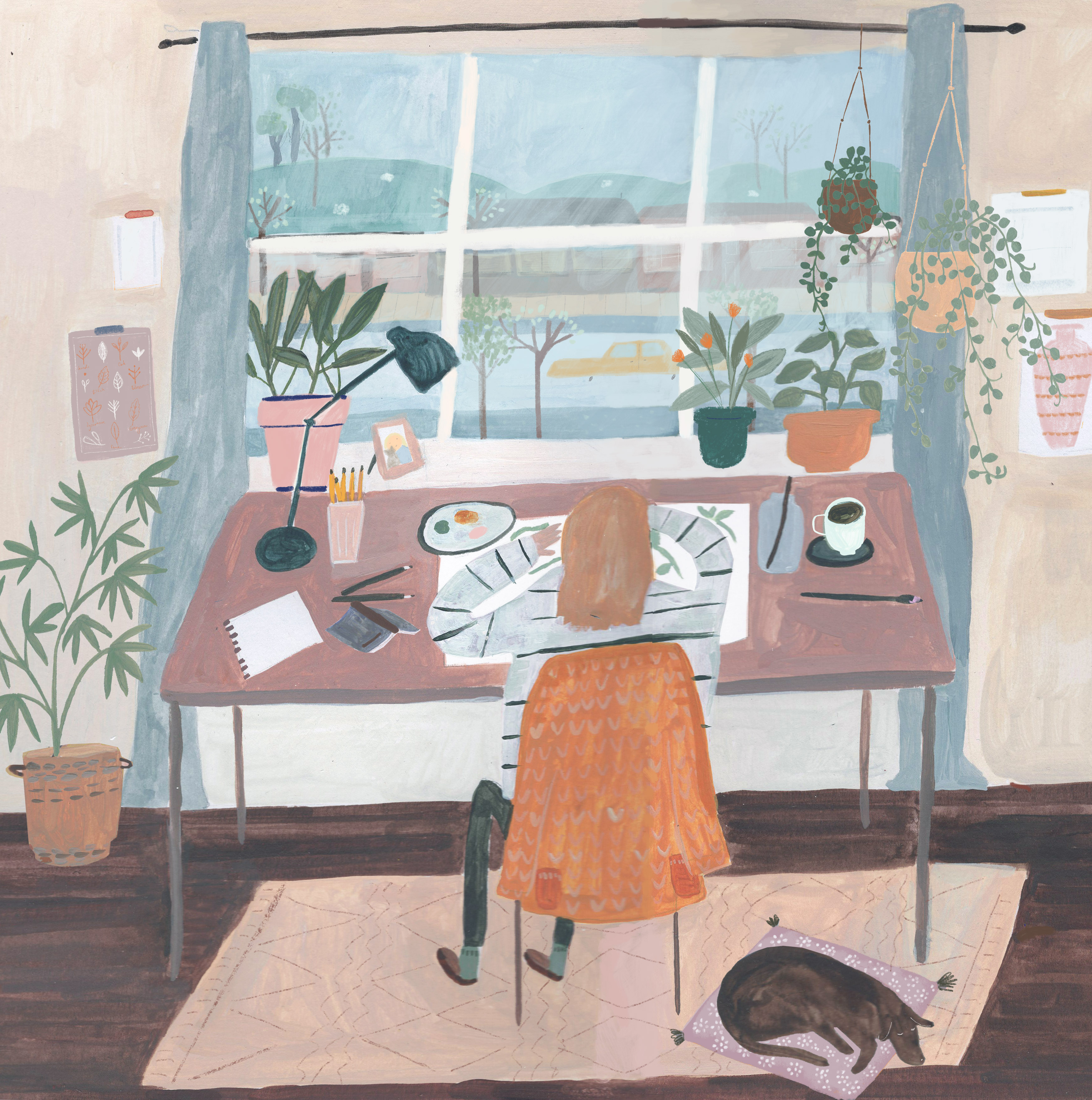 7. Where did you study?
I studied in Yorkshire at the University of Huddersfield, although it wasn't really until after Uni that I found my own illustration feet and style.
8. Where do you see yourself in five years?
Hopefully, in five years, I would like to have illustrated a book that I have written myself. I have a few stories that I've come up with and am working on developing them.
9. What about in ten?
Maybe have a few books that I've illustrated and written haha! Also, I'd like to have travelled a bit more by then, there are so many places I'd love to see!
10. What do you hope to achieve with your art?
I just hope that people enjoy my art and that it takes them somewhere, be it a small child that has taken on an adventure in a book or an adult taken to a fond memory or happy time in their life.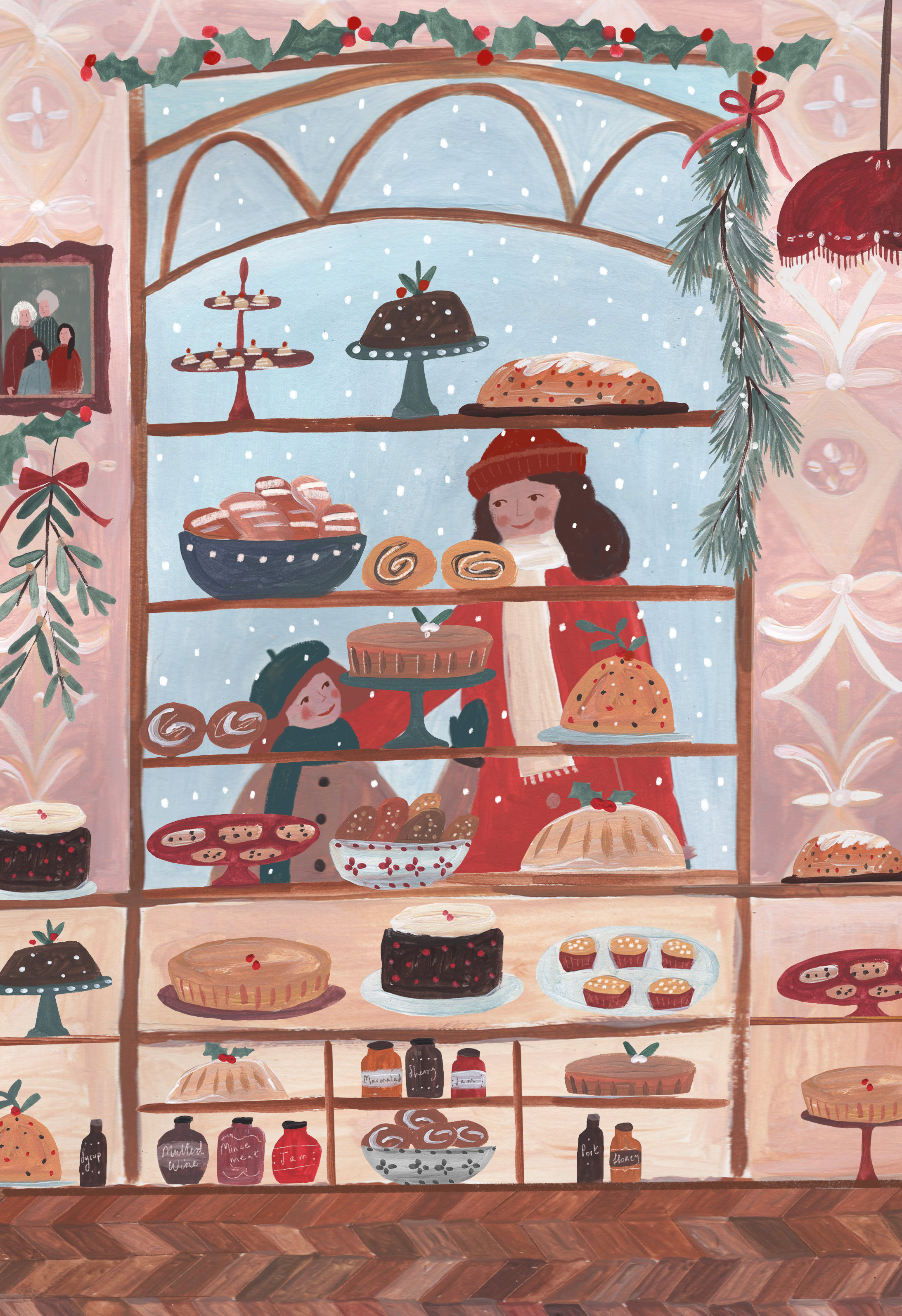 11. Now, tell us a little more about you as a person: what is your favourite food?
I think about this question all the time and my boyfriend always asks me but I just can't answer. I'll try to narrow it down, I do love spice so I love a good curry of any kind as long as it has got a good kick, and Asian food in general, seafood is definitely up there too, salt and pepper squid done right is always a winner.
12. Favourite book?
Another tough one to narrow down, I love to read so it's hard to pick just one and I still have a long list of books I'm yet to read. I'd have to say at the moment it's The Great Gatsby, I love the roaring twenties and if I could pick an era to live in I think it'd be that. I love the imagery in the book.
13. Favourite genre of music?
Also very tough haha, I'm quite an indecisive so and so! I'm a bit of a chameleon when it comes to music, I like all sorts. My favourite musicians to listen to whilst I'm painting are Joni Mitchel, Simon and Garfunkel, Louis Armstrong and Billy Joel. However, I grew up in the era of Arctic Monkeys so they never fail to make me want to boogie.
14. What are your hobbies?
I like going on long hikes, being outdoors. I love swimming although I don't do enough of it, particularly swimming in the sea, even if it's freezing off a coast in Cornwall, I'm there! I really enjoy cooking, especially in the summer, having barbecues and cooking over hot coals, and taking trips away, visiting new cities and seeing different cultures.
15. If you weren't an artist, what would you be?
I think I would probably be working with animals in one way or another. As a child, I wanted to be a vet but unfortunately, am a bit squeamish so I don't think it would have worked out. Perhaps helping with the conservation of animals or rescue would suit me more.