Instagram:
@omguac
Website:
www.david-huang.com
1. What's your story? Where are you from?
I was born in Taipei, Taiwan. When I was 14, I moved to the suburbs of San Francisco. You could say that's basically the gist of my life, two very different places and cultures, with me trying to balance between them.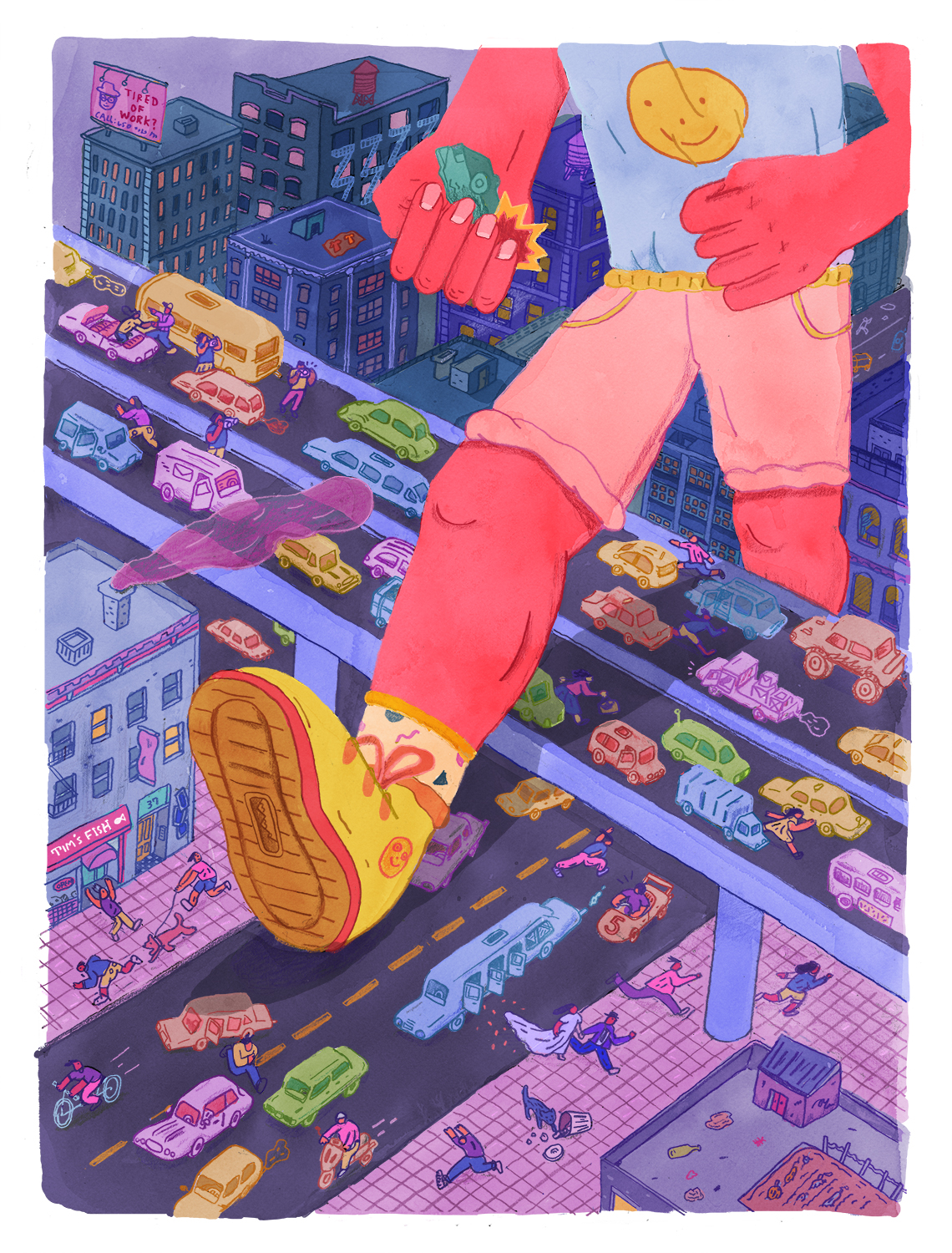 2. Tell us about your aesthetic.
Three things I almost guiltily crave for: details, colors, and textures. Also I have a "soft spot" (probably a lot more than a soft spot according to my friends) for drawing buildings and cities, I don't know quite why yet, maybe because throughout my life, I've always lived around cities, but I'm really trying hard to widen my subjects.
3. What is your favourite medium and why?
I love plain old regular pencil, it's so simple, but there's such a wonderful rawness to it.
4. What is your artistic process like?
Generally, I get a gist of what I'd like to do in my head: the ideas, then I'd do a few sketches in photoshop, move and drag them around until I like it. After I finish the sketch drawings, I'd print them out, trace them with whatever mediums I want, scan it, and color the final linework back in photoshop. I made that sound very easy, but it's not. I get very obsessive about my drawings, I'm a bit of a perfectionist in my own terms, and I definitely have a mild case of OCD (not a joke). I can look at an image for hours upon hours, and just fidgeting with the smallest things that no one else sees. It's a bit of a struggle that I'm trying to overcome in my work, and that is to be more bold and spontaneous.
5. Who and/or what inspires your work?
A lot of my work is about simple things around me, mostly non-fictional, I just put my own twist on them. I'd say my friends really inspire me in a way, talking to them helps me solidify my ideas and make them flow; when I'm by myself, I could also get many ideas just by walking on the streets of a big city like New York. Living in the city definitely is crucial to my art making, the busy vibe and happenings really gets me pumped up and going, and there's always some sort of mural or poster on the street that makes me say to myself: "Wow, that's amazing, you know what, that's why I'm an illustrator, and I want to make work like that."
6. What role does art play in your life? How does it change the way you view the world?
For me, illustration is not just about making pretty pictures, but it's a lens for me to learn about the world. Every single time I make a piece, whether it'd be personal or editorial, I do so much research, about the things I never thought I'd do. I have to say I don't read a lot of books, not because I don't want to, but because I have a pretty short attention span, thus making it hard for me to read. That's where I feel like doing editorial pieces really help fill in those gaps, with those assignments, it prompts me to read, think and learn about a ton of different subjects.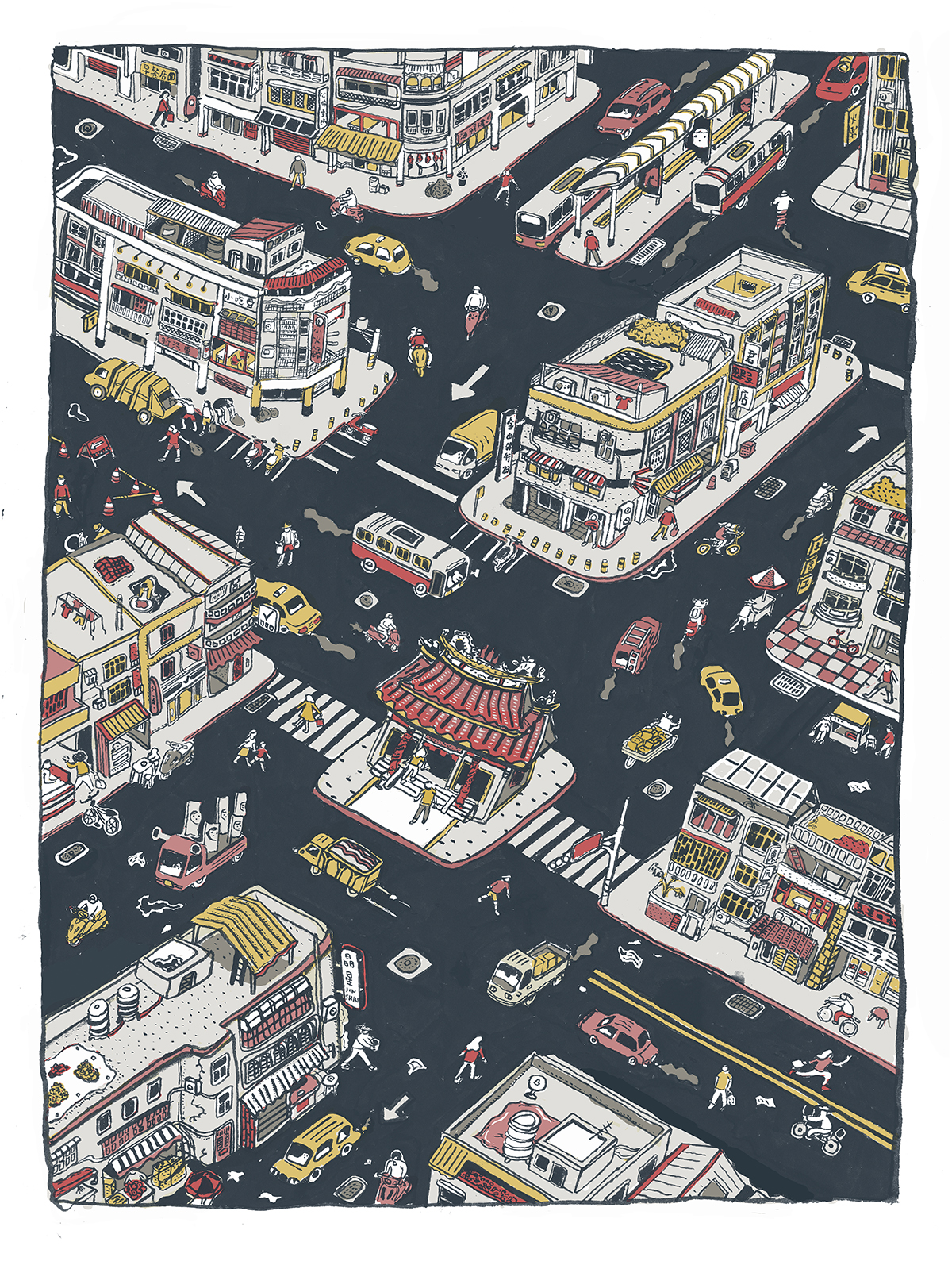 7. Where did you study?
I studied at Rhode Island School of Design in Providence and graduated just this year! I was deciding between painting, graphic design and illustration, but was super happy to end up in Illustration. The community in that department, I must stress, helped shape me tremendously into who I am as an illustrator today.
8. Where do you see yourself in five years?
Location wise, I just moved into my new place in Brooklyn. In 5 years, maybe stay in NYC or perhaps another big city. In terms of my illustration career, I see myself doing a lot of different projects; continuing with editorial, but working also for posters, advertising, maps, packagings...etc. I'm open to doing all things. I feel like illustrators these days are pretty much all-encompassing, and there is only more and more opportunities out there for us.
9. What about in ten?
Hard to say, I'll definitely still be illustrating for sure, but I'm curious to know how my art will evolve.
10. What do you hope to achieve with your art?
Honestly, on a very simple emotional level, kind of cliché but I just want to brightens someone's day. I want them to discover all the little characters and objects in my illustrations, and conjure up their own version of a story on what the work is about. On a higher level, I'd like to make people think more about their society, surroundings, and relationships, not in a particular way, but just to be more aware and observant.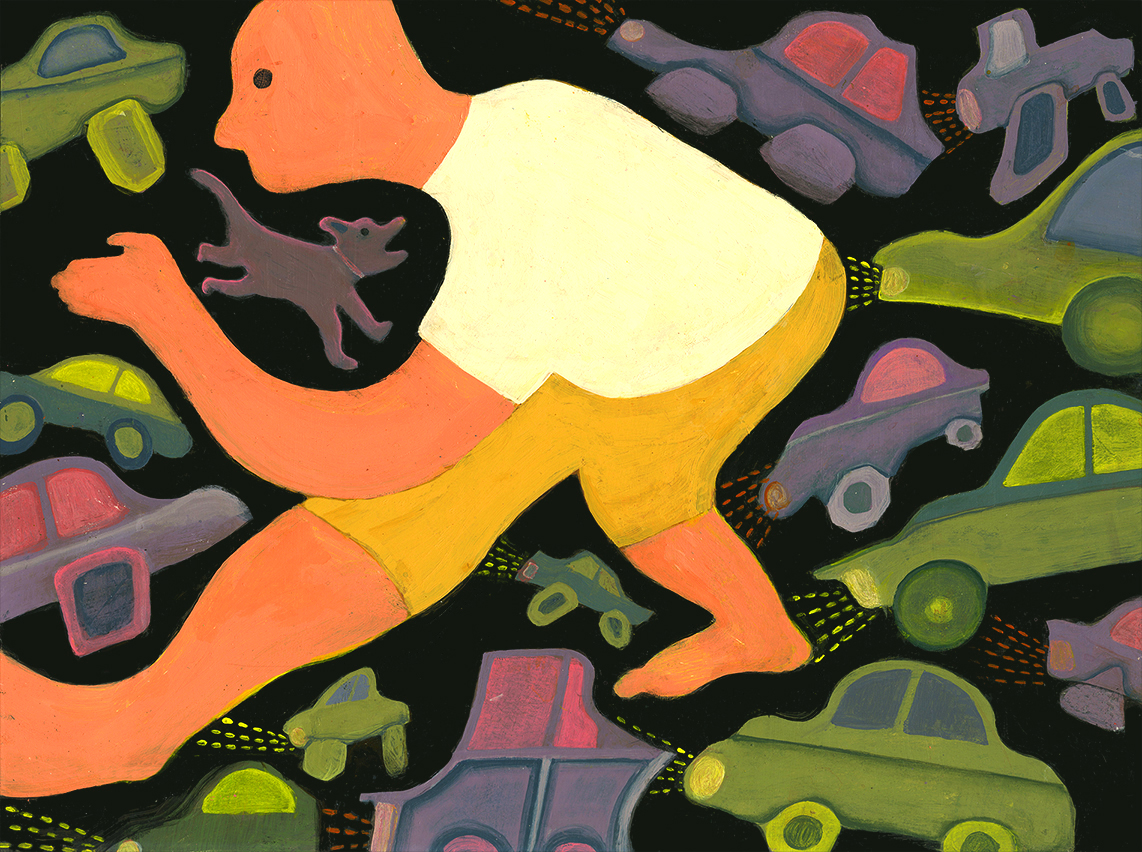 11. Now, tell us a little more about you as a person: what is your favourite food?
Oh goodness, this question hits a soft spot in me, I definitely get way too overly excited about food. I tend to like food with strong flavors: Lots of spices and notes just hitting me in the face all at once, and these are foods such as Thai, Ethiopian and Indian. I also like Japanese food, which sort of has a quieter flavor. Last but not least, You can't grow up in Taiwan without liking Taiwanese food. I'm talking about loads and loads of street snacks in the vibrant night markets. I'd say Taiwan has no doubt one of the best food culture in the world. If you have the chance, you must go there once in your lifetime and eat until you drop.
12. Favourite book?
As I mentioned prior to this, I have some difficulties with books that have just words; on the other hand, I collect a lot of art books. One of my favorite art books is Elvis Road, by the Swiss duo Xavier Robel and Helge Reumann, it's an accordion book that stretches 24 ft when extended, and each page is filled with amazingly detailed drawing of this fantastical yet slightly dystopia world. I can't explain it, search it up! .As for my favorite magazine: Lucky peach. Sadly they just recently ended. I have almost every single issue, and it's been my dream to illustrate for them. :(
13. Favourite genre of music?
My mom is a music teacher, so I grew up listening to a lot of classical. When I was in high school, I really got into Jazz, especially cool jazz such as Chet Baker, Stan Getz and Paul Desmond. Today I really listen to pretty much everything, Jazz, Indie, Classical, Medieval Chants, Thai Pop, Irish Folk, you name it. Some of the musicians and bands I like are Sales, Andrew Bird, Philip Glass, and this Polish folk-rock band I love called Warsaw Village Band.
14. What are your hobbies?
Hmm, I've been in choir for a long time, and when I was at RISD, I was in a gospel choir over at Brown University. I love to sing a lot and dance around like it's nobody's business. I also really like to eat...as I'm sure everyone does, but I travel for them, document them and am constantly on a lookout for new cuisines, flavors and restaurants. Other than that, I'm also really into learning new languages/ linguistics.
15. If you weren't an artist, what would you be?
Historian, Cultural anthropologist, Food Critic or Linguist.