Instagram:
@orbita_flamenca
1. What's your story? Where are you from?
I was born in the port of Santa Maria, a small seafaring city in the south of Spain. After finishing my art career in Seville, I moved to the United Kingdom where I lived for a year and a half. At the moment I live in the capital of Spain (Madrid) where I look for new opportunities and nourish myself of all the artistic slopes that enter the capital. Nací en el puerto de santa Maria una pequeña ciudad marinera del sur de España, al terminar la carrera de bellas artes en Sevilla me traslade a reino unido (Manchester) donde estuve viviendo año y medio. Actualmente vivo en la capital de España (Madrid) donde busco nuevas oportunidades y nutrirme de todas las vertientes artísticas que entran en la capital.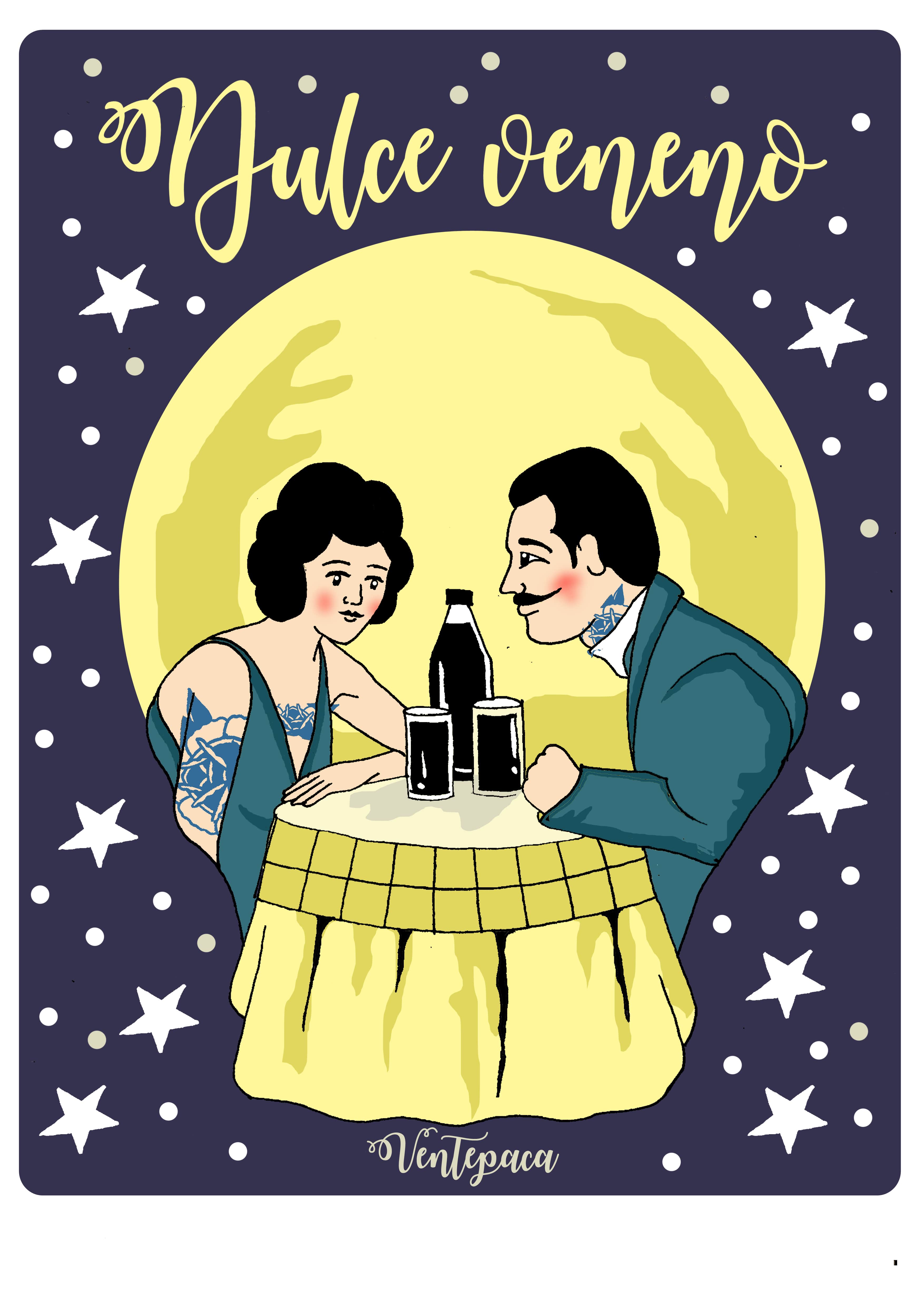 2. Tell us about your aesthetic.
As far as the static of the work it is seen that there is a great influence of old school or traditional tattoo, where it serves as inspiration to me in its great icons. I am also interested in the illustrator Georges Remi for its authenticity in color. Many of the topics I think are influenced by the city where I was born and studied, since Andalusian folklore, polka dots and starry nights on the beach are always represented in the illustrations and, to conclude, I can also see the obsession with Space, spacecraft and UFOs, I think all this together would be a brief description of the aesthetics in which I like to work. En cuanto a la estática del trabajo se ve que hay una gran influencia del tatuaje old school o tradicional, donde me sirve de inspiración en sus grandes iconos. También me interesa el ilustrador Georges Remi por su autenticidad en el color. Muchos de los temas a tratar creo que vienen influidos por la ciudad donde nací y estudie, ya que el folklore andaluz, los lunares y las noches estrelladas en la playa siempre esta representada en las ilustraciones y para finalizar creo que también puede verse la obsesión por el espacio, las naves espaciales y los ovnis, creo que todo eso junto seria una breve descripción de la estética en la que me gusta trabajar.
3. What is your favourite medium and why?
I love the traditional, feel like the line leaves its trace on paper, the smell of ink, watercolors, the vivid color of the markers and stain my hands. The whole traditional process seems fun to me and I enjoy it a lot when I play with the materials. Although I sometimes digitize them for photoshop and finish them digitally, I always prefer to have a sketch in ink. Me encanta lo tradicional, sentir como la línea deja su rastro en el papel, el olor a tinta, a acuarelas, el color vivo de los rotuladores y mancharme las manos. Todo el proceso tradicional me parece divertido y disfruto mucho cuando juego con los materiales. Aunque a veces los digitalice para pasarlos a photoshop y terminarlos digitalmente siempre prefiero tener como base un boceto en tinta.
4. What is your artistic process like?
I usually photograph a lot ... I like to be an adventurer and lose myself in different cities photographing strange elements, old tiles, icons ... I also usually carry a small notebook everywhere, in which I usually write texts or phrases that I feel at a certain moment or do sketches of Ideas that come later to sit in my work area and continue them. Suelo fotografiar mucho… me gusta ser un aventurero y perderme por distintas ciudades fotografiando elementos extraños, azulejos antiguos, iconos… también suelo llevar una pequeña libreta a todos lados, en la cual suelo escribir textos o frases que siento en cierto momento o hago bocetos de ideas que surgen para posteriormente sentarme en mi zona de trabajo y continuarlas
5. Who and/or what inspires your work?
I am a quiet and observant person, that leads me to think a lot about the performances of people ... I really like to know about their lives and try to draw feelings or phrases to benefit conversations I may have ... In a way is a way To see me identified with them and to be able to translate it in the only way I know. Suelo ser una persona callada y observadora, eso me lleva a pensar mucho sobre las actuaciones de las personas… me gusta mucho saber sobre la vida de ellas e intento sacar sentimientos o frases de provecho de conversaciones que pueda tener… En cierta manera es una forma de verme identificado con ellos y poder plasmarlo de la única forma que se.
6. What role does art play in your life? How does it change the way you view the world?
The art has been very present in my life since childhood and thanks to this question I just realized that I have always been surrounded by it. From a very young age my grandfather is dedicated to the world of cinema and sculpture, I think he has always accompanied me in a certain way and he has seen things from another perspective. They educated me so that everything in this life had a meaning and that there were more ways to appreciate the world we live in, that's an idea that fascinates me ... see more colors where others do not see them ... hear more sounds when others do not listen ... perceive feelings that others do not feel ... do not you find the idea of seeing the world beyond the ordinary fascinating? El arte a estado muy presente en mi vida desde pequeño y gracias a esta pregunta me acabo de dar cuenta que siempre e estado rodeado de el. Desde muy pequeño mi abuelo se a dedicado a el mundo del cine y de la escultura, creo que siempre me a acompañado de cierta manera y e visto las cosas de otra perspectiva. Me educaron de forma que todo en esta vida tenia un sentido y que había mas formas de apreciar el mundo en el que vivimos, esa es una idea que me fascina… ver mas colores donde otros no los ven… escuchar mas sonidos cuando otros no escuchan… percibir sensaciones que otros no sienten… ¿no os parece fascinante la idea de ver el mundo mas allá de lo común?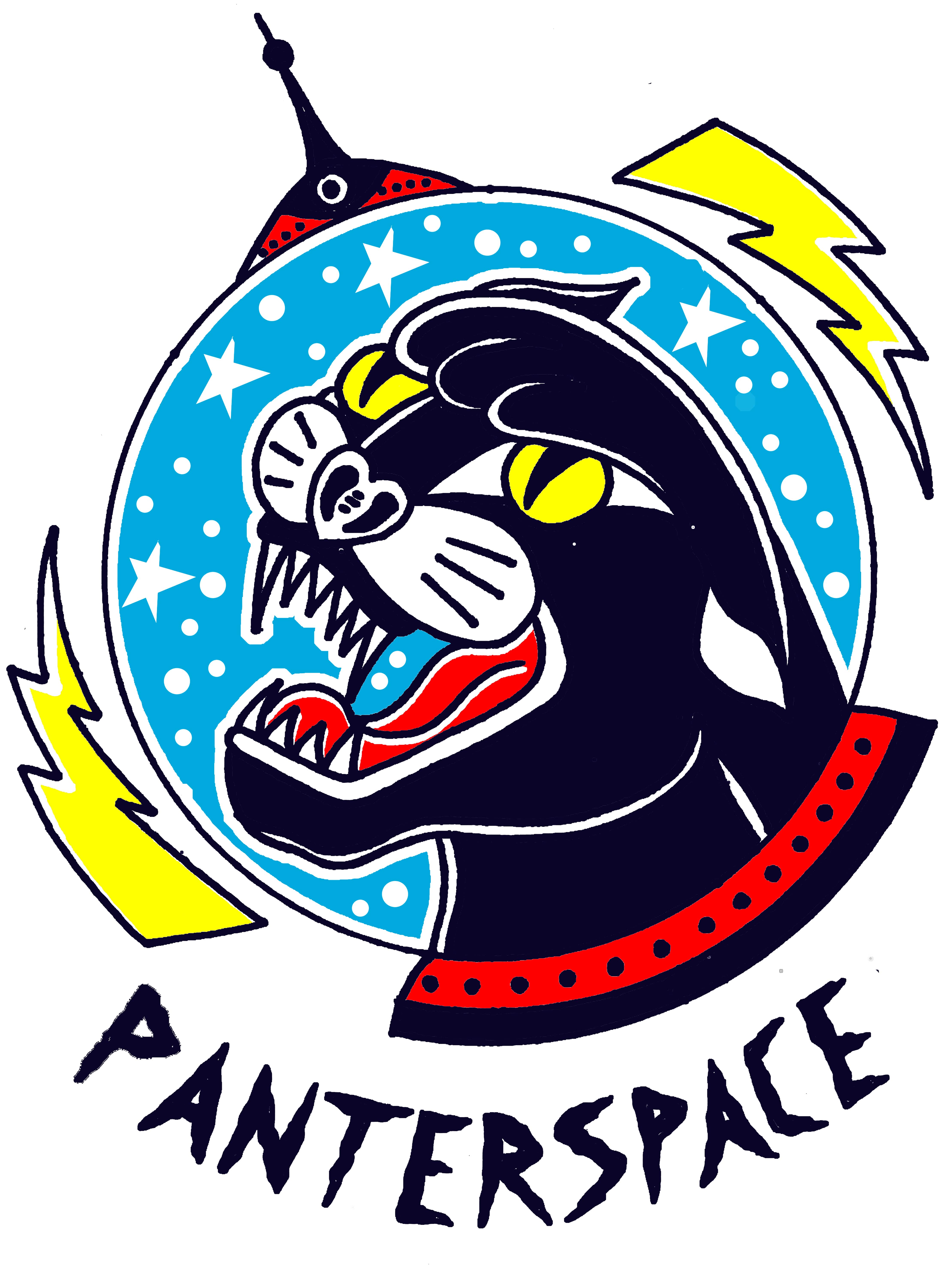 7. Where did you study?
After studying artistic baccalaureate between the university of Seville, learning the classic art (drawing, sculpture, painting academicista) like pillar. I have always said that to destroy you have to know how to build ... and when finishing the race I was doing design courses. Little by little I was interested in certain themes and working them until I could get to do what I do today. Después de estudiar bachillerato artístico entre en la universidad de Sevilla, aprendiendo el arte clásico (dibujo, escultura, pintura academicista) como pilar. Siempre he dicho que para destruir hay que saber construir… y al terminar la carrera estuve haciendo cursos de diseño. Poco a poco fui interesándome por ciertas temáticas y trabajándolas hasta poder llegar ha hacer lo que hoy hago.
8. Where do you see yourself in five years? Working in an agency?
The truth is something that I have never considered, but I would like to live on what I really believe to be done. I am a person who lives the moment, because there is a saying that says: live the present so that in your future you have a beautiful past ... what I would like is to continue working with projects of their own and that people feel identified ... another point pending in My life is teaching, I think it's very nice to teach everything you know to other people and show your philosophy of life La verdad que es algo que nunca me he planteado, pero me gustaría vivir de lo que realmente creo que se hacer. Soy una persona que vive el momento, porque hay un dicho que dice: vive el presente para que en tu futuro tengas un bonito pasado… lo que me gustaría es seguir trabajando con proyectos propios y que la gente se sienta identificada… otro punto pendiente en mi vida es la enseñanza, creo que es muy bonito enseñar todo lo que sabes a otras personas y mostrar tu filosofía de vida
9. What about in ten?
I insist again, to think about a future ... if you take the present the future will bear fruit ... Vuelvo a insistir, para que pensar en un futuro… si aprovechas el presente el futuro dara frutos…
10. What do you hope to achieve with your art?
Let a person stay five minutes looking at some work, my everything. Making people feel is incredible and for me there is no greater achievement in life than getting to make someone emotionally vibrate and feel identified with some of my work. Que una persona se quede cinco minutos mirando algún trabajo mió lo es todo. Hacer sentir a las personas es algo increíble y para mi no hay mayor logro en la vida que llegar a hacer vibrar emocionalmente a alguien y se sienta identificado con alguna de mi obra.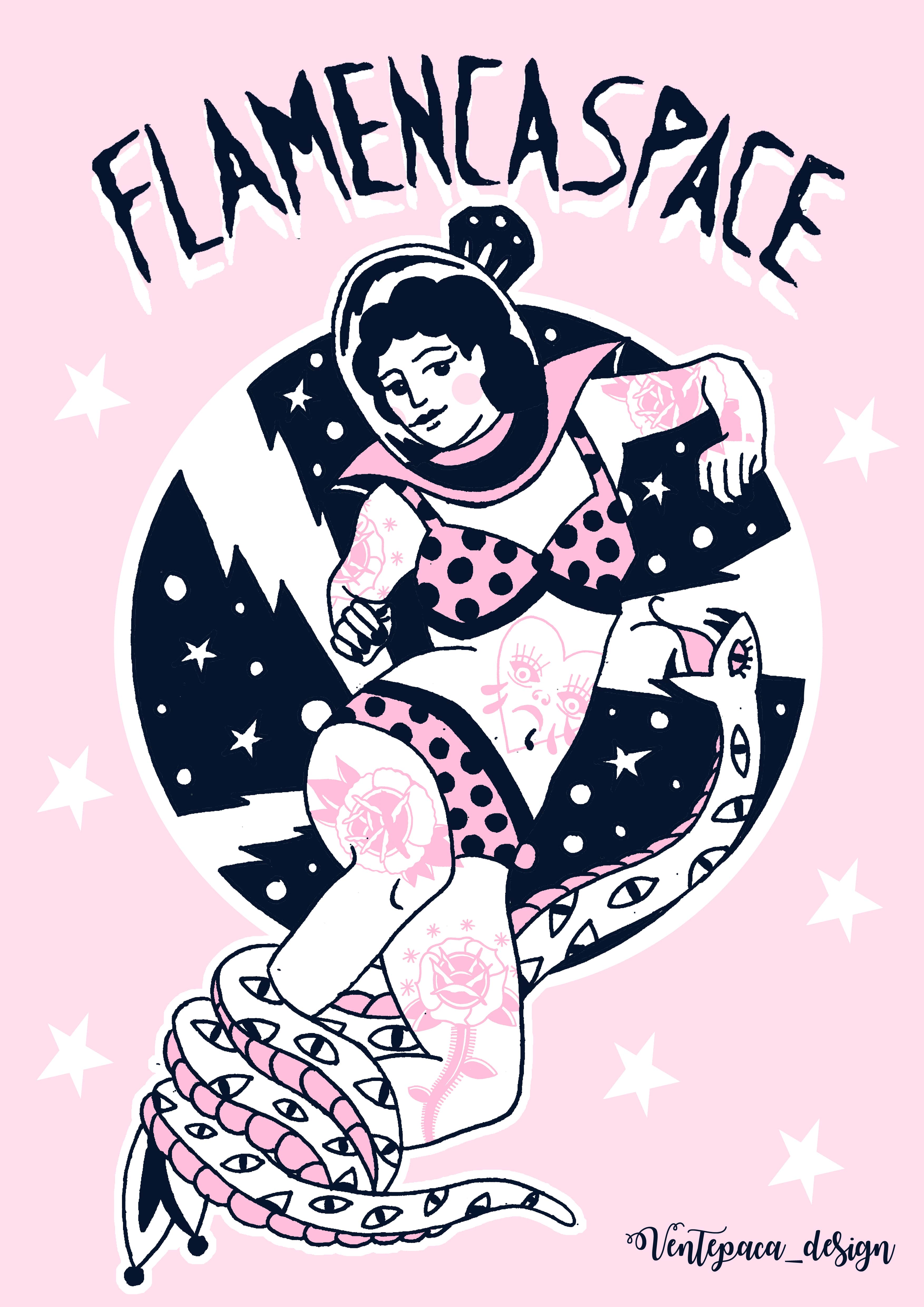 11. Now, tell us a little more about you as a person: what is your favourite food?
I really like the fried chicken, but being honest ... the question is not what is my favorite food, if not, where is your favorite place to eat? Because when I go to my grandparents' house put what they put me this delicious ... that if it is real food La verdad que me gusta mucho el pollo frito, pero siendo sincero… la pregunta no es cual es mi comida favorita, si no, donde es tu lugar favorito para comer? Porque cuando voy a casa de mis abuelos pongan lo que me pongan esta riquísimo…eso si que es comida de verdad
12. Favourite book?
There are many ... it is impossible to name them since at every stage of my life I feel more identified with a different one. I read a lot of philosophy, poetry, theories about space and time ... But nevertheless there is one that I remember that since I read it I frame quite in the vision of the life and it is the metamorphosis of kafka Hay muchos… es imposible nombrarlos ya que en cada etapa de mi vida me siento mas identificado con uno diferente. Leo mucho filosofía, poesía, teorías sobre espacio y tiempo… Pero sin embargo hay uno que recuerdo que desde que lo leí me marco bastante en la visión de la vida y es la metamorfosis de kafka
13. Favourite genre of music?
I listen to a lot of music, anything good. I listen a lot of rock, Hindi music, but if I have to choose, flamenco is something that I carry in my roots. Escucho mucha música, todo lo que sea bueno . Escucho mucho rock, música hindi, pero si tengo que escoger, el flamenco es algo que llevo en mis raíces.
14. What are your hobbies?
I am an adventurer and I like to lose myself for new cities accompanied by my camera. Discover alleys, rare and exotic sites and enjoy new experiences Soy un aventurero y me gusta perderme por nuevas ciudades acompañado de mi cámara de fotos. Descubrir callejones, sitios raros y exóticos y disfrutar de nuevas experiencias.
15. If you weren't an artist, what would you be?
There is no answer to answer that question ... simply would not be me. no hay respuesta definición para contestar esa pregunta… simplemente no seria yo.