Instagram:
@orianesafreproust
Website:
www.orianesafreproust.com
1. What's your story? Where are you from?
I was born in Paris in 1991, then I grew up with my mother and my sister in the suburbs of Paris. I spent one year in Toulouse and four years in Geneva for my studies and I've come back to my birth town in 2015. Since then, I work as a freelance illustrator and, occasionally, as a graphic designer. Je suis née à Paris en 1991 et j'ai grandi en banlieue parisienne avec ma mère et ma soeur. J'ai passé un an à Toulouse et quatre à Genève pour mes études avant de revenir à Paris. Depuis, je travaille en tant qu'illustratrice freelance et, parfois, comme graphiste.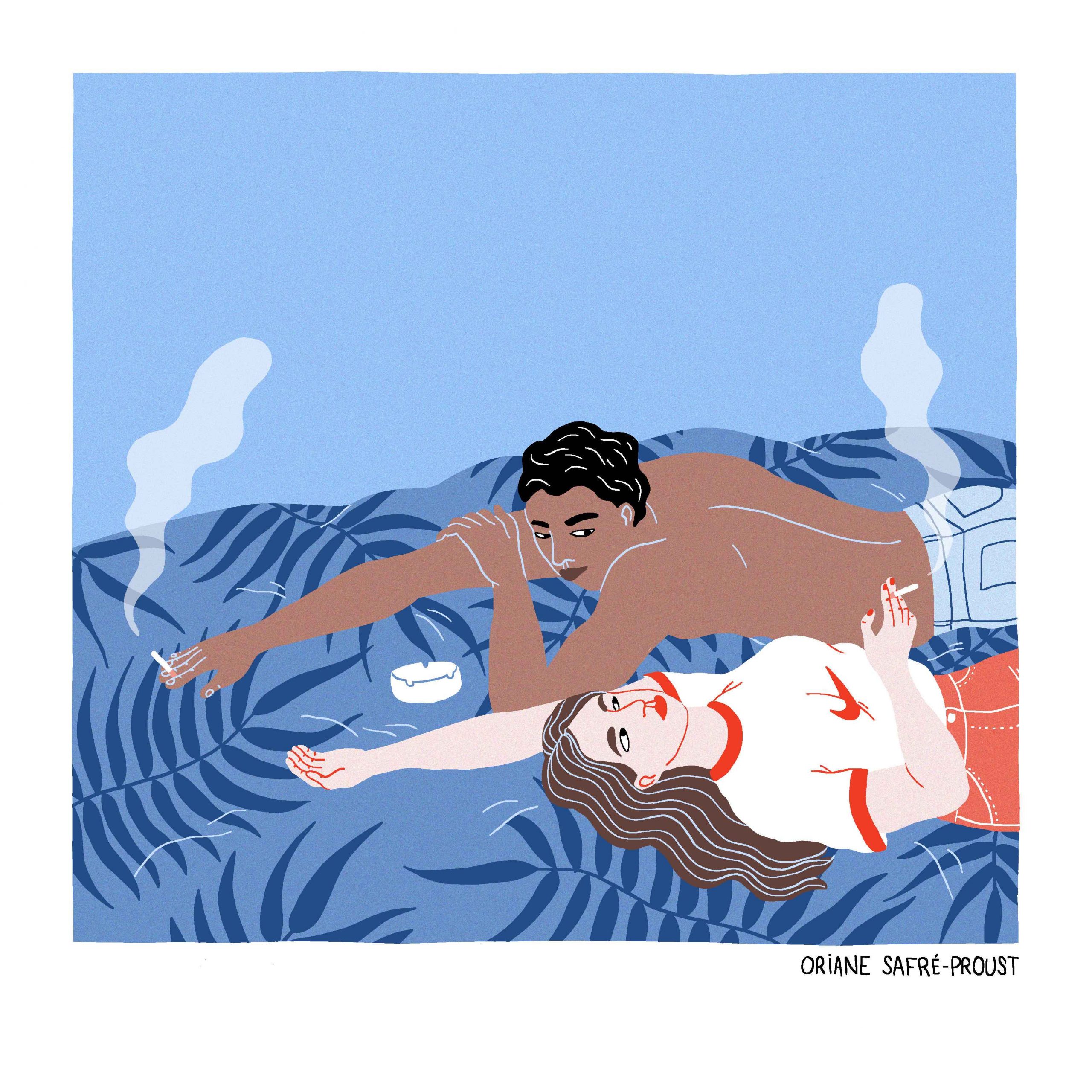 2. Tell us about your aesthetic.
To be honest, I've never really thought about my aesthetic before that question. I think there are recurrent things in my work like naked bodies, plants, patterns, thin lines and a limited selection of colors. Not necessarily all together though! Actually, if I had to use one word to describe my work, it probably would be "intimacy". I like to draw confined spaces, intimate parts of life, people loving each other, suspended moments.. En fait, je n'ai jamais vraiment réfléchi à cette question avant. Je pense qu'il y a des éléments récurrents dans mon travail : les corps nus, les plantes, les motifs, une ligne fine et un choix de couleur limité. Mais pas forcément tout en même temps ! En fait, si je devais utiliser un mot pour décrire mon travail, je choisirais sûrement : intimité. J'aime dessiner les espaces clos, les instants de vie intimes, les gens qui s'aiment, les moments suspendus..
3. What is your favourite medium and why?
I don't like to confine myself to a medium. Even if my way of drawing stays the same, the result will look different depending on whether I use a pencil, a pen, engraving tools, a tablet, a brush... That's what I like about my job, I can renew myself everyday if I want to. But I'm definitely more into "traditional" tools. Even if I decide to use my tablet, I HAVE to sketch on a proper paper sheet before! I'm an old fashioned illustrator. Je n'aime pas me limiter à un medium. Je peux toujours dessiner de la même manière mais le résultat sera différent si j'utilise un crayon, un stylo, des outils de gravure, une tablette ou un pinceau.. C'est ce que j'aime dans mon travail, je peux me renouveler tous les jours si j'en ai envie. Par contre, je suis vraiment portée sur les outils "traditionnels". Même quand j'utilise ma tablette, je DOIS esquisser avant sur une vraie feuille de papier avec un vrai crayon. Je suis une illustratrice à l'ancienne.
4. What is your artistic process like?
Regarding my personal work, I function by periods: slack periods and full periods. I can work like mad for five or six days and, then, spend a week without making any achieved work. My creative process includes "resting times" where I have to cultivate myself, store new inspirations and develop new ideas. Then, I can start working day and night until I need to rest again. But I have to draw something everyday, though, even if the drawing is bad or insignificant. Every tiny little sketch can be a starting point for a big illustration, an animation, a comic or whatever. It's different when I'm supposed to make something special for a client. It's easier actually because it goes with a theme and precise instructions (size, colors..). I'm really efficient when I know where I have to go, even when the client is really picky. En ce qui concerne mon travail personnel, je fonctionne par périodes : les périodes creuses et les périodes pleines. Je peux travailler comme une folle pendant cinq ou six jours et passer ensuite une semaine sans rien produire de concret. Mon processus créatif implique des périodes de repos où je me cultive, emmagasine de nouvelles inspirations et développe de nouvelles idées. Ensuite, je peux travailler jour et nuit jusqu'au moment où je devrai à nouveau me reposer. Par contre, j'ai besoin de dessiner tous les jours, même quelque chose de nul ou de ridicule. Chaque petit croquis peut devenir une vraie illustration, une bande-dessinée, une animation, n'importe quoi ! Par contre, quand je travaille pour un client, c'est différent. C'est plus simple en fait, parce que j'ai un thème imposé et des instructions précise (format, couleurs..). Je suis très efficace quand je sais où je dois aller, même quand le client est très pointilleux.
5. Who and/or what inspires your work?
During the period I studied in Switzerland, I lived in a very depressing city and used to draw faded buildings and sad landscapes. When I've come back to Paris, I've started to draw more and more people, more parties, more life.. So I think my daily routine and my environment largely define my work. Life is like a giant sketchbook, everything can be an inspiration, the starting point of a new creation: music, dance, poetry, literature and even the "real world", the streets, the daily life, people talking around me.. Also, I am a big user of Instagram or Tumblr, I can spend hours looking at other artists' work so this probably influences me in a way. Pendant mes études en Suisse, je vivais dans une ville vraiment déprimante et je dessinais tout le temps des immeubles défraîchis et des paysages tristes. En rentrant à Paris, j'ai commencé à dessiner de plus de plus de gens, plus de fêtes, plus de vie.. Je pense donc que mon environnement est en grande partie responsable de mon travail. La vie est comme un carnet de croquis géant, tout peut devenir une nouvelle création : la musique, la danse, la poésie mais aussi le "monde réel", les rues, la vie quotidienne, les dialogues autour de moi.. J'utilise aussi beaucoup Instagram et Tumblr, je peux passer des heures à me nourrir du travail des autres artistes et je pense que, d'une certaine manière, cela m'influence forcément.
6. What role does art play in your life? How does it change the way you view the world?
Once, when I was a child, I showed my mother a wooden board with footprints on it. I told her: "look, this could be art !" and she answered: "everything could be art". At the time, I don't really remember what I thought about that but, from now on, I totally agree. The whole world is just like a gigantic piece of art to me and I need to fill myself with each tiny inspiration I can find on this Earth. Quand j'étais petite, j'ai montré une planche en bois pleine de traces de pas à ma mère. Je lui ai dit : "regarde, ça peut faire de l'art !", ce à quoi elle a répondu : "mais tout peut faire de l'art". Je ne me souviens pas ce que j'en ai pensé à l'époque mais en tout cas, maintenant, je suis totalement d'accord. Je vois le monde comme une énorme oeuvre d'art et j'ai besoin de me nourrir avec la moindre minuscule inspiration que cette Terre peut m'apporter.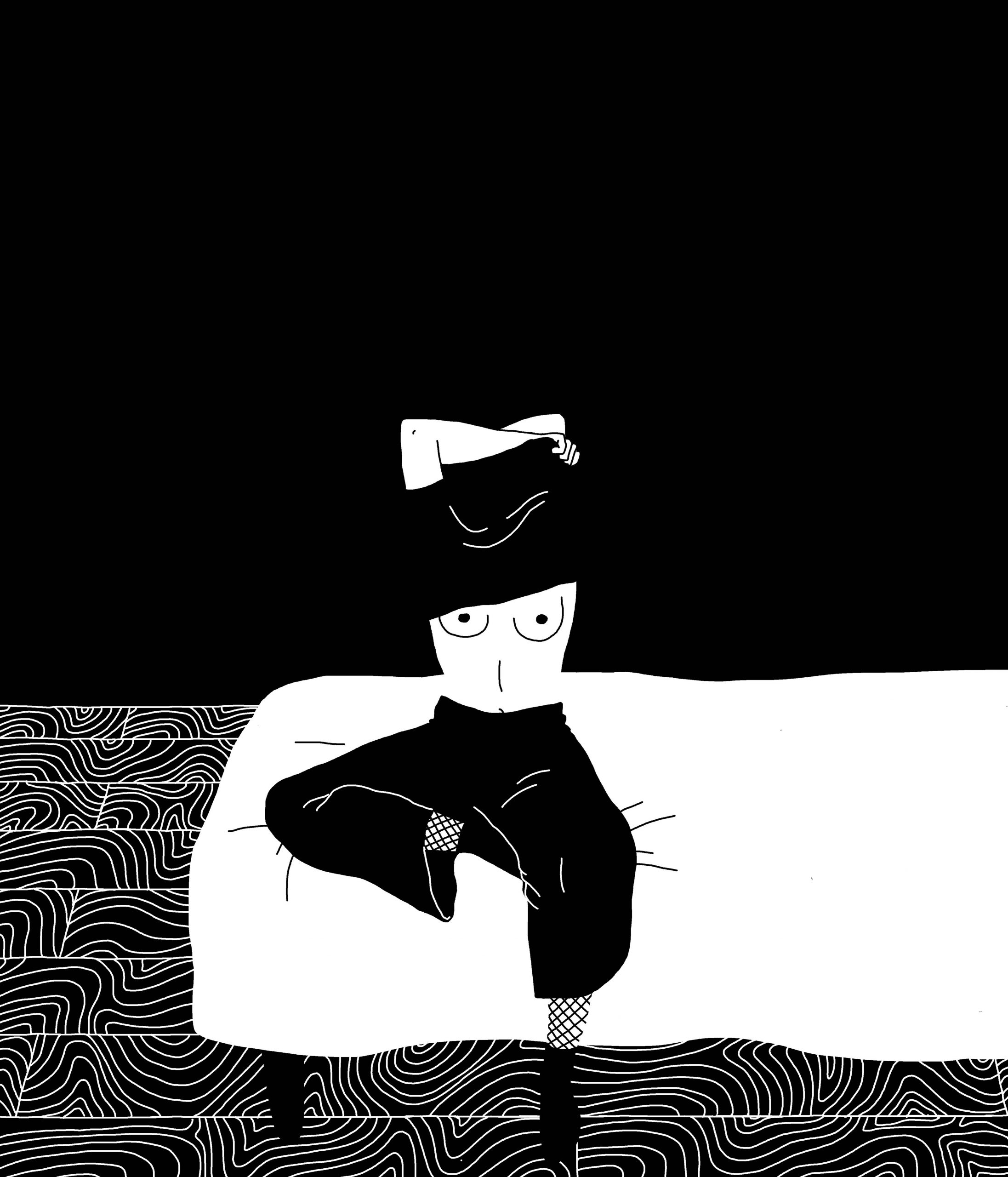 7. Where did you study?
I started one year in Toulouse Fine Arts School but it definitely wasn't for me. So I left for Geneva to study graphic design at HEAD (Fine Arts and Design School). I chose an illustration option during my 2d year and got my Bachelor in 2014. J'ai commencé une année aux Beaux Arts de Toulouse mais ce n'était vraiment pas fait pour moi. Du coup, je suis partie étudier le graphisme à la HEAD de Genève. J'ai choisi de m'orienter vers l'illustration en deuxième année et j'ai obtenu mon Bachelor en 2014.
8. Where do you see yourself in five years?
I hope I will be a little bit richer, haha. More seriously, I still will be an illustrator and I would love to live in another city (Berlin probably), to have a real workspace (not only a tiny desk in my living room) and many plants in my apartment. One sure thing: I will have a proper tattoo machine and I will be able to tattoo anything, anywhere (I do tattoo but only in dotwork for now). J'espère que je serai un peu plus riche, haha. Plus sérieusement, je serai toujours illustratrice et j'adorerais vivre dans une autre ville (Berlin probablement), avoir un espace de travail digne de ce nom (pas un tout petit bureau dans mon salon) et beaucoup de plantes dans mon appart. Une chose est sûre : j'aurai une vraie machine à tatouage et je saurai tatouer n'importe quoi, n'importe où (je tatoue déjà mais au dot pour l'instant).
9. What about in ten?
This is sooo far away! I hope I will feel exactly the same as I feel know: at peace with myself and confident about my life choices. Being an illustrator isn't always that comfortable but I couldn't do something else. Also, I would still have a nice workplace, maybe my own apartment and a cat named Bob. C'est telleeeement loin ! J'espère que je me sentirai exactement comme maintenant : en accord avec moi-même, sûre de mes choix de vie. Être illustratrice n'est pas toujours évident mais je ne pourrais rien faire d'autre. Et j'aurai toujours un chouette espace de travail, peut-être mon propre appartement et un chat que j'appellerai Bob.
10. What do you hope to achieve with your art?
One of the things I love the most is to amuse people with my work, that's one of the reasons why I do comics. This is always satisfying when someone tells me I made him/her laugh. I also remember that very moving moment when my sister read my diploma book for the first time and then, she cried. So maybe I like to make people cry too. Actually, I think my first purpose is to trigger emotions. Even negative ones I guess. J'adore vraiment amuser les gens avec mon travail, c'est en partie pour ça que je fais de la bande-dessinée. C'est toujours un plaisir quand quelqu'un me dit que je l'ai fait rire. Je me rappelle aussi de ce moment très émouvant où ma soeur a pleuré en lisant mon livre de diplôme pour la première fois. Donc j'aime peut-être aussi faire pleurer les gens. En fait, je pense que mon ambition principale est de déclencher des émotions, même négatives en fait.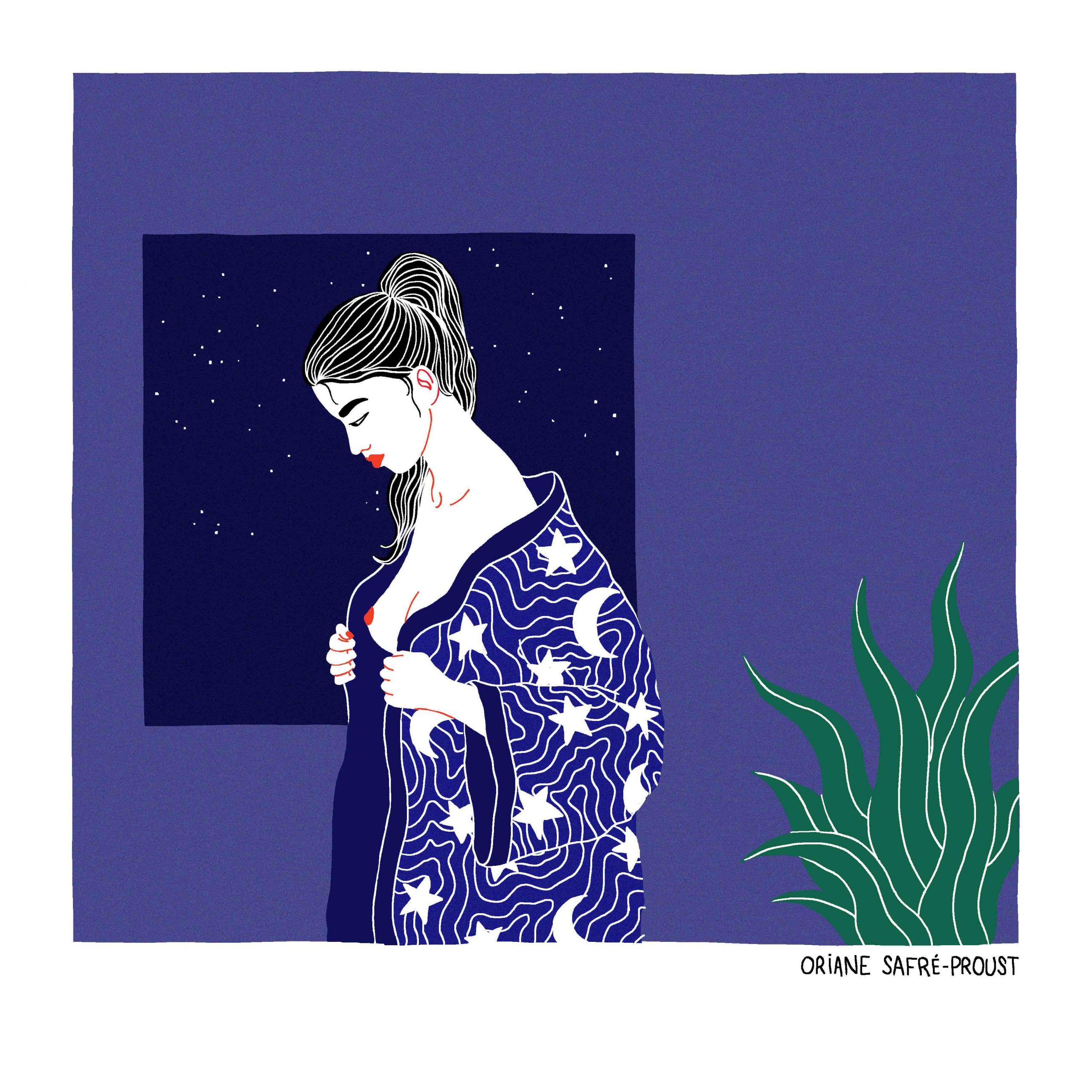 11. Now, tell us a little more about you as a person: what is your favourite food?
I definitely can't choose between Vietnamese food (bo bun = my favorite hangover meal) or Lebanese food. Both can be easily vegetarian, which is a very good point, the dishes look beautiful and taste like heaven. Je ne peux absolument pas choisir entre la nourriture vietnamienne (le bo bun = meilleur repas de gueule de bois) ou la nourriture libanaise. Les deux peuvent être végétariens, un point important, les plats sont magnifiques et délicieux.
12. Favourite book?
I really don't know. But I've read Persepolis (a comic book in fact) like, 34 times, so maybe this one. Je ne sais vraiment pas. Mais j'ai lu Persepolis (une BD, donc) au moins 34 fois, donc peut-être celui-là.
13. Favourite genre of music?
Acid, Industrial Techno, Hardcore.. And I'm a huge fan of Disco Halal, a German label which regroups most of my favorite DJs like Simple Symmetry, Moscoman, Red Axes, DJ Tennis.. Also, I love old-fashioned pop music from the '80s. L'Acid, l'Indus, le Hardcore.. Et je suis une énorme fan de Disco Halal, un label allemand qui regroupe la plupart de mes DJs préférés comme Simple Symmetry, Moscoman, Red Axes, DJ Tennis.. J'aime aussi la Pop ringarde des années 80.
14. What are your hobbies?
Besides drawing, I love tattooing, dancing and partying. Electronic music and parties are a very big part of my life, such that I co-founded www.tech-on.fr with one of my best friends. In this blog, I write and draw about musicians I like and parties I loved. It was just a little project but it allowed me to go to festivals I couldn't avoid and to meet some of my favorite artists. So I guess this is my other big hobby now. En dehors du dessin, j'adore tatouer, danser et faire la fête. La musique électronique représente une énorme partie de ma vie, à tel point que j'ai co-fondé www.tech-on.fr avec une de mes meilleures amies. Dans ce blog, j'écris à propos des musiciens que j'affectionne et des soirées que j'ai aimées. C'était un petit projet à la base mais il m'a permis d'assister à des festivals que je n'aurais pas pu m'offrir et de rencontrer quelques un de mes artistes préférés. Donc je pense que c'est mon autre principal hobby désormais.
15. If you weren't an artist, what would you be?
Definitely a musician (well.. this is another kind of artist). I would love to know how to play an instrument and even more to be familiar with all that DJ's stuff. I'm always hypnotized when I see their fingers moving around the turntables, it sounds like a beautiful foreign language. Sometimes, I dream of being able to acquire an ability just by touching the person who has it. And I will choose a musician for sure. Forcément un musicien (bon.. c'est un autre genre d'artiste). J'adorerais savoir jouer d'un instrument et encore plus comprendre comment fonctionne tout ce matos des DJs. Je suis toujours fascinée que je vois leurs doigts évoluer sur les platines, c'est comme une magnifique langue étrangère. Parfois, je rêve d'avoir le pouvoir d'acquérir une compétence juste en touchant celui qui la possède. Je choisirais un musicien, c'est certain.