Instagram:
@osakana_b
1. What's your story? Where are you from?
Hello! My name is "osakana". I live in Osaka, Japan. I'm an illustrator and designer. こんにちは!私の名前は「osakana」です。日本の大阪に住んでいます。 イラストレーター&デザイナーとして活動をしています。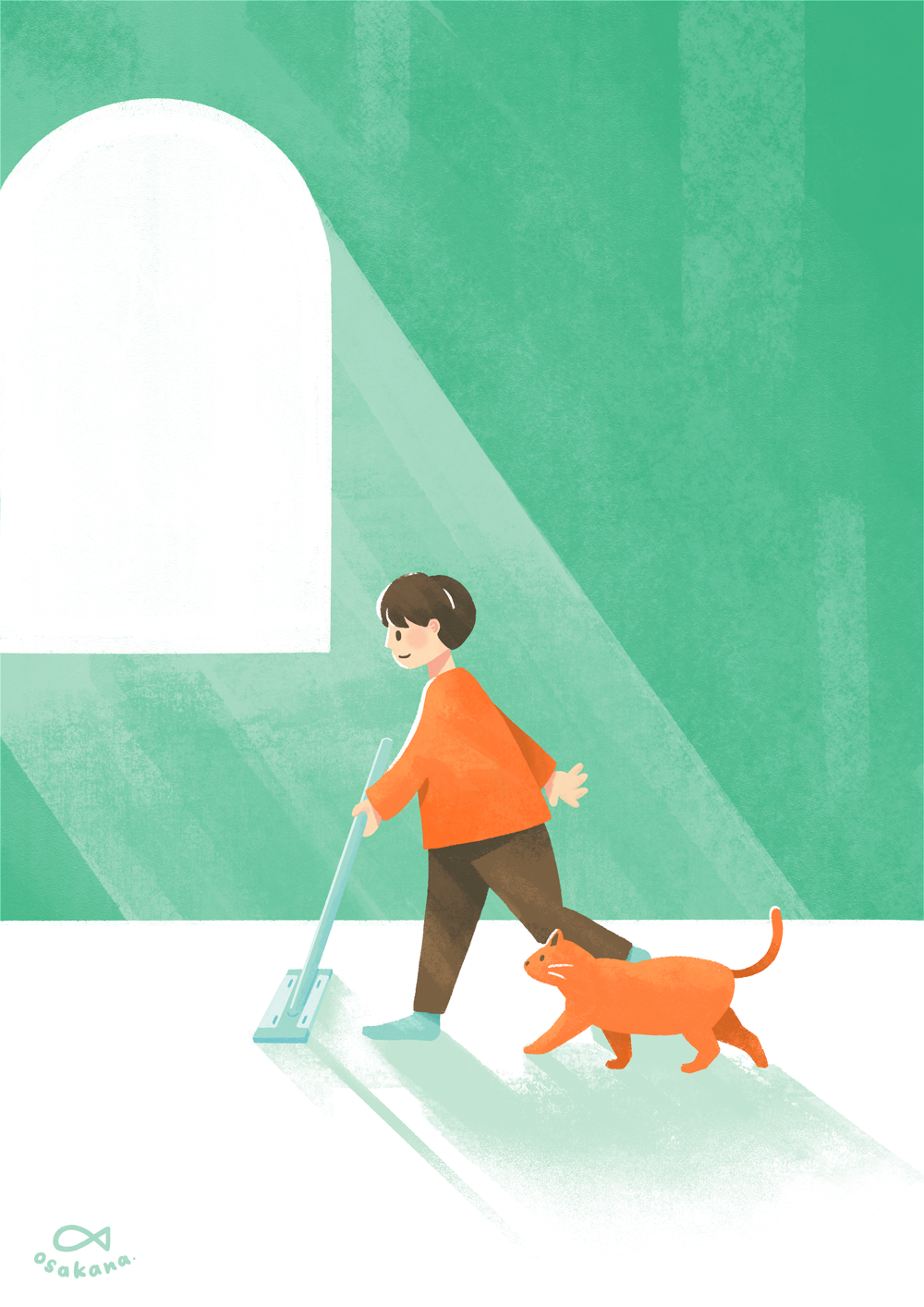 2. Tell us about your aesthetic.
I feel a crush on vivid but gentle colors. I'm always looking for that in my drawings. ビビットだけど優しい色使いにときめきを感じるので いつもそれを求めて描いています。
3. What is your favourite medium and why?
Paper and pen, ipad and apple pencil. Paper and pen is the smoothest way to turn the image in my head into a tangible form. The ipad and apple pencil are indispensable to make the image more beautiful than it is in your head. It's intuitive and a great tool to have as a companion. 紙とペン、i padとapplepencil。 頭の中のイメージを目に見えるカタチにするには紙とペンが一番スムーズに表せます。 そのイメージを頭の中よりも美しくするにはi padとapplepencilが欠かせません。直感的に使えて相棒のようなツールです。
4. What is your artistic process like?
Draw a rough sketch with a pen in a large notebook and scan it. Based on the rough sketch, I draw an outline on my iPad, decide the color scheme, and finish it on my iPad. Music and radio are indispensable for this process. It is also important for me to be exposed to a lot of creative works in order to create the next one. 大きめのノートにペンでラフを描く→スキャンしてipadに取り込み、ipadを使いアウトラインを描く→ipadかPCで配色を決める→ipadで着色して完成。 このプロセスに音楽とラジオは欠かせません。 次の作品を産み出すために、沢山の創作物に触れることも大切にしています。
5. Who and/or what inspires your work?
I'm influenced by many things. I think the educational programs I have watched since I was a child have had a big influence on me. I love many of the programs that are simple and cute but full of various ideas. Recently, I think I have been inspired by the landscapes, buildings, and cultures of other countries. I am moved by the vividness that I can't usually feel. 
 様々なものに影響を受けていますが、 子供の頃から見ていた教育番組の影響が大きいように思います。 シンプルでかわいいけど様々なアイデアが詰まっている番組が多くて大好きです。 最近は異国の風景や建物、文化に触発されていると思います。 普段感じることのできない鮮やかさに心動かされます。
6. What role does art play in your life? How does it change the way you view the world?
It is something that conveys many feelings that words alone cannot. It is something that can heal someone's heart, including mine. "I often think, "I'm glad I have art in my life. 言葉だけでは伝わらない多くの気持ちが伝わるもの。 私を含む誰かの心を癒してくれるもの。 「私の人生にアートがあって良かった」とよく思います。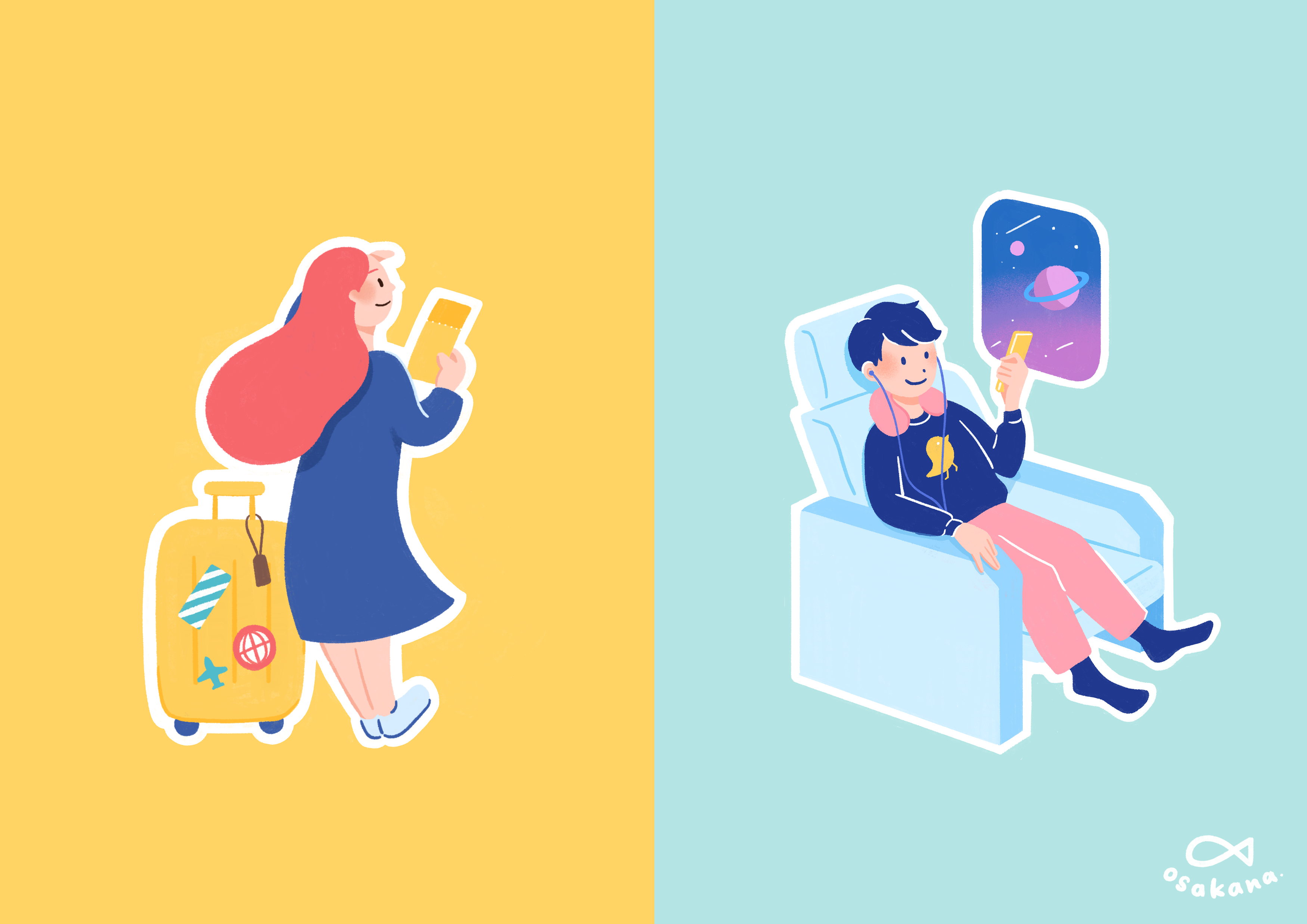 7. Where did you study?
When I was studying graphic design at a technical school in Japan. Even when I was working at a company as a graphic designer after graduation, I was always drawing illustrations, although I was self-taught. I think a lot of my skills as a designer influenced my illustrations. Even now that I am a freelance illustrator, I am always learning. 日本の専門学校でグラフィックデザインの勉強をしていた時も 卒業後のグラフィックデザイナーとして会社で働いていた時も、独学ですが常にイラストを描いていました。 デザイナーとしてのスキルがイラストに多く影響していると思います。 フリーランスのイラストレーターになった今も常に勉強中です。
8. Where do you see yourself in five years?
I would like to do a lot more illustration work than I do now. I would also like to draw illustrations for goods and packages. I would like to continue working on "making the illustrations in front of me better." 今よりも沢山、イラストのお仕事をしていたいです。 紙やWEB媒体はもちろん、グッズやパッケージなど商品自体に使われるイラストも描きたいと思っています。 「目の前にあるイラストをより良いものにする」という事を積み重ねていきたいです。
9. What about in ten?
I will be strengthening my activities as an artist. 5年後の内容の継続+アーティストとしての活動を強化したいです。
10. What do you hope to achieve with your art?
I want to heal, inspire, and entertain. I want to move people's hearts in a positive direction. And I want to make "difficult to understand" "easy to understand. 癒されたり、ときめいたり、楽しくなったり 良い方向へ心を動かしたいです。 「わかりづらい」を「わかりやすく」することもしていたいです。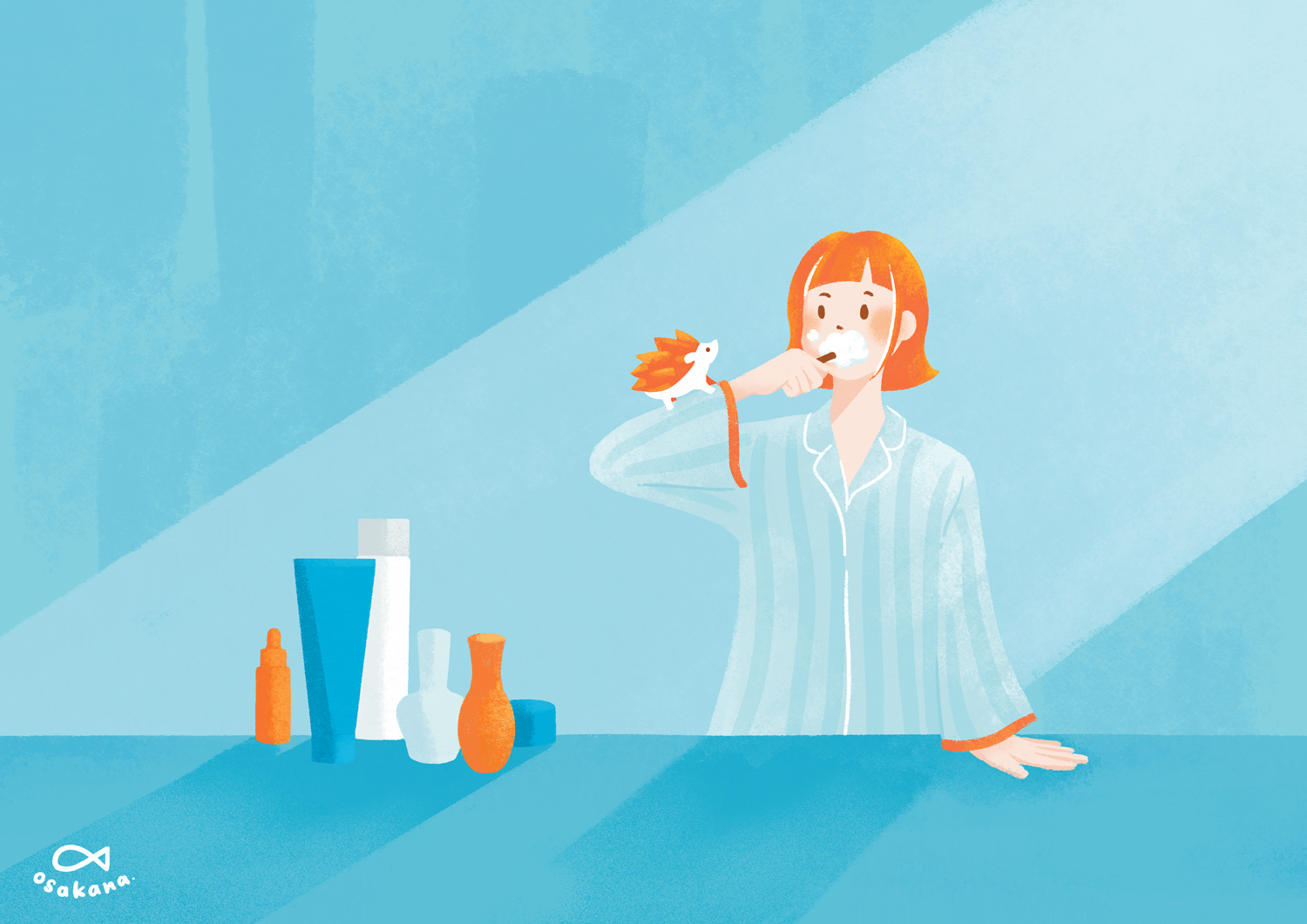 11. Now, tell us a little more about you as a person: what is your favourite food?
Fish: I love fish. I would like to eat raw fish dishes every day. Curry: I eat curry from various restaurants. Sometimes I make it at home. Cakes: I like all kinds of cakes, but cakes eaten with friends at a cafe are exceptionally delicious. 魚:やはり魚が好きです。生の魚料理は毎日でも食べたいくらいです。 カレー:いろんなお店のカレーを食べます。家で作ることもあります。 ケーキ:どんなケーキも好きですが、カフェで友人と食べるケーキは格別においしいです。
12. Favourite book?
Eiro Okuda's "Iebiyori". I also like travel books. 
 奥田英朗著「家日和」。あとは旅行本が好きです。
13. Favourite genre of music?
I like any genre of music with interesting rhythms, but I often listen to pop music. It is as essential to me as art. ジャンル問わず面白いリズムの音楽が好きですが、ポップ·ミュージックをよく聴きます。 アートと同じくらい欠かせない存在です。
14. What are your hobbies?
Going to live music concerts. Visiting curry restaurants. Watching variety shows. Listening to the radio. 音楽のライブに行くこと。カレー屋さん巡り。 バラエティ番組を観ること。ラジオを聴くこと。
15. If you weren't an artist, what would you be?
I like creativity and good food, so I think I am suited to be a culinary expert. 創作とおいしい食べ物が好きなので、料理研究科が向いていると思います。