Instagram:
@owendaveydraws
Twitter:
@owendaveydraws
Tumblr:
owendaveydraws.tumblr.com
Dribbble:
www.dribbble.com/owendaveydraws
1. What's your story? Where are you from?
I'm from a little village in the countryside near Brighton in the UK. I have always loved illustrating and it's been my biggest passion for as long as I can remember. I studied BA(Hons) Illustration at Falmouth University and have been working freelance professionally since I graduated in 2009. I love my job

2. Tell us about your aesthetic.
I always find this a hard one. I play around with simplification and geometry a lot. I love drawing animals. I like to explore colour and composition a lot in my work.
3. What is your favourite medium and why?
I work digitally. I used to work in a variety of mediums but through experience with clients and a honing of my skills, digital work has proved the most effective and the most easily editable process for creating my imagery. I use pencil on paper, then photoshop and a mouse.
4. What is your artistic process like?
I always start with research. I want to learn about what I'm doing if I can, and try to ensure I'm not mimicking inaccuracies that I've seen in the past etc. I then start playing with what the main themes of the illustration is, working on concepts, finding relevant visuals, and then exploring compositional ideas. Once the idea is pinned down, I'll work up a more refined sketch, and then work over the top of it in Photoshop.
5. Who and/or what inspires your work?
Nature. That's the big one. It is vast, brilliant, weird, terrifying, wild, calm, small, big, complex, simple and gorgeous. I love it
6. What role does art play in your life? How does it change the way you view the world?
It is the thing I like doing the most I suppose. I love to process the world around me, whether that be in illustration, photography, film or music with my band LOM. It just helps to make sense of things; helps shape the way I see the world.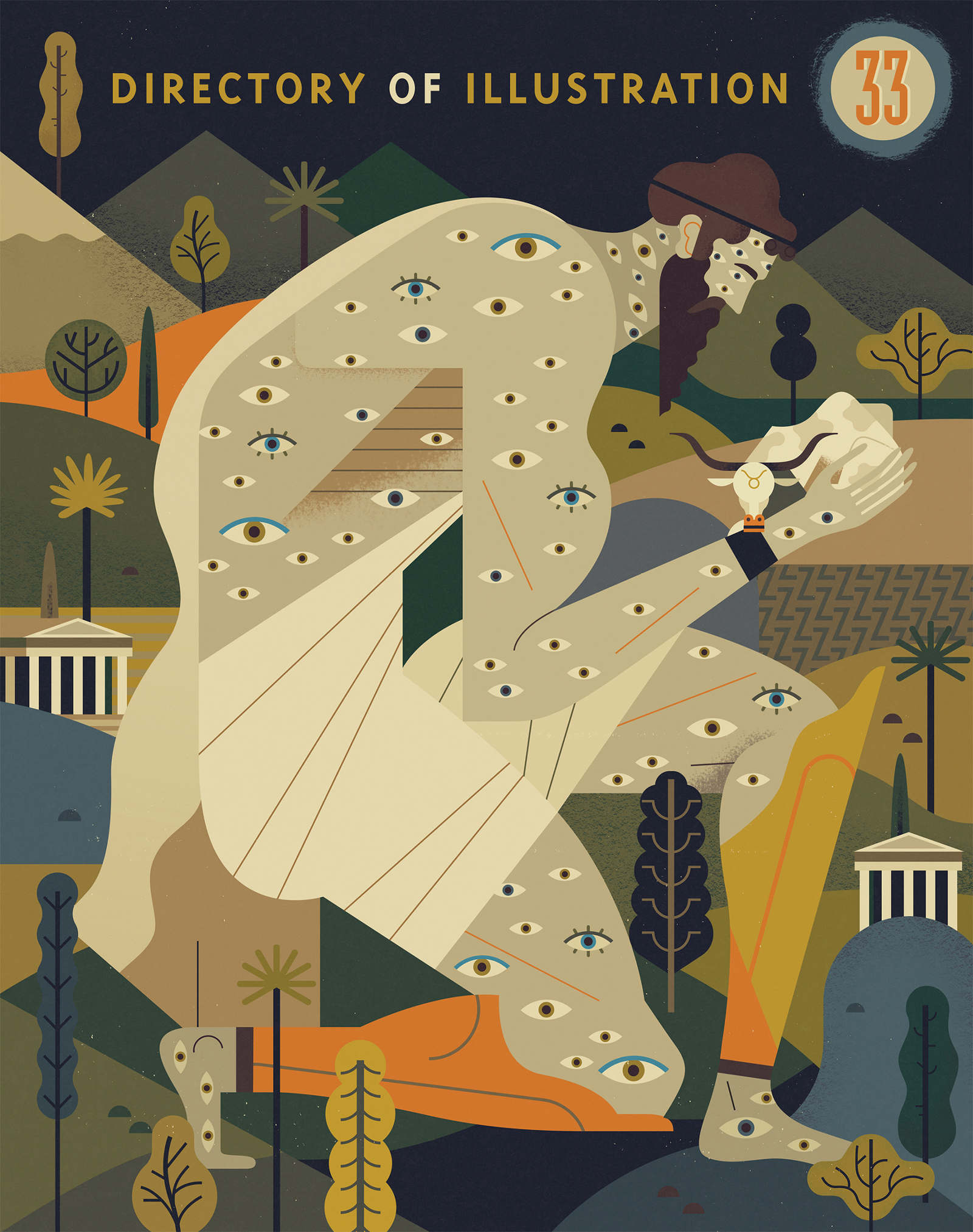 7. Where did you study?
Falmouth University. I loved it there. It's gorgeous and was quite a small uni, so you knew pretty much everyone and could walk everywhere. I could also go out Kayaking, sit on the beach, or go for a brisk walk on the headlands. It was ace
8. Where do you see yourself in five years? Working in an agency?
I see myself doing exactly what I'm doing now. I want to continue to work freelance forever. It's all I know and all I want to know really
9. What about in ten?
The same
10. What do you hope to achieve with your art?
That I can keep doing it until the day I die, in whatever form I'm able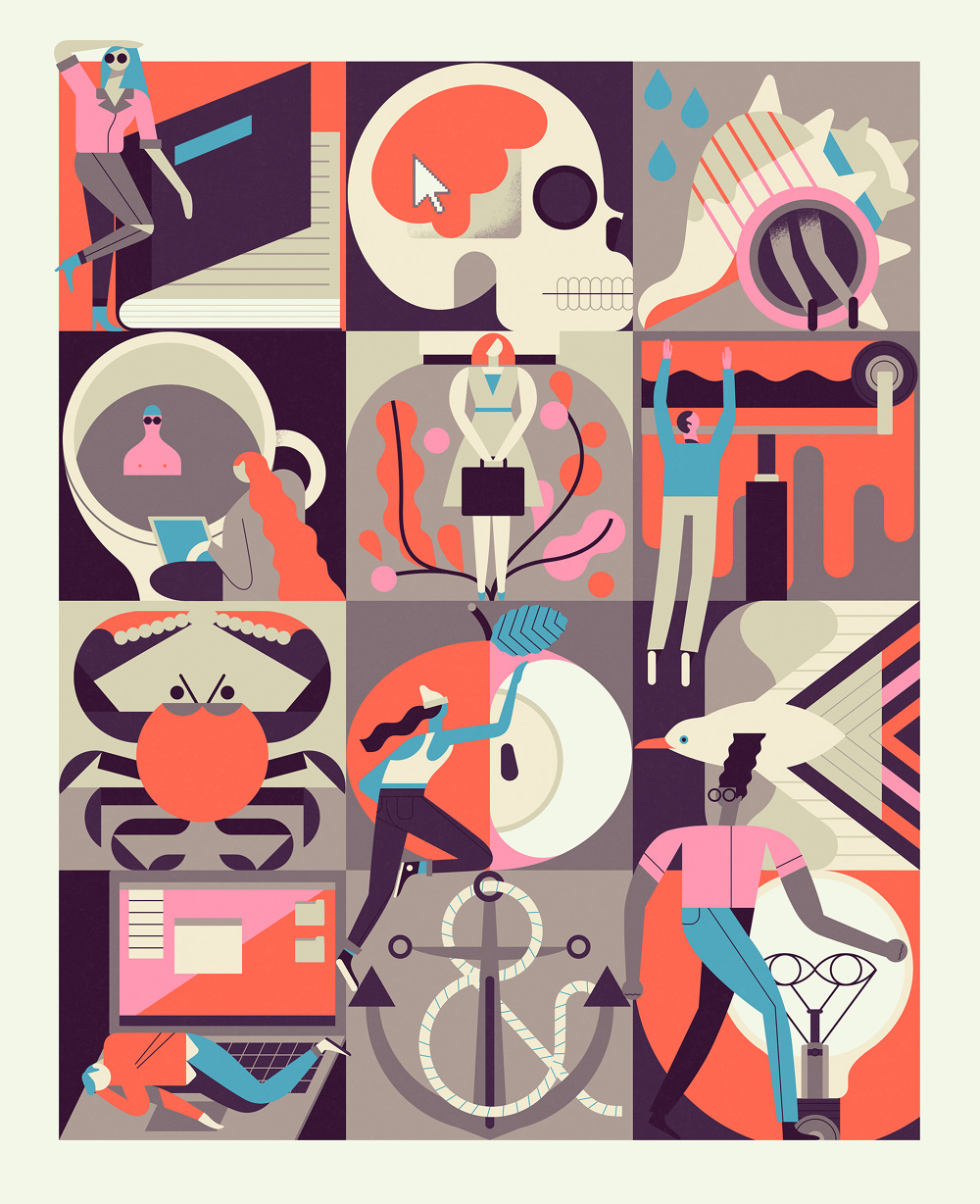 11. Now, tell us a little more about you as a person: what is your favourite food?
I suppose I'm a man of simple pleasures. I enjoy walks, music, dancing, watching films and baking. I have a massively sweet tooth so love trying out new recipes. I'm often baking a carrot cake or something for somebody's birthday too. In terms of the savoury though, nothing beats a good American-style burger.
12. Favourite book?
The whole of the Harry Potter series. I got into it in my early teens and read every books as it came out, then every film as that came out too. I love the overall story with Voldemort and everything, but to me, the subtle details and little clues or references in the books are brilliant. I'm always discovering new things every time I read or listen to them (narrated by Steven Fry - those are epic).
13. Favourite genre of music?
I don't really have a favourite genre of music. Or favourite band or anything. I love a mix of everything. I'm a massive fan of folk I suppose, but love a bit of soul, alternative stuff, and I've recently been really getting into West African music. If you want to know what I listen to, it's best to just go listen to BBC6 music for a day and that will give you some incling
14. What are your hobbies?
Playing guitar in my band, LOM. Going to gigs. Walking. Listening to podcasts. Reading. Kayaking. Working out. Baking and Cooking. Visiting museums. Puzzles.
15. If you weren't an artist, what would you be?
No idea really. I did Maths and Philosophy at college as well as Graphics and Fine Art, so maybe something to do with them. Or a musician possibly?