Instagram:
@paola_vecchi
Twitter:
@paolavki
Facebook:
www.facebook.com/paolavecchiart
Behance:
www.behance.net/paolavk
1. What's your story? Where are you from?
I was born in northern Italy, in a small town by Lake Maggiore, where I lived until I was twenty. Then I moved to Milan to go to college. After I got graduated in 2006, I decided to look for an internship abroad. Southern Spain seemed to be an affordable and friendly location to spend some months, where I could work and learn a new language. That's why in 2007 I moved to Seville and little by little I became part of its artistic community. Seville may be a small city. However, it's got the right melting pot of tradition and modernity, with a bohemian touch, which makes the perfect mix for an artist to live in. Currently I work as a freelance illustrator in this Andalusian city. I usually spend a couple of months a year in Italy, where I still have family and friends. But I live here in Spain during the rest of the year, and it feels like home too.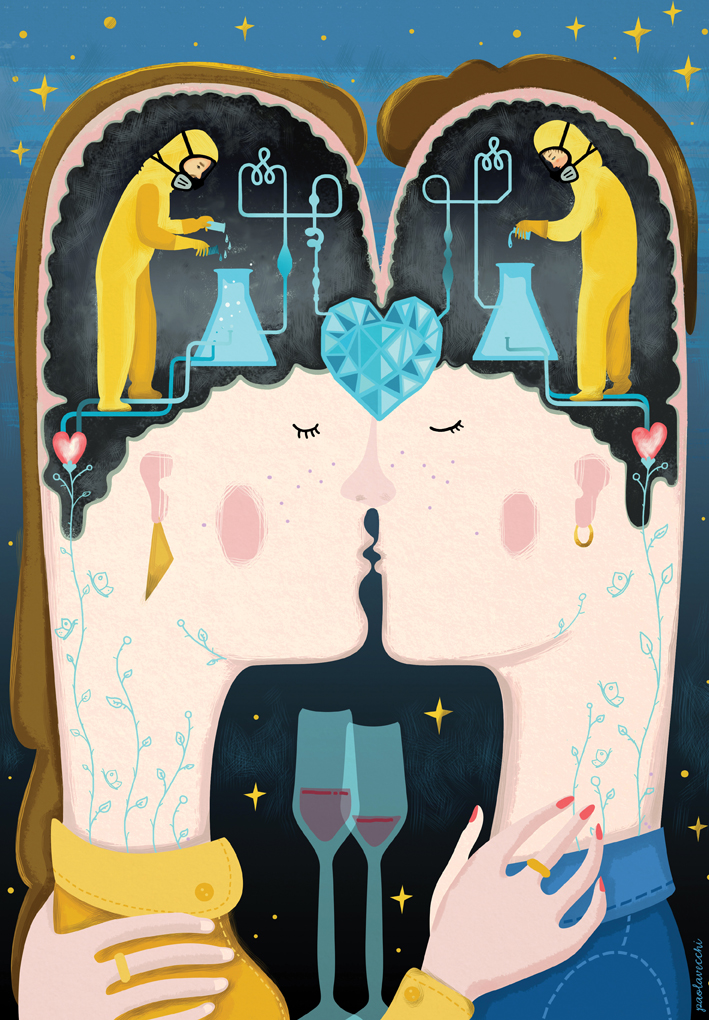 2. Tell us about your aesthetic.
My aesthetic is quite bold, line driven and clearly influenced by pop culture. But it always hides a poetic side, touch of darkness and decadence.
3. What is your favourite medium and why?
My favourite medium is digital drawing since I mostly work on illustration. I think it's amazing how you can modify everything in a wink of an eye. Every now and then I miss traditional techniques though, so I take paper and markers and spend the entire day without looking at the computer screen. I have to say it feels so good!
4. What is your artistic process like?
I studied Industrial Design which I think influenced my process. I normally focus on every artwork as if it were a challenge, a new problem to solve. I always start off with a quick draw and some notes on my sketchbook. Then I carry on with a trial-error process until I finally get the result.
5. Who and/or what inspires your work?
I first get inspired by so many things, from music to movies or even contemporary art. Later on, I mix them all up with my own feelings as well as my inner world stuff. Social and topical issues also inspire me, so I often put some society's criticism in between the lines.
6. What role does art play in your life? How does it change the way you view the world?
As far as I'm concerned, it gives my life a meaning. As long as I can remember, I've always had this impulse to express myself through creativity. Sometimes it feels like craving for a deeper layer of perception. Some others, constantly looking for the way to tell the world what it's all about in my shoes.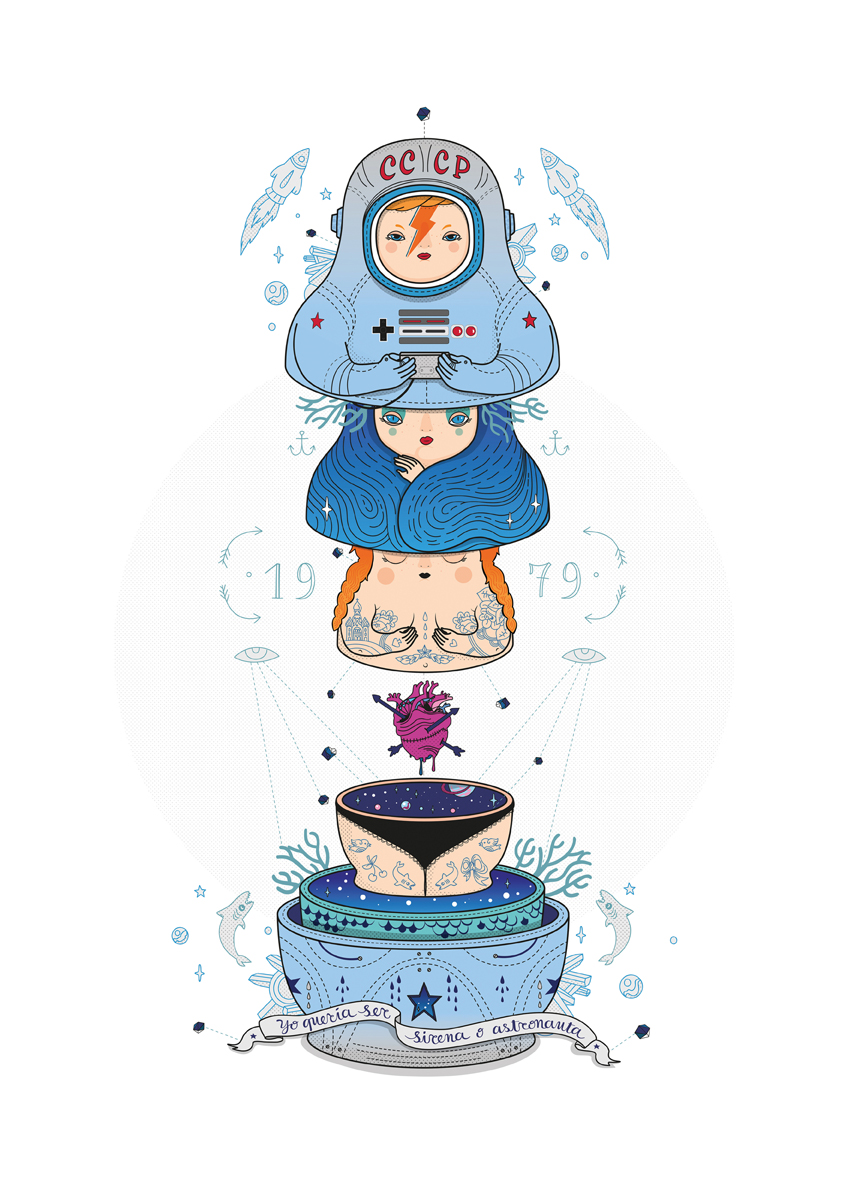 7. Where did you study?
In a nutshell, I studied Industrial Design in Milan, then I did some workshops here in Spain to learn more about illustration techniques.
8. Where do you see yourself in five years? Working in an agency?
I still see myself like a freelance illustrator. Honestly, I've never worked in an agency so I can't really compare both experiences. But if I could make a wish, it'd be to have the chance to travel more and to spread out my work within different countries.
9. What about in ten?
I think ten years is still too far away to me. I just can picture myself fighting on.
10. What do you hope to achieve with your art?
I hope to learn more, perform better and have a proportional recognition.
11. Now, tell us a little more about you as a person: what is your favourite food?
As an Italian, I am a big fan of Italian food. And as a matter of fact, I wish I could feed myself only on Italian pizzas and ice creams! However, I also love Japanese and Mexican food.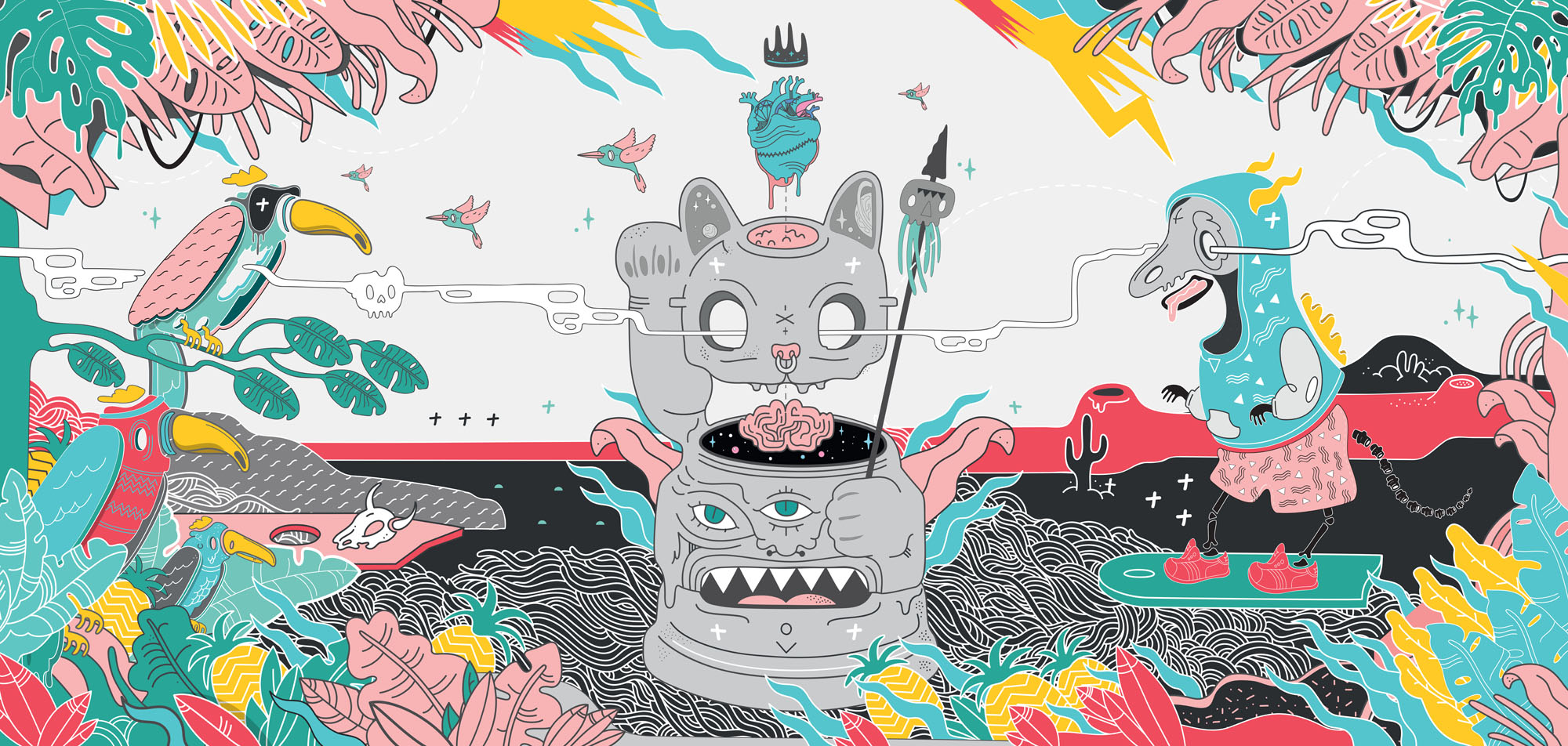 12. Favourite book?
I've got so many but my favourite one ever is "Catcher in the rye".
13. Favourite genre of music?
Mainly rock from 70's to 90's (David Bowie, Depeche Mode, Smashing Pumpkins, ...), but I also listen to Bjork, Air and Massive Attack . Sometimes I got the feeling I'm stuck in 2003 XD.
14. What are your hobbies?
Watching series to chill out (now looking forward to Twin Peaks t3!). Also going to the gym to disconnect from work and travelling to recharge my batteries.
15. If you weren't an artist, what would you be?
An archeologist or anthropologist, I love ancient mysteries! That's why I include some in my illustrations, like krakens or the chupacabras.