Instagram:
@pauletto_5
dribbble:
www.dribbble.com/Pauletto
1. What's your story? Where are you from?
My name is Paulius Kolodzeiskis and I live in Vilnius, Lithuania. Currently I'm a freelance illustrator. It's not all business I also love to do them for fun. I think one of the first memories that I have is me drawing something with my dad's permanent markers on our living room wall back in a small town in south Lithuania, that would explain why my parents never bought me anything other than pencils. Running through all my notebooks from school there's always something drawn in each page and some notes written in red by the teachers that I should knock it off. So yeah... I pretty much loved drawing ever since I can remember.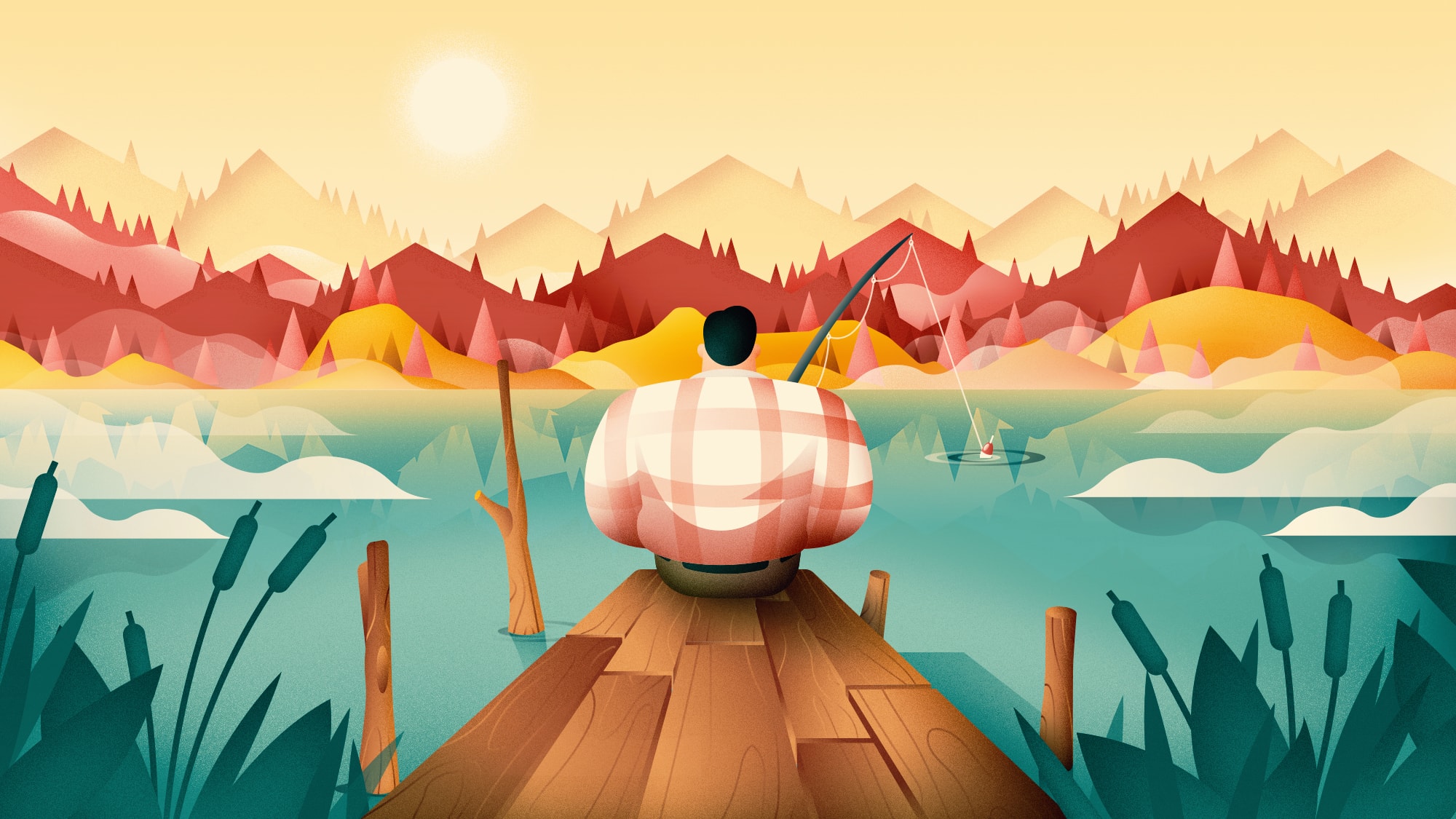 2. Tell us about your aesthetic.
My inspiration forms from literally anything I can get my hands (or my eyes) on that's old school, vintage or retro, especially if it's something from the 40's-50's America. I know that time was a lot different than my illustrations but I pick up exactly what I need from those movies, views or people for my next illustration. Lately I really like working on something that would be recognizable from a distance. Strong contrasts, rich vivid colors. I'm sort of in a experimentation period right now where I have this vision in my head how I want my illustrations to have this flow where the colors go from one level to another visually, I guess I'm getting close but still gonna work hard to reach what I have in mind. Also I have to stop drawing people with their backs turned so that people won't think I have a back-fetish or something. Oh! details! My illustrations must have that precise amount of detail where my brain goes: "If I add anything else in that picture it will be visually over-crowded".
3. What is your favourite medium and why?
My favourite medium is digital without a doubt. Flat objects, strong lines, all that. Also light sketching, love it.
4. What is your artistic process like?
I start of by making a rough sketch of what I want. Then I go make a detailed sketch of the sketch I did before. This helps placing the details exactly where I need them to be. Some of the time laying everything on paper can make all the difference that's why I keep my pencils sharp and my sketchbooks close. After that the whole process takes place in Illustrator where I already have a pretty good idea what I want if the sketching part was done right.
5. Who and/or what inspires your work?
There's just tons of people on social media who are WAY better in every way! Just by seeing their work and the determination it comes with that just pushes me further to reach the style and level that I often dream about. Actually anything that catches my eye could be inspirational from book stores to flea market stuff, anything. Lately I cought myself looking at this book with old ad's from the 30's with original coloring that I absolutely adore. Also I have to give credit to my wife, if things are going great we can share that cheering, if it goes sour she's the person to get me back up.
6. What role does art play in your life? How does it change the way you view the world?
Basically everything's a target. From landscapes in the countryside to the coloring of the sky I see gradients and shapes everywhere that potentially could end up in one of my illustrations. Art is everything to me: it's my therapy, my happiness, my expression. It's so broad and vivid and I get to interact with it everyday and every once in a while it brings food to the table witch is equal to a christmas miracle!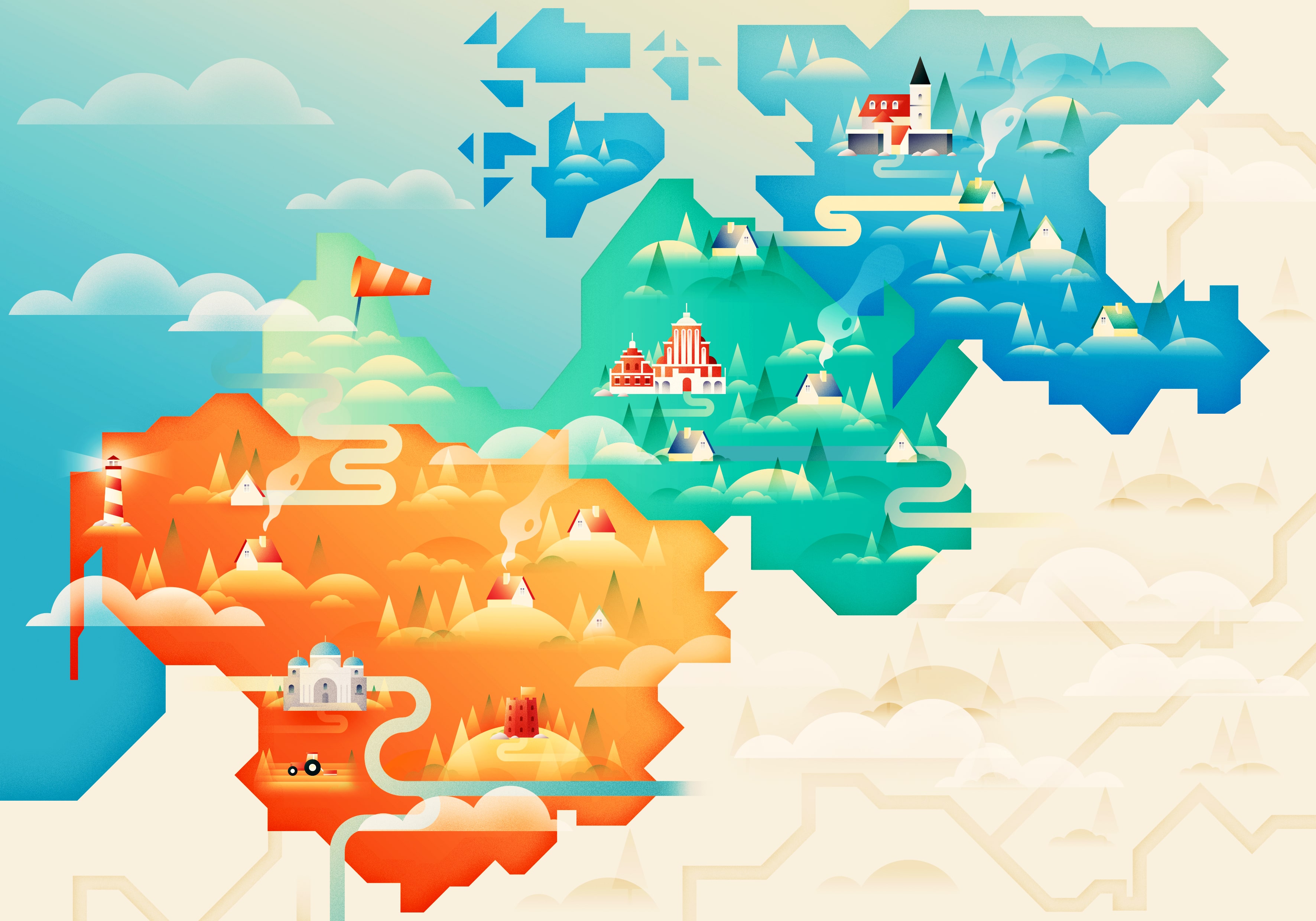 7. Where did you study?
I studied in Kaunas College, Lithuania. Also I did a semester in Stuttgart, Germany. I have a BA degree in Print & Media studies.
8. Where do you see yourself in five years? Working in an agency?
I actually don't know. As long as I can do my illustrations & design most likely I would be happy. Would be nice tho to have some nifty projects and collaborations under my belt in that time.
9. What about in ten?
Mostly the same I guess. Just wiser. With a longer beard. And a lot better with my tools.
10. What do you hope to achieve with your art?
Probably inspire someone the way a lot of people inspire me everyday.
11. Now, tell us a little more about you as a person: what is your favourite food?
I'm actually really picky with my food. But seeing that I've read the question and literally started writing "pizza" after I saw the word "food" I guess I'm going with pizza.
12. Favourite book?
"Maus" by Art Spiegelman. It's a graphic novel but a damn good one.
13. Favourite genre of music?
It actually depends of the mood, one day I could be listening to classic instrumental and another day listening to loud electronic music.
14. What are your hobbies?
Mainly illustrations and sketches for fun, video games and watching movies with my wife and a nice glass of white wine.
15. If you weren't an artist, what would you be?
Well that's a tough one. I guess I'd try my hand at photography or interior design.Or both.