Instagram:
@pdcamposart
Website:
www.pdcampos.com
1. What's your story? Where are you from?
I grew up in both Brazil and the United States, however, went through many of my formative years in the former. Went to business school first, then art school. ( lemme tell you more. Please refer to Question 7.) I live in the U.S. now though.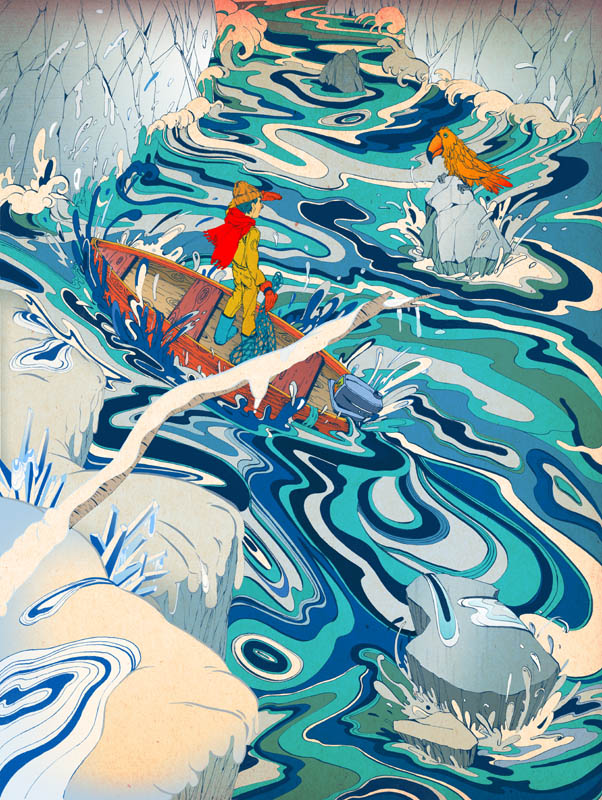 2. Tell us about your aesthetic.
Organized chaos.
3. What is your favourite medium and why?
I love drawing with a dip pen and ink because I still romanticize the idea of having a drawing on paper. I like being able to pick up and feel the roughness of the paper where I made a mistake and used sandpaper to try to make it go away, as well as feel every line I made with the stroke of that dip pen…because I'm unnecessarily aggressive with my paper. Photoshop for coloring though, because some mistakes can't be sanded away.
4. What is your artistic process like?
Pretty much every time I start something new, I begin with the intention of creating something magical and fantastical along the lines of Edmund Dulac or Aubrey Beardsley….it clearly gets lost in translation but the creative process is a whole lotta fun and I like the end result!
5. Who and/or what inspires your work?
Music, folklore, rain, fashion, bodies of water, plants, people. I often take photos of random objects, a funky looking plant, surprising shapes, and shadows that I encounter throughout the day that I think could be of use in the future.
6. What role does art play in your life? How does it change the way you view the world?
Drawing has always been a constant in my life. It can drive me crazy sometimes but in the end…its been a great source of solace/comfort for me.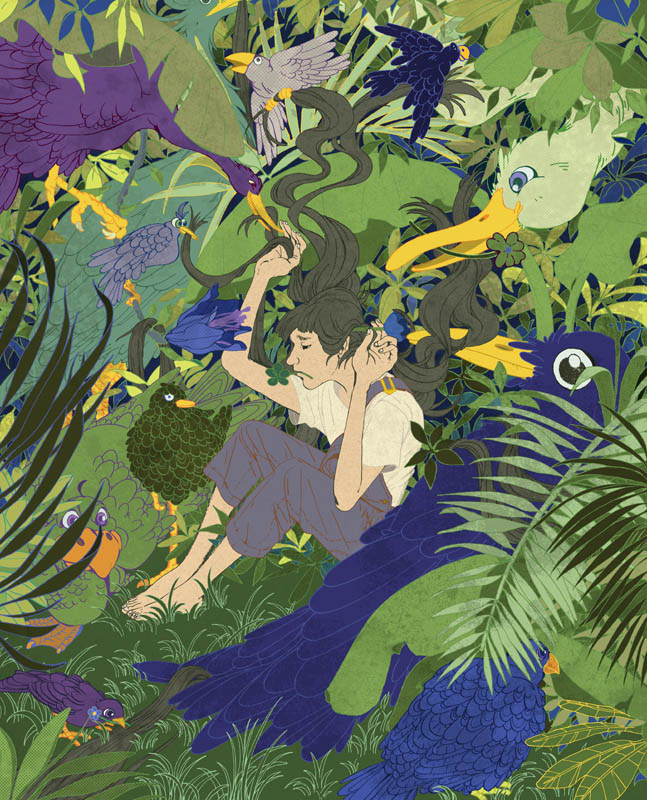 7. Where did you study?
I took a year off from high school and going to college to figure it all out. I went to school for business originally. I matriculated at a good university where I studied Management Information Systems. I had an internship the summer before when I would have graduated at an insurance company in Hartford, CT doing exactly what I would be doing for the "rest of my life" if I continued on that path and it didn't make me happy. I hadn't "figured it all out" during that gap year. I applied to the School of Visual Arts. It had been my dream school since middle school. I dropped out of Business School. I got into the School of Visual Arts. With all these delays in mind, I'm still glad I didn't go to art school right after high school…I wasn't ready to take in and accept all of the wonderful experiences that going to art school, and living in NYC afforded me.
8. Where do you see yourself in five years?
Making pictures, but I'll also have a dog.
9. What about in ten?
Still making pictures, but with two dogs, maybe three… depends on where I'm living.
10. What do you hope to achieve with your art?
I just want to create beautiful images that speak to my viewers in some way. Hopefully, it makes them happy.
11. Now, tell us a little more about you as a person: what is your favourite food?
Rice and beans for life.
12. Favourite book?
I love all things Neil Gaiman and Pema Chodron.
13. Favourite genre of music?
Trip-hop and MPB (Brazilian pop music)
14. What are your hobbies?
I'm always either working, drawing, rewatching something for the umpteenth time, or reading.
15. If you weren't an artist, what would you be?
Doing something along the lines of Management Information System's or Anthropology maybe.