Instagram:
@peach_doggo
Website:
www.dorisliou.com
1. What's your story? Where are you from?
Hi, I'm Doris! I am a Taiwanese-American born in San Jose, California and lived in the Bay Area most of my life. The past four years, I have been living in Providence, Rhode Island, for school at RISD.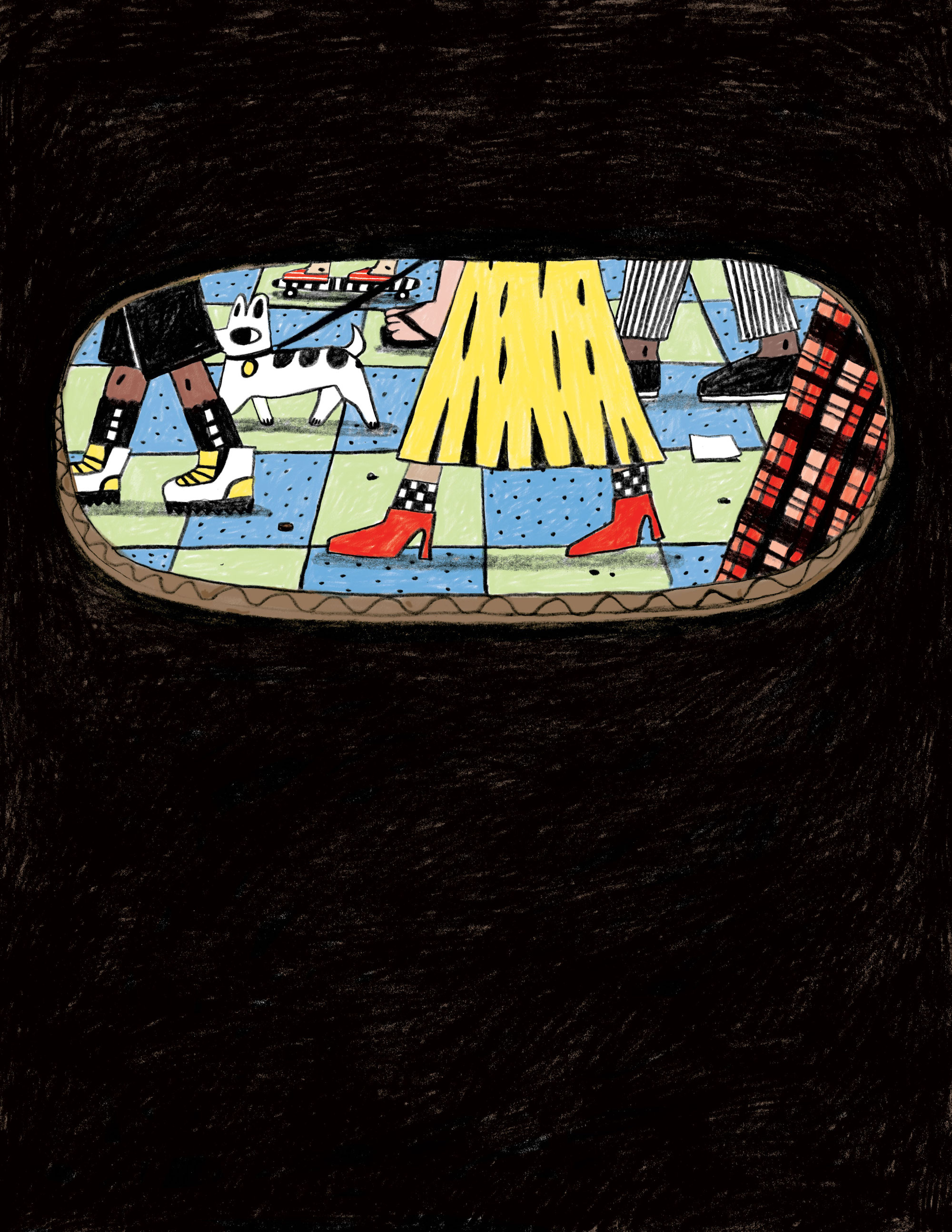 2. Tell us about your aesthetic.
I'm not sure if I have a concrete aesthetic, but I always make sure that I'm interested in what I'm drawing and have fun with the work that I create. Then, the work that I create ends up having a similar look and twist of humor that I want to share with everyone who see my work!
3. What is your favourite medium and why?
My favorite medium currently is pencil. I love the textures of graphite and the range of tone it has. Pencil is also such a flexible tool and easy to carry around...I think it is helpful for my monthly bill too.
4. What is your artistic process like?
I naturally see my work in black and white, so I will start off with a digital drawing and graphite transfer it to an illustration board (I don't know why but I really can not recreate a drawing as well as I drew it the first time). Then, I create my piece over the tracing as a black and white graphite drawing, and scan it in for digital coloring and manipulation.
5. Who and/or what inspires your work?
I remember a year ago in college, I was really confused about 'style' and what direction I wanted to head in as an artist. I was making, these kind of digital drawings that I didn't like very much. Then, by chance, I saw a work by a Japanese illustrator Ikegami Yoriyuki. Her piece had all these fish in a pond, and all the fish had the funniest, weirdest faces; I was so delighted and happy looking at that piece. That happy feeling really resonated with me and changed my perspective on my process and my goal as an artist. It really inspired me to create my own worlds and impart my essence into each piece I make. Hopefully, people will enjoy my work as much as I enjoyed making it!
6. What role does art play in your life? How does it change the way you view the world?
I am the happiest when I am creating illustrations. I am also happy looking at all kinds of art from different disciplines. I see potential in everything I see in the mundane, daily life to become part of another world that is more colorful. I want to be able to show these possibilities through my illustrations.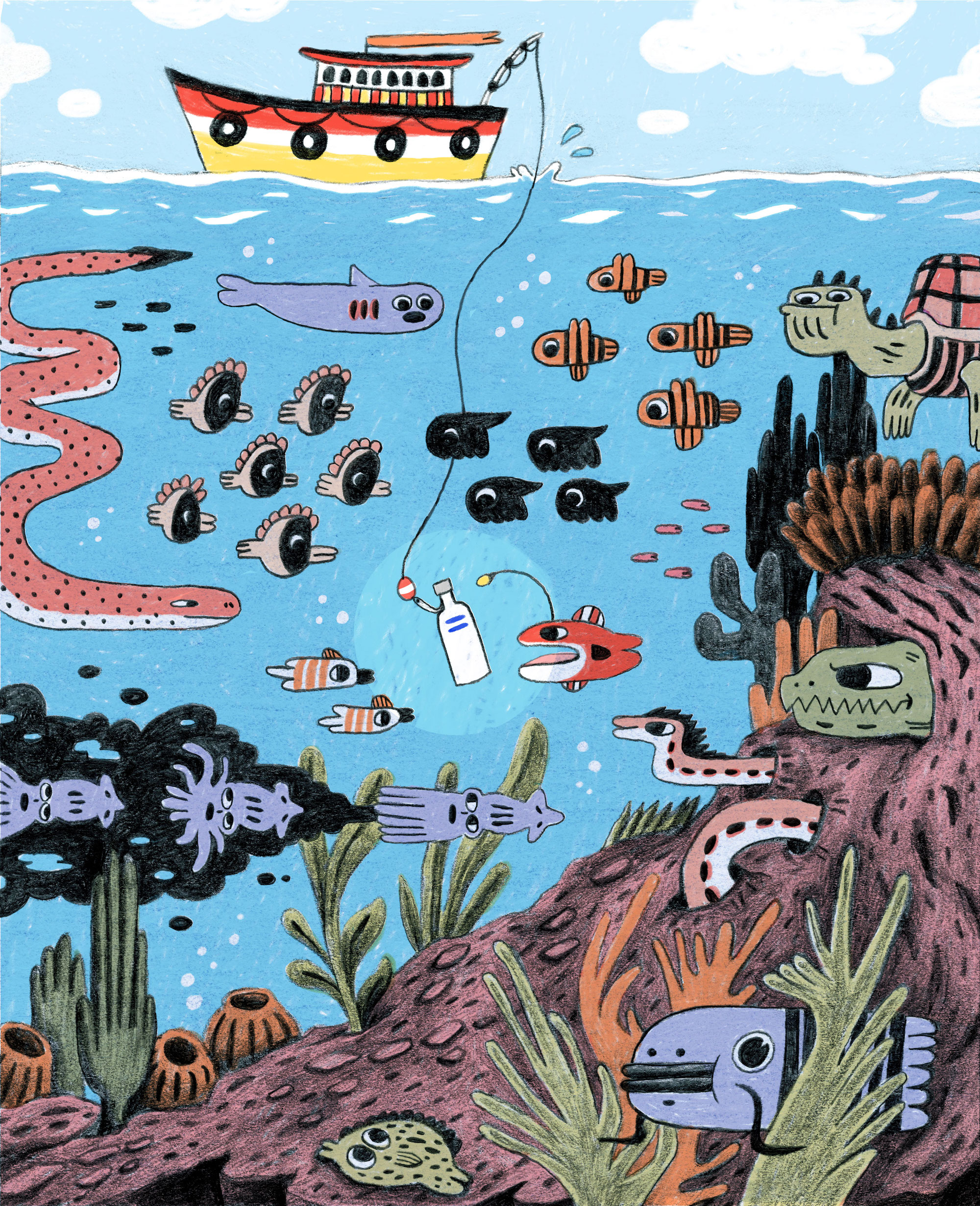 7. Where did you study?
I am currently an illustration senior at the Rhode Island School of Design and will graduate this year!
8. Where do you see yourself in five years?
It would be a dream if I illustrated a cover to a big publication... New York Times? Oh man!
9. What about in ten?
I want to use that cover illustration money and be eating well and traveling. I will still be illustrating too! Maybe if I am dating or married, I will use my extra money to buy my partner some flowers and some wines.
10. What do you hope to achieve with your art?
I hope that my art will make you smile :-)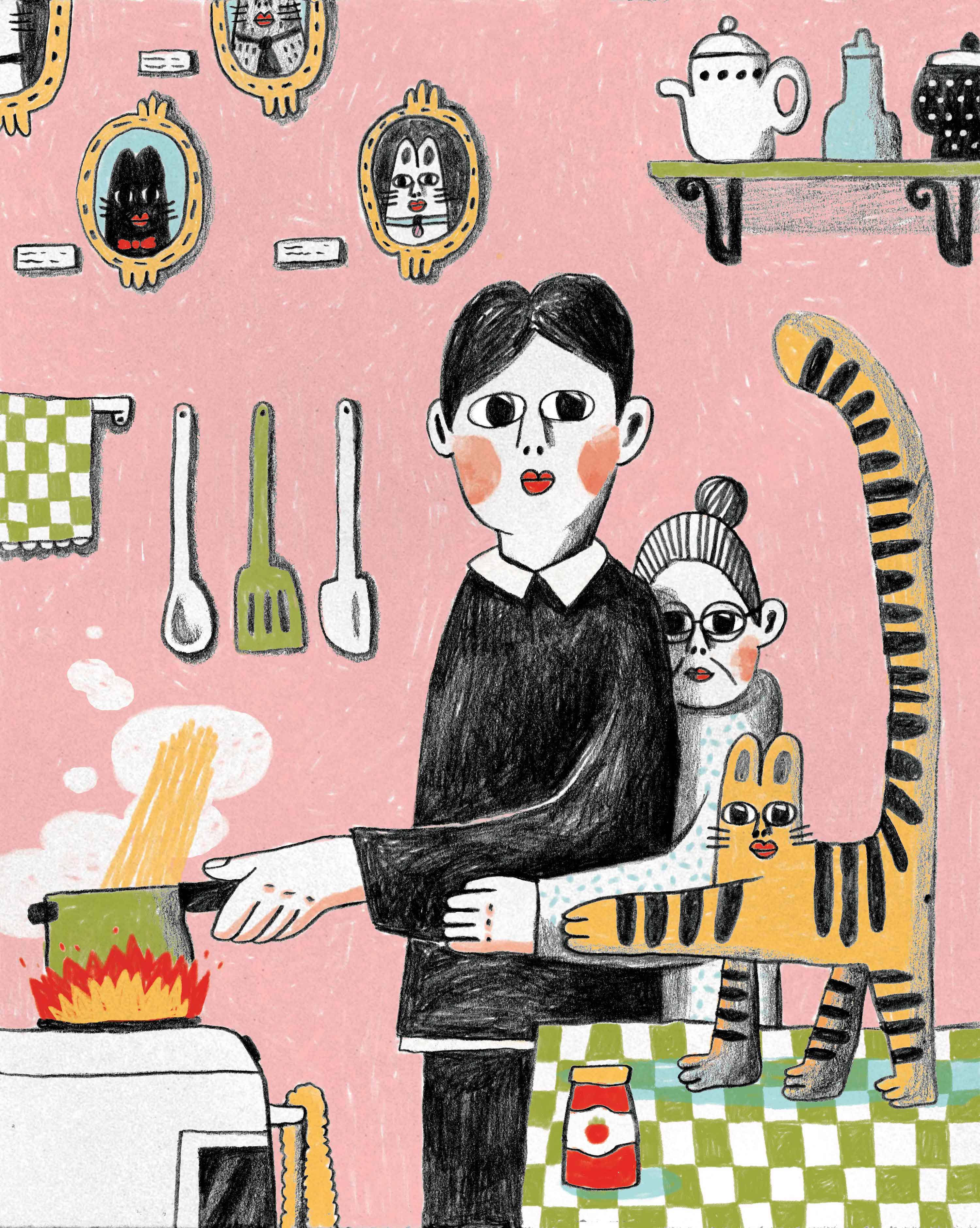 11. Now, tell us a little more about you as a person: what is your favourite food?
I love my mom's cooking; she makes a mean Taiwanese oyster vermicelli (蚵仔麵線) and she will even add pork intestines, my favorite meat. Alternatively, I also like the kind of Pasta Carbonara you get at Cheesecake Factory.
12. Favourite book?
Ha! I actually don't read lots of books, so I will not try to sound intellectual. But, I think if I had to pick one, it would probably have to be the zine "I Think I Am In Friend Love With You" by Yumi Sakugawa... very relatable book!
13. Favourite genre of music?
I like all kinds of music! Sometimes I listen to Fall Out Boy. Sometimes I like Mariah Carey. I had to listen to Marilyn Manson as research for this class portraiture assignment, and he was surprisingly good too. I will also listen to Kpop too when I work late; it makes me want to dance!!!
14. What are your hobbies?
I like learning to cook and sometimes will play some video games. I have been really into playing board games these days as well.
15. If you weren't an artist, what would you be?
If I was not an artist, I think I would pursue my childhood dream of becoming a baker and open my own cafe!