Instagram:
@petraerikssonstudio
Facebook:
www.facebook.com/petraerikssonstudio
Dribbble:
dribbble.com/petraeriksson
Website:
www.petraeriksson.com
1. What's your story? Where are you from?
I grew up in Stockholm, Sweden, with my mum and a constant creative chaos around us. I was one of those kids who could play for hours just by myself while building imaginary worlds in my head. I also loved drawing stuff and I never stopped doing it. When I was 15 I chose to go to a school where I could focus more on art and directly after that I started a foundational fine art school for two years. The first year there was very classical and we spent most of our time doing model drawings and paintings which was tough but which gave me a great foundation to my knowledge with composition and colours. At that point I thought that I would continue focusing on fine art but after applying for some higher level art educations without being accepted I started thinking about other options and realized that I was interested in graphic design and how it would be to work with clients and briefs so I applied to the design education at Berghs School of Communication and got accepted there. After my graduation I was freelancing for a while before moving to Malta for where I worked as a designer and illustrator for two years before moving to Berlin about a year ago. I was still working for the same company plus also doing freelance assignments on the side while also traveling around Europe a bit until I landed in Barcelona which has been my primary home since April this year. Since three weeks ago I'm finally freelancing full time which feels super exciting (and a little bit scary as well, just as it should be).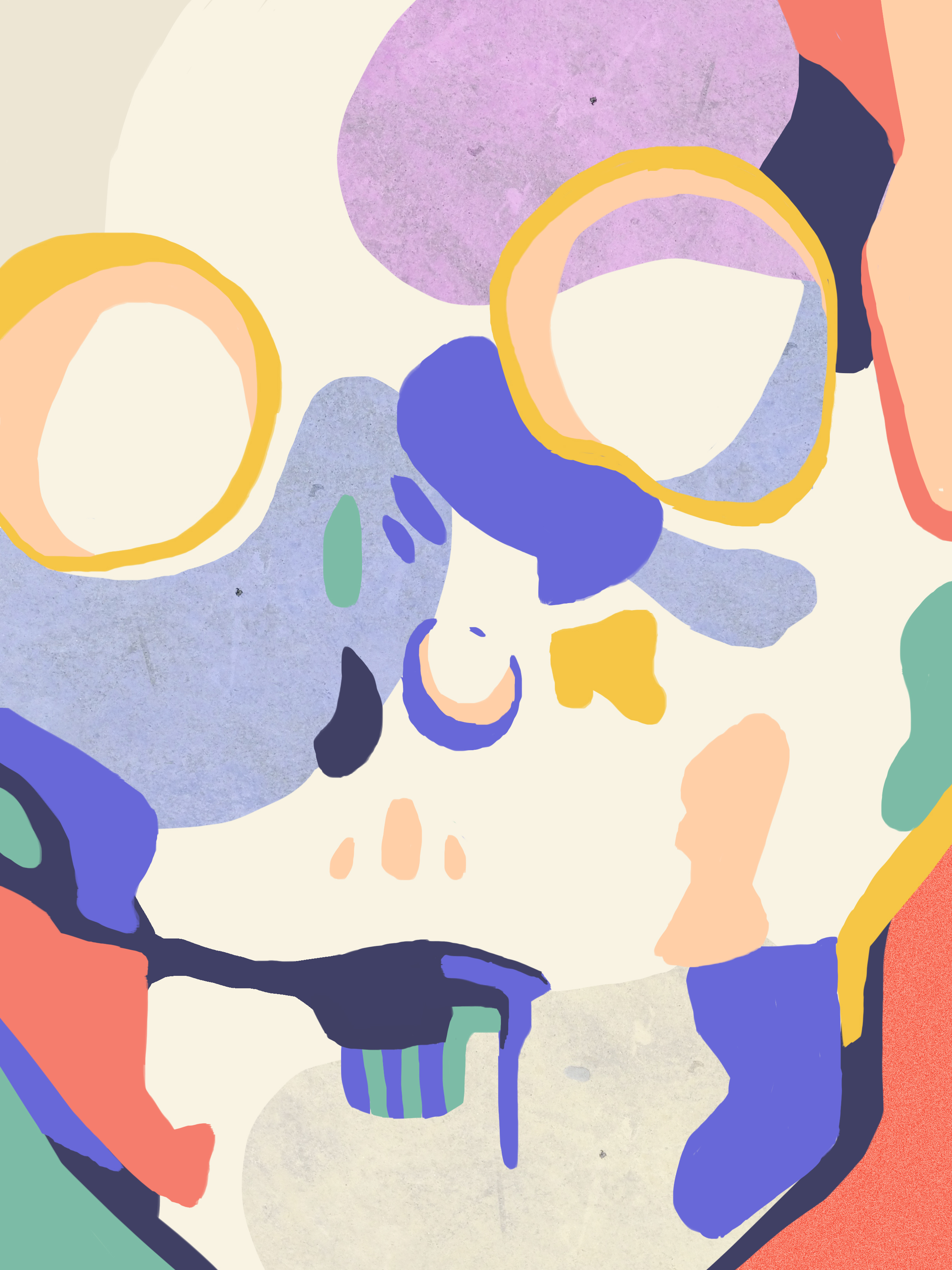 2. Tell us about your aesthetic.
I love bright colours and patterns and that's something that I always return to. Sometimes my work is more strictly graphic and at other times more organic. I love drawing portraits and I'm constantly playing with different ways of simplifying the portraits and add unexpected colours to the skin area of the images.
3. What is your favourite medium and why?
Almost everything I do is digital. I often do quick and really rough drawings in my sketchbook first but pretty early on I turn to illustrator and start drawing shapes there before moving over to Photoshop to do more "handdrawn" details and add structures there.
4. What is your artistic process like?
It depends a bit if it's a project given to me by a client or if it's something self initiated. If it's from a brief I start with reading that through properly, usually underlining some key words along the way and maybe adding some extra words about the feeling I'm after or the content I can imagine for the image. After that I usually do a rough sketch and start building the image in illustrator. If it's something self initiated I often start with just playing around with shapes and colors. This process of just mixing and matching things and see what happens if I combine two shapes or if I add a pattern to a portrait is usually what kicks things off and inspires me to keep exploring.
5. Who and/or what inspires your work?
SO many things. Visually striking movies, street art, people I see on my walk to the office, music, organic patterns, plants, space, other great creatives and imaginary worlds.
6. What role does art play in your life? How does it change the way you view the world?
A very big part I would say. I'm a very visual person, I learn and understand things by seeing it in front of me and my ideas get a lot clearer if I can draw while I talk or think about it. Art also inspires me a lot, not everything of course but I can find pieces every genre of art that touches me in some way. A piece of street art can give me just as much as a Gerhard Richter painting in a famous gallery.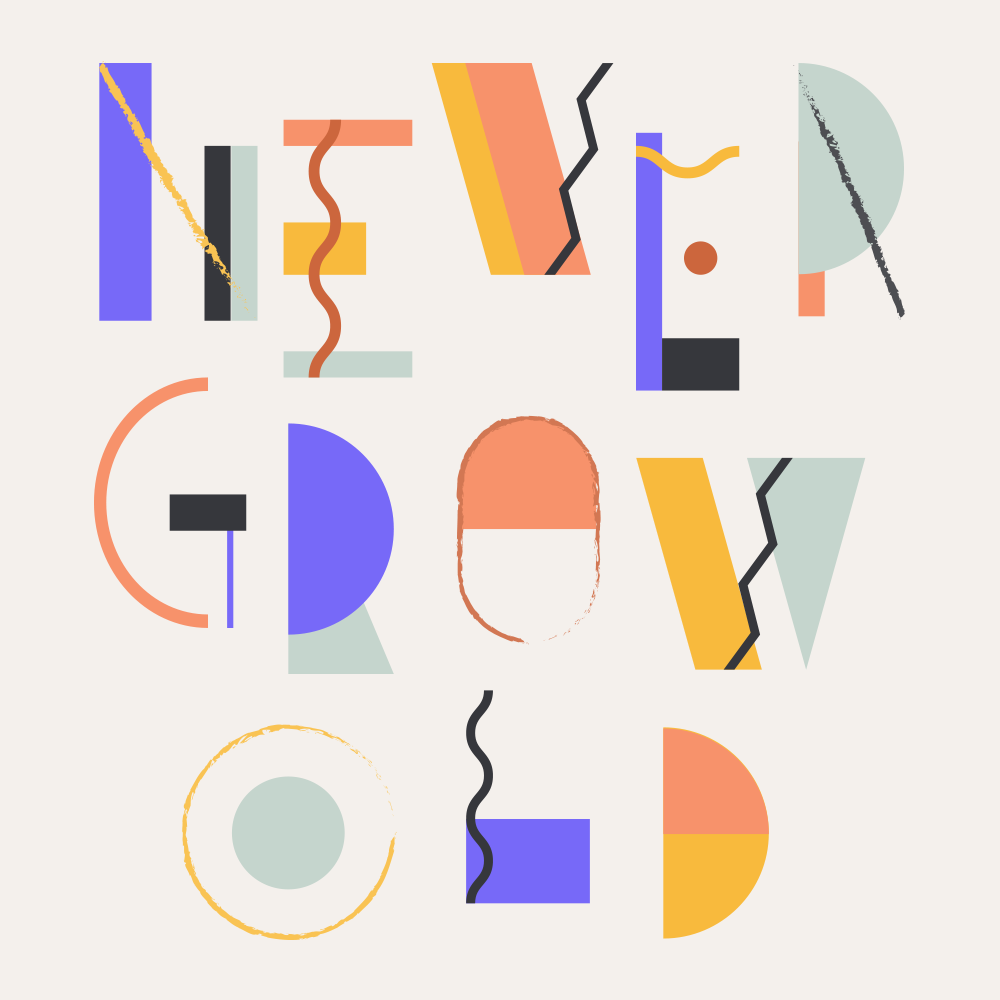 7. Where did you study?
2 years at Pernbys Målarskola (foundational art education), half a year on a part time illustration course at Berghs and then another 2 years of full time graphic design education at Berghs as well.
8. Where do you see yourself in five years? Working in an agency?
I don't think so. I just started my own business for real (after doing it part time for three years) and I'm very happy with it. I love the freedom and the wide range of clients that I'm working with at the moment. So if I'm not getting a fantastic offer from a place where I still feel that I can have a lot of freedom when it comes to where and when I work I think I will continue working for myself. But in five years I hope that I will have a even wider range of projects that I work with. I hope that I will be holding courses/workshops for students and that I do more collaborations with other creative people. By then I hope that I will have gone to Japan (which is my dream destination) and worked from there for a while. I also want to have started producing products like patterned fabrics, trays, pins and things like that by then.
9. What about in ten?
In ten years I just hope to have continued on the path from the previous five years. Hopefully I've written and illustrated a set of books by then. Maybe I've settled down properly somewhere and have a creative collective around me that I work with in different constellations.
10. What do you hope to achieve with your art?
I hope to inspire other people to create as well but also to be a good person. I'm right now on a path where I try to find out ways where I can use my creativity in ways to make the world a tiny bit better. It's not like I'm doing anything revolutionary but I think a lot of small things can come a long way. I'm currently working with two friends on a fanzine about sexual consent that we want to spread here in Spain.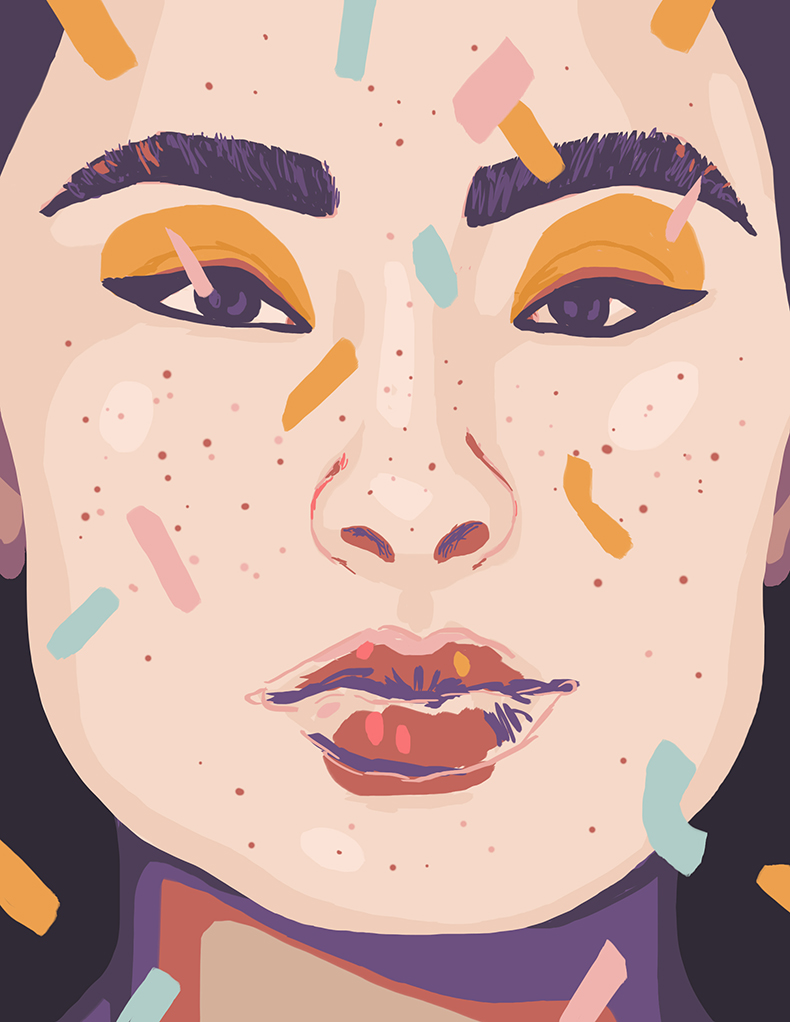 11. Now, tell us a little more about you as a person: what is your favourite food?
I'm a vegetarian since I was 17 and I mostly eat vegan food. Being in Barcelona my culinary life has become so much better after the years in Malta as there are so many more options here. I love really spicy asian food, especially thai, vietnamese and indian food but I also really appreciate some good tapas or one of Cat Bar's outstanding vegan burgers.
12. Favourite book?
Oh, this is a hard one. I read quiet a lot. I love fantasy novels like Harry Potter and The Earthsea Quartet but read a lot of different kind of stuff. My latest discovery is The Goldfinch by Donna Tartt, it's so good! A must-read!
13. Favourite genre of music?
A mix of pop and sweet electronic tunes. I'm definitely not a hard core techno girl, there need to be some kind of vocals to get me hooked. Recently I've also tried to rediscover RnB, a genre that I've overlooked for a long time but where it feels like a lot of really great music are being produced right now.
14. What are your hobbies?
Well, a lot of my free time is spent doing things related to my creative field like going to exhibitions or just keep drawing more things. Or to just meet up with great people for tea or a beer. Training is a really important part of my life though. It keeps me sane, clears my head and gives me energy for all the hours I spend in front of the computer screen. Sometimes that training involves lifting heavy stuff in a gym and other times I just go hiking up a mountain. I usually read quiet a lot also but I'm currently trying to learn some Spanish (it's going very slowly though) which is eating up most of my reading time.
15. If you weren't an artist, what would you be?
Tricky! If I would do something that wasn't related to being a visual artist I think I would either work with animals in some way, maybe as a whale researcher or some other odd animal, OR I would work with food in some way, maybe by having my own little vegetarian café.