Instagram:
@philip_lindeman
Website:
www.philiplindeman.com
1. What's your story? Where are you from?
Hello, I'm Philip! An illustrator living and working in Utrecht, The Netherlands. As a little kid, my childhood friend Thijs and I discovered our neighborhood pulling shenanigans like all boys do. We used to skate with friends, draw a lot and were obsessed with Nintendo and Space Jam. I remember him pausing the tape, and drawing Elmer Fudd as he slam dunks the hoop. This is just one time where I was impressed by his drawings, and moments like these triggered me to draw more. As a teenager me and my friends mostly just hung around doing this and that, you know.. Let's just call it monkey business or whatever. We weren't always the goodest kids, and I wasn't the best student in high school. Still I managed to get my diploma. When I did, the dean asked me what I wanted to do next. He mentioned Graphic Design, a course where you can draw and not get punished doing so. Of course the stubborn kid that I was immediately nodded 'Yes'. This is where me and my work took a big positive leap.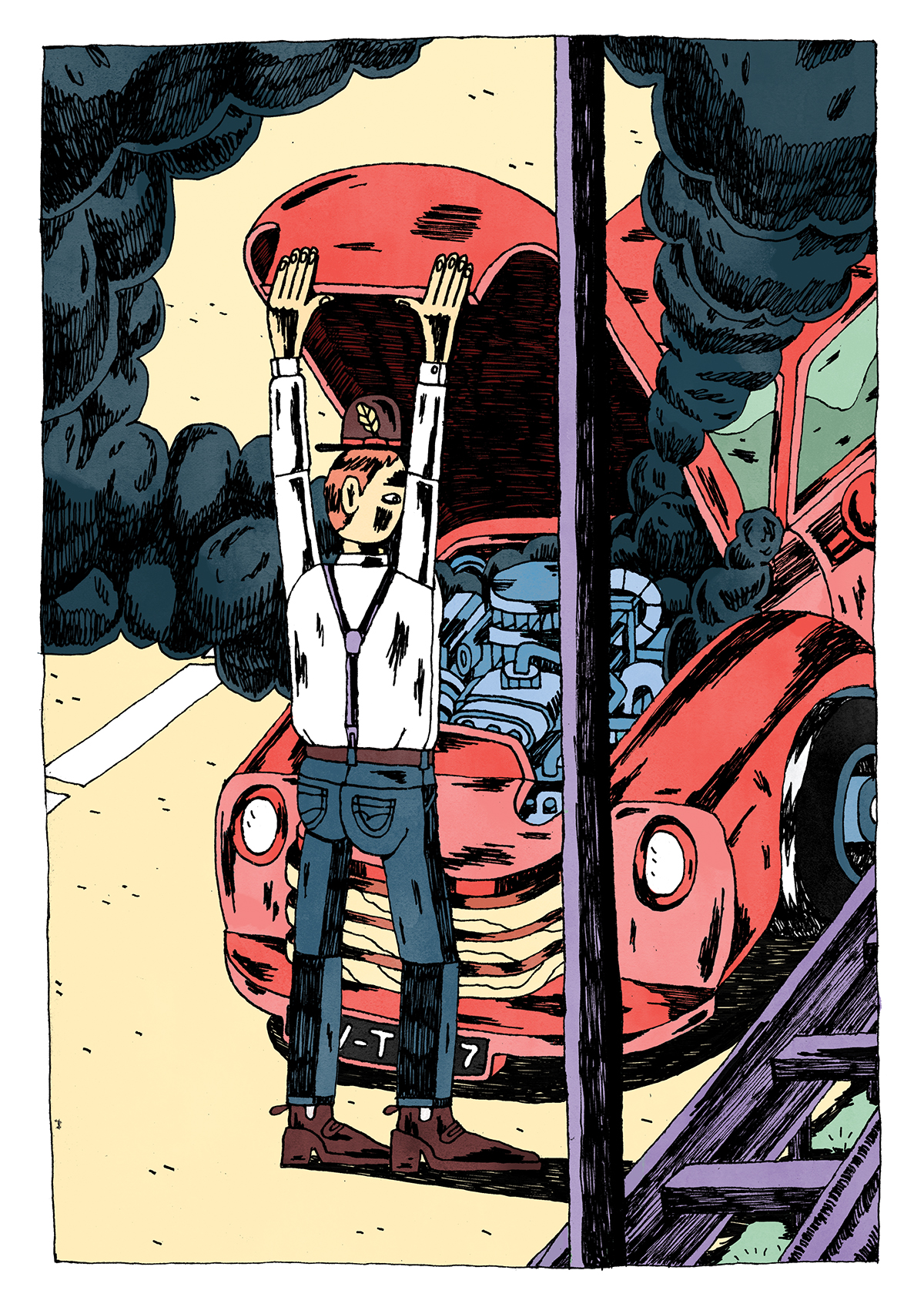 2. Tell us about your aesthetic.
When I get this question on family events I always tell relatives: "it's mostly influenced by comics and street-art." I like to use bright and deep colors with dark outlines and shadows on top. Outlines, to me, are te most fun part. I like to be playful and to flow around (and make sound-effects while doing so) I like to combine them with clumsy and blunt scratches, allowing little mistakes to happen. My illustrations mostly have a casual and humorous attitude, involving everyday scenes and typical characters.
3. What is your favourite medium and why?
I feel very unrestrained using the shittiest fineliner on the shittiest paper. Mostly this is where my illustrations start. After scanning my sketches I use digital color to finish them.
4. What is your artistic process like?
In my personal work I like to play with themes that have the potential of becoming an ongoing series. These are pretty simple starting points, but for me that's enough to work with. They offer me a lot of possibilities to play with and vary on. For commissions, I like to solve puzzles. I think it's really satisfying to be challenged by the client and to come up with the right translation of a question. Besides, it's also just fun to do research on subjects and themes that I wouldn't necessarily deal with so quickly in my personal illustrations. So you could say commissioned work makes you smarter.
5. Who and/or what inspires your work?
My work is inspired by pedestrians, traffic, good company, career choices, living rooms, little sculptures and toys. I can be very satisfied by just putting a goofy looking piece upon my shelve after bringing it home from a thrift store.
6. What role does art play in your life? How does it change the way you view the world?
People from back in the day remember me as 'the kid who's good at drawing'. I was always drawing, triggered by my mom who is a sculptor, my friend Thijs who showed me cool stuff and my friend Patrick who I bought my first spray paint with. Nowadays I'm still doing that same thing and it only feels natural. My dummy is with me most of the time, and I make quick sketches or little thumbnails whenever I get the chance. My work is very character based. I look at most pedestrians as if they're characters. Not in a way that I don't take them seriously, but in a way that I like to wonder who they might be and what they're about.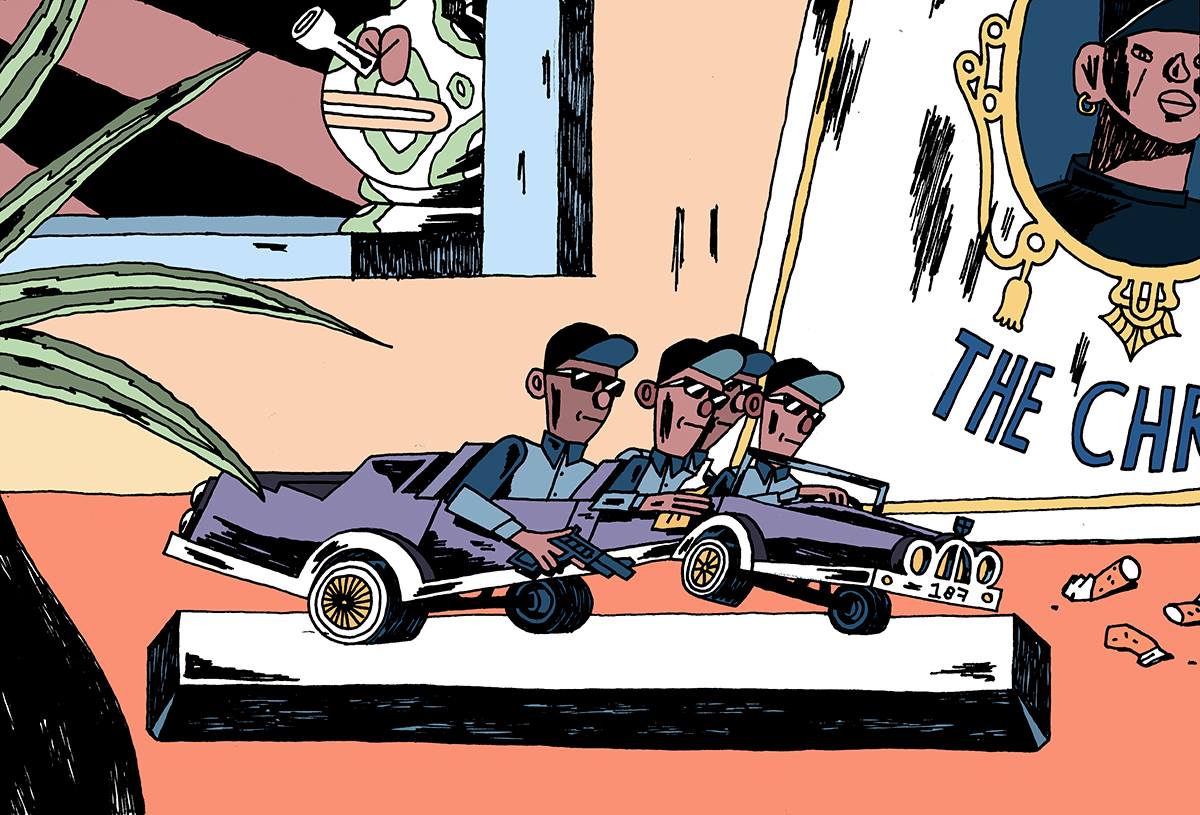 7. Where did you study?
I studied graphic design at Grafisch Lyceum Utrecht, and after that, I did Illustration at Hogeschool voor de Kunsten Utrecht.
8. Where do you see yourself in five years?
Illustration is a very challenging and exciting career choice ... Nevertheless I always try to retain what it started with, and that's just having fun in making work. In five years I'd like to have a studio with huge windows and a high ceiling, maybe a cat and lots more space to make lots bigger work. I feel very comfortable in the way I currently work, but I really have the urge to make more physical work like paintings and sculptures.
9. What about in ten?
By that time hopefully, I've made a few trips that are on my list full of life goals… Roadtrippin the USA and boattrippin' Indonesia.
10. What do you hope to achieve with your art?
It's probably unavoidable that your way of looking at your environment reflects in your work when you draw. What I like is for people to recognize their own environment or themselves in my work. And I think it's great when my work makes people smile.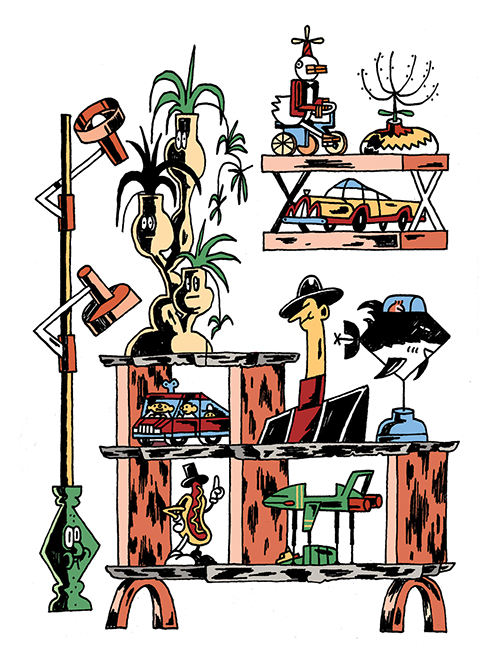 11. Now, tell us a little more about you as a person: what is your favourite food?
Nowadays I'm eating a little less meat. Probably mostly because of my girlfriend who is a dedicated vegan. Fish and meat is nice, but recently I'm discovering a whole new world of plant-based food, and it's delicious. Since I found an amazing spring-roll joint in Bruxelles, I'm now making those babies at home. These in combination with hoisin sauce is the bomb.
12. Favourite book?
Had a laugh reading 'Arsene Schauwen' by Olivier Schrauwen and 'The Making Of' by Brecht Evens. Recently I bought 'Een Boek Waarmee Men Vrienden Maakt' by Lukas Verstraete. Still didn't had the chance to read it, but it looks promising tho!
13. Favourite genre of music?
I'm very much into boombap hip-hop. But I guess for every mood there's a genre that fits.
14. What are your hobbies?
One hobby I'm planning on doing more is gallivanting in unfamiliar cities. It's feels great to cycle or walk into a random direction and just get lost on purpose in order to discover new places!
15. If you weren't an artist, what would you be?
Tough one.. Bored I guess!