Instagram:
@pollyfern
Facebook:
www.facebook.com/pollyfern
Website:
www.pollyfern.com
1. What's your story? Where are you from?
I am from Norfolk in England. I grew up in the countryside and now live with my boyfriend and our canaries in Norwich City. I studied illustration in Norwich and graduated in 2015. Since then I have been freelancing in illustration, and creating ceramic work. Norwich is a lovely city, full of history, with a lot of independent shops, and a great sense of community.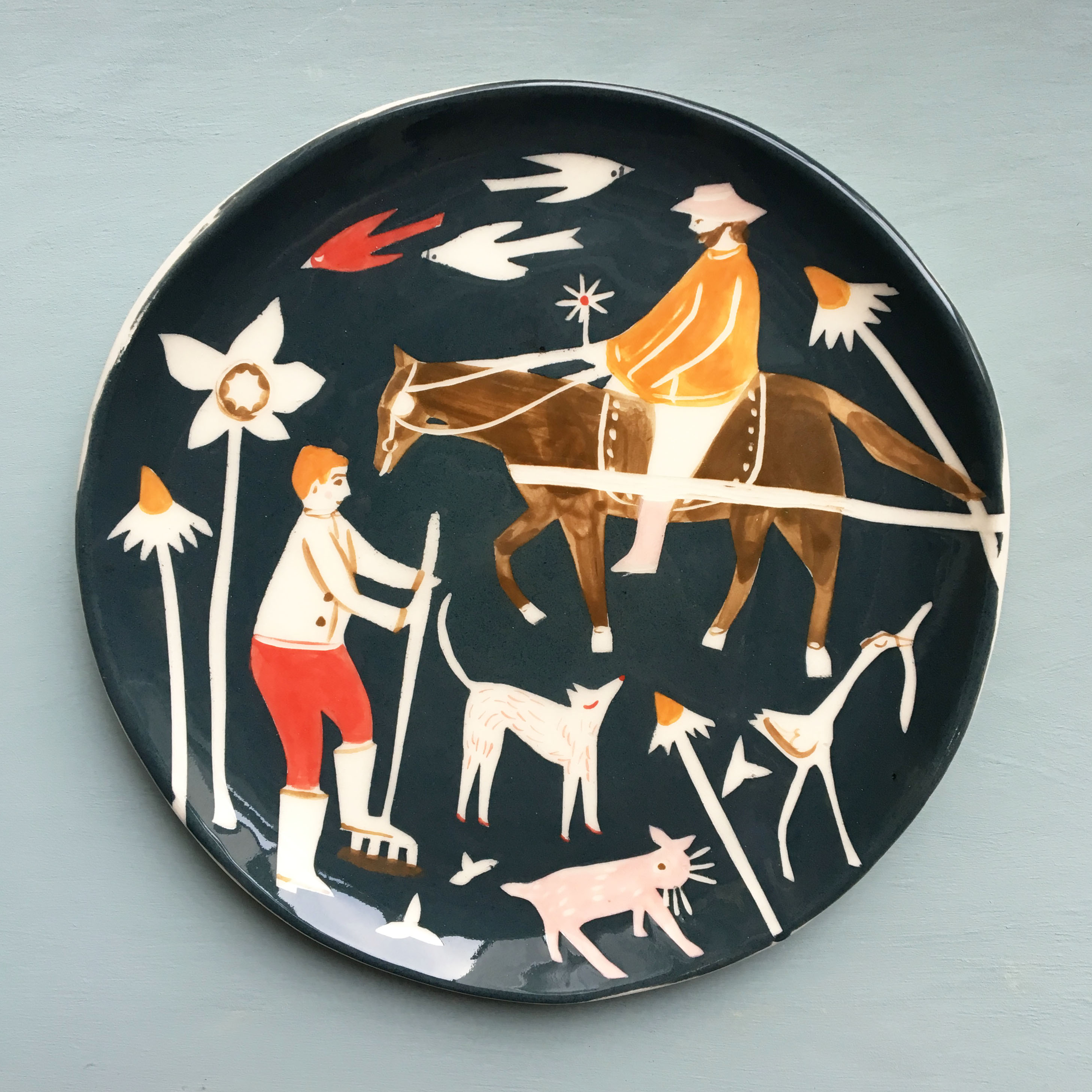 2. Tell us about your aesthetic.
I like to think my aesthetic is quite thoughtful, rich, but still subtle.
3. What is your favourite medium and why?
Tricky question as I use all sorts of different mediums. However I use Gouache a lot and enjoy how it is somewhere in between acrylic and watercolour.
4. What is your artistic process like?
Depends what I am working on, but I will usually make a quick thumbnail pencil drawing, or look through my books and photographs for imagery that I can draw ideas from. I initially develop a colour palette, which is influenced by my interests at the time, which might be a selection of objects, photographs or fabrics I am drawn to. I will then mix up my colour palette with gouache and try to paint as freely as possible, without too much sketching as when I'm more unplanned I find that I produce more interesting marks and the work I am pleased with the most. However I do consider colour a lot, and I think the placement of colours is one of the most important parts to making an image.
5. Who and/or what inspires your work?
Objects with a sense of craft, story and history. Folk Art, discovering local stories, reminiscing and thinking back to childhood. Traditions also inspire my work and techniques.
6. What role does art play in your life? How does it change the way you view the world?
I guess it makes me more of a sensitive and observational person. I am always interested in discovering stories and learning about historical techniques and crafts.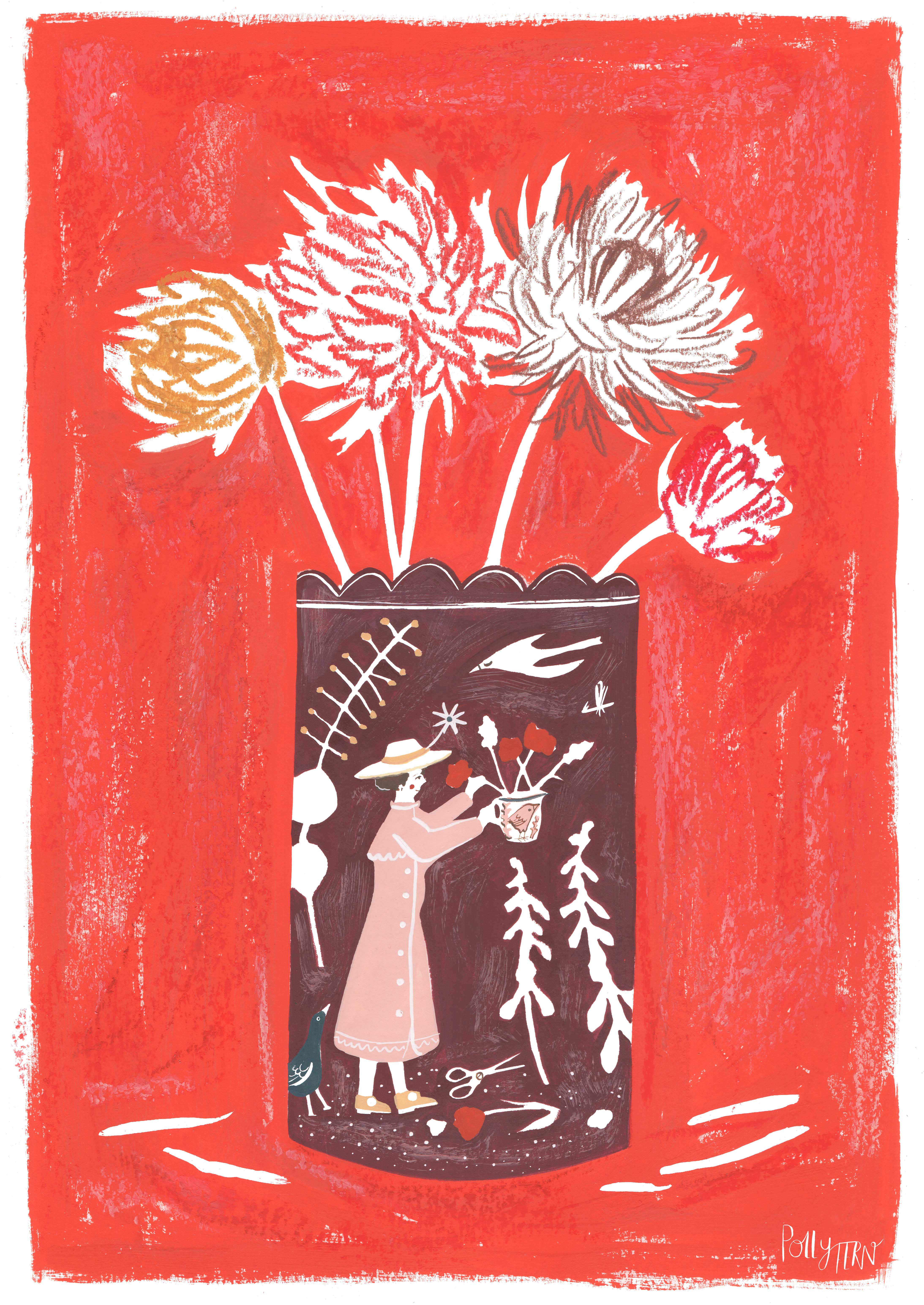 7. Where did you study?
I studied illustration at Norwich University of the Arts and graduated in 2015.
8. Where do you see yourself in five years? Working in an agency?
In five years time, I hope to still have the freedom to continue developing my work, and having the time to keep on discovering stories and experiment with exploring illustration through ceramics. I would also love to collaborate with people to design some fabrics, make some picture books and imagery for children. It's also important for me to learn more crafts as that is important to me and what drives my work and focus.
9. What about in ten?
I don't like to look too far ahead! However I hope/dream to own a house outside of the city, with an outdoor studio set up, one half being used for ceramics and another half for my illustration work, also with an aviary attached to one end so my birds can freely fly in and out!
10. What do you hope to achieve with your art?
I hope to make people feel happy, nostalgic, with the feeling that they are discovering something for the first time.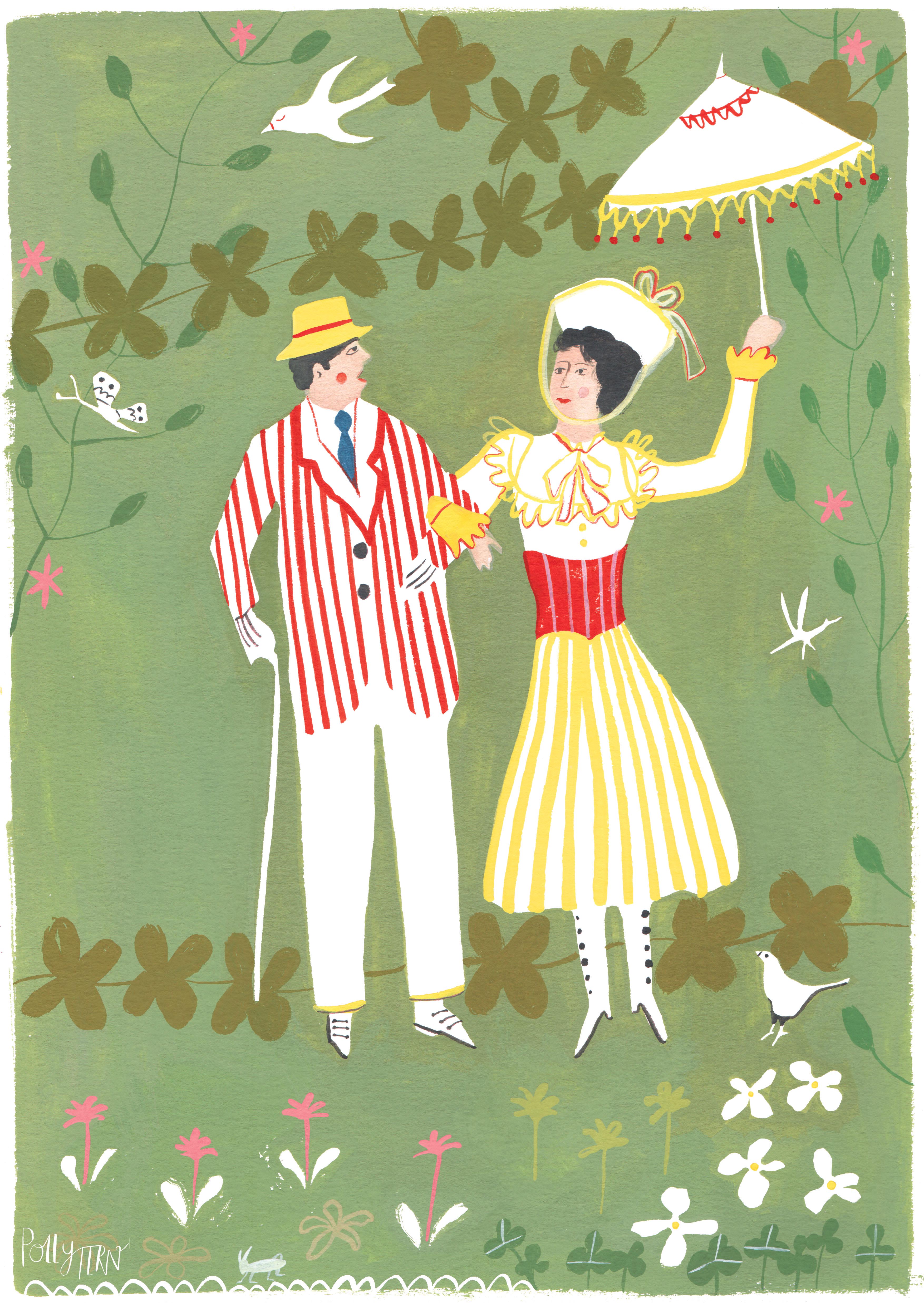 11. Now, tell us a little more about you as a person: what is your favourite food?
Chocolate. Figs. Pasta..
12. Favourite book?
I wish I was one of those people who read a book a week, however I don't read much. I enjoyed reading a lot more when I was younger, I found it more fun and I loved the first time I read The Twits and will never forget the bird pie.
13. Favourite genre of music?
My favourite song is Five Years. However I don't really think about genres. Some influences from my parents and others from childhood and music that reminds me of a particular time in my life. David Bowie, Queen, Bright Eyes, Muse, Laura Marling, Arcade Fire, Sufjan Stevens, Modest Mouse, Michael Jackson, The National… to name a few.
14. What are your hobbies?
I am lucky enough to do my hobbies for a living.. However I love cooking (and eating), dressmaking, trawling through charity shops, visiting antique markets and old market towns. I keep canaries and enjoy learning about aviary birds and their keepers.
15. If you weren't an artist, what would you be?
I always wanted to be a veterinary nurse, which now I think about it is silly as I could never handle it! I like the idea of working in a museum, or for a ceramic studio, or maybe a post lady as you get to meet so many people and get a glimpse into their homes ! However I would hate the early mornings..