Instagram:
@priscillayuart
Website:
www.priscillayu.ca
1. What's your story? Where are you from?
Hi! My name is Priscilla and I'm an artist, illustrator and muralist. I was born in Vancouver, BC, Canada. My parents are immigrants from Hong Kong and I grew up with influences from both HK and Pacific NorthWest Coast culture. I can speak English and Cantonese. My parents were protective so I wasn't really allowed to hang out with my neighbourhood friends until I was older. As an only child, I spent a lot of time alone in my bedroom expressing myself through drawing, reorganizing my bedroom furniture, and piecing together outfits. I have always enjoyed arranging colours, textures, forms, and contrast. Ever since I could remember, I have had an intense attention to detail and a lot of creative energy. If I saw a stylish lady walking down the street, I would be able to recall every detail of her outfit. I think that I internalized a sense of pattern and colour arrangement from my time curating elements in my outfits and in my bedroom as a child, and I put the same energy into my artwork today. In high school, I got really into painting and I also began to create imagery in the style that I have in my work today. I started doodling off my trigonometry worksheets, creating polygonal people and abstract forms, learning that utilizing the constraint of using mostly only geometric lines and forms, actually contributed to my creativity. After graduating from art school with a BFA, and then traveling, I got my first art studio and began to really focus on pursuing art as a freelance artist, illustrator, and muralist. It's been an incredibly busy time for me juggling my day job while building my own career, and it hasn't been until recently that I have been able to devote the majority of my time with my art practice.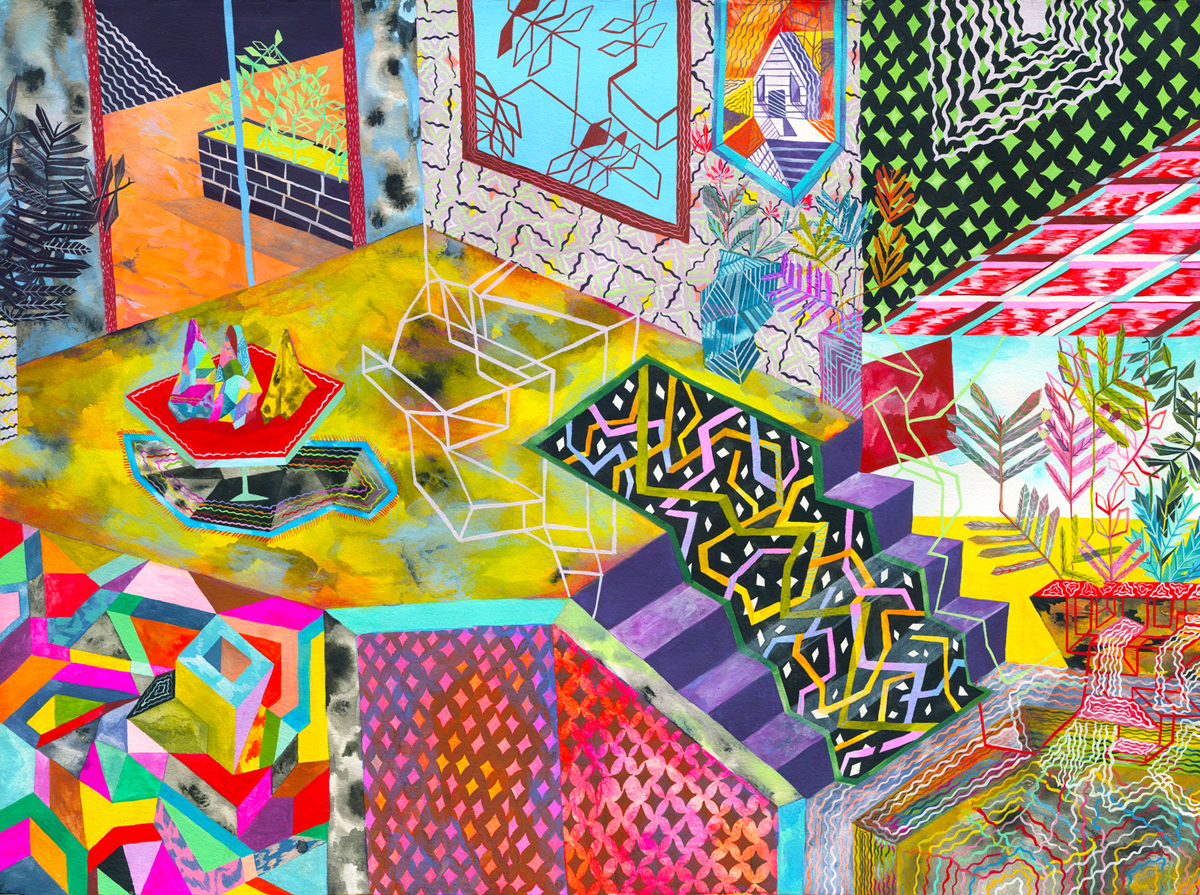 2. Tell us about your aesthetic.
Colourful and vibrant worlds that dwell in a strange gravity, where the rules of physics are stretched, and the inhabitants are adorned with elaborate clothing and large open windows for eyes.
3. What is your favourite medium and why?
My favourite medium is Gouache. When mixed with a little bit of water, you get the benefit of a smooth flowing line, with no loss for vibrant and opaque colour. It's the best for control with the tiny detail and patterns in my work. It also works really well for making textured washes. Holbein Acryla Gouache is #1.
4. What is your artistic process like?
It varies from when I am creating personal work or illustration. For illustration, I often sit down and start with writing word associations, mood words, initial feelings/adjectives on loose printer paper. From there, I doodle and come up with images and start rough sketches and thumbnails. Usually the composition becomes more clear at this stage. Since I use geometric forms as a stylistic constraint, where I try to make everything in the world of my art angular, I never know exactly how the illustration will end up. I'm not working in a very linear way. It's a mixture of having the keywords and themes from the illustration assignment floating in my head, while just laying down one line at a time down on paper, and seeing how that works with the theme. This way of working with subconscious forms that develop from the drawing in real-time is like looking at clouds and piecing together imagery. It helps me think outside the box, approaching a visual problem by catching my raw inclinations, and molding them with the assigned theme in my head.
5. Who and/or what inspires your work?
I feel excited about a lot of things. I'm inspired by gut feelings, colour combinations and compositions that yield visceral reactions and overall good feelings. I'm also inspired by the patterns and balance in nature, textures and translucencies in materials (ie. colourful glass, bakelite cutlery, marble floors), interior design, fashion, seventies aesthetic, other artists, designers, art directors, and movie directors like Stanley Kubrick, Wes Anderson, and Michel Gondry. I really look up to Bjork, Iris Apfel, and Mary Blair, and I definitely have cried from inspiration from watching Netflix's 'Chef's Table', which introduced me to gastronomy as an art form. Work ethic and tenacity from any type of artist inspires me. Aspects from all of this trickle down into my artwork.
6. What role does art play in your life? How does it change the way you view the world?
Art has allowed me to live a creative life, to define myself and follow my curiosities and obsessions. Being a creative and a cultural producer has helped me to see social constructs and representation, as cultural products that I can select or decline for myself. To me, art is also a language that captures the type of phenomenon that written language can't express. Illustration is a type of art that flourishes from a constraint of theme and a tension between communication design, symbols, and expression.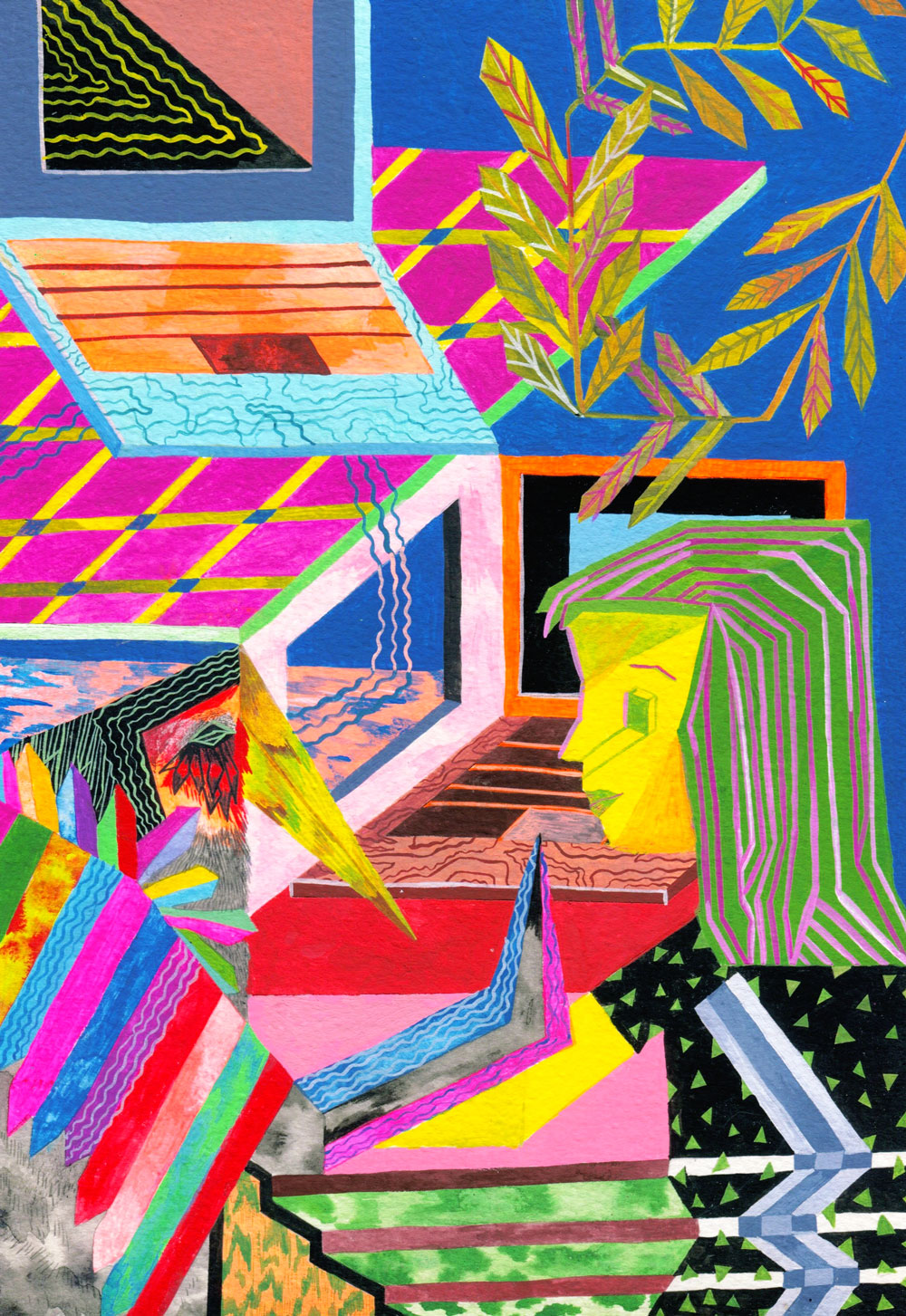 7. Where did you study?
I studied at Emily Carr University of Art & Design, in Vancouver, BC, Canada. I graduated in 2013 with a BFA.
8. Where do you see yourself in five years?
I see myself with a more steady flow of clients, illustration projects, and also working on my personal projects full-time. It would be really cool to be living in a different city every six months, collaborating with people all over the world. I also see myself painting more murals. I've done a handful of public murals, but would love to get my hands dirty with more!
9. What about in ten?
I see myself opening a joint retail store with my partner (who is also an artist), visually merchandising and creating wacky displays for the products that we produce.
10. What do you hope to achieve with your art?
As a personal goal, I hope to attend to all of my creative impulses, nurture them into fruition, wherever it may take me, and also get to know my own psyche. For others, I'd like them to experience my art however they naturally do. I can't think too much about how people will see my art while I'm making it. However, it's a great feeling when people tell me that they see more in the work the longer they stare at it. I find that super interesting and love hearing their interpretation.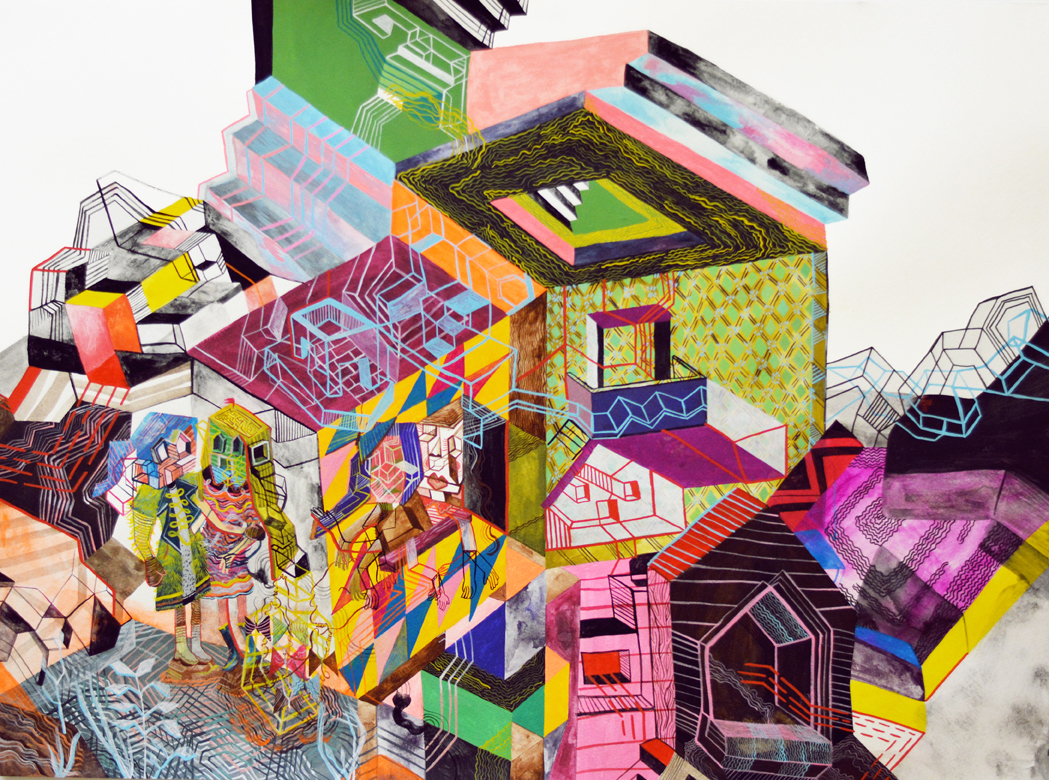 11. Now, tell us a little more about you as a person: what is your favourite food?
I'm really into food and I love variety so it's tough to pick just one. If I had to pick three dishes, it would be Palak Paneer Curry with garlic naan bread, Xiao Long Bao soupy dumplings, some kind of Tonkotsu Ramen, and caramel popcorn.
12. Favourite book?
I recently read 'You Are a Badass' by Jen Sincero and 'Big Magic' by Elizabeth Gilbert on Audible. I love listening to books that take me out of my internal mental monologue loop that comes from spending long periods alone in the studio. Books like those get me thinking about visualizing my big-picture goals and utilizing the law of attraction. Perception and mental power are both things that I am very interested in.
13. Favourite genre of music?
Same as how I like my food. I like variety. I'll listen to Nick Drake, Grimes, Bjork, The Pixies, Radiohead, Jenny Lewis, Mitski, Mac Demarco, Fiona Apple, Syd Barrett, 13th Floor Elevators, Toro y Moi, Brenton Wood, Cocteau Twins, Miley Cyrus, and Little Dragon in the same sitting.
14. What are your hobbies?
Experimental cooking, trying different restaurants, beers/doobs in the park with friends, hiking, amateur gardening, window shopping, treasure hunting in thrift stores, adding sequins to my clothes, and researching (endless Wikipedia & Pinterest tunnel).
15. If you weren't an artist, what would you be?
Fashion Designer or Visual Merchandiser