Instagram: @projet_reoh
1. What's your story? Where are you from?
My name is Samuel Torgeman, alias Projet Reoh, I have lived in Lyon (France) for three years and I was born in 1983 in the Paris region. This is where I started graffiti. I was 15 years old and when I traveled by RER I looked through the windows at the graffitis of others, it made me want to do it. I had been drawing for a few years, I have always been attracted to images through cartoons and the aesthetics of the North American sport. I started graffiti with my cousin and some friends.
Je m'appelle Samuel Torgeman, alias Projet Reoh, je vis à Lyon (France) depuis trois ans et je suis né en 1983 en région parisienne. C'est là que j'ai commencé le graffiti. J'avais 15 ans et quand je me déplaçais en RER je regardais par les vitres les graffitis des autres qui défilaient, ça m'a donné envie d'en faire. Je dessinais déjà depuis quelques années, j'ai toujours été attiré par les images à travers les dessins animés et l'esthétique du sport nord-américain. J'ai commencé le graff avec mon cousin et des copains.
2. Tell us about your aesthetic.
I had different approaches between that of Fine Arts and today but the common thread has always been graffiti. I sometimes found it difficult to associate my work of painting and graffiti but today I feel more comfortable with that. I managed to find a compromise that combines my two practices. I am working on an abstraction project by including my approach in the post-graffiti movement.
J'ai eu différentes approches entre celle des Beaux-Arts et aujourd'hui mais le fil rouge a toujours été le graffiti. J'ai parfois eu du mal à faire communiquer mon travail de peinture et le graffiti mais aujourd'hui je me sens plus à l'aise avec ça. J'ai réussi à trouver un compromis qui allie mes deux pratiques. Je travaille sur un projet d'abstraction en inscrivant ma démarche dans le mouvement post-graffiti.
3. What is your favourite medium and why?
Above all, I like working with colors, I sketch very little. I like to paint, in all its forms: canvas, graffiti or digital painting.
J'aime avant tout travailler les couleurs, j'esquisse très peu. J'aime faire de la peinture, sous toutes ses forme : toile, graffiti ou peinture numérique.
4. What is your artistic process like?
I have two ways of working. I feel very free in front of a wall where I simply arrive with aerosol and acrylic colors and give free rein to my ideas, according to the desires and inspirations of the moment. It is a part of the work that is very instinctive, a game of construction both in realization and in form. On the other hand, I do research work on procreate and I go back and forth between the IPad and the canvas.
J'ai deux manières de travailler.Je me sens très libre devant un mur ou j'arrive simplement avec des couleurs à l'aérosol et à l'acrylique et je laisse libre court à mes idées, selon les envies et les inspirations du moment. C'est une partie du travail qui est très instinctive, un jeu de construction tant dans la réalisation que dans la forme. D'autre part, je fais un travail de recherche sur procreate et je ai des allers retours entre la tablette et la toile.
5. Who and/or what inspires your work?
Today we have free and extensive access to images, especially with Instagram. There are many artists of my generation and my mouvement who inspire me. When I was at the Beaux Arts I had as a reference the movement of the Neu Wilde and the work of Philip Guston. I am a child of the 80s and the aesthetic of cartoons, video games, advertising, design, surely influenced me. Since the arrival of my daughter in my life, the world of childhood inspires me more and more.
Aujouur'hui nous avons un accès libre et vaste aux images, notamment avec Instagram. Il y a beaucoup d'artistes de ma génération et de mon courant qui m'inspirent. Quand j'étais aux Beaux Arts j'avais comme référence le mouvement des Nouveaux Sauvages et le travail de Philip Guston. Je suis un enfant des années 80 et l'imagerie populaire des dessins animés, des jeux vidéos de la publicité, du design m'ont surement influencé. Depuis l'arrivée de ma fille dans ma vie, l'univers de l'enfance m'inspire de plus en plus.
6. What role does art play in your life? How does it change the way you view the world?
Art allowed me to know who I was. It is a way to focus my attention, to channel my emotions, to appease the reality which is not always bearable. I like to get in touch with the artists' sensitivity through their images, just like I like to express and convey my own emotions. I often have the impression that my gaze is offbeat, it is perhaps the nature of the artist, to offer a different vision of things, to observe what surrounds us from other angles, to put colors, shapes, sensitivity.
L'art m'a permis de savoir qui j'étais. C'est un moyen de concentrer mon attention, de canaliser mes émotions, d'apaiser la réalité qui n'est pas toujours digeste. J'aime entrer en contact avec la sensibilité des artistes à travers leurs images, tout comme j'aime exprimer mes propres émotions et les transmettre. J'ai souvent l'impression que mon regard est décalé, c'est peut-être le propre de l'artiste, de proposer une autre vision des choses, d'observer ce qui nous entoure sous d'autres angles, d'y mettre des couleurs, des formes, du sensible.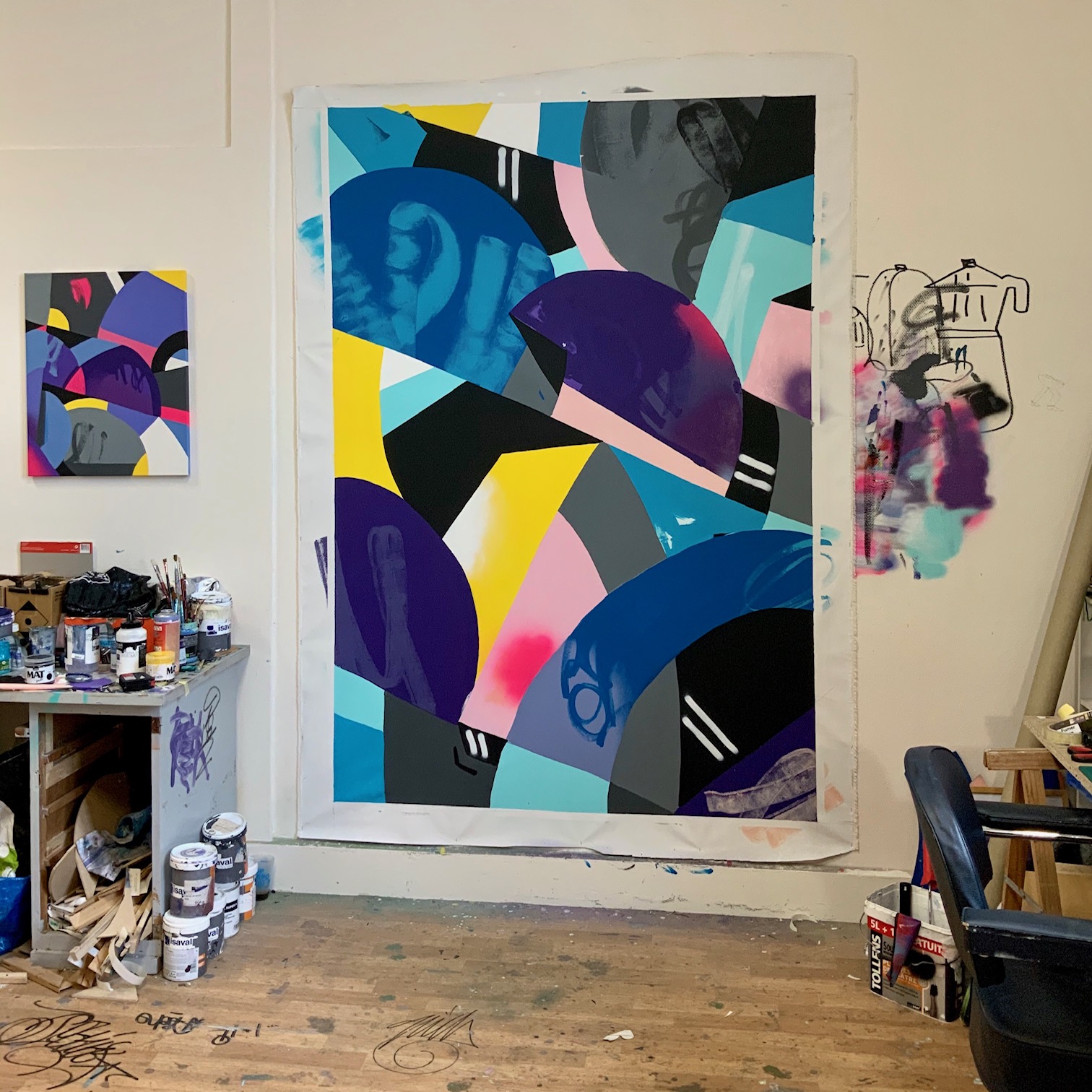 7. Where did you study?
At the Beaux-arts in Dunkerque
Aux Beaux-arts de Dunkerque.
8. Where do you see yourself in five years?
In a quieter place than today, with my wife and daughter, still in my studio, working.
Dans un endroit plus calme qu'aujourd'hui, avec ma femme et ma fille, toujours dans mon atelier en train de travailler.
9. What about in ten?
Same, but older.
Pareil, en plus vieux.
10. What do you hope to achieve with your art?
I would like my work to be recognized, to help ensure that different practices have no borders, to work as much on a wall as for a gallery. I would like to live decently.
J'aimerai que mon travail soit reconnu, contribuer à ce que les différentes pratiques n'aient pas de frontière, travailler autant sur un mur que pour une galerie. J'aimerai en vivre décemment.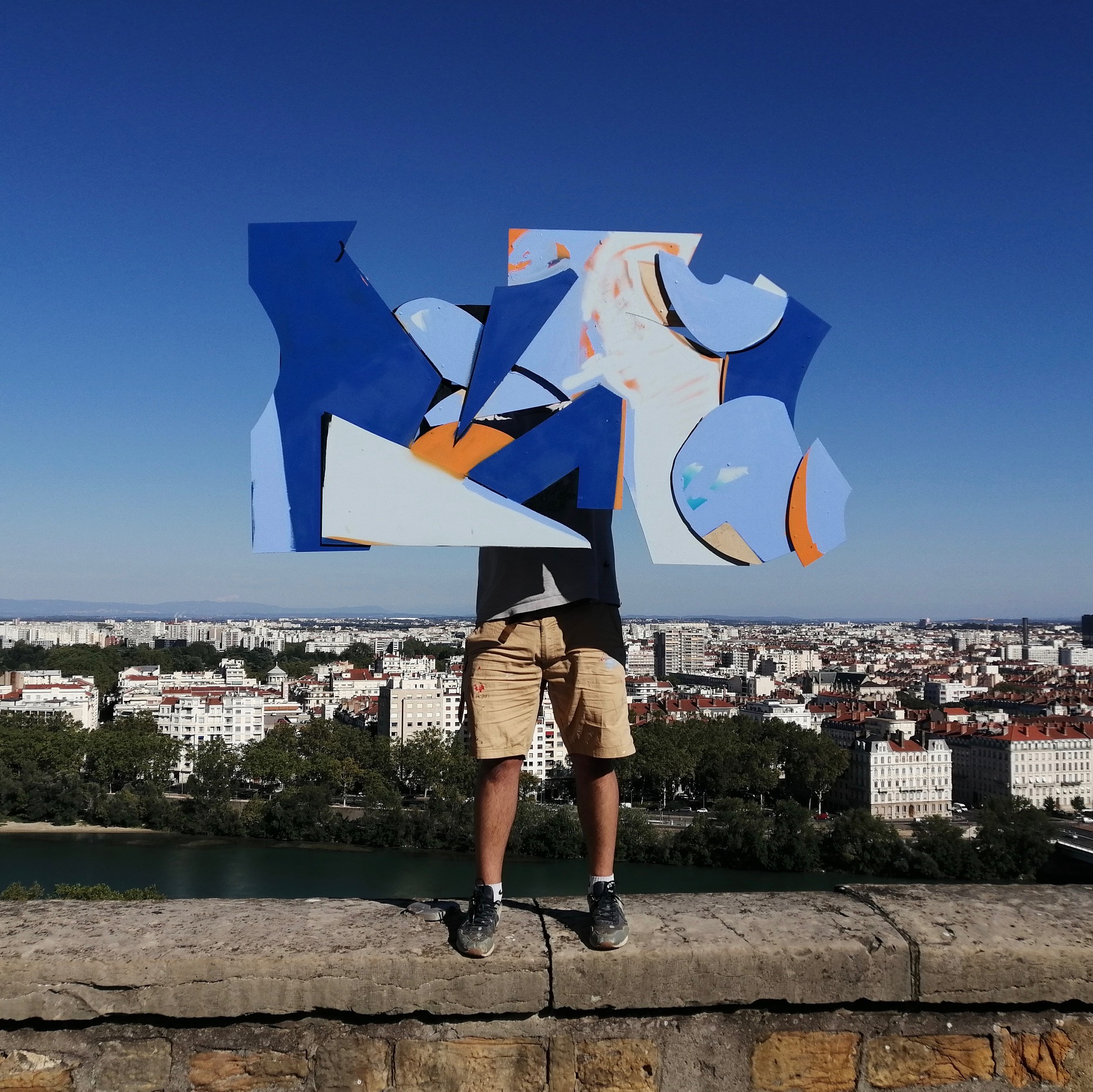 11. Now, tell us a little more about you as a person: what is your favourite food?
I am a foodie, especially street food. I can't choose between kebab, bao and my grandmother's Jewish cuisine.
Je suis un gourmand, surtout de street-food. J'hésite entre les kebab, les bao et la cuisine juive de ma grand-mère.
12. Favourite book?
« Tu n'as rien à craindre de moi » de Joann Sfar
13. Favourite genre of music?
I listen to a lot of electronic music and hip-hop and more transversal things like Thundercat, Badbadnotgood, Nosaj thing.
J'écoute beaucoup de musique électronique et de hip-hop et des choses plus transversales comme Thundercat, Badbadnotgood, Nosaj thing.
14. What are your hobbies?
Cuddle my 15 months old daughter. Cooking for my family. Pet my cat.
Faire des câlins à ma fille de 15 mois
Faire à manger pour ma famille
Caresser mon chat
15. If you weren't an artist, what would you be?
I would probably have a restaurant, probably street food.
J'aurais sans doute un restaurant, de street food probablement.