Instagram: @qian.shi
Website: www.qianshi.co.uk
1. What's your story? Where are you from?
Hello!!! My name is Qian Shi, I make animated films, illustrations, prints and occasionally dream up some fun stories. I was born and raised in Shijiazhuang, a city in northern China. I have lived in Norway, Denmark and eventually London for the past 18 yrs. I love travelling, curious about everything art, design and culture related.
As a teenager, I was into Japanese Manga. I would doodle manga style drawings all the time and dreamt of writing my own manga one day. So when it came to university application, I decided that I would study animation, as it was the closest thing to Manga. I moved to Beijing to start my BA Animation course at Communication University of China. There I discovered a whole new world of animation, it wasn't just Anime and Tom & Jerry.
In my year 3, I took part of an exchange programme to continue my BA degree in Norway. Young and naive, without hesitation, I dragged 2 large suitcases and moved to this beautiful Norwegian town on the west coast of Norway -Volda and started my new life there.
In 2007, I made my short film "Shoe" at The Animation Workshop in Viborg Denmark. "Shoe" tells a story of a young girl and her father in poverty. It was inspired by a shoe-doll displayed in the Museum of Childhood, Edinburgh. "Shoe" was doing fairly well in the festivals, many people told me that it felt like a children's book. I guess this planted a seed in mind to try out children's books.
Eventually, I came to London for my MA Degree in Central Saint Martins. After graduating (FINALLY!), I worked on Tim Burton's Frankenweenie Stop motion feature film. It was a great experience working so closely to people across all disciplines in stop motion film making. seeing how they build puppets, dressing sets and light the stages, etc. After that I've been freelancing in London. I've worked with all sorts of studios, meeting and working with many talented & inspiring people, and have been lucky to have directed & art directed a number of commercial projects.
Working on commercial projects, however, has left me wanting to write my own story, I had an idea for a picture book story and ventured into the children's book industry. Luckily, I managed to bring this idea live and published my first children's book "The Weaver" with Andersen Press in 2018. "The Weaver" is about a spider Stanley, who's an adventurer, a weaver and a collector, but he is about to find out that nothing lasts forever unless you collect it in your heart.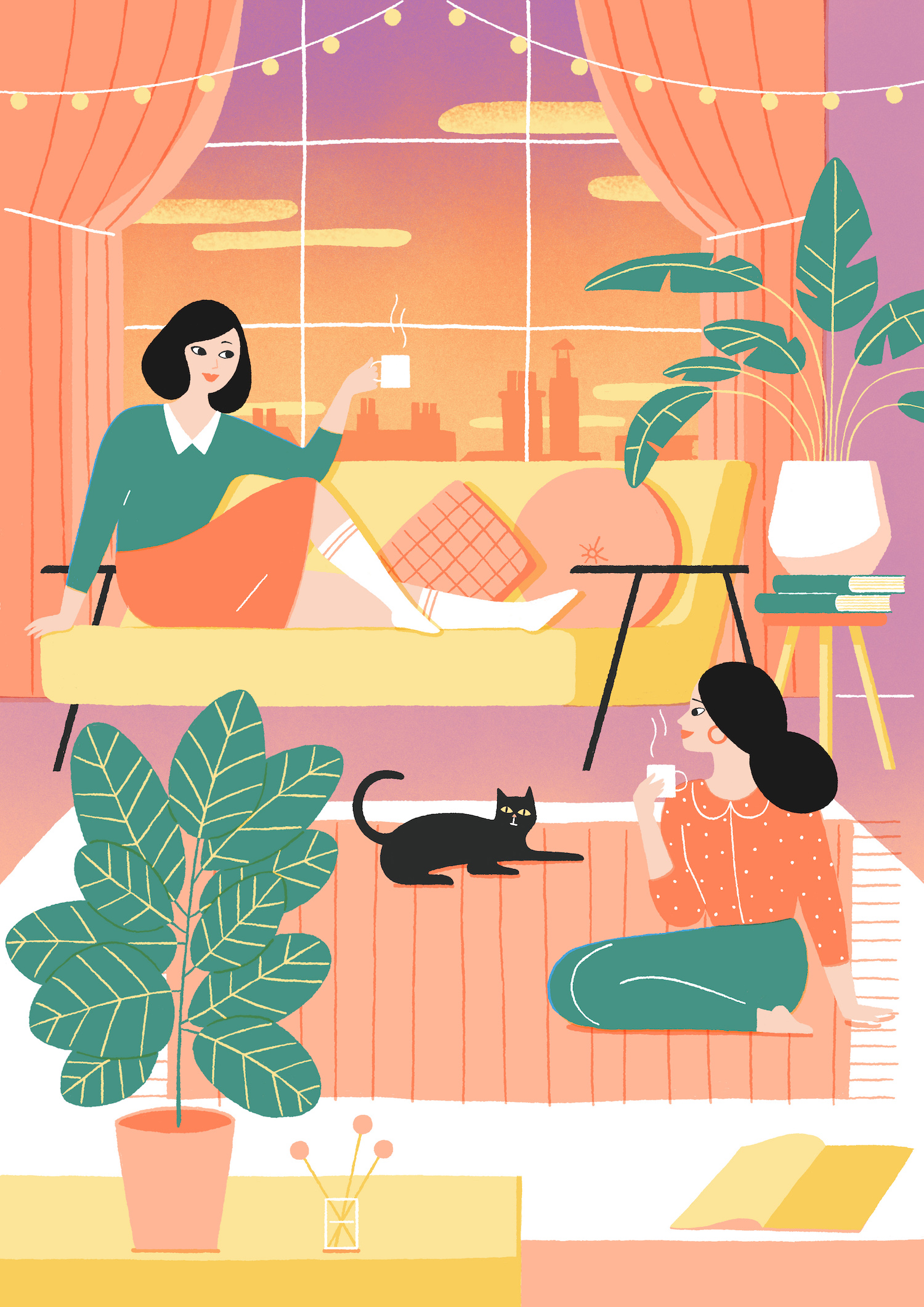 2. Tell us about your aesthetic.
I'm drawn to vibrant colours and patterns, combining with simple graphic forms and a touch of femininity. My works tend to be about fashionably dressed girls, lifestyle and travelling.
3. What is your favourite medium and why?
I work primarily digitally -usually Photoshop, ProCreate, After Effects; but I've always loved to experiment with all mediums: gouache, watercolour, ink stencil printing, screen printing etc. Watercolour painting is my all time favourite way of keeping travel diaries, plus recently discovered Posca pens -you can imagine how heavy my backpack would be!
4. What is your artistic process like?
First, I write down all the things I could imagine that could happen in the story, without much editing or judgement. Once I've got enough materials, I would look through them and edit them together, use the ones that could make sense, put away the ones that don't work. Sometimes, I would repeat this process a few times until I get a story that surprises me.
As I'm mostly working with visual driven mediums such as animation and picture books, words and images sort of came at the same time, sometimes a few lines pop into my head, sometimes I'd doodle a couple of images. Altogether the words & doodles paints a bigger picture, within which the story slowly forms.
5. Who and/or what inspires your work?
Reading: as I've grown up in 80s' China, I was not exposed to a vast choice of illustrated books, however I have vivid memories of Tintin's Adventures. My dad had a great collection of books and therefore since young age I have buried myself in all sorts of classical literature books - Chinese, Western; fairy tales, fictions or historical. Later years when I moved to the UK, in order to practice reading in English, I got into classic western children's books such as Roald Dahl, Beatrix Potter.
Also, travelling has always been my best source of inspiration. I love being able to see the world with fresh eyes, broaden my views & have time daydreaming on the journey. Sometimes, I discover interesting things on trips, I write notes, sketch them down and perhaps turn them into a project later on.
6. What role does art play in your life? How does it change the way you view the world?
Honestly, I can't quite imagine what life would be like without arts and design now that is a huge part of my life. For me, art is one of the most instinctive ways I express myself. It gives me comfort and also influences the way I experience the world. It makes me notice tiny beautiful things that we easily oversee.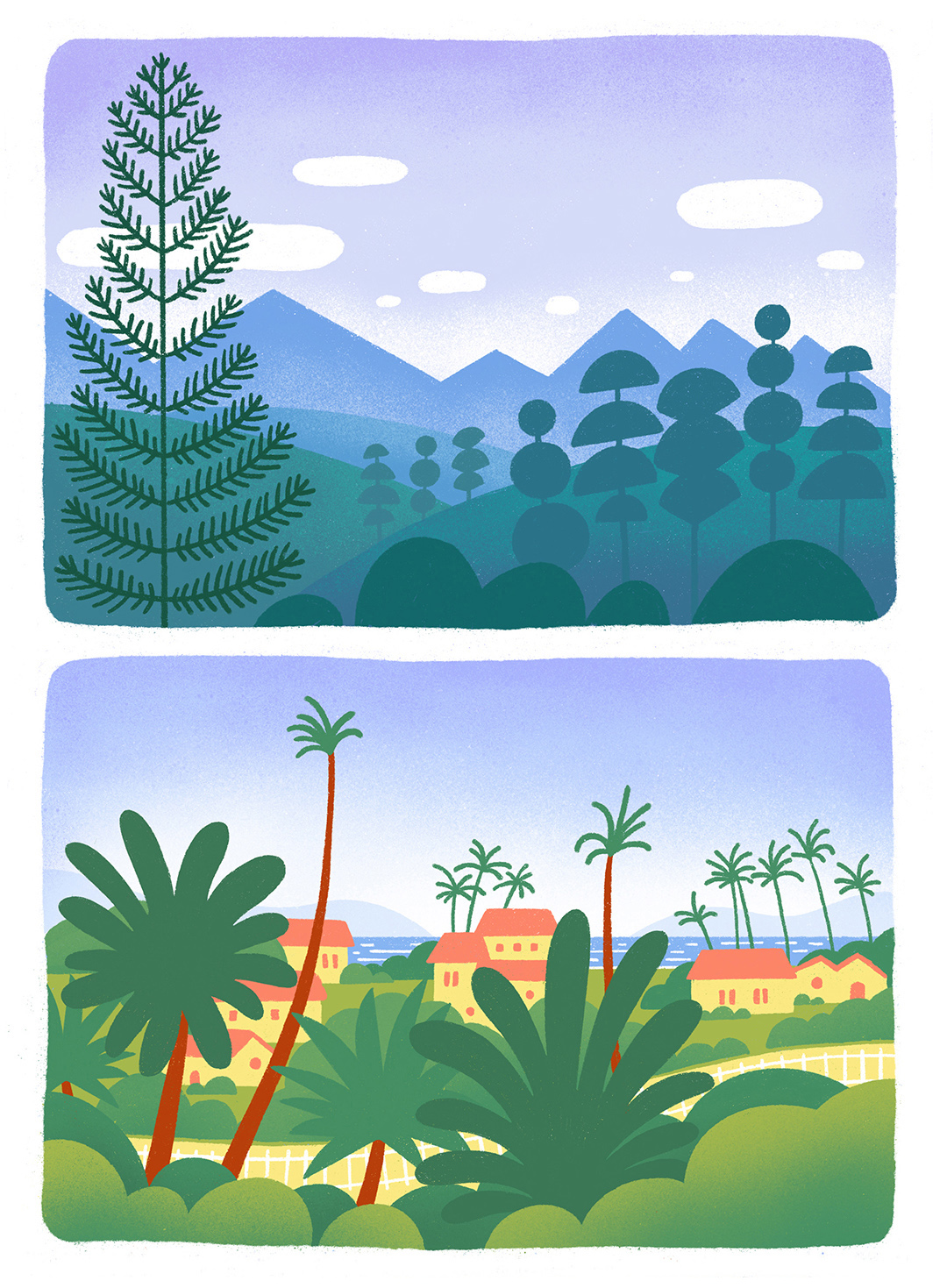 7. Where did you study?
I started my studies with the BA Animation course at the Communication University of China in Beijing, China. Then I moved to Norway to continue my degree at Hogskulen i Volda as part of an exchange programme. Eventually, I moved to London for an MA Degree at Central St. Martins College of Arts and Design.
8. Where do you see yourself in five years?
I would say that I'll have a homebase in London, but spending more time travelling around whilst freelancing and gathering inspirations for artwork and stories -that would be my dream life!
9. What about in ten?
Honestly I have no idea where I will be location wise -I'm pretty open to where life takes me! But all I can hope is that I will still be making art and taking in the world with fresh eyes.
10. What do you hope to achieve with your art?
I would ultimately like to tell more meaningful stories, stories that make people pause, think and feel, stories that make a difference and somewhat helpful to the world we're living in.
To do that, I want to keep living life to the fullest, travelling the world, experiencing different cultures and getting to know about their customs, their legends, their local stories and tales. There is so much character and individuality in each nation's storytelling, but there is also a beautiful universality.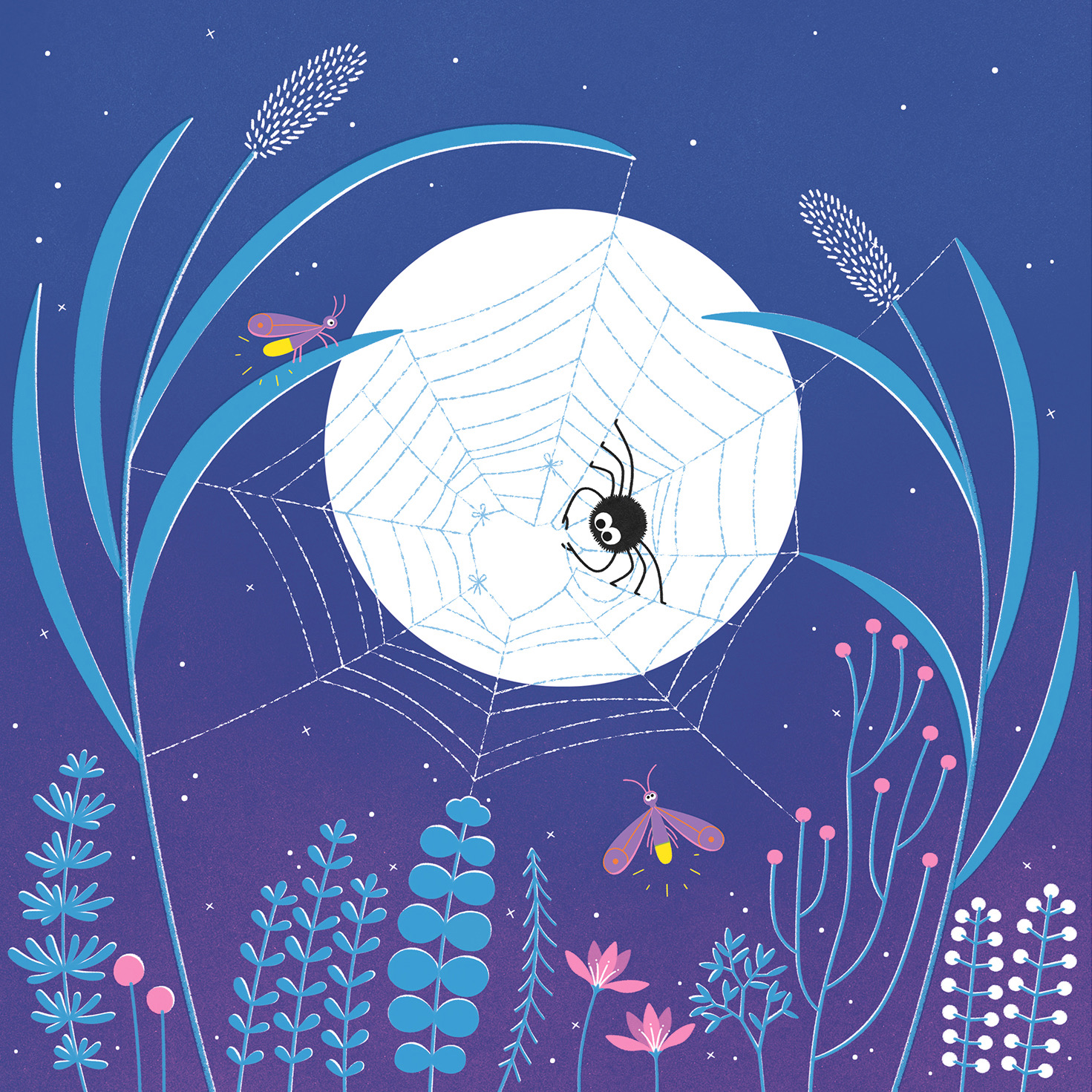 11. Now, tell us a little more about you as a person: what is your favourite food?
Asian food as always, I have an asian stomach! Having said that, I love trying local food wherever I travel to.
12. Favourite book?
There are so many!! If I have to name a few: The Summer Book by Tove Jansson; Invisible City by Italo Calvino; The Hitchhiker's Guide to the Galaxy Trilogy by Doglas Adams.
13. Favourite genre of music?
I'm open to almost any genre of music. I've been going through phases of different genres of music over the years: Bossa Nova, Country folk, Jazz, Rock ( Punk as I lived in Camden for a couple of years!). Recently, I've gotten into electronic music which would have surprised myself from 2 years ago!!
14. What are your hobbies?
In 2020, I discovered surfing -somewhat 20 years later than when I should! I've only scratched the surface of what it is but I feel so alive floating on the water looking out the ocean horizon, all my daily worries vanish in this moment!
15. If you weren't an artist, what would you be?
A traveller -the world is just too big with too many cool things to see! And then run a cool cafe filled with arts, illustrations and everything I've collected from my trips.