Instagram:
@quietclementine
Shop:
www.quietclementine.com
1. What's your story? Where are you from?
I've lived in Arkansas my whole life and still live here today. I've never particularly loved Arkansas, but it's my home and I'm a big homebody, so I'm sure I will always be here. I began working in ceramics a little over 3 years ago and started my current business, Quiet Clementine, in the spring of 2015. I've been playing in clay and making colorful things ever since!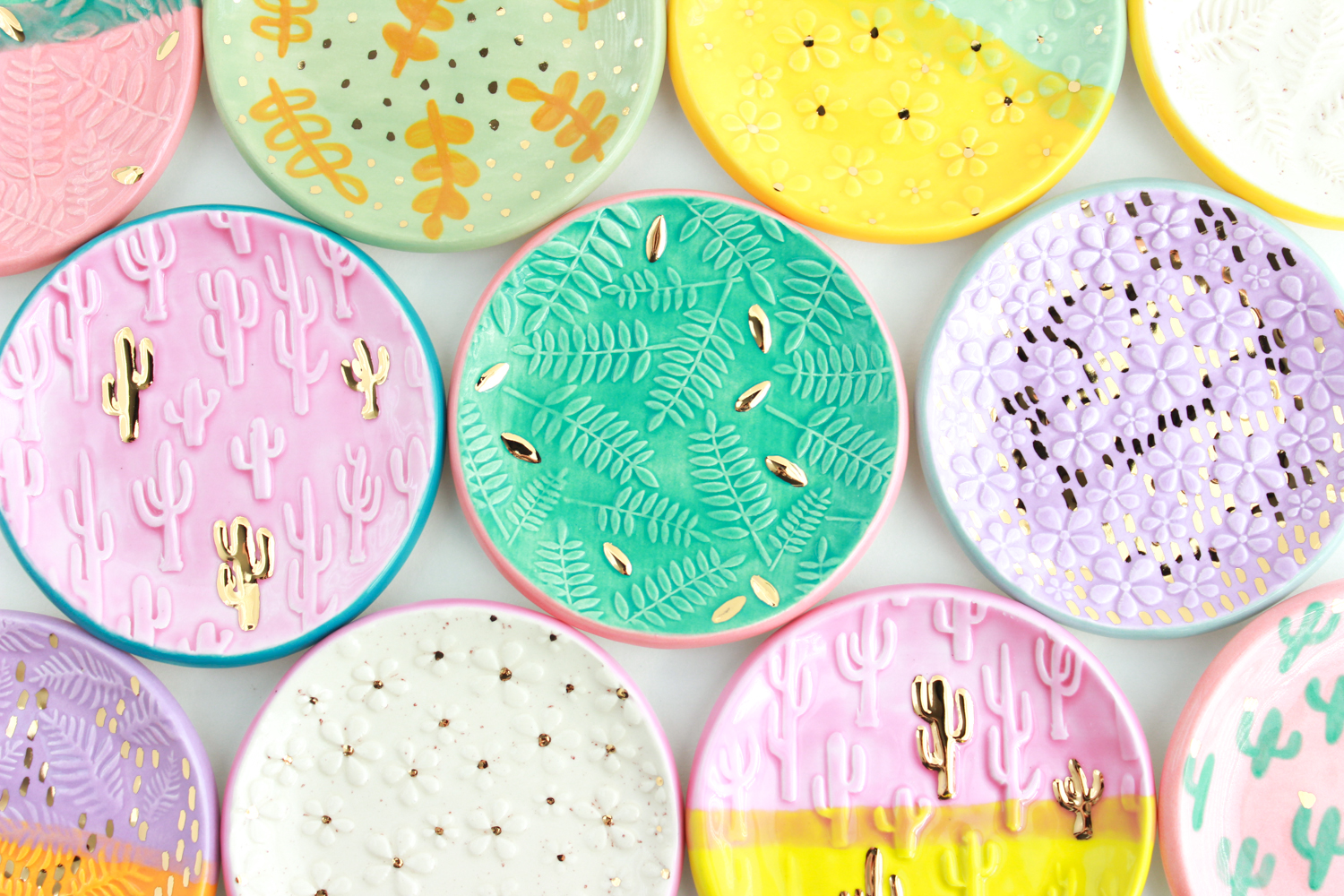 2. Tell us about your aesthetic.
My aesthetic is colorful, happy, simple, and geometric. I love vibrant colors and playful patterns and how those two elements interact together. Many of my pieces are finished with real 22k gold accents, which adds a grown-up playfulness that I just love.
3. What is your favourite medium and why?
I love working with clay because there are so many possibilities for the final outcome. My favorite part about ceramics is the glazing process. That is the phase where I get to play with color and pattern and see my designs come to life.
4. What is your artistic process like?
I usually have a vision in my head of something I want to make and then I just start making it. I'm not much of a sketcher unless I just really want to see how a certain design might look or decide if I want to continue with it at all. From there, I hand build all of my pieces from a slab. My forms are simple and most of my process comes from the surface design, so once they are ready for glazing, that is where the real fun for me begins. I use a lot of color blocking and simple, repeating patterns. Sometimes I'll come across a color combination that I really love and decide to use, either incorporating it into a current design or using it in an entirely new one. As a final step in my process, I sometimes add gold accents to my work. I usually have a design in mind specifically with the intention of adding gold.
5. Who and/or what inspires your work?
As I'm sure you've noticed by now, color is my biggest inspiration. Bright, vibrant colors, soft, pastel colors, they're all my favorite! Well, not all…I'm not really a big fan of red. I love being surrounded by color and being able to play with all the colors of the rainbow during glazing is my happy place. Pattern is also a big inspiration in my work, specifically, simple, repeating patterns. Dots and dashes in slightly different variations are usually in most of my designs. Like a lot of artists, plants are also a big inspiration for me. I recently created a collection of plant inspired pieces with both stamped and illustrated plant patterns. It was fun for me to break out of the usual patterns I work with and make something inspired by a real, physical thing.
6. What role does art play in your life? How does it change the way you view the world?
Art has always been a part of my life through my dad. I grew up being surrounded by his art and having experiences learning from and making things with him. Even though I wasn't truly interested in art until I was older, those things stayed with me and led me to where I am now. Art allows me to express myself and what I love through the things I make. It helps me to notice things out in the world, such as an interesting color combination or pattern on a building that I wouldn't have seen before. Also, I love bringing artwork that I love from other people into my home. It makes me happy everyday.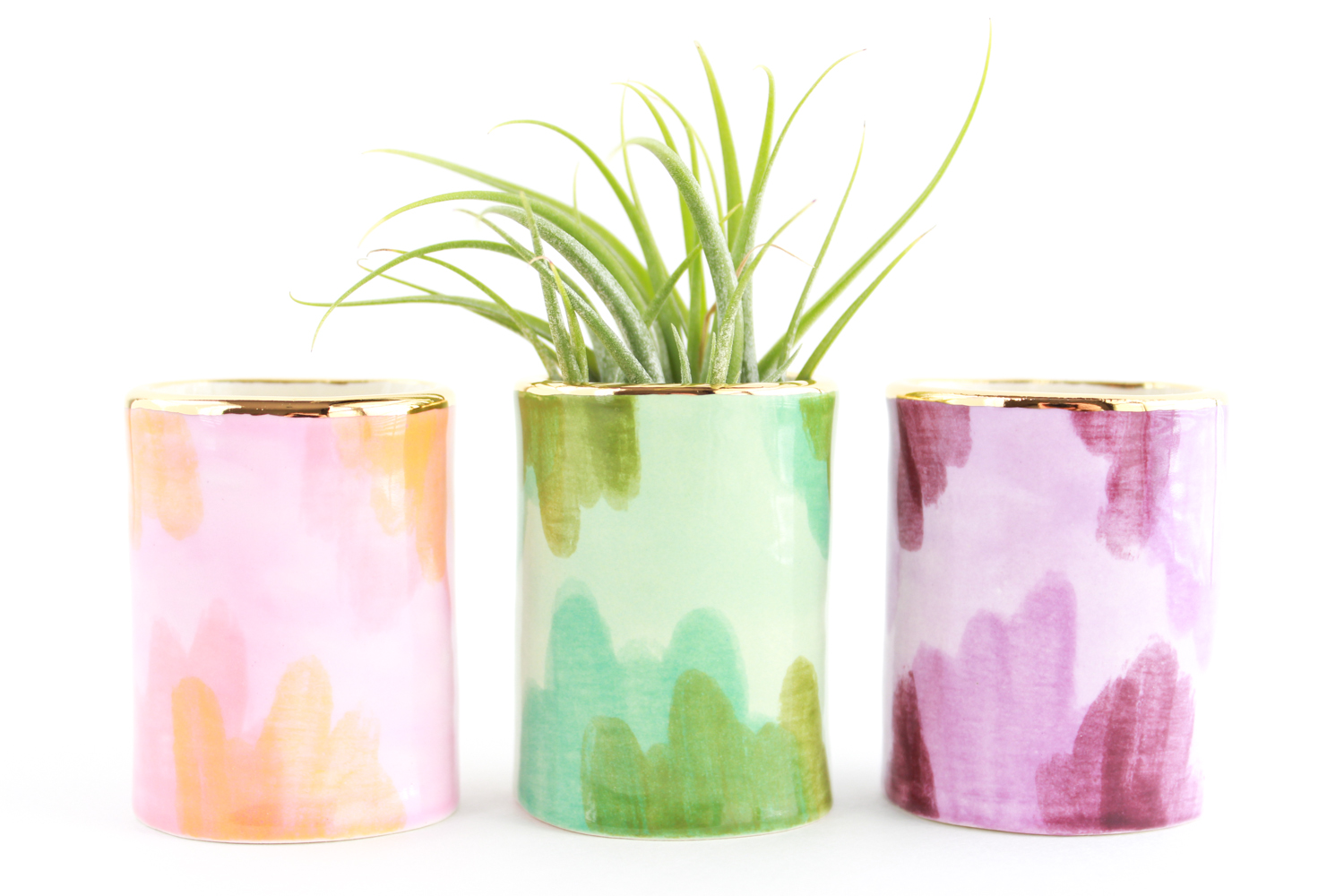 7. Where did you study?
I don't have an art background or degree of any kind. I actually went to school for Occupational Therapy, but that ended up not being for me. My dad was an art teacher and has always been a potter, so I grew up around art my whole life but never had a true interest in it until several years ago. My dad is the reason I began working in ceramics and started Quiet Clementine, so I have him to thank for leading me down this path!
8. Where do you see yourself in five years?
In five years, I hope to still be making colorful ceramics, but out of a larger studio space. Right now I work out of a small bedroom in my home, which I love, but a bigger space (still in my home) to spread out in would be nice. I also hope to have my work in more retail shops around the US and worldwide.
9. What about in ten?
It's hard for me to think that far ahead, but I hope to be doing more of the same!
10. What do you hope to achieve with your art?
I really just want my work to make people happy. I want it to bring them joy when they see it and when they bring it into their homes and interact with it everyday.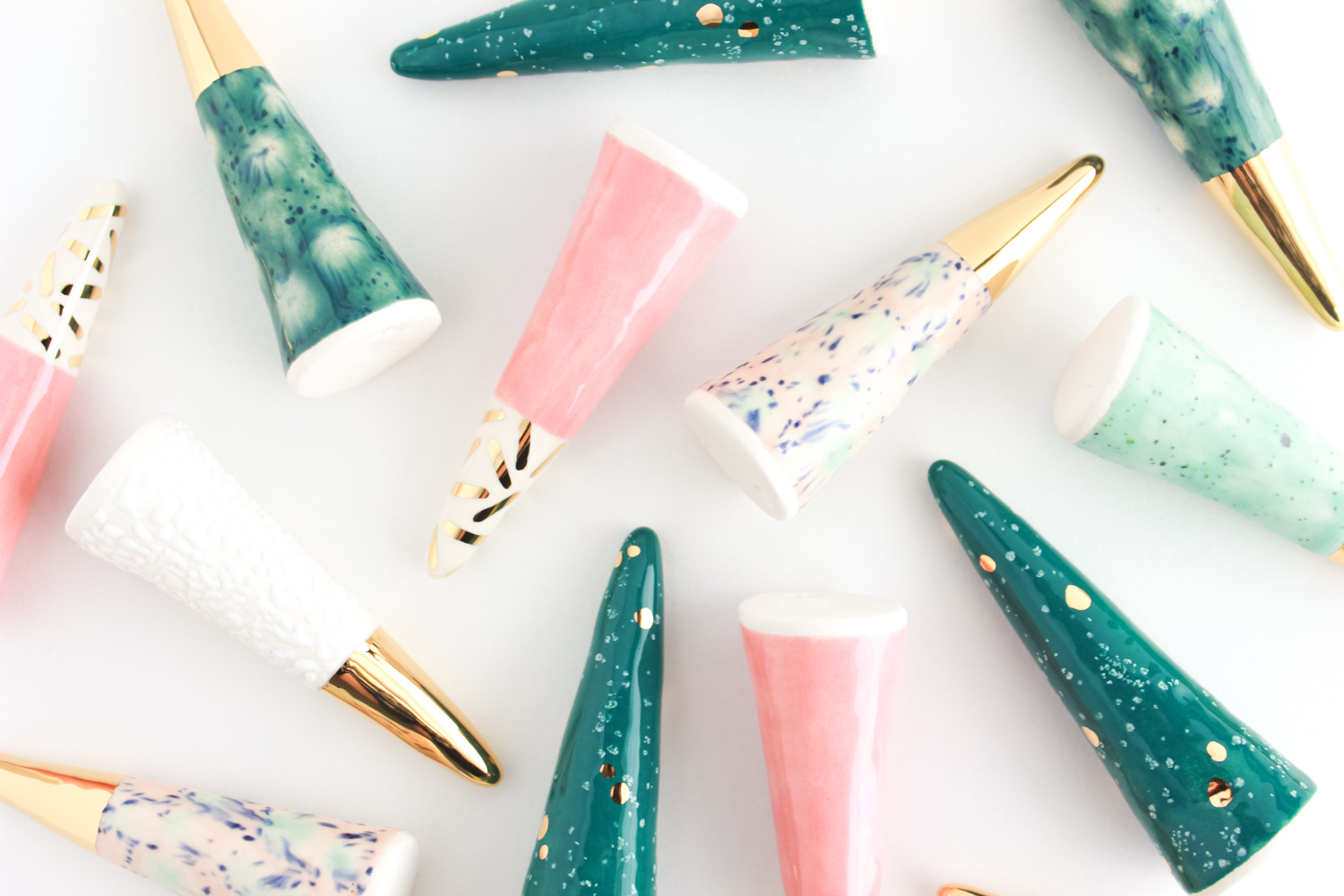 11. Now, tell us a little more about you as a person: what is your favourite food?
I think I could eat french fries every day. I also have a big sweet tooth and will never turn down a chocolate chip cookie.
12. Favourite book?
I've read many books, but I'm not sure I have a favorite. I love getting lost in another world when I read, so I really like books about dystopian worlds or strange/mysterious things. I like other things too, but that's probably what I read the most.
13. Favourite genre of music?
I like a lot of different types of music. I enjoy oldies, 80's, 90's, and early 2000's music. I also really love indie pop/rock and indie folk.
14. What are your hobbies?
I love reading, but I don't make as much time for it as I used to. I also love going to the movies with my husband and traveling when I have the opportunity.
15. If you weren't an artist, what would you be?
Honestly, I'm not sure I would be anything else. Owning a small business, being my own boss, and working from home really suits my introverted personality.