Instagram:
@rae.ritchie
1. What's your story? Where are you from?
I was born and raised in a suburb of Minneapolis to a musician father and photographer mother. Since coming from such a creative home, I've experimented with many art forms from an early age. As a young teenager I was obsessed with writing songs, playing guitar, oil painting and sewing my own clothes. I went to university for Apparel Design and in 2006, started out in the fashion industry, designing women's and kids fashion accessories for major retailers. It was creative, but I most felt alive while creating prints and graphics for these products. I was always painting on the side so decided to continue on, focusing in fabric design and illustration for greeting cards, stationary, gifts and apparel. I've been working as a freelance artist/designer for 2 and half years now, working with an array of clients and my amazing agent Jennifer Nelson.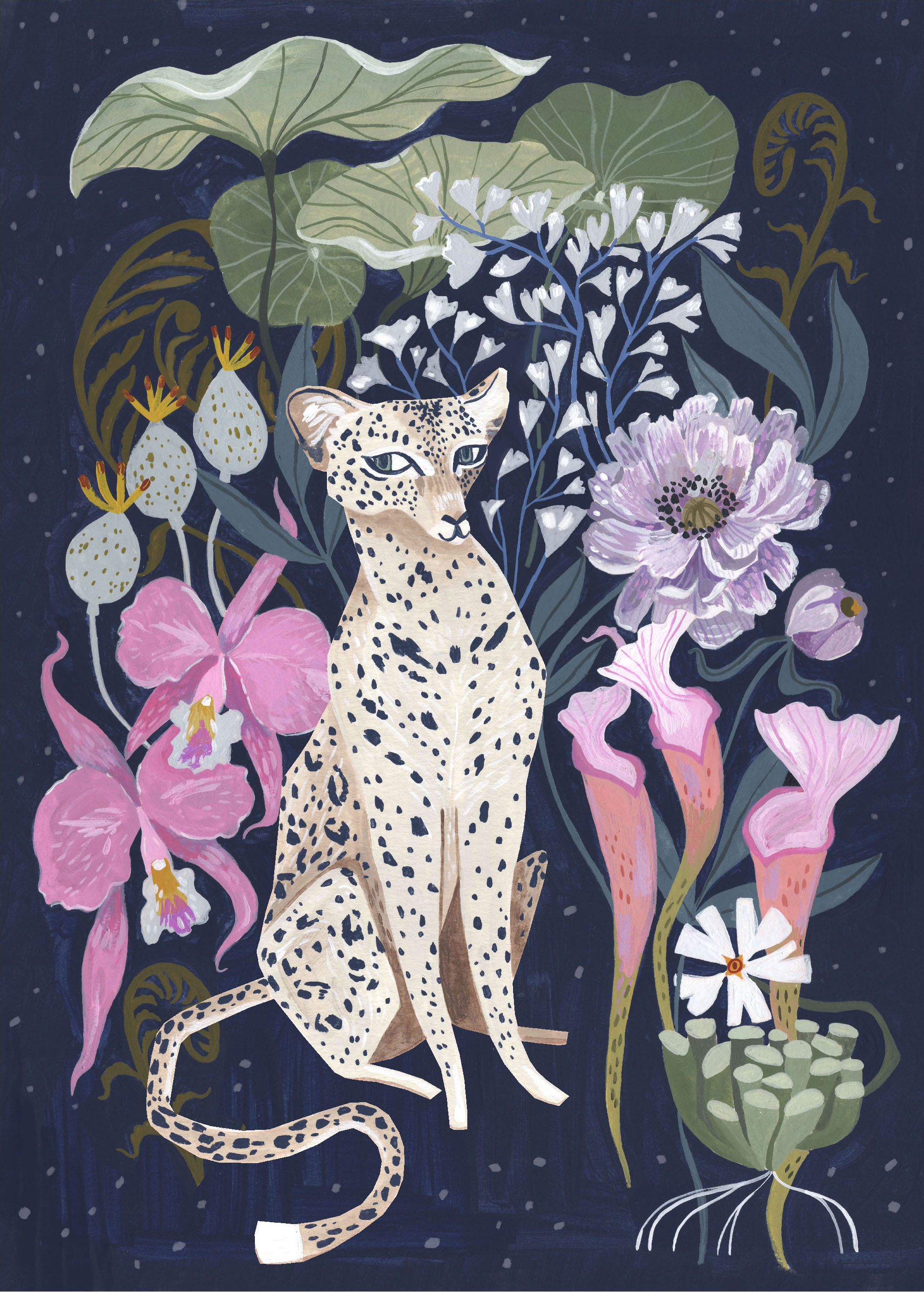 2. Tell us about your aesthetic.
My work is very much based in the natural world, but with a magical underlying layer. I love the occult and humans' need to explain and interpret nature and fate. I often focus in flowers, ferns and star-filled skies, using mostly watercolor and gouache. Mainly, I'm inspired by the lushness of nature, classic children's books and antiques.
3. What is your favourite medium and why?
I'm really into the Acryla gouaches right now. It has a fantastic matte look and is great for layering. I like that it can be watered down like watercolor, then heavy and textural like acrylic - it gives versatility. Also, it dries quite fast! I also really like sketching with Blackwing 602's.
4. What is your artistic process like?
Some ideas just come to me, and other times I really need to work to be inspired. I have a ton of gardening and herb books I often look at for flower references and color inspiration. I also love the decorative arts section at the Minneapolis Institute of Arts and the Russian Museum of Art. Inspiration can come from so many places, you just have to pay attention! I am a planner when it comes to creating work. I always start with a detailed sketch, then trace onto watercolor paper, choose a color palette and get painting. I often do lettering and final touches in Photoshop with my Wacom Cintiq.
5. Who and/or what inspires your work?
When I was a little kid, my dad would read a book to me every night before I went to bed. I think about that time a lot still, and remember the great stories and pictures that shaped who I am as an artist and a person; Mary Blair and Richard Scarry to name a few. I love a lot of kids' movies still; my current favorite: Henry Selick's "Coraline." I love the art direction of that film so much: the mood, the lighting, the colors, a secret magical place to go at night. It's just really inspiring to me! I've always been a fan of the slightly macabre, but still young in nature, like the illustrations of Edward Gorey and Herbert Holzing. Flowers and nature however are my biggest area of inspiration. The fact that there is so much biodiversity in the world reminds me that there is so much to discover in my work and in life.
6. What role does art play in your life? How does it change the way you view the world?
It has definitely made me become more observant and appreciative of nature especially. It's a way of discovering the world and the magic it holds. No matter how ugly the world can be in society, there is always a beautiful underside to all things. Creating art is my way of discovering that for myself, and sharing it with others.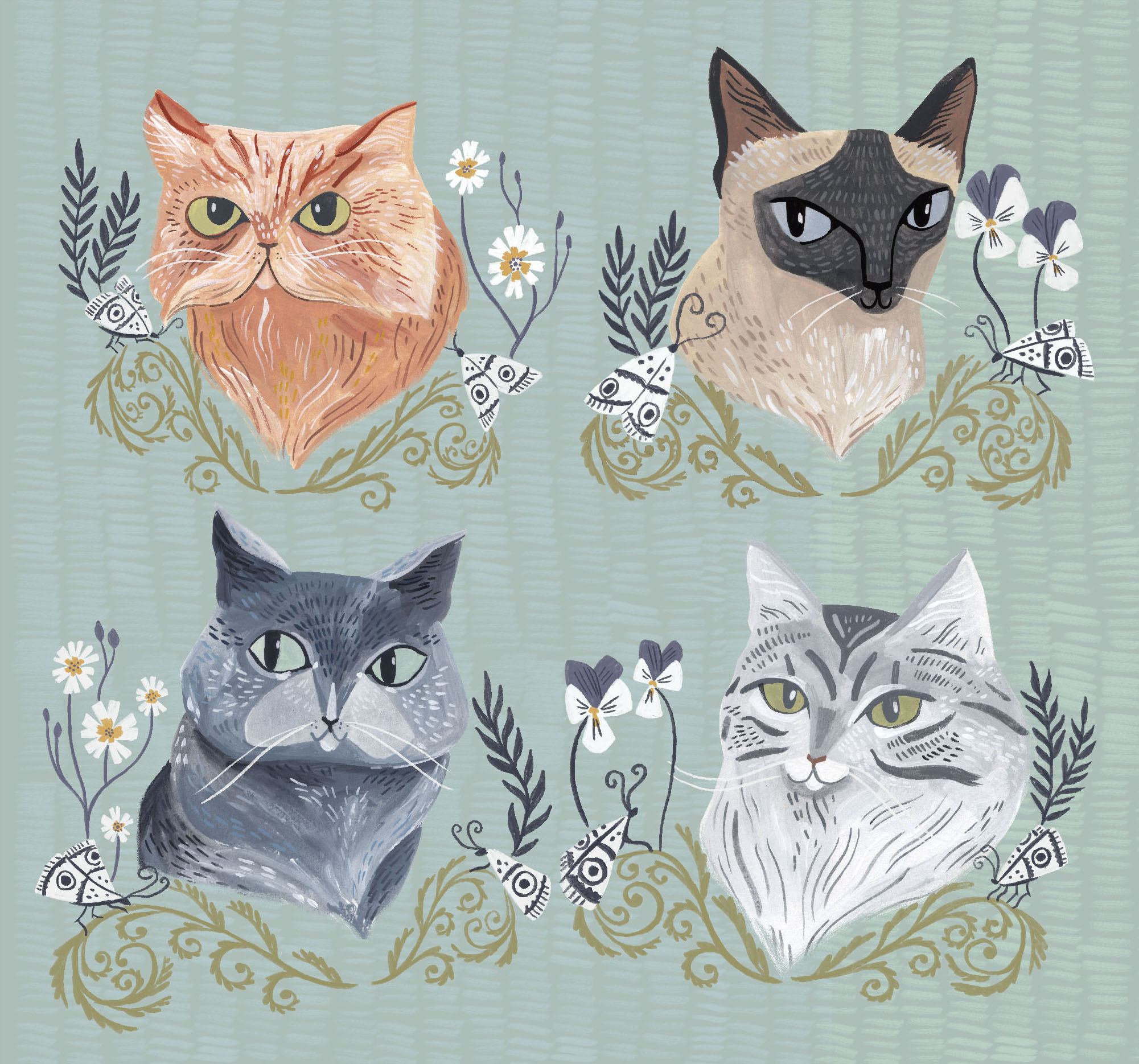 7. Where did you study?
I studied fashion design at the University of Wisconsin - Stout.
8. Where do you see yourself in five years? Working in an agency?
I see myself continuing to make art and enjoying life. I would really like to start working on more publishing/book projects in the coming years, and taking on new illustration challenges!
9. What about in ten?
I think it would be really cool to create more products and my own lifestyle brand. Then I could hire my husband as an employee, haha. He studied printmaking at university, and we've been meaning to collaborate forever! Really though, I love what I'm doing now, and would just love to keep doing it; taking on new projects to grow and expand my skills and practice.
10. What do you hope to achieve with your art?
I hope to share the beauty of the world and spark imaginations. Telling unique stories that resonate with people is really the most rewarding piece in all of this. Communicating in this way is so exciting and I hope to never stop!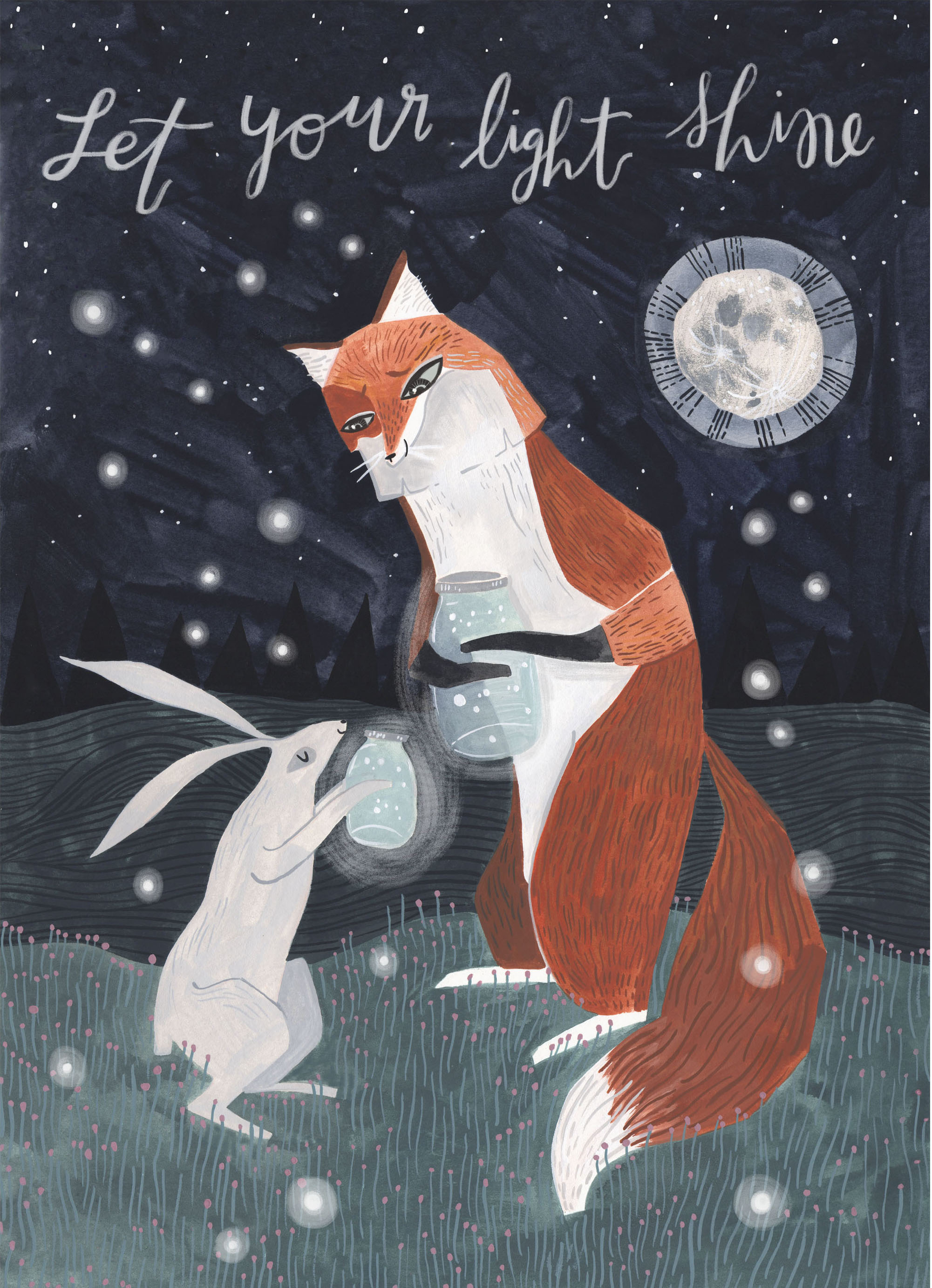 11. Now, tell us a little more about you as a person: what is your favourite food?
I really love Japanese food. The presentation is so beautiful. I was fortunate enough to travel to Asia many times during my fashion career and got to visit Tokyo. I was super inspired by the culture, people and food.
12. Favourite book?
My favorite book is Coraline, and pretty much anything by Neil Gaiman. The book The Alchemist by Paulo Coelho was a big influence to me growing up. I'm also a huge Harry Potter fan!
13. Favourite genre of music?
I listen to a lot of ambient while I work, though I do love indie rock. My current favorites are Chastity Belt and Hazel English. I also am a ginormous Joanna Newsom fan. My husband is a musician and is majorly obsessed with music, so I hear about all the good stuff through him most of the time!
14. What are your hobbies?
Running, biking and gardening - basically spending time in nature. I used to knit a lot, but ended up with way too many sweaters! Maybe I'll pick it up again!
15. If you weren't an artist, what would you be?
I love animals so I'd probably be a vet tech or a "kitty technician." =)