Instagram:
@rafaeldearauj0
Tumblr:
rafaeldearaujo.tumblr.com
Behance:
www.behance.net/rafaeldearaujo
Vimeo:
www.vimeo.com/rafaeldearaujo
1. What's your story? Where are you from?
Hello, I'm originally from Sao Paulo, Brazil, but I'm living in Los Angeles since 2016. I'm an animator and graphic artist working at Buck.tv. Eu sou de São Paulo e moro em Los angeles desde 2016. Eu sou um animador e artista grafico trabalhando na Buck.tv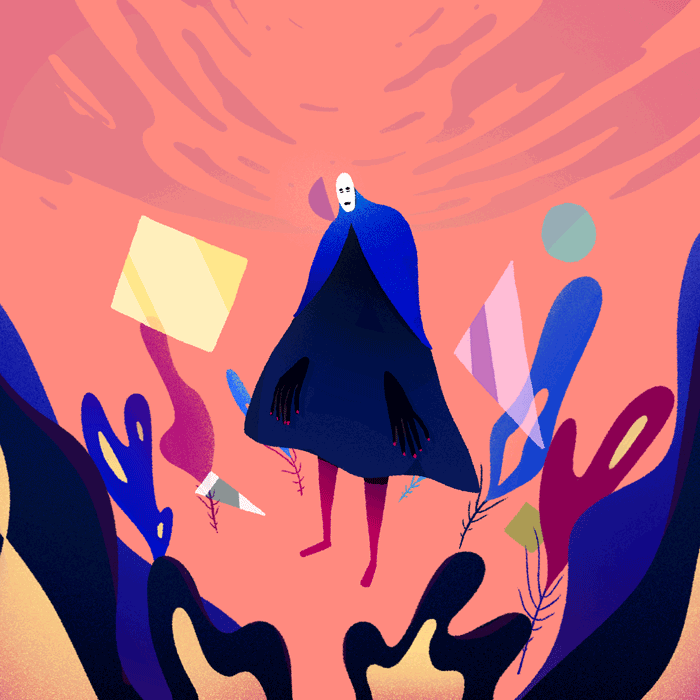 2. Tell us about your aesthetic.
I keep my stuff in 2d, I'm not a 3d guy, so in my work you can see some cel animations, dissolve brushes and flat colors, also I like to do some mysterious characters. Eu mantenho meu trabalho em 2D, eu não sou um cara de 3D, voce pode ver em meu trabalhos alguns cel animations, brushes com texturas, cores flats, e eu tambem gosto de criar personagens misteriosos.
3. What is your favourite medium and why?
Photoshop and After Effects, they are the perfect combination! In PS I use brushes from Kyle T Webster and AE is the best software for motion designers. Photoshop e After Effects, eles são uma combinação perfeita!, no PS eu uso os brushes do Kyle T Webster e o AE pra mim é o melhor software pra motion designer.
4. What is your artistic process like?
For gifs, I always set up the photoshop timeline in 12fps, then I do a rough animation, clean up and final animation. Colors are the final step for me (and usually I spend a lot of time to decide the best one). I'm not the most technical animator in the world haha, so sometimes I animate in a row, without a guide and I keep the mistakes. Para Gifs, eu uso a timeline do photoshop em 12fps, dai eu faco um rascunho da animação, faco o clean up e depois a versão final. Cores eu deixo por ultimo (normalmente eu gasto muito tempo decidindo as melhores cores). Eu não sou o animador mais técnico que existe haha, então algumas vezes eu animo direto, sem nenhum guia, dai mantenho os defeitos.
5. Who and/or what inspires your work?
Current of what inspires me is some random artists from Tumblr, the game dark souls, movies from miyazaki and naruto haha, but the list is huge, the people who work with me at Buck they are awesome, also I love the work from studios like Giant Ant, Oddfellows, Goldenwolf and artists like Alphonse Mucha, Banksy, etc. Atualmente o que me inspira são alguns artistas aleatorios do Tumblr, o jogo Dark Souls, filmes do Miyazaki e Naruto haha, mas a lista é grande, as pessoas que trabalham comigo na Buck são incríveis, eu tambem gosto dos trabalhos de estudios como Giant Ant, Oddfellows, Goldenwolf e artistas como Alphonse Mucha, Banksy, etc.
6. What role does art play in your life? How does it change the way you view the world?
Is simple but I think the role in my life is keep me inspired, then I create this gifs, illustrations, and this inspire other people, it is a connection. Not sure if this change my way to see the world, but this unexpected power of motivate other people to do something via art, this is pretty cool. é simples mas eu acho que a função é me manter inspirado, dai eu crio esses gifs e ilustrações, e isso inspira outras pessoas, é uma conexão. Não acho que muda meu modo de ver o mundo, mas esse poder inesperado de motivar outras pessoas a fazerem algo através da arte, é muito legal.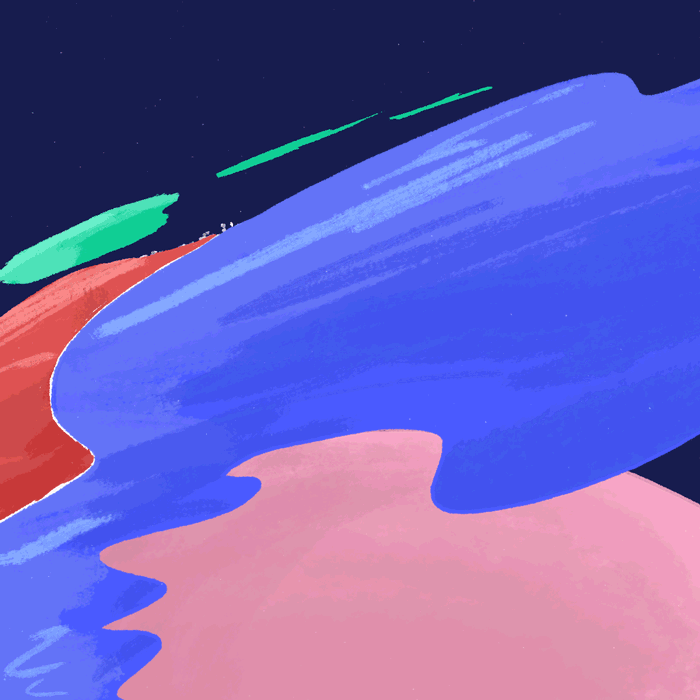 7. Where did you study?
I studied Graphic Design and Motion Design in 2 different places in Sao Paulo, Brazil. Estudei Design Grafico e Motion Design em 2 lugares diferentes em São Paulo, Brasil.
8. Where do you see yourself in five years?
Hard question, maybe going back to Brazil and be a pro in rock climbing. Questão difícil, talvez voltando para o Brasil e ser um escalador profissional.
9. What about in ten?
Running my own business, rounded of lovely people and super happy. Cuidando do meu negocio, cercado de pessoas amaveis e super feliz.
10. What do you hope to achieve with your art?
Would be nice do a short movie, is something that I'm always thinking about, and inspire some people with that. Seria legal ter um curta metragem, é algo que eu sempre penso a respeito, e inspirar algumas pessoas com isso.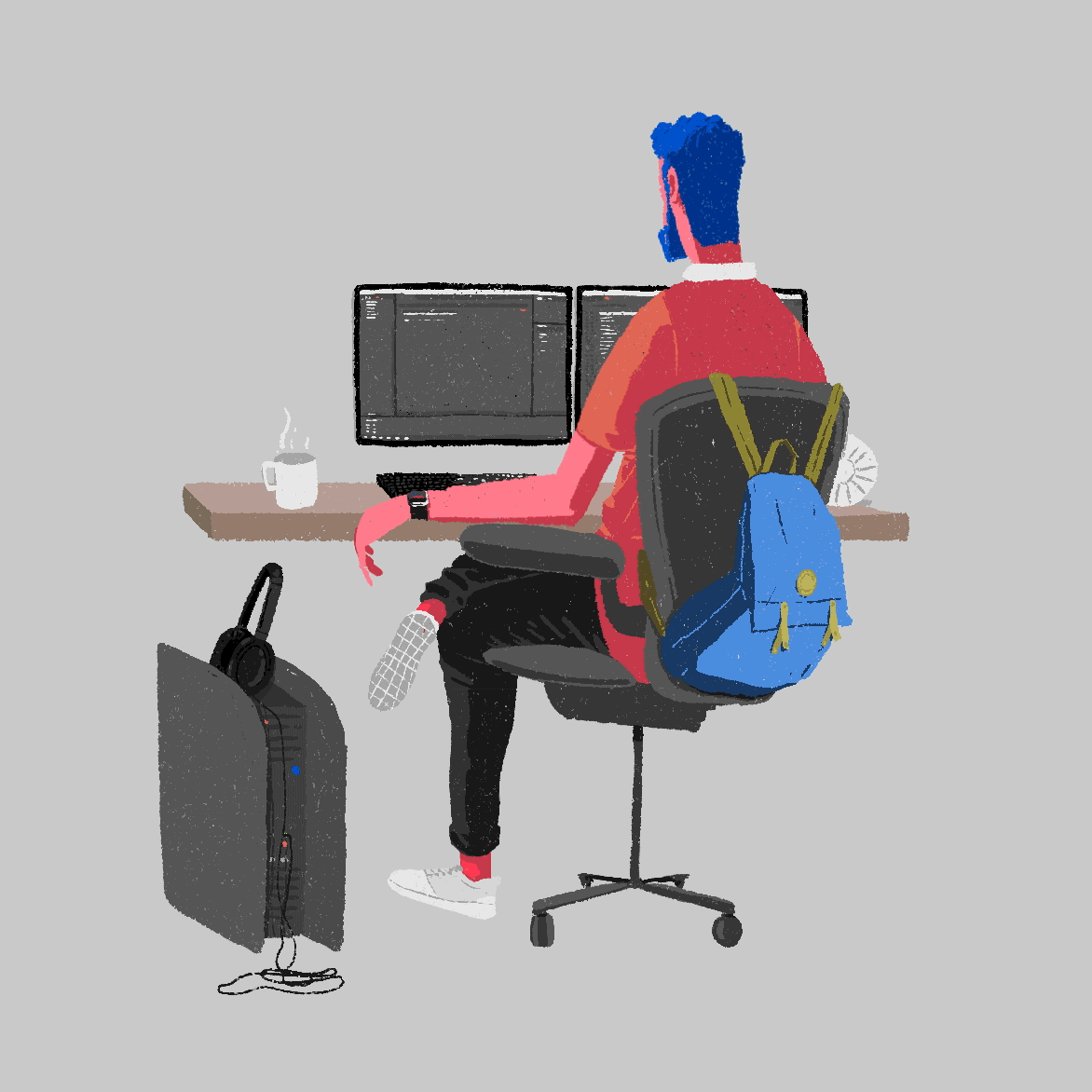 11. Now, tell us a little more about you as a person: what is your favourite food?
Hmm probably Japanese food, but maybe spaghetti, or pizza, or watermelon. Humm provavelmente comida japonesa, talvez macarrão, ou pizza, ou melancia.
12. Favourite book?
The Star Rover, Jack London. Andarilho das estrelas, Jack London.
13. Favourite genre of music?
Electronic, hiphop and rock.
14. What are your hobbies?
Boulder climbing, watch some TV shows, sometimes play board games and sometimes play Mario kart or street fighter. Escalada, assistir algumas séries, de vez em quando jogar algum jogo de tabuleiro, jogar mario kart ou street fighter.
15. If you weren't an artist, what would you be?
Maybe I would try be a professional in some random sports and try the Olympics games hahah, would be nice have an Olympic medal :D Talvez eu tentaria ser um profissional em algum esporte aleatorio e tentar jogar nas Olimpiadas, ia ser legal ter uma medalha olimpica :D