Instagram:
@ralph_zabel
Tumblr:
ralphzabel.tumblr.com
Tictail:
ralphzabel.tictail.com
Website:
www.ralphzabel.com
1. What's your story? Where are you from?
Hi, I'm Ralph and I'm a Dutch illustrator based in the beautiful Utrecht, where I'm wondering if I'd rather like to live in a camper or on a boat for a while. I started drawing when I was around 10 years old and basically never stopped. The small town I grew up in never really felt mine. So if I wasn't visiting friends in other towns, I was always drawing at home to explore my own imagination. As soon as I understood that drawing can be a profession, going to art school was all I wanted. There, for me, illustration evolved into the most honest way to express inspiration, awe and context. Since I graduated a few years ago I took the time to dive more into history, philosophy and social issues. While at the same time looking to tie these to my own works and see how I can add and reflect on the things I'm passionate about. Slowly but surely I'm establishing myself as an illustrator working fulltime on commissions and personal projects.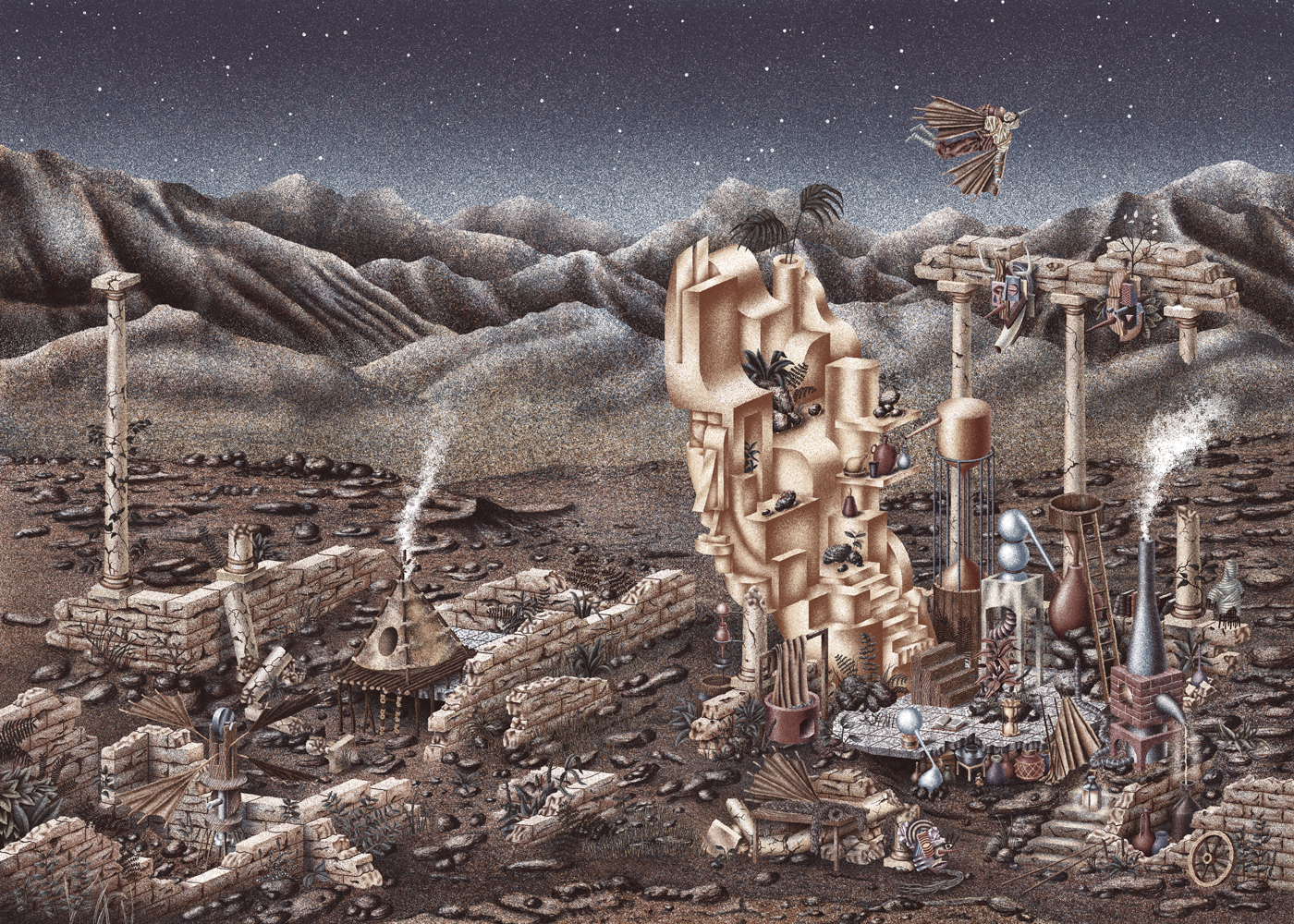 2. Tell us about your aesthetic.
My work depicts a lot of surreal scenery where I blend architectural forms, human shapes, nature and different objects together in one illustration. This often results in odd things I haven't seen outside my head. Working this way allows me to illustrate on a certain subject and also express my appreciation for the beauty of the things around me. Textures, patterns, shapes, forms and the stuff you can come up with by using your imagination on them. With bringing these ideas into my work, I mean to add something unusual and personal to the story and still be well serving to the subject. Hopefully my work evokes a little bit of awe and appreciation for the same things with my audience as well. Working with a lot of detail is maybe an underline of my appreciation, or just the result of an obsessive mind. I like to work with earthly colours to give it something natural.
3. What is your favourite medium and why?
My favourite medium is probably Japanese woodblock printing. I have endless admiration and respect for this complex technique and the classic artists like Hokusai, Hasui Kawase and others who worked with it. The precision of how they carved and added colour is just mind blowing to me. The colour shades and textures from the wood that come along with this technique are very unique and beautiful. I tried it a few times but I have been holding it off for a while now because it's so time consuming and difficult. Past summer I started etching with some etching veterans. Also a very honest, time consuming, but beautiful process! I liked it a lot and suits my style well I'd say, so I'll probably set this forth on some personal projects in the future. The main technique I use is combining analog drawing and add colours to it digitally in different layers. The colour palette I use is mostly limited to four, plus their overlapping tones, used creatively with lines and texturing to create an optical variety of shades and tones. A lot of detail and depth can come out of it. The final result is always a digital illustration, but ready to screen print or riso. The balance between working analog or digitally varies all the time. Lately it's been more digital but that might always change.
4. What is your artistic process like?
When I need to concentrate, for example when I'm sketching or writing to develop new ideas, I often have soft or quiet music on and my phone on silent. Folk or classical music usually does the trick. This phase means either a lot of sketching or daydreaming. Sometimes, while doing the latter, I find myself standing on my desk or jumping from chair to chair like the floor is lava. When it comes to more production work where my mind can be at ease, the music changes to more upbeat and soulful stuff and the podcasts and audiobooks come along also. Podcasts and audiobooks make me work and learn at the same time. I really enjoy that. When a piece is done, it's often celebration time, meaning party, a beer in the park or ice cream.
5. Who and/or what inspires your work?
Everything around me can be inspiration for creating something new. I'm sure amazing work can be made about a bicycle bell, though it might need some time and thought to make it 'amazing'. Finding new concepts in daily objects and routines is something I challenge myself with for a few years now. It just seems never-ending fuel for ideas. Lately I've been inspired by classical architecture and old ruins. I look a lot at classical painters and how these old masters structured their work and implemented symbols. Also looking at modern sculptural works, dance and theatre can be very refreshing. The context for my work comes out of everything I come across with in everyday life. Influenced by reading, listening, connecting, learning and living.
6. What role does art play in your life? How does it change the way you view the world?
Art has become such an obvious and therefore such an important part of who I am. When I'm not drawing myself, I'm constantly looking out to be enriched by new ideas and perspectives. Even when I'm not aware of doing it. Diving into art triggers my ability to relate to objects, stories, news and more. It strengthens my ability to empathize. Expressing myself through art is like an expedition to discover more about myself and my imagination. This wonderful endless pit of ideas and possibilities that art is, available all around us, can be viewed as an assurance for hope. Hope that there is will to reflect, to learn and to change. Freedom can be measured by it and only in a perfect world will it become unnecessary.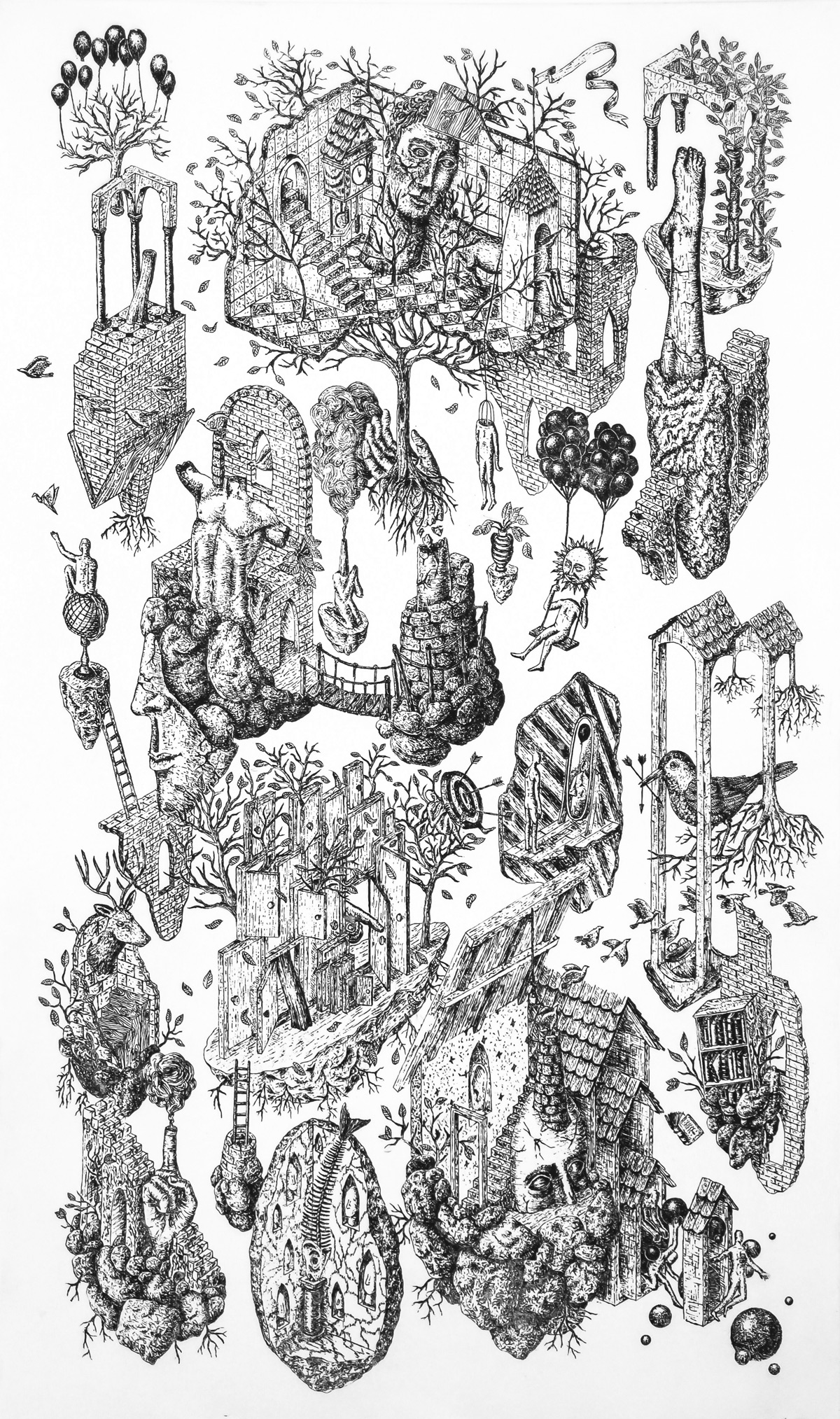 7. Where did you study?
At the University of the Arts Utrecht. I started off studying Graphic Design soon after high school, but quickly switched to Illustration after a few months. There I felt more freedom to work with concepts and expressing myself. These were very intense, unique en fruitful years to develop myself in an environment surrounded by passionate, inspiring and hard working students.
8. Where do you see yourself in five years? Working in an agency?
In five years I'll be fulltime active as an illustrator, working on cool commissions and personal projects. Hopefully a little bit wiser also. I like to work independent at the moment. But I I'm open to working for an agency in the future.
9. What about in ten?
Ten years are far away but if the world still allows me to draw, I will draw. Maybe living in a nice old house on the countryside, hopefully having found a good balance between commissioned work, personal work, studying and other fun life things. It would also be nice to know by then if I liked the camper or the boat better.
10. What do you hope to achieve with your art?
I hope to evoke a sense of wonder and awe with my audience. Like I mentioned before, a lot of my work is inspired by looking at everyday objects, functions, patterns and routines. There is an urge in me to make these interesting once more. With that, hopefully my work can serve as a tribute to the use of the imagination. Showing how much fun, refreshing and helpful it can be to use it in everyday life. Furthermore my work may serve as visual assistance to addressing social and political issues and also assist new progressive and philosophical ideas and thoughts on how to live.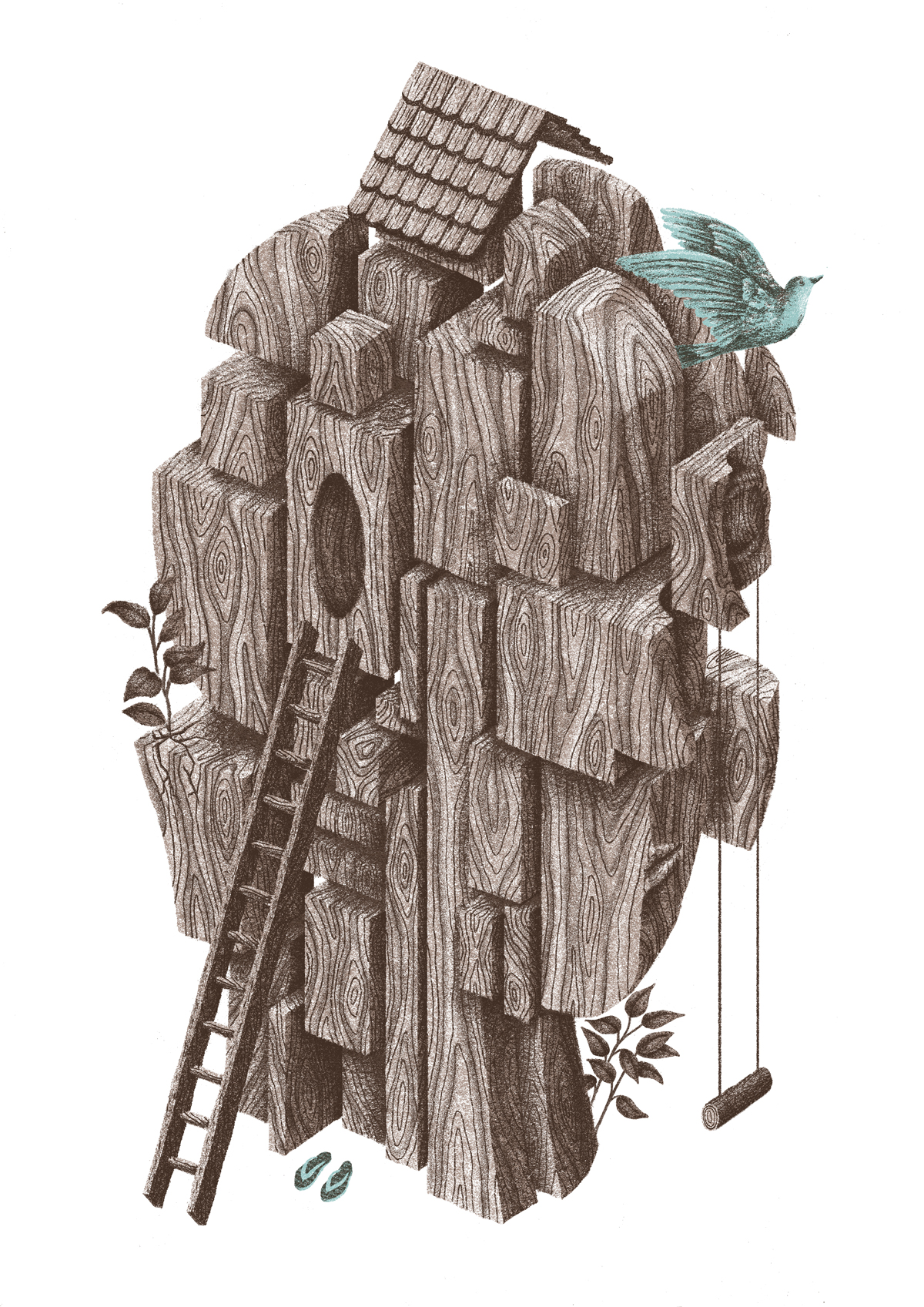 11. Now, tell us a little more about you as a person: what is your favourite food?
I really like Thai and Indian food. I can still feel joy a week after I ate a good curry. Also banana pancakes and melon flavoured Italian ice cream make me happy.
12. Favourite book?
There are too many good books to pick a favourite. Ishmael by Daniel Quinn, Invisible Cities by Italo Calvino and the Codex Seraphinianus by Luigi Serafini come to mind. All are works of art in their own way.
13. Favourite genre of music?
I mostly listen to indie, folk, and post-rock music. Electronical, hip hop, classical and metal come along also.
14. What are your hobbies?
I love sailing and anything else involving boats and houses on water. The best thing I did was making a short journey by raft through the Dutch countryside. It went very slow, which was nice. I like to cycle. So much that I did a Europtrip by bicycle with a friend. Very intense but amazing experience! I like to learn new things, studying basically, by reading, attending lectures or by going to theatre and musea. I like to discover new cities by searching for their hidden amazing graffiti works. And hiking or just disappear in nature for a while makes me happy and find balance. And arcade games are fun!
15. If you weren't an artist, what would you be?
Then I'd either be dead or still be an artist. Living and working by heart and passion that is genuinely yours, makes you an artist in my opinion. If I wouldn't be in the creative industry I'd probably be studying about sustainable agriculture, studying about alternative ways to live (together), become a polyglot, a habitant of Damanhur and do teaching/coaching. Maybe someday I'll still do all that.