Instagram:
@ray.domz
Website:
www.rayillo.com
1. What's your story? Where are you from?
I come from a small family, just me and my older sister. I grew up outside of Detroit - where I still live today. My parents did a really great job of exposing my sister and I to a lot of different things when we were younger. We were encouraged to explore art and the world around us through travel and adventure trips. My earliest memory of making art was in Art and Story Hour - a preschool class my mom signed me up for.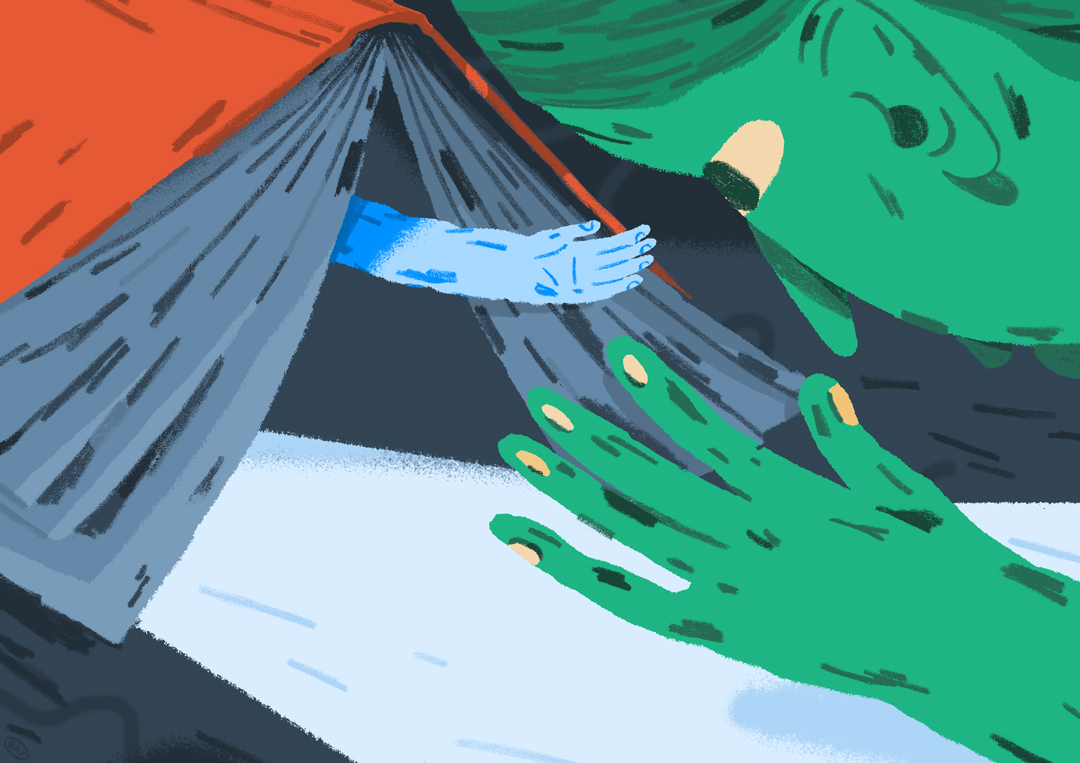 2. Tell us about your aesthetic.
My aesthetic is built on my trust in my skills and my desire to let my brain wander. While I admire artists that have perfected more realistic, or representational styles, I am more interested in allowing my brain to go where it wants to and letting my technical skills do the lifting. It results in something of a looser, less refined look and feel. Having spent 4 years at art school, I learned all of the 'right' ways to do things but at the end of the day I left feeling like just another person who could do all the same things any "artist" could. I've never wanted that. I wanted a voice. So I decided I had to let some of those things go and just learn to trust myself. It turns out my 'self' is a little less polished, and prefers something more visceral.
3. What is your favourite medium and why?
Dry media & digital, without a doubt. I've spent the better part of my journey trying to force painting as a viable way to make my work but within the past 2 years have accepted the fact that, for me, it's not the tool for me. Dry media and digital tools allow me to be quick, to be loose and to adapt to pieces as I make them. I still keep a painted piece on the easel in my studio throughout the year, but I'm down to completing 1-2 of those paintings per year.
4. What is your artistic process like?
It's a work in progress, but it goes something like this: Step 1: wander through ideas Step 2: start drawing Step 3: add more layers Step 4: add even more layers Step 5: question everything Step 6: add color Step 7: be happy!
5. Who and/or what inspires your work?
When I was younger my sister helped me see things that other kids my age didn't see. She's 8 years older than me so when I was really young, she was watching things like Beavis & Butthead and Ren & Stimpy - I used to stay up late with her to watch these cartoons and a lot of that stuck with me. I grew out of the humor a long time ago but the aesthetic is still something I love. The other side of me loves the art that nature creates and the way that different plants and animals adapt to their world to become a part of it. When I am working on something where I may have two objects, or colors that don't "go together" or a composition that just doesn't feel "right" I think about nature and how things can be made to work together, you just have to make it happen. Lastly, having kids has really inspired me in a way I did not think it would. My little ones have taught me to just get on with it. When my older son draws, he just goes for it, he doesn't have any preconceived ideas about what to draw or how to draw it. That's incredibly inspiring to watch. I want to bring that spontaneity to my work!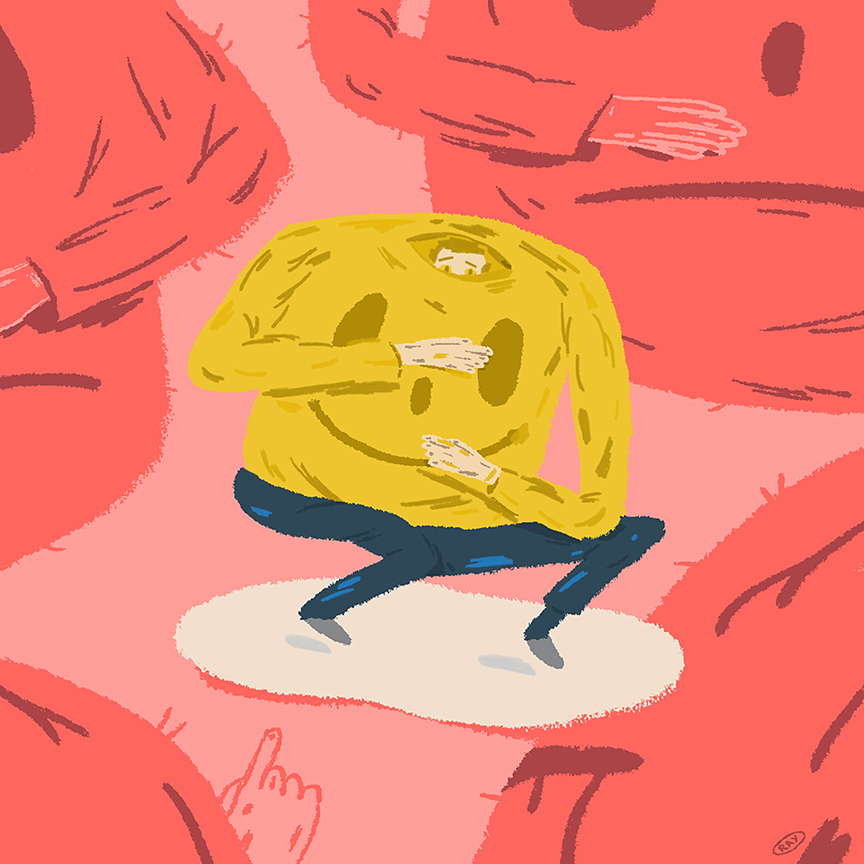 6. What role does art play in your life? How does it change the way you view the world?
Art is a cornerstone for me, it's what I always come back to. I can't say specifically that it has changed the way I view the world but I will say that it is very comforting to be able to connect with people on the other side of the world who despite language, location and history, can come together around art. It gives me hope for the world.
7. Where did you study?
The College for Creative Studies in Detroit.
8. Where do you see yourself in five years?
Well, I've got two little ones and in five years I'll hopefully be helping them both envision their own world through art.
9. What about in ten?
Still trying to figure it all out!
10. What do you hope to achieve with your art?
Just to complete it! I want to become more successful as an editorial illustrator but in my heart I am ok with making art for myself. That's the reason we all make art in the first place and to top it all off, I am my favorite client!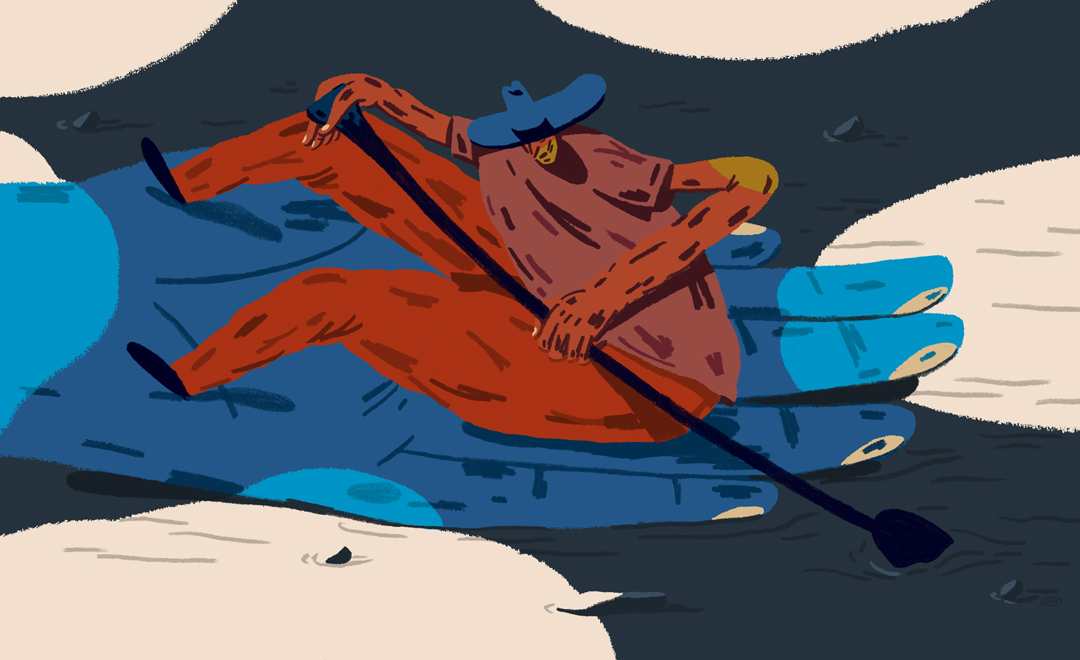 11. Now, tell us a little more about you as a person: what is your favourite food?
Oh...oh boy. This will likely change between writing it and publishing it but here we go: Thai food
12. Favourite book?
The Stranger by Albert Camus
13. Favourite genre of music?
When I'm sitting at my desk working it's jazz, hiphop in a language I do not know or some funky stuff. It's all over the board really. If I sent you my Spotify playlists you would think it was 10 different people sharing an account.
14. What are your hobbies?
Bonsai, playing guitar, fixing up my house (it never ends!)
15. If you weren't an artist, what would you be?</h3>
This is a tough one, context is important. Have I lost a crucial limb? Or do I not have the skills? At any rate - I think I would be a gardener, or landscape designer. Something where I get to be outside every day and get my hands dirty.