Instagram:
@reformfibers
Website:
www.reformfibers.com
1. What's your story? Where are you from?
I am a Fiber Artist, wife and mother of two girls and am based in Chino Hills, CA. I focus on Macrame and discovered it in July of 2015 after searching for a creative outlet to help to keep my mind busy and challenged. I am a stay-at-home-mom with 15 years experience in the apparel industry. After having my first daughter, 5 years ago, it was best for our family to stay home, but a total culture shock and I learned that I needed something to keep me focused and in tune with adults. Reform Fibers was born out of a necessity for me and I have made it my mission to encourage others to work with their hands, explore their creativity and challenge their minds. I want to make it easy for others and love sharing my secrets and resources. I also Knit, Crochet, and do Needle Punch.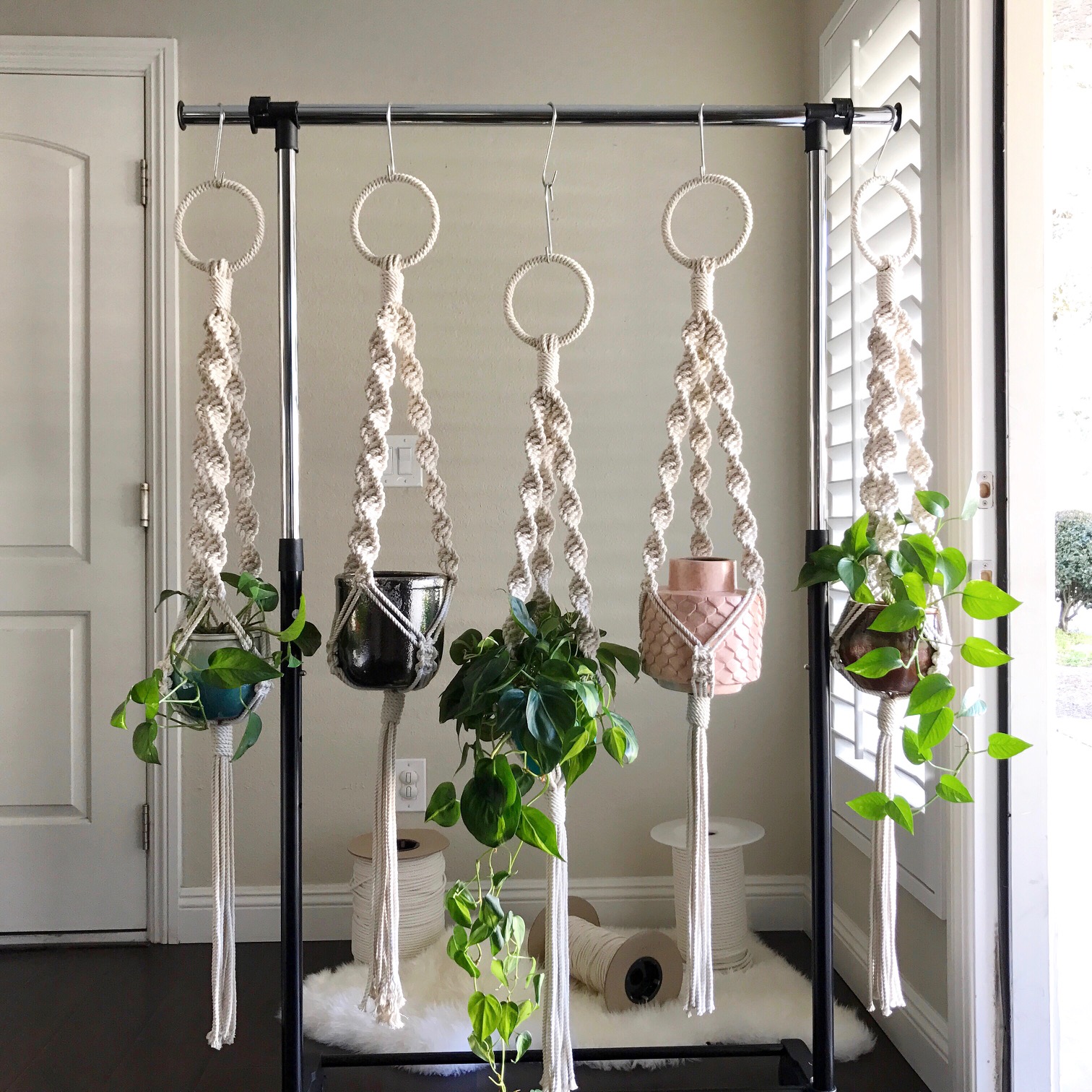 2. Tell us about your aesthetic.
I love clean, simple and structured designs. I like working with natural colored 100% cotton rope and metals, but appreciate color, driftwood and all natural elements.
3. What is your favourite medium and why?
Macrame, all day, because projects work up fast!
4. What is your artistic process like?
I just make and take notes along the way. Through experience, I know how to measure rope and I always test ideas before I cut all of the pieces. Rarely does a piece go 100% as planned and so there is always a lot of unknotting, but I chalk it up as learning. I like pieces to be balanced and so that is where I sometimes run into issues, but I will knot and unknot and knot again until I feel that it is just right.
5. Who and/or what inspires your work?
Everything inspires me, my family, my home, natural elements, the beach, nature, pop culture, Interiors. I see pattern everywhere I look and I often take notes in my head.
6. What role does art play in your life? How does it change the way you view the world?
Art is everything to me. Through my challenge of being a stay at home mom I learned that Art is Therapy, it helps me figure things out, to connect the dots in my life and it has given me purpose.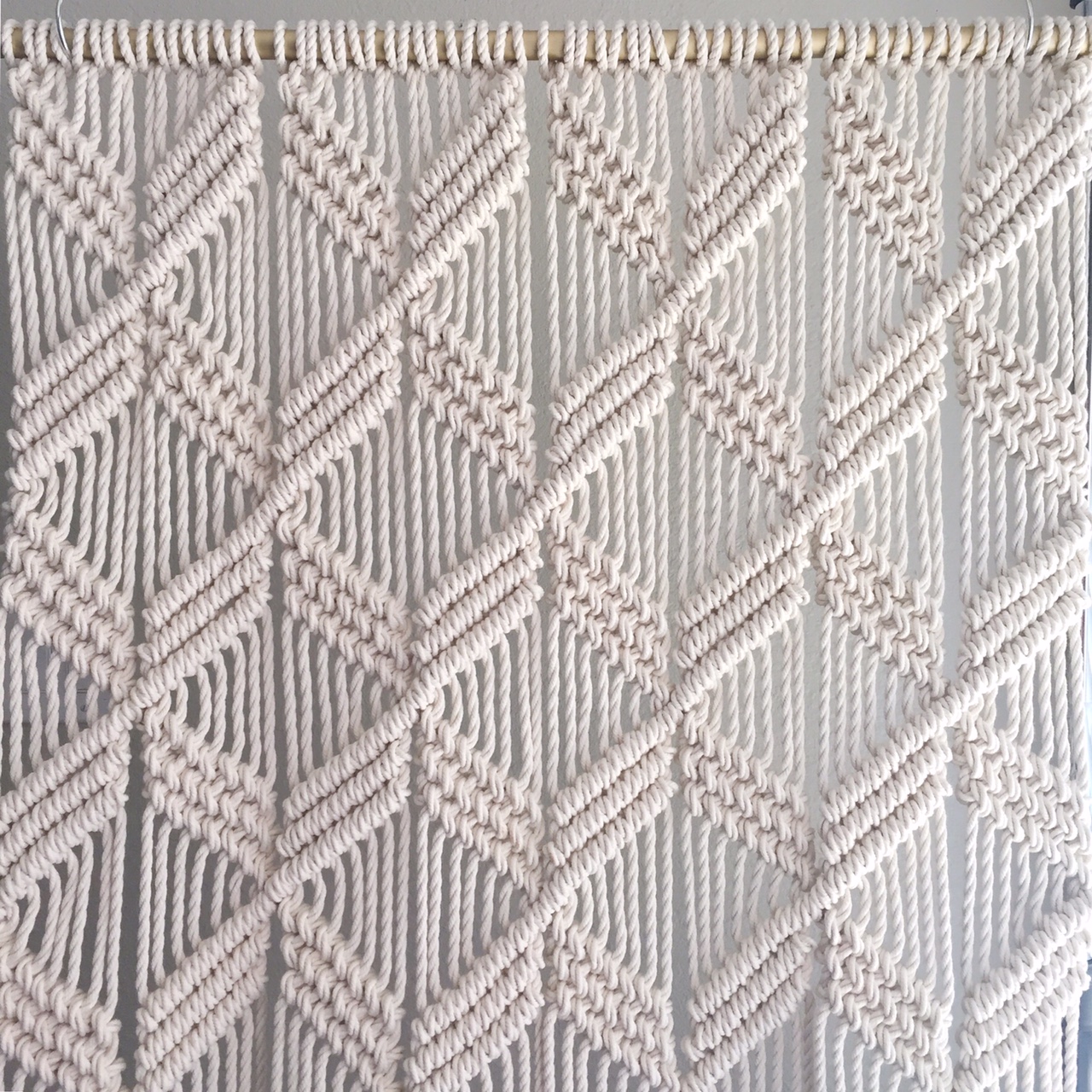 7. Where did you study?
I studied on Planet Earth and I am a lifelong learner. I did not go to an Art School, but I love Fiber Art and have Knit and Crocheted for 20 years and I see so much value in that. I study all the time and am always in some sort of fiber class that can help me grow and learn and I adapt that into every part of my life.
8. Where do you see yourself in five years?
I have no clue. I am a dreamer and as much as I am enjoying this Macrame Journey, I often dream of ways that I can share more of my professional experience and expertise. I currently have 10 creative ideas in my head that could lead me down a new road. I like the idea of a business built around family, it's something that I am passionate about.
9. What about in ten?
Enjoying the fruits of my labor for the hustle that I put in for the last 10 years. I will have daughters that are 13 and 15, so yeah, that too. A business owner, wife and mother to teenage daughters...wow.
10. What do you hope to achieve with your art?
With my Art I hope to inspire, encourage and make accessible. For others to feel comfortable exploring their own creativity and welcome them to make mistakes and learn along the way.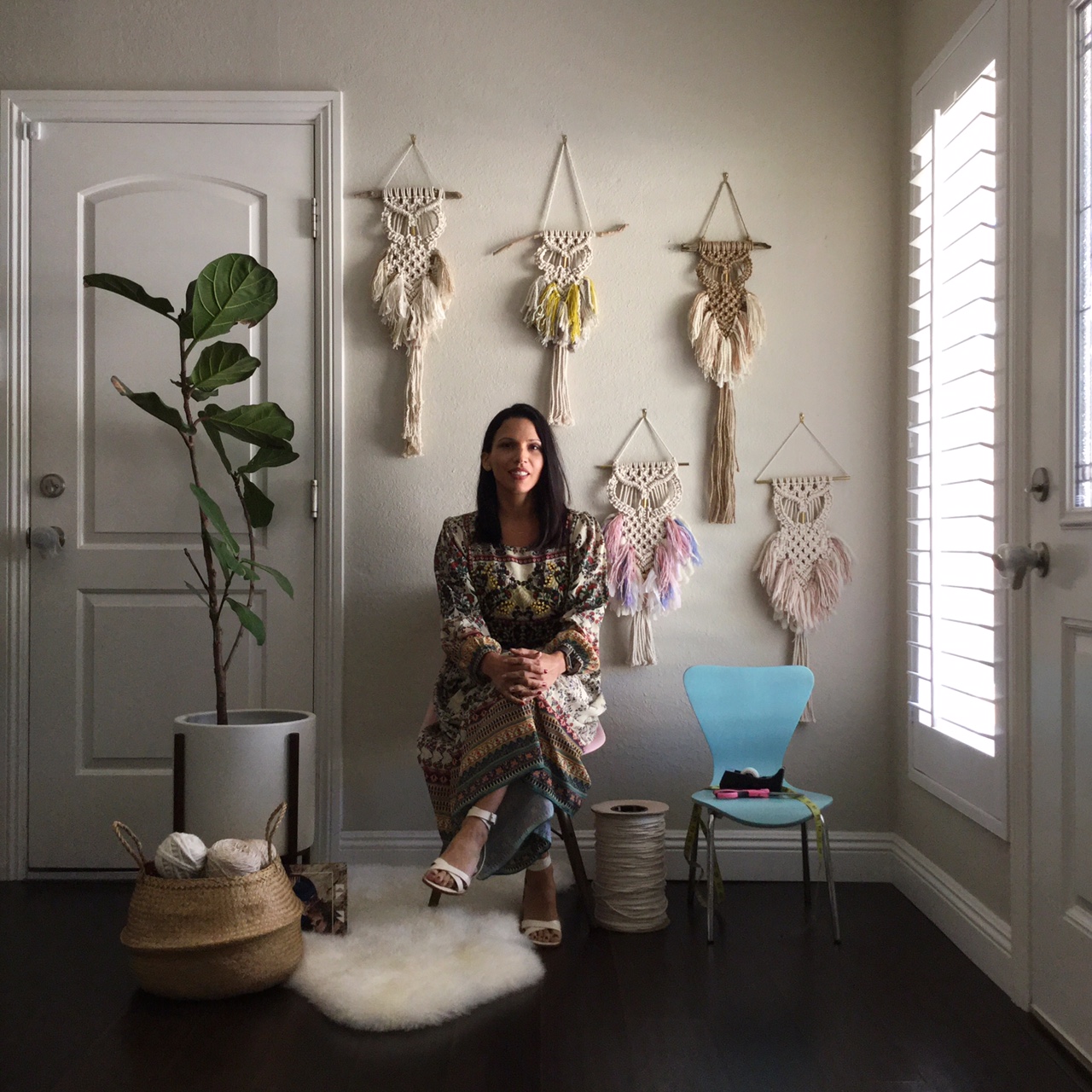 11. Now, tell us a little more about you as a person: what is your favourite food?
Oooh, thats tough. If I had to choose I would say Chips and French Fries. So Potatoes, give me a potato in any form and I am a happy girl.
12. Favourite book?
I don't read books, but i devour creative magazines like Frankie or Knit Wit.
13. Favourite genre of music?
All but country.
14. What are your hobbies?
Right now it's needle punch and walking around new neighborhoods, visiting coffee shops and window shopping.
15. If you weren't an artist, what would you be?
I am everything that I want to be all at once. Not just an artist, but a Stay-at-home-mom, teacher, wife and friend. I pride myself in every aspect of my life and try to be the best that I can be, to learn, to grow, to progress and to be a kind and intentional human. Thank you to anyone who has read this the whole way through. You are rad, yes you!