Instagram:
@ricardilus
Facebook:
www.facebook.com/ricardilus
1. What's your story? Where are you from?
My name is Ricard López and I'm from Barcelona, Spain. I am 21 years old and think I that I was born with a pencil in the hand because since I was a small child I'm in love with drawing. I remember that, when I was three years old, when I was returning of the zoo with my mother we used to draw all the animals that we had seen. In spite of that, a little more than a year ago that I "dedicated" 100% to the world of illustration.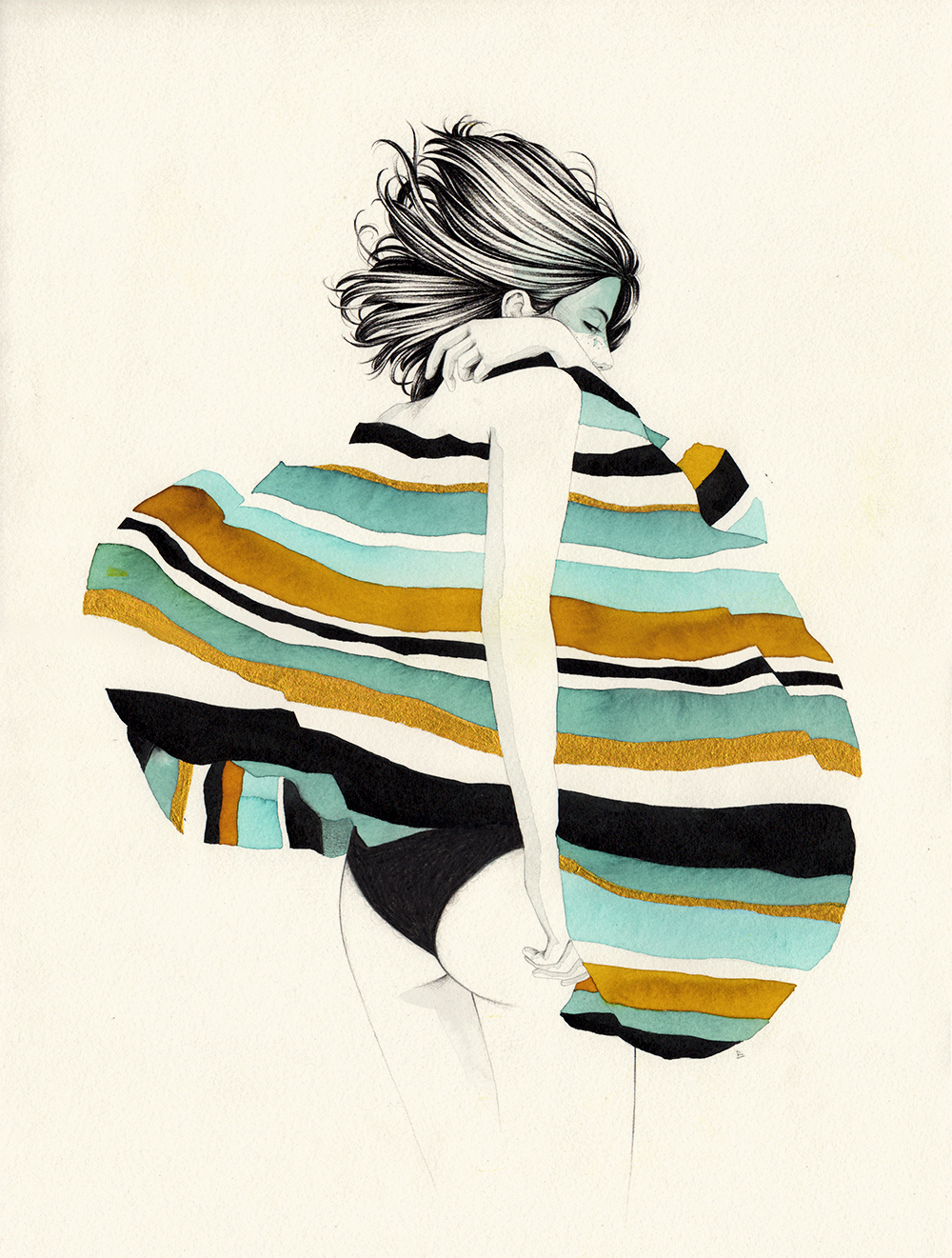 2. Tell us about your aesthetic.
My work revolves around the female figure and the imaginary. I love the sensitivity that the woman transmits and everything that has to do with fantasy. Little by little I am joining the two concepts in my paintings.
3. What is your favourite medium and why?
The medium with which I have always felt more comfortable is the pencil, and, for color, watercolor. Anyway, I have recently discovered the amazing world of Photoshop, and now I work quite digitally.
4. What is your artistic process like?
I always start with the pencil drawing. The next step is to color it with watercolor. I'm rather fearful about staining the paper (although little by little I care less about "error"), so I often scan the drawing and color it digitally with my watercolor brushes.
5. Who and/or what inspires your work?
I have always had a very clear reference, the great Conrad Roset. I am passionate about his work. Anyway, I am inspired by thousands of more artists like Gabriel Moreno, Ali Cavanaugh, Agnes Cecile, Marcos Beccari .. and some more classics like Egon Schiele and Klimt.
6. What role does art play in your life? How does it change the way you view the world?
Art occupies 100% of my time. When I'm not drawing I'm in some gallery, and when I'm not in a gallery I'm in some masterclass .. and, of course, I also have a social life and I love going to have some beer with my friends. For the second question, I remember that once a teacher told me that "when you walk down the street you should not look at the ground, raise your head and look at the views". Since always I analyse everything I see and use it as a reference for my works .. I could say that art is my way of seeing the world.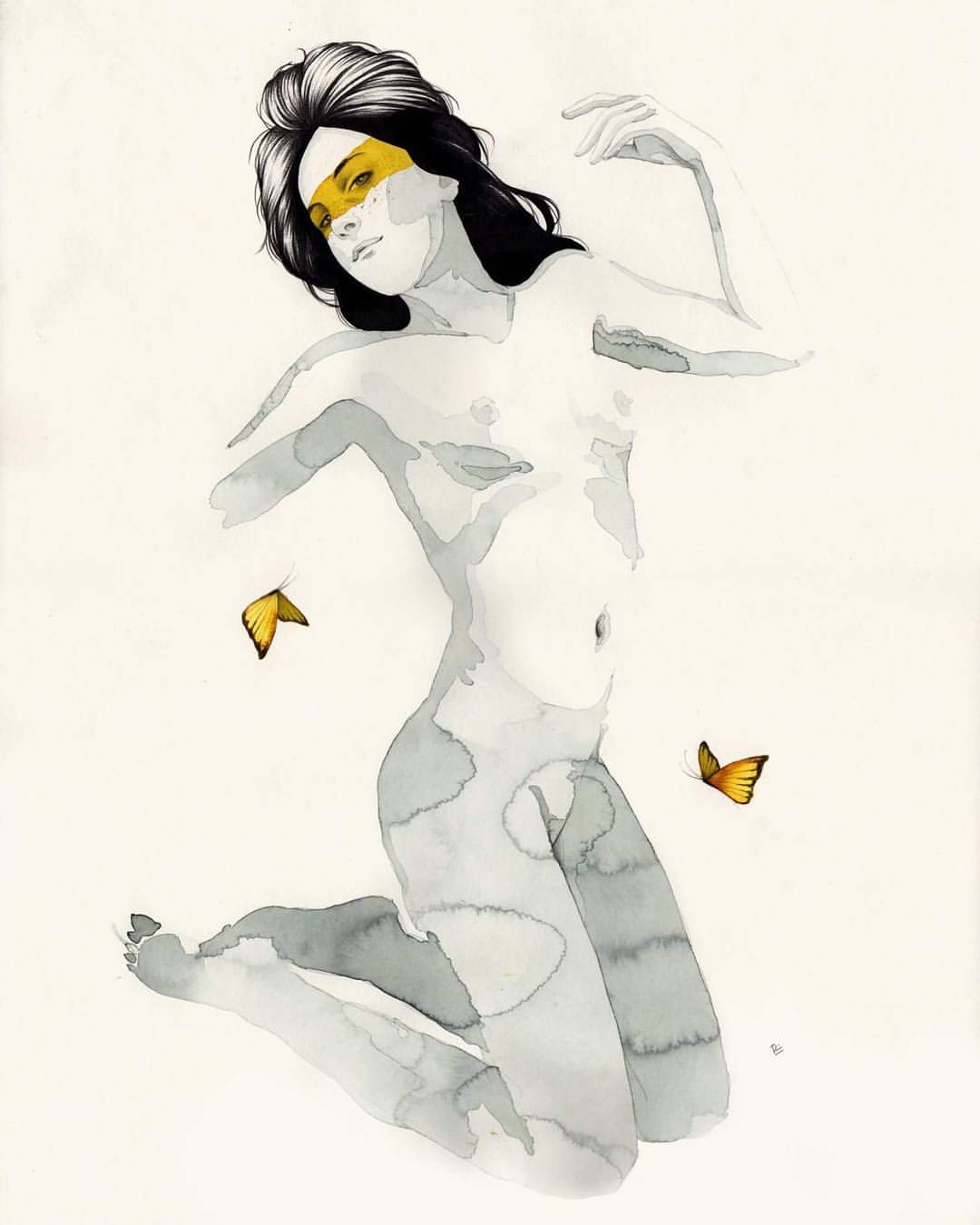 7. Where did you study?
I studied Fine Arts at the University of Barcelona, but I left it in the first course. Then I started a Higher Degree of Animation and 3D since it had always caught my attention. As a final project, I made an animated short film with the Stop-Motion technique called "La Folie". Due to its great success, I presented it in several festivals (in which it still continues winning some prize). Once I finished the course I realized that what I really love is illustration, so I started to study Graphic Art at Escola Joso in Barcelona, where I am currently in the 4th year.
8. Where do you see yourself in five years? Working in an agency?
In five years I do not want to be in an agency. I would love to live as a freelancer doing projects of all kinds, be it books, covers, commissions ... and always having time for my personal work, exposing and selling works in galleries.
9. What about in ten?
Sincerely .. same as in the previous question.
10. What do you hope to achieve with your art?
In Spanish you say "dejar huella". It's like doing something to be remembered.
11. Now, tell us a little more about you as a person: what is your favourite food?
Vegetables. I love everything that comes from the earth .. except the mushrooms.
12. Favourite book?
"The city of beasts", by Isabel Allende.
13. Favourite genre of music?
Acoustic. I love the music of Glen Hansard. Although to work I listen to classical music or jazz.
14. What are your hobbies?
I love movies, playing the guitar and hanging out with friends.
15. If you weren't an artist, what would you be?
Astronaut or president of the moon.