Instagram:
@ricardocavolo
Website:
www.ricardocavolo.com
1. What's your story? Where are you from?
I come from Salamanca (Spain). My story is funny because I'm not gypsy, but I was living with gypsies until I was a teenager. That made my life much interesting, definitely.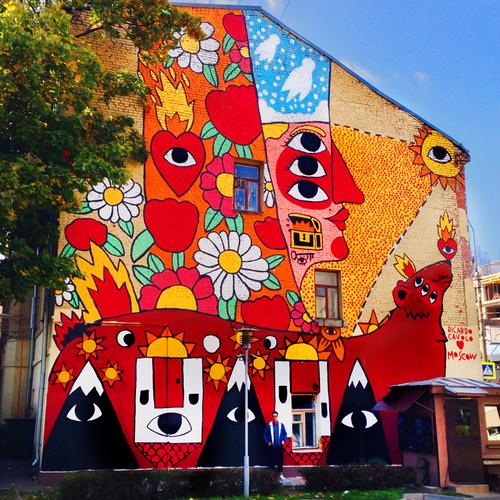 2. Tell us about your aesthetic.
I think it can be a mix between early medieval painting and religious art in general, tribal art, outsider art and a touch of tattoos world. All this with a powerful, vivid and clean color palette.
3. What is your favourite medium and why?
I usually work with brushes and inks on paper. But I also love to paint murals on walls with big brushes.
4. What is your artistic process like?
I work pretty fast. I never do previous sketches, cause I'm a little bit lazy. So I work hard on the artwork in my mind, so when I start with the pencil on paper I already know how will look the final piece. I always keep a part for improvisation, though.
5. Who and/or what inspires your work?
Specially the b side of life, the outsiders. I come from that part of the world, I love what happens there, and I want to show the magic from there.
6. What role does art play in your life? How does it change the way you view the world?
I was born on the painting studio of my father, so, since I was born my life is connected with art. It never changes my view of the world because this is the only view I know since always.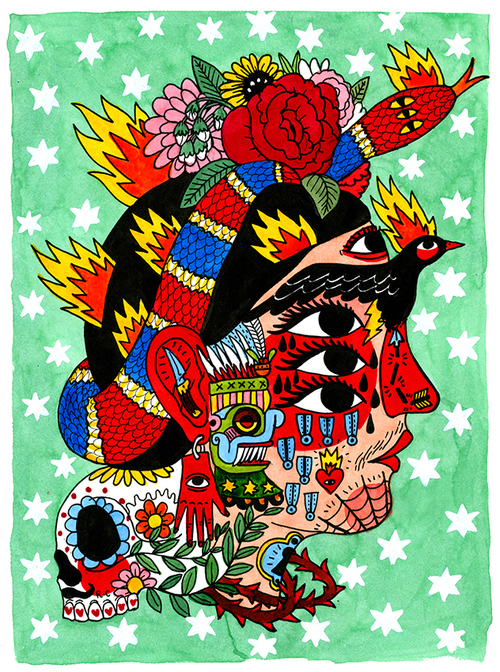 7. Where did you study?
In my home town, Salamanca's University (Fine Arts). But my main school has been always home, with my father as my best teacher.
8. Where do you see yourself in five years? Working in an agency?
I just worked in an agency at the beginning for a couple of years and it won't happen again at all. That's not for me. Maybe I will keep painting, or maybe I'm just focused on my upcoming clothing brand, or maybe working on art installations… I don't know, and I don't mind :)
9. What about in ten?
The same.
10. What do you hope to achieve with your art?
Just connect with people showing my own Universe. It is beautiful when it happens.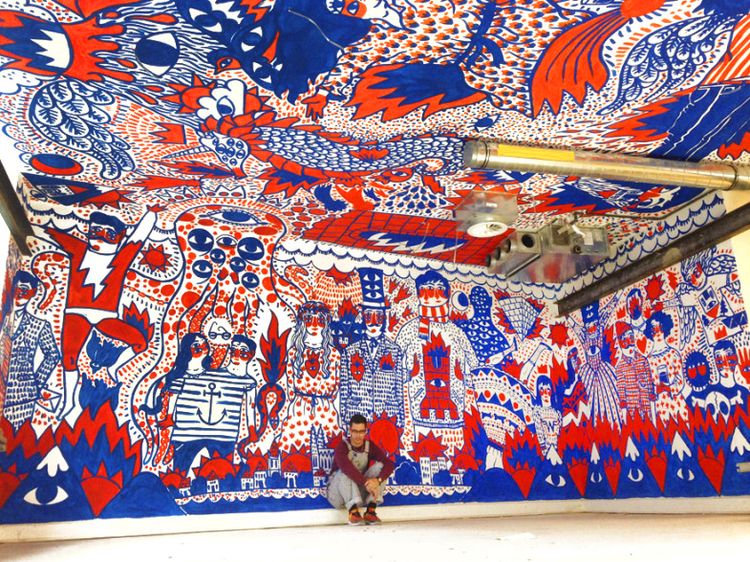 11. Now, tell us a little more about you as a person: what is your favourite food?
Meat, meat and meat!!!
12. Favourite book?
The Lord of the Rings, JRR Tolkien.
13. Favourite genre of music?
Rap
14. What are your hobbies?
Travel as much as I can. And also video games.
15. If you weren't an artist, what would you be?
I don't have a clue. Just artist on my list ^_^