Instagram:
@risottostudio
Website:
www.risottostudio.com
1. What's your story? Where are you from?
I'm a graphic artist based in sunny Glasgow, and I juggle running RISOTTO (a risograph print specialist/stationery co.) with various design commissions that generally involve decorating objects and surfaces with colour, and playful pattern! Both strands are equally delightful but work across different aspects, outputs and processes. RISOTTO was set up through my desire of owning the means of production; being able to play and experiment with the processes at my fingertips has been so influential to my design process and work. The risograph was therefore the perfect print machine as it encourages experimentation, quick outputs and a wonderful/limited ink spectrum. Being a print service has also allowed me to meet and work with a whole spectrum of creatives, both locally and internationally. In parallel to this, we producing new product ranges each season - and this grants me a regular outlet to play with my own designs and marry them with my love for stationery. Between days, i'm working solo on commissions that have ranged from T-shirt designs for Stussy, store art for Dr Martens, and currently art direction for a huge Indian folk art exhibition launching in Tramway this summer. The range of work keeps me on my toes, and the scale of the outputs is really exciting.
2. Tell us about your aesthetic.
Initially my work was pretty DIY (cut and paste) as I was only thinking of outputting for Riso. All compositions were in black and white with varying textures and gradients. There wasn't any direct outcome, just curiosity and play. Today, my work encompasses a variety of applications, including party posters, public art, apparel collections and publications, but I always design with a means to decorating a surface; using pattern, colour and type as tools to transform a shape.
3. What is your favourite medium and why?
RISOGRAPH.
4. What is your artistic process like?
Currently - I'm making almost everything in adobe illustrator. I draw, make shapes, play with type, and mix everything together across many art boards.
5. Who and/or what inspires your work?
The Memphis group probably cover all the top spots (Ettore Sottsass and Nathalie Du Pasquier's work in particular), but i also love Karl & Craig, Andy Rementer, Bertjan Pot and Jordy van den Niewendijk's work. I could easily ramble on..
6. What role does art play in your life? How does it change the way you view the world?
Sometimes its too dominant - I can't look at menu and not see the design/type. But I'm so glad my work is my passion !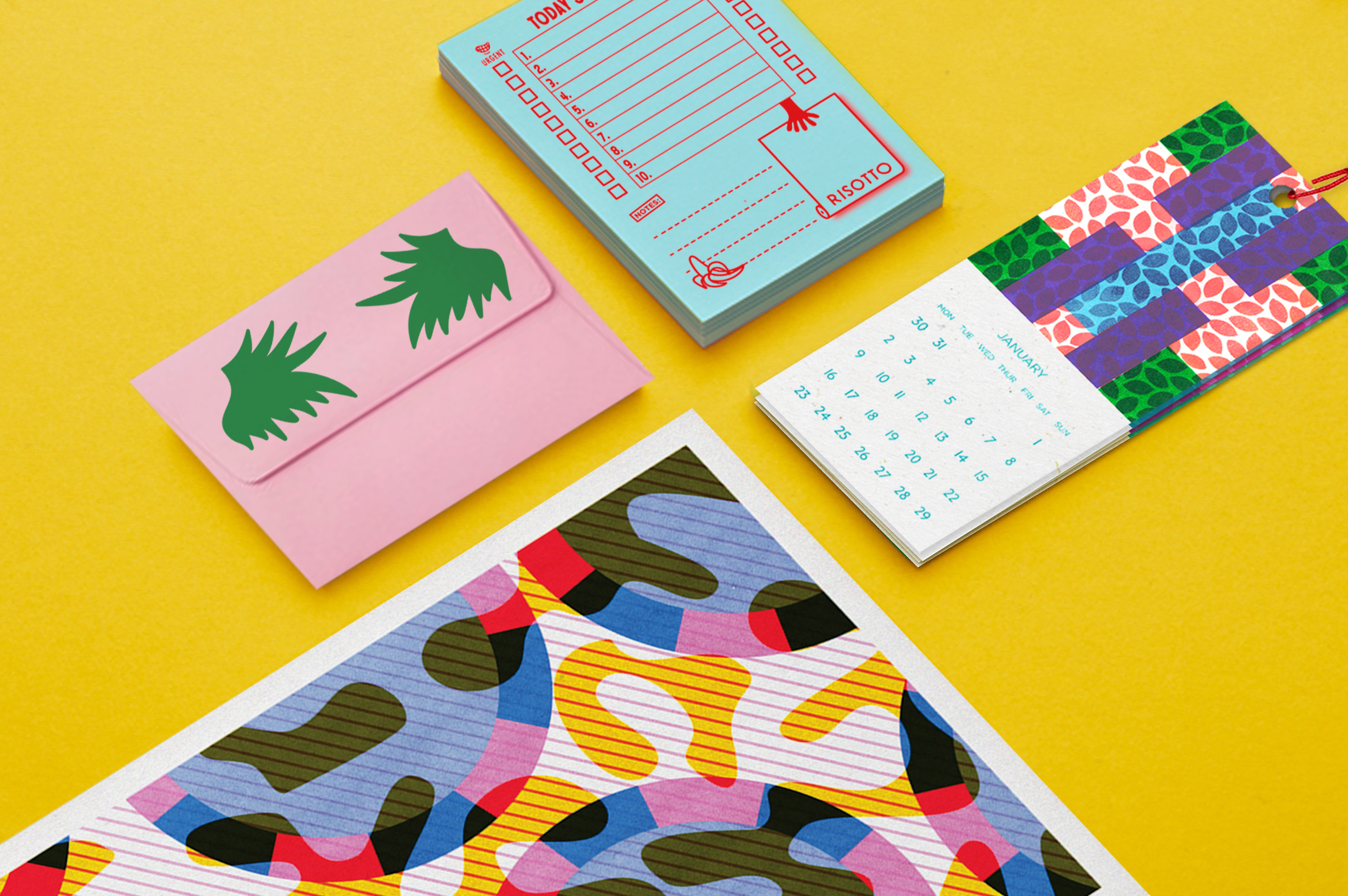 7. Where did you study?
Glasgow School of Art.
8. Where do you see yourself in five years?
Hopefully still working as I am now, with RISOTTO and on collaborations!
9. What about in ten?
I'm really not sure.. but I hope RISOTTO still has a place somewhere and the projects continue to be as exciting.
10. What do you hope to achieve with your art?
Spreading a little joy, and promoting sustainable design.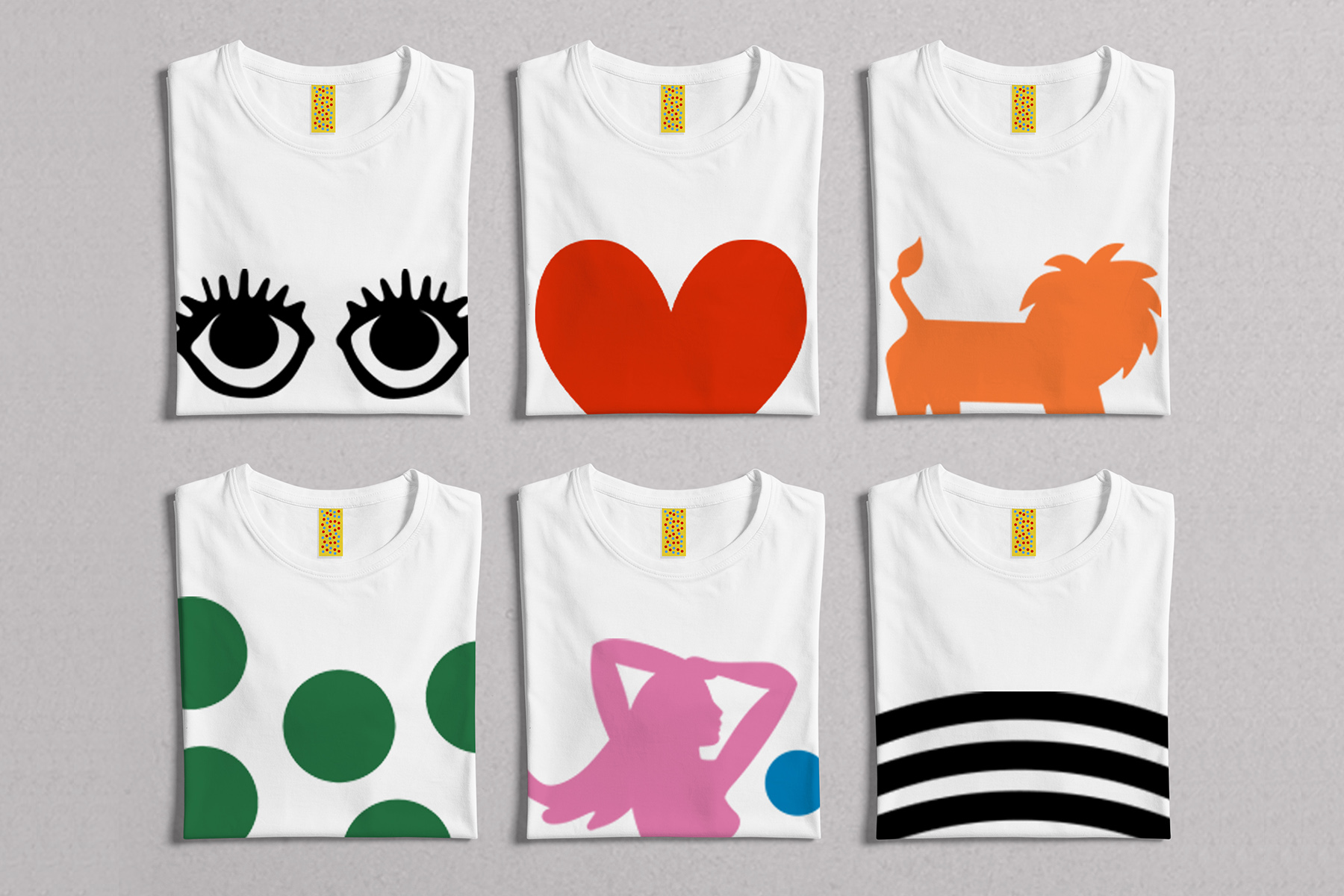 11. Now, tell us a little more about you as a person: what is your favourite food?
Pizza! Or if it can be a genre - Cheese.
12. Favourite book?
The Great Gatsby.
13. Favourite genre of music?
Soul.
14. What are your hobbies?
Jigsaw and Hillwalking.
15. If you weren't an artist, what would you be?
A detective!