Instagram:
@robyncareyprint
1. What's your story? Where are you from?
I'm Irish, 24 years old, and female - From Dublin and currently living and creating in new york city! Im not sure exactly what my story is, I'm still figuring it out. Im a print artist primarily. Currently pursuing a career in textile print design for fashion, working mostly for myself free lance. I also dabble in art direction for events, aswell as my own art of course. I'm trying to find a balance between these 3 outputs in my career.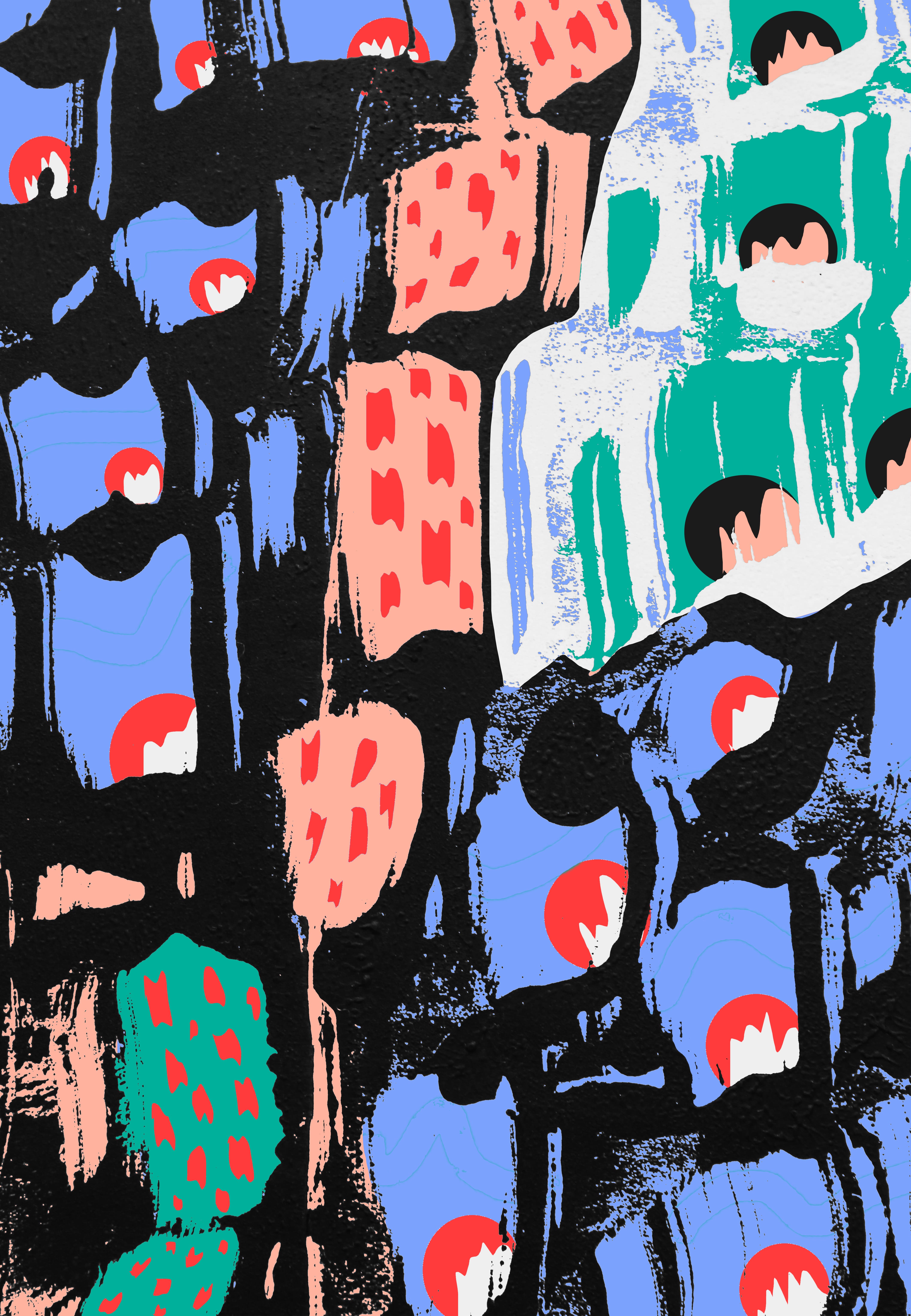 2. Tell us about your aesthetic.
I suppose my aesthetic is defined by a sense of imperfection. I'm a messy person and I work quickly so I normally just roll with it. Even though my output is mostly digital collage, I try not to make things look too computerised by always incorporating hand done artwork. I always try to make my art look fun, with bright colours, textures and pattern being the main elements.
3. What is your favourite medium and why?
This is a tricky question for me because I'm a mixed media artist! so I love all forms of media but here are a few of my favourite - gouache, charcoal, oil pastels, watercolours, fine liner pens, pro markers, and nothing beats a good 'ol crayon.
4. What is your artistic process like?
My artistic process is primarily mixed media collage. I usually start with a concept, a feeling, idea or mood that im trying to create. I then start taking photographs of whats around me for inspiration on colour, composition and texture. I then start hand painting and drawing and creating various imagery, and I finally collage together all my drawings on my computer. I mostly use illustrator and photoshop for collaging and composing artworks. I also draw straight onto my computer with my drawing tablet.
5. Who and/or what inspires your work?
Im influenced mostly modernism, abstraction and whatever is around me. I mostly find beauty in the mundane. - it doesnt take much to inspire me. A few nice colours and shapes and I go into overdrive.
6. What role does art play in your life? How does it change the way you view the world?
It's everything. Not only is it the career and life I've chosen, I think being an artist or being creative means you have a certain kind of brain, you see the world in a certain way, and want to respond to it. So it's just part of who I am. It's the way I think, its all in images.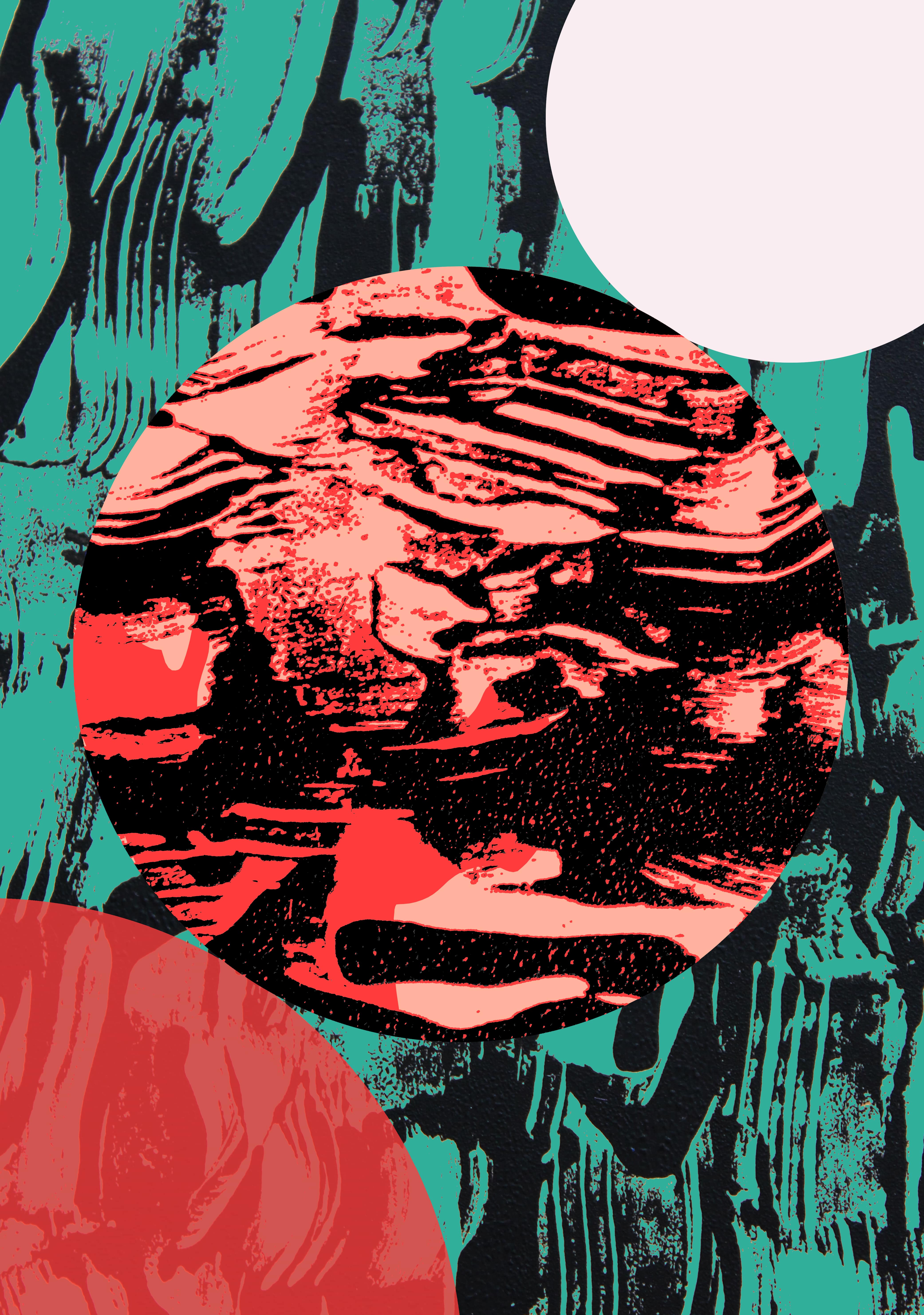 7. Where did you study?
I studied at the National College of Art and Design (NCAD) in dublin, ireland. I graduated in 2015. I studied Textile design - Specialising in screen and digital print. I like to see myself as a print artist - creating art aswell as designing prints for fashion companys. This course showed me how to excell as an artist in my own practice and as a designer for industry.
8. Where do you see yourself in five years? Working in an agency?
In 5 years I see myself at home in dublin in my studio space, working for myself, creating art - putting on solo exhibitions, designing prints for the fashion industry also and doing art direction for events. Maybe I'll have a dog too.
9. What about in ten?
Same thing, being an artist in dublin. I don't want to take over the world I just want to draw pictures all day long. Maybe a few more dogs in ten years and a house by the sea? That would be the dream.
10. What do you hope to achieve with your art?
Im not sure im trying to achieve anything with my art, I just have a natural urge to respond to my surroundings and thoughts by creating art. If people happen to like my work then it makes me really happy too. 11. Now, tell us a little more about you as a person: what is your favourite food?
Sushi, anything spicy and CHEESE.
12. Favourite book?
I haven't read anything substantial since school, don't tell anyone. Do picture books count?
13. Favourite genre of music?
Techno
14. What are your hobbies?
Cooking. Raving, looking at dog videos. memes
15. If you weren't an artist, what would you be?
(one of the hardest questions ive ever had to answer) I'd be a chef.