Instagram:
@rosannatasker.illustration
1. What's your story? Where are you from?
I'm a 25-year-old freelance illustrator living and working in Bristol. I have a beautiful studio in the iconic Hamilton House in Stokes Croft. I share a cosy, sunlit room with four other illustrators who I massively admire and love to bits. The whole building is full to the brim with art, music, dance, food & drink, and events. Being surrounded by hundreds of inspirational people, enveloped in a creative buzz is so invaluable.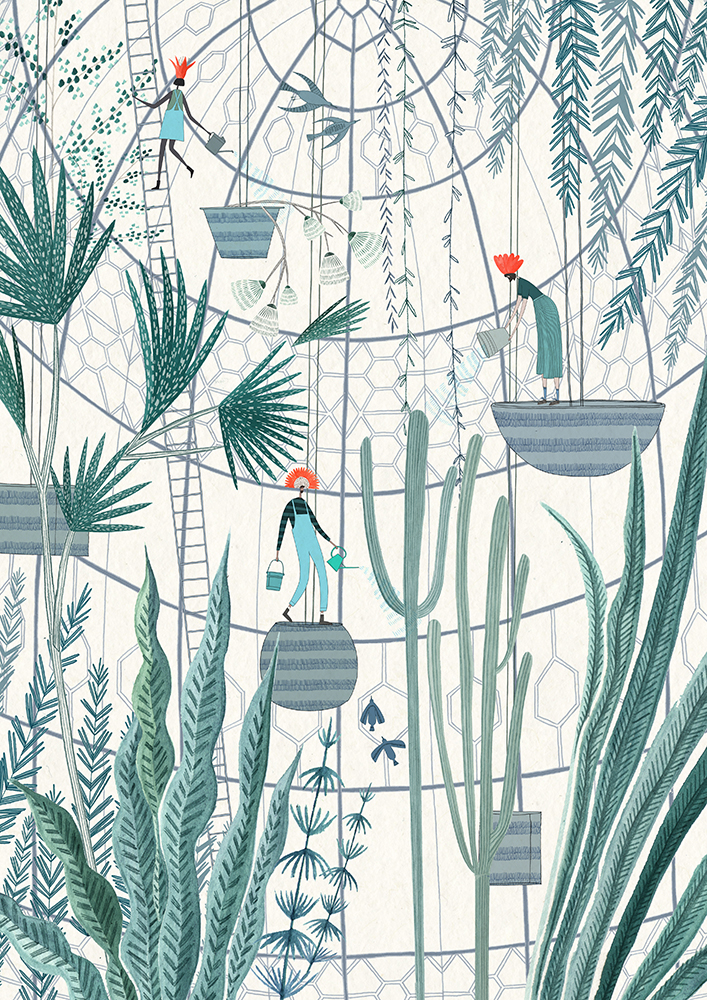 2. Tell us about your aesthetic.
My work combines delicate lines and gentle painted textures to depict elongated figures and forms. I love experimenting with scale, and nature often plays a role in my imagery. I tend to work within a limited palette for each piece, which can be punchy or soft depending on the tone I want to convey.
3. What is your favourite medium and why?
I think gouache is like a superhero version of watercolour, I love the strong pigmentation and textural variation you can get by either using it thickly or watered down. I get so lost in thought when I'm painting, it's my favourite stage of producing my work as it's so relaxing and therapeutic.
4. What is your artistic process like?
I begin by drawing the linework with my grandpa's old 0.5mm mechanical pencil, then build up gouache colour and soft pencil shading on separate layers using a light box. I complete the illustrations digitally using Photoshop.
5. Who and/or what inspires your work?
I've always been captivated by the fairytale worlds and figurative shapes of Golden Age book illustrators. I often get inspiration from the sublime expanse of nature or by imagining different perspectives of a situation, perhaps pretending I'm as small as an ant looking up at the world, or imagining the place I'm in is upside down. I enjoy taking things from reality and giving them a hint of fantasy or otherworldliness.
6. What role does art play in your life? How does it change the way you view the world?
I think being an artist is just as much about the way you think as it is the things you create. Subconsciously my brain is always on the look out for visuals and narratives to feed into my work and play about with; it's such a constant process. If I had a camera that could take pictures of the visuals inside my head on a daily basis, I'd have enough material to work with for a few lifetimes. Fingers crossed for this as a future invention!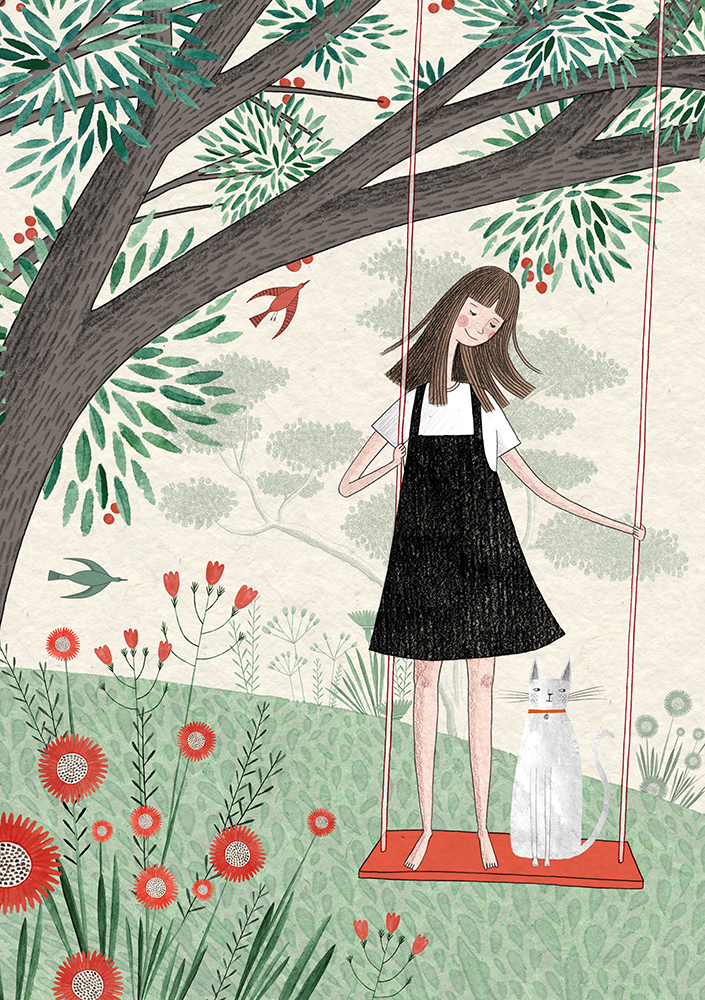 7. Where did you study?
The University of the West of England, Bristol. The tutors and everyone on my course were incredible; I have very fond memories and the whole experience really shaped me as an illustrator.
8. Where do you see yourself in five years?
I'd love to find a sustainable way of working remotely or on the move, to really explore the perks of the freedom you can have with freelancing. So far I've been focused on commissioned work which is a whole lot fun, but I'd like to find time to go down more personal avenues, especially writing and illustrating a children's book that is completely my own creation. Primarily I just want to keep embracing opportunities and evolving over time in whatever shape or form that happens to take.
9. What about in ten?
I don't think I'll ever plan that far forward, it only sets you up for disappointment.
10. What do you hope to achieve with your art?
Just to have an impact on someone and inspire them creatively would make it all so worthwhile. When I was young, book illustration definitely played a big part in emboldening my imagination and love of art, so for my work to be one of the factors that encourages that in a child would be so special.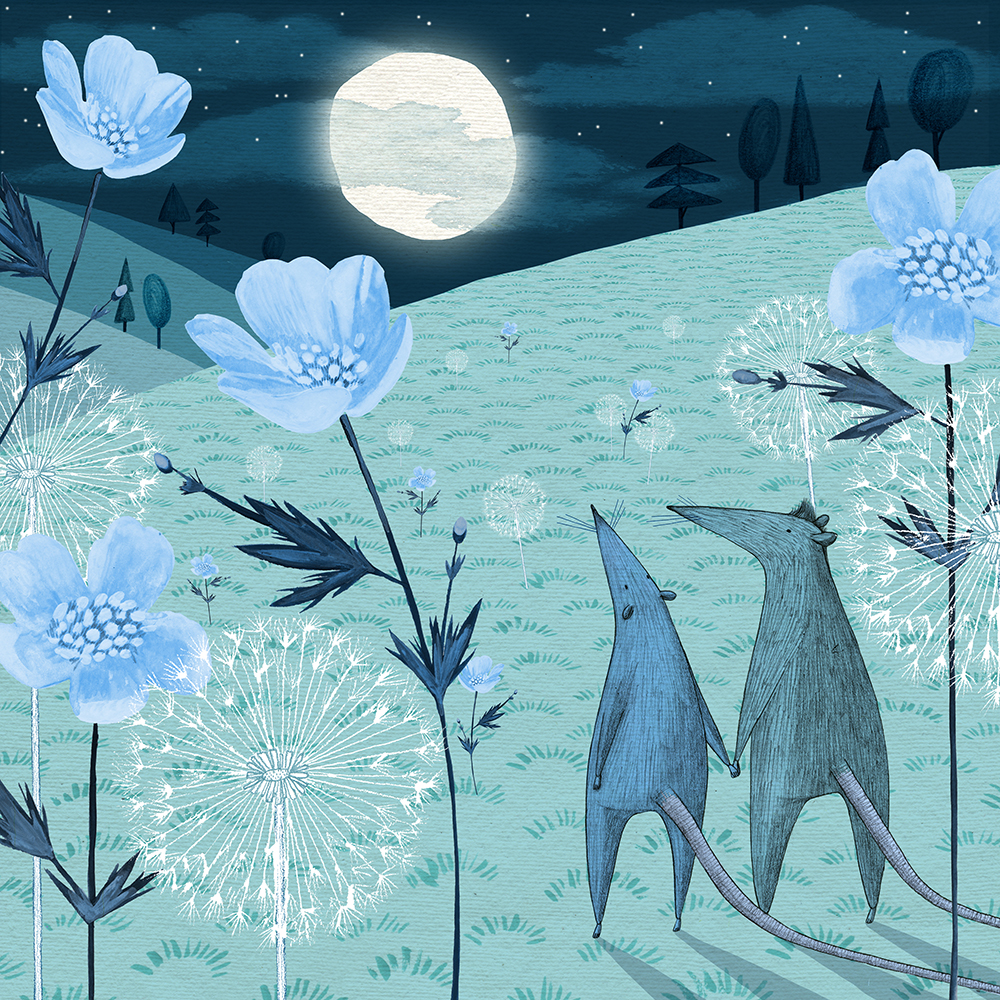 11. Now, tell us a little more about you as a person: what is your favourite food?
Hot buttered toast.
12. Favourite book?
The Hobbit.
13. Favourite genre of music?
It's all just too good to choose. Please don't make me.
14. What are your hobbies?
I take weekly burlesque classes and play piano and bass. I'm a country girl at heart so need my fix of greenery. Sleeping under the stars in a hammock and waking up to early morning bird gossip is one of my favourite feelings.
15. If you weren't an artist, what would you be?
It'd be cool to be whoever chooses songs to use in a film. Is there a job where you can just flatten egg boxes with your feet all day? Because that would be 100% job satisfaction.