Instagram:
@rupikart
1. What's your story? Where are you from?
I am from a lovely city in south India called Coimbatore. Don't worry, half of India hasn't heard of this place either. I'm the middle of three sisters, all three artists with extremely non-creative parents. As far as I can remember I've loved drawing. My earliest memory is a foot-tall Lola Bunny I drew when I was probably 5 – my mom loved it so much that it went on to be displayed in the house.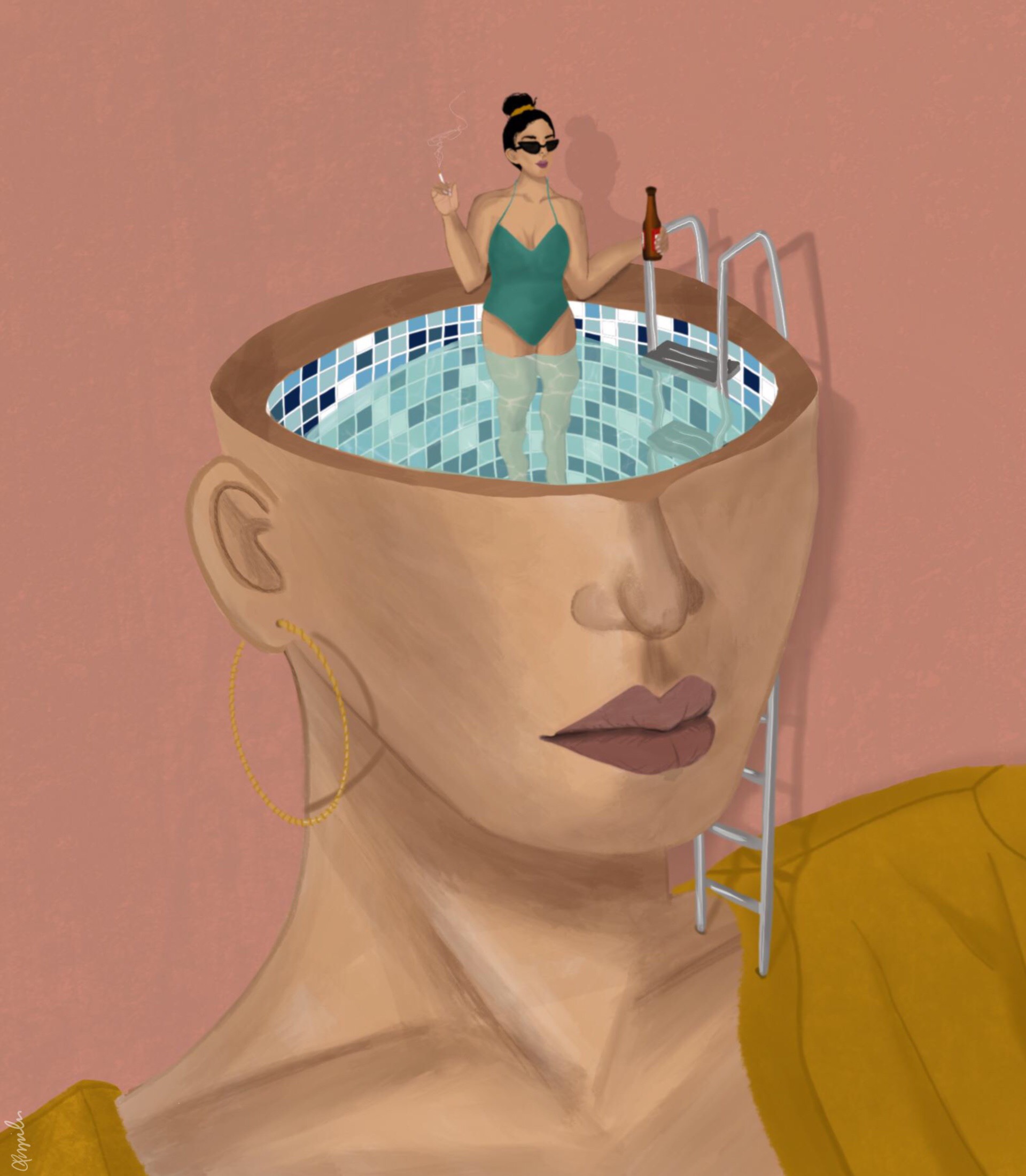 2. Tell us about your aesthetic.
Hmm. I'd say my aesthetic is somewhere in the spectrum of dreamy/mellow/whimsical/witty that usually captures the authenticity of my current feelings. I hope that makes sense? To elaborate, my art isn't too cheerful but isn't dark either. It captures different moods like vulnerability, homesickness but also celebrates the power of loving your own company. I love drawing the feeling of being alone and seeing the fun and beauty in that. So, to put it in an artsy term, I'd say surreal self-expressionism.
3. What is your favourite medium and why?
Up until recently, I've strictly been a traditional illustrator, working mainly with acrylic paints. I love the vibrancy and fuss-freeness of acrylic paints. Nowadays, I've been working primarily on the Procreate app with zero background on digital painting. If you don't count the encouraging art teacher in primary school, I'm a self-taught artist.
4. What is your artistic process like?
I love the ideas that come to me out of the blue. Whenever such an idea strikes me, I immediately jot down the rough – in my phone or a notebook, whatever is closest. Then I wait impatiently for the time to start working on it. And once I start something, I work on it obsessively till it's done. If I have to step away from an incomplete work for some social or work obligation, I actually miss it.
5. Who and/or what inspires your work?
I don't love anyone artist, in particular. To be honest, my knowledge of art and its history is minimal at best. However, I ensure that I follow artists on IG that inspire me. To answer the question of 'what' inspires me – I love that art can be used to capture your mood and reflect your personality. This possibility of translating what you feel into something as tangible as a piece of art, the feeling that something you create can be relatable to some stranger sitting on the other side of the world, inspires me.
6. What role does art play in your life? How does it change the way you view the world?
As cliched as it sounds, being connected to my art helps me appreciate my life better. It makes me see the beauty in the littlest of things. Right now, I'm going through a bad period in my personal life. I thought that art will have to wait till I get my head sorted, but I've realized now that with art, I can get my head sorted. Art doesn't care what you're feeling – it doesn't show up only when you're happy or sad. It is always within you, ready for you to mould it however you want it.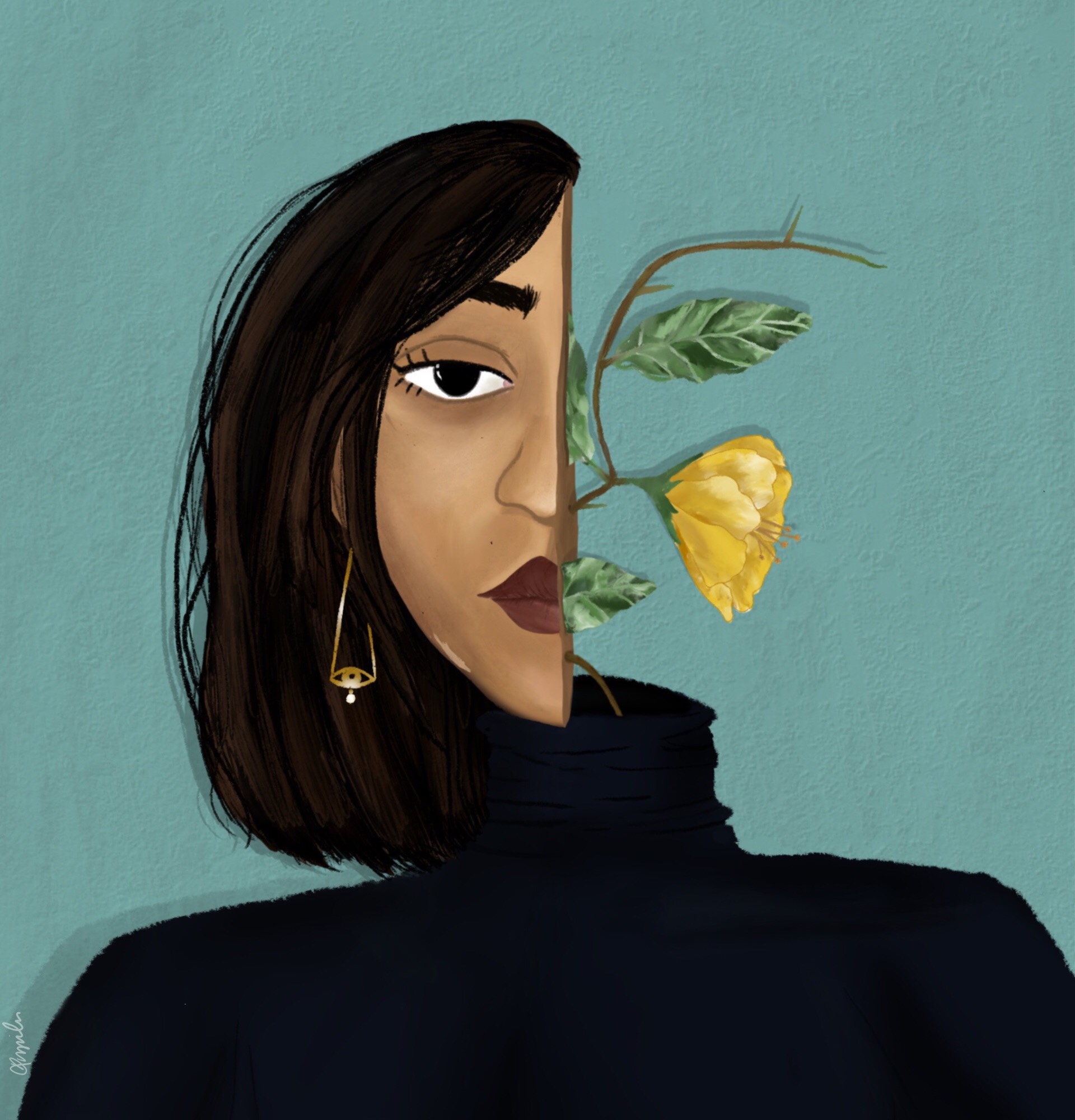 7. Where did you study?
I studied in my hometown of Coimbatore. I have a Bachelor of Technology degree. SURPRISE, I'm a computer science engineer! I'm a software developer, working at IBM India.
8. Where do you see yourself in five years?
I see myself in a small and cosy little house overlooking the hills, the dog of my dreams minding his own business somewhere close to my legs. I have quit my day job as a software developer with zero regrets and I'm now a full-time illustrator.
9. What about in ten?
Same thing as above but five years older and most probably fatter.
10. What do you hope to achieve with your art?
Every time I put my art out into the world, like every human who has not yet achieved the modern-day enlightenment, I hope for validation. I hope for people to like my work and see why I created it. Luckily, validation is just a small fraction of what I hope to achieve with my art. Mainly, I would say that I want people to see themselves in my art. I want them to feel me.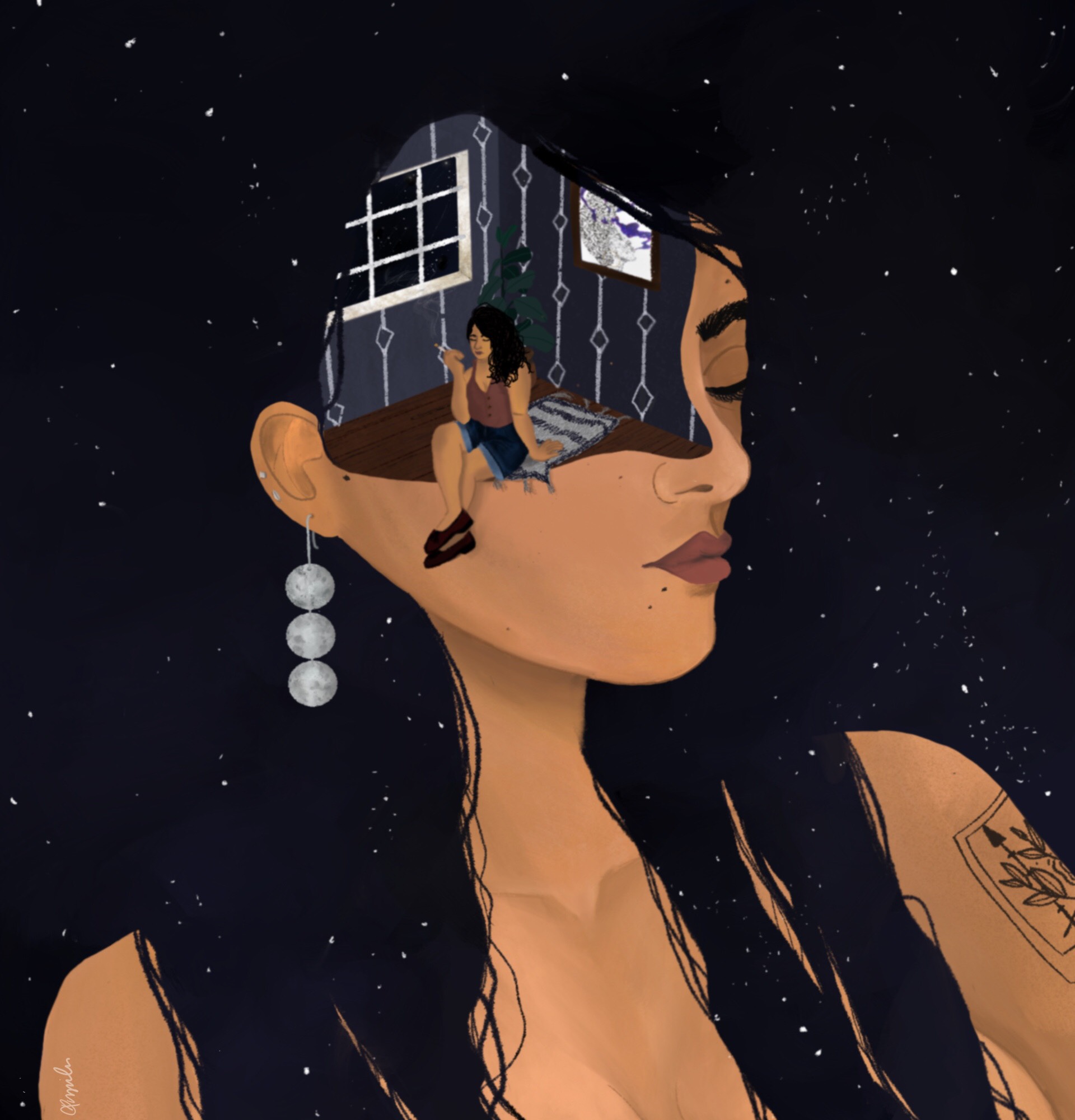 11. Now, tell us a little more about you as a person: what is your favourite food?
I can eat a crisp ghee dosa (south Indian staple) any time of the day! But I'm also a sucker for good Chinese food.
12. Favourite book?
Although I don't remember everything about it, Harry Potter will always be my favourite series because I grew up with it. But my favourite book in my adult life so far is Shantaram.
13. Favourite genre of music?
I'm sorry but I'll have to give the boring answer of 'it depends on my mood' – anything chill, I'd say. I'm a stoner so anything rhythmic and with good mellow but groovy vibes, I'm up for! But I grew up listening to classic rock so I will always have a special place in my heart for that.
14. What are your hobbies?
Since I work as a software engineer, whatever free time I have, I use that for my passion, art. But when I'm not working or drawing, I'm probably catching up on some good old screen time!
15. If you weren't an artist, what would you be?
I could be doing any menial job that helps me to pay rent. But I don't think there is any version of me, in any parallel universe that isn't an artist.