Instagram:
@ryogotoyoda
Behance:
www.behance.net/ryogo
Website:
www.rgtd.net
1. What's your story? Where are you from?
Hi, I'm Ryogo. 3D illustrator raised and based on Tokyo. I work in graphic design and moving image with 3D illustration. Previously I was a graphic/web designer but I became interested in 3D art as I wanted to make something more fascinating. 3Dイラストレーターの豊田遼吾です。東京生まれ東京育ちです。3Dイラストを軸に、静止画や映像を手掛けています。私はもともとグラフィックデザイナーだったのですが、人の心に刺さる、インパクトのあるビジュアルを作りたいと思い、3Dアートに興味を持ち始めました。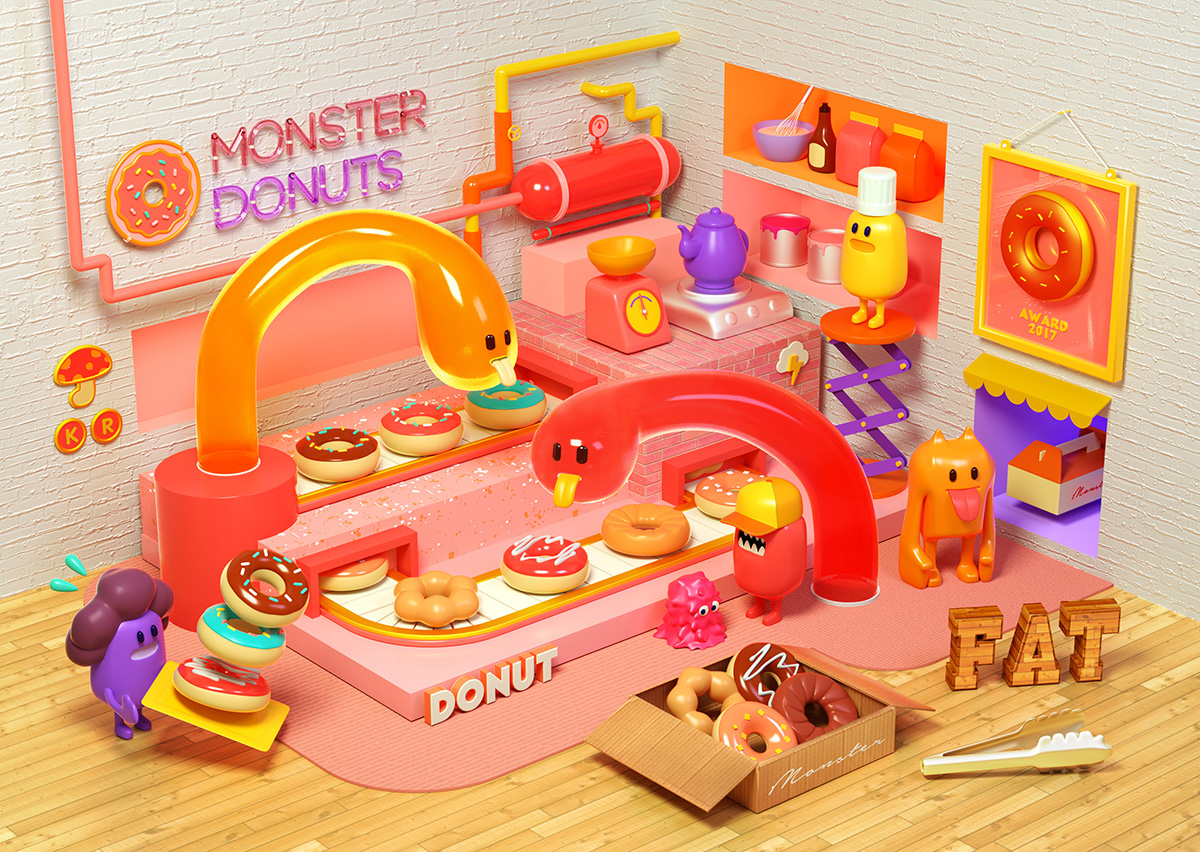 2. Tell us about your aesthetic.
I usually try to build a city of miniature model and characters living in there, and fill objects in this small world. Almost all of my works are complicated, so I always focus on controlling the contrast of density and space. I think it's the same way as creating 2D. Also, I practice not only 3D software but also hand-drawn art. It is important for me to focus on sketching my idea before starting the 3D process. グラフィックデザインの分野で3Dアーティストは増えてきていますが、私はキャラクターを使ったものやミニチュアの世界を表現したものが多いです。作品を作るときには、見る人の視線の流れを計算して制作しています。レイアウト、余白と密度のバランスなどを意識しますが、2Dのグラフィックデザインと同様です。僕は3Dアーティストですが、ソフトの操作だけでなく手描きの絵を毎日訓練するようにしています。3D制作前のプロセスを大事にしています。
3. What is your favourite medium and why?
I like using 3D software, Cinema4D and Zbrush. Also, I'd like to try 2D artwork. 3Dでの作品作りが好きでCinema4DやZbrushをよく使います。2Dも練習中です。
4. What is your artistic process like?
When I make my artwork, starting with generating as many ideas as possible at the beginning. And then create concept art before starting the 3D process. アート作品を作る際は、まずコンセプトやアイデアを沢山練ります。そしてアナログやデジタルでコンセプトアートを作って設計してから3D制作に入ります。
5. Who and/or what inspires your work?
My best hero is Ralph McQuarrie, known as Star Wars concept artist. He created the characters/environment art of Star Wars. Also, I got a lot of inspiration from Nintendo games, Korean character design. Currently, I'm interested in nature and living things. 一番尊敬しているのはスターウォーズのコンセプトアーティストRalph McQuarrieですね。 あの世界観やキャラクターをゼロから作り上げたのは本当に凄いと思います。日本のゲームにも影響を受けてきましたが、最近は韓国のキャラクターデザイン、そして自然界のものに影響を受けています。
6. What role does art play in your life? How does it change the way you view the world?
Anything can be an inspiration so I always try to take an interest in various things. どんなものもインスピレーションになり得るので、色々なものに興味を持つようには意識しています。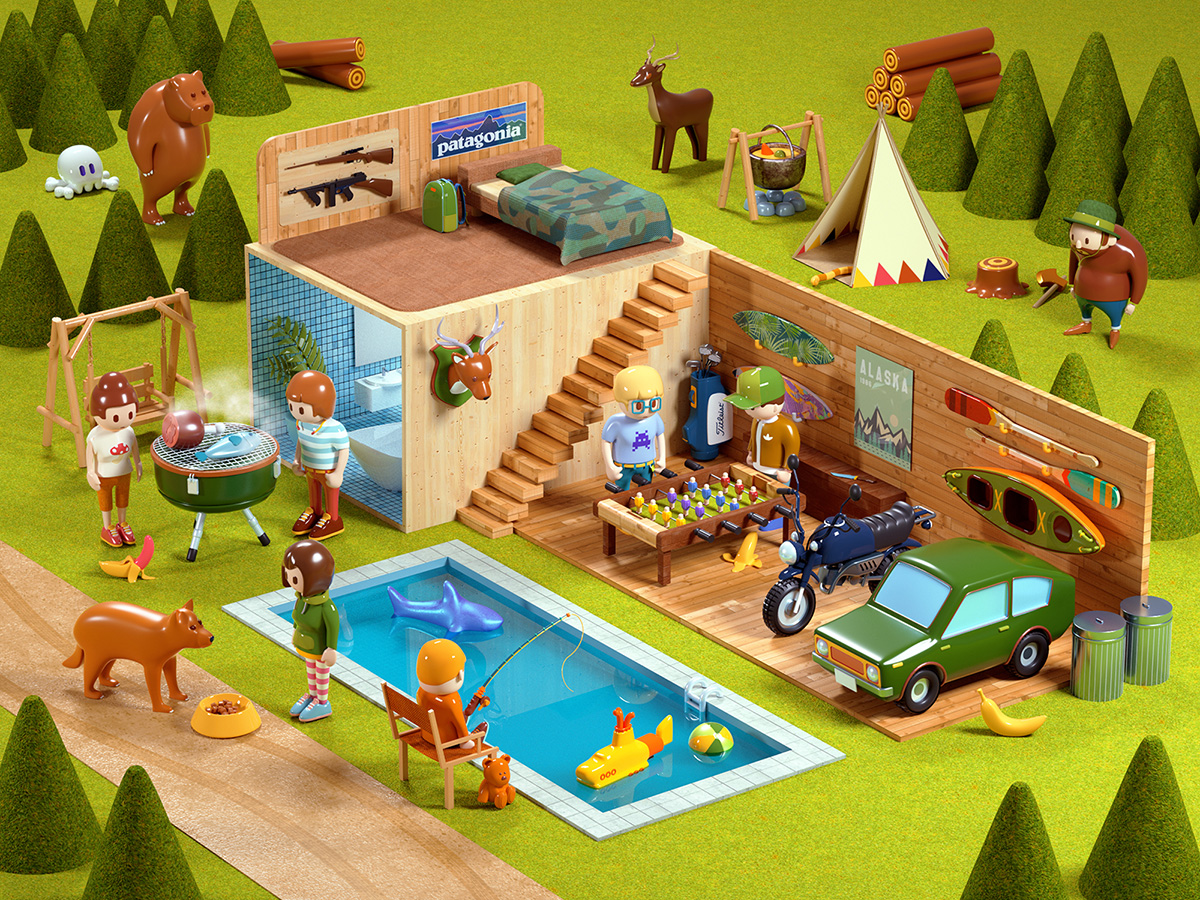 7. Where did you study?
I went to a local design school to learn graphic design. Five years ago I started learning 3D by myself. Still learning.. 東京のデザイン学校に通いましたが、現在の3Dアートについてはほぼ独学です。 まだまだ勉強中ですが。。
8. Where do you see yourself in five years?
I want to focus on more commercial projects, not only personal art projects. I also am planning my character brand. 最近まではアート活動ばかりに専念していたので、もう少し商業案件で活躍していきたいと考えています。自分のキャラクターブランドも作りたいです。
9. What about in ten?
I want to be an artist over a lifetime but I think it's difficult to work in the field of 3D. My plan is to become a concept artist in the film industry, not only in the field of advertising. I don't want to depend on tools for making my works. 私は生涯アーティストとして生きていくつもりですが、3Dの分野で生涯やっていくのは厳しいと感じています。将来的には広告だけでなく、映画などの広い分野で活躍できるコンセプトアーティストとしてツールに頼らず作品を作れるようになりたいと考えています。
10. What do you hope to achieve with your art?
I hope I can acquire enough skills and expression to make anything I imagine. Which needs everyday training. イメージしたものを形にできる様々な技術や表現力です。そのために努力は続けたいです。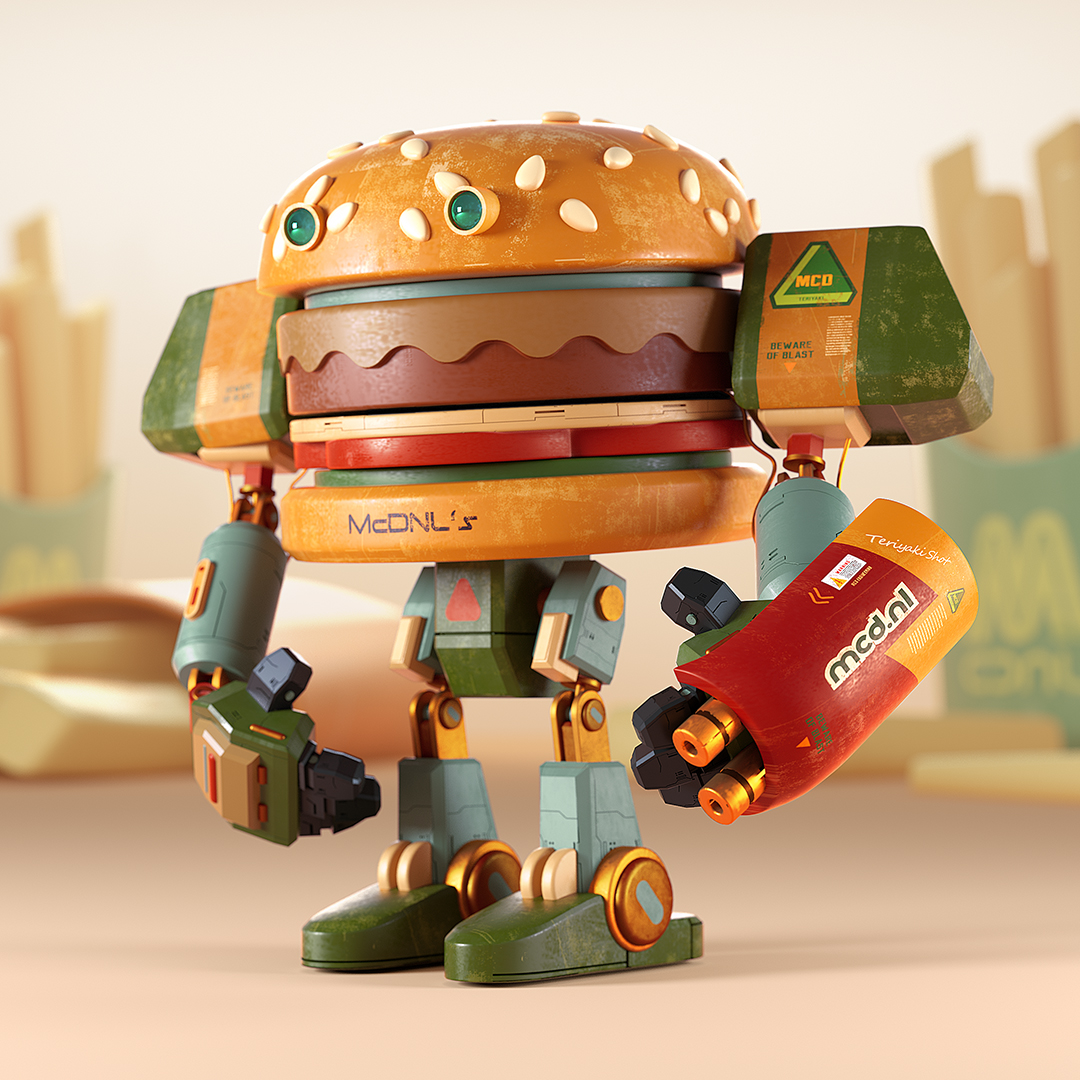 11. Now, tell us a little more about you as a person: what is your favourite food?
Ramen, sushi bar. ラーメンが死ぬほど好きです。また回転寿司も大好きです。
12. Favourite book?
I'm collecting movie art books and encyclopedia of animals/insects. 映画のコンセプトアートの本や生物・昆虫図鑑を集めています。
13. Favourite genre of music?
Techno, progressive house. テクノ、プログレッシブハウスなどです。
14. What are your hobbies?
I'm going to Muay Thai gym as I need to have the physical strength to do hard work. この仕事は体力勝負なので、ムエタイのジムに通っています。
15. If you weren't an artist, what would you be?
Cartoonist or biologist. 漫画家か生物学者だと思います。